Being in nature makes me feel strong and grounded, and it makes me really happy! And spending that time with others, especially my close friends and family, is even better.
---
Often during the night I wake to hear the distinctive sound of my neighborhood's Great Horned Owl calling out. It's a lovely deep call that sounds like, "hoo-HOO-hoo-hoo" and while I've heard it often, I only first laid eyes on the bird last week.
---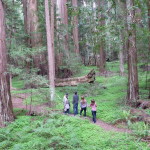 Save the Redwoods League has always been about getting people outdoors to experience the wonders of nature — it's been part of our mission since 1918. So when we heard about REI's awesome #OptOutside campaign, we were inspired to help! … Continued
---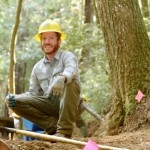 Birds are Imfeld's passion — and could ultimately become his profession. A graduate of Xavier University, he will soon begin his PhD studies in ecology, evolution and behavior at the University of Minnesota at St. Paul.
---
This week we celebrate our love of books and our love of reading! Some of my fondest memories have been relaxing in a beautiful place with a great book and getting so engulfed in the story that hours went by in the blink of an eye.
---
Many Native Americans tribes in the coast redwood region use ferns in their traditional basket-making.
---
In his weekly radio address on Saturday, the President issued a call to action on the Land and Water Conservation Fund (LWCF). Please, join the President, the League, and others across the country in encouraging LWCF renewal.
---
They are beautiful, inspiring and majestic, right? Not all of them. Hidden in the darkest recesses of both forests lurk some of the creepiest trees on the planet, awaiting those brave enough to disturb them during the Halloween season.
---
At Yosemite National Park this week, you may see smoke curling up from Mariposa Grove, the spectacular giant sequoia forest that catalyzed the conservation movement 150 years ago. This smoke is part of a planned prescribed burn in the forest to lower fuel loads that have accumulated over many decades of fire suppression.
---
Hiking with kids can sometimes feel like a forced march, we've all experienced kids complaining about walking for walking's sake. Obviously, the best remedy for reluctant young hikers is regular doses of candy, but the next best remedy is also super fun and does not contribute to cavities! This is a nature color game that is a trade secret of environmental educators and is really easy to play.
---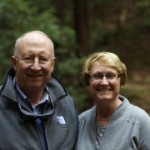 A research physicist by training, Save the Redwoods League member John Woollam has made his mark as both an educator and entrepreneur. Woollam is the recipient of the American Physical Society's Industrial Applications of Physics Prize, and a National Research Council Fellow. But physics aren't Woollam's sole passion; he is an ardent conservationist with a far-ranging ambit. He has supported large preservation and restoration projects in the Caribbean, and worked with numerous different land trusts in the Midwest.
---
For the past few years the League has been actively restoring our Cape Vizcaino property along the wild and beautiful Mendocino coast. Our wildlife cameras have captured pictures of deer, foxes, coyotes, mountain lions and even bears.
---
When redwoods enthusiast John Montague first volunteered at Save the Redwoods League, he began by assisting with chores at the office. He's so dedicated to the forest that soon after he volunteered out in the field, mapping, taking measurements, and identifying notable trees under the League's direction.
---
Dendrochronologist Allyson Carroll has decoded centuries of history hidden in giant sequoias and coast redwoods, thanks to the League's research grants program and our members' support.
---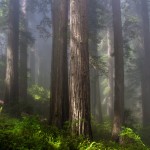 Understanding how climate change impacts the world's tallest forest is like assembling an incredibly large jigsaw puzzle – the full picture emerges slowly, one piece at time. But occasionally, a critical piece falls into place…
---
One of biologist Debbie Woollett's star colleagues has four legs. Wicket is a Labrador mix for Working Dogs for Conservation, an organization that Woollett co-founded to apply dogs' abilities to conservation projects. Wicket can recognize the scents of 26 species and has "alerted" on moon bears in China, elephants in Southeast Asia, invasive snails in Hawaii, and grizzly bears and black bears in North America.
---
The first rule of nature photography is to take in the scenery before you begin snapping shots willy-nilly. This will give you a feel for the scenes you want to capture. Once you have an idea of a few photos you'd like to get, set up for them and take your time with each one. The intention behind your images will show through when you get home to view them.
---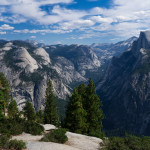 I have been to Yosemite National Park a handful of times, and on each visit I have a very different experience. Whether I am rock climbing in the valley, backpacking in Tuolumne or hiking trails with tourists from all over the world, every time the park takes my breath away. Its towering peaks, rushing waterfalls and granite rocks warrant some steep competition for other natural areas.
---
Blake Williams inherited his love of the forest from his father, a research entomologist and forester and the first African American in the United States to earn the trifecta of a BA, Masters, and PhD in that research area. "Growing up in Berkeley with that family background, I've always been interested in natural resources and forests," said Williams.
---
I came across a fallen redwood recently that had been severely strangled by English ivy. The redwood had fallen across the road and a cross-section had been cut through the redwood's trunk, revealing a shockingly think mass of ivy branches tightly wrapped around the tree's bark.
---
Learn More About Our Work