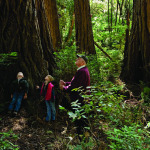 Through this blog I often write about my experiences with youths in the redwoods. I love seeing the expressions on kids' faces when they see a banana slug, find a tiny redwood cone, or see a tall redwood tree for … Continued
---
Recently, I visited Pfeiffer Big Sur State Park and was surprised to see mesh bags dotting the forest floor. Taking a closer look, I saw a variety of plants hidden under the mesh coverings. Park ecologist Jeff Frey explain the park … Continued
---
Happy Halloween everyone! Finally, the day has arrived when you get to dress up however you want. Maybe months of planning even went into your costume, your creativity shining through. But did you ever wonder why we celebrate Halloween? Where … Continued
---
As inspiring as the redwood forest can be, it is even better when shared. We know the inspirational surge that our favorite redwood places engender; it's why we keep going back. And it is why we bring our friends there … Continued
---
Typically, cones mature on the redwood branches in autumn. They turn slightly yellow as the cone scales separate, exposing the seeds hidden within to the elements. Rain then washes away tannic crystals that hold the seeds inside the cones and … Continued
---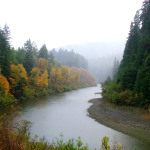 Although our fall-changing trees are not as numerous as in the east, we can still see some evidence of fall here on the West Coast. In our redwood forests, look for big leaf maples and vine maples for their changing color.
---
I nearly fell out of my chair when I came across a feature article about Brad Pitt doing a shoot in Humboldt Redwoods State Park for Details Magazine. My first thought was, "Okay, why wasn't I invited?" And second, "Who … Continued
---
Qué maravilla— ¿cómo es que estos gigantes existen? ¿Qué cuentos han de saber y cuantas historias han de conocer? ¿Qué me dirían a este momento? Recalling one of my most memorable experiences among the redwoods at Jedediah Smith Redwoods State … Continued
---
This week, our research partners from UC Berkeley braved the fall heatwave to check on how some old redwood forests are handling the drought in the Santa Cruz Mountains. I joined them among the redwood giants at Henry Cowell State Park on … Continued
---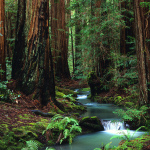 Save the Redwoods League was established in 1918, and 96 years later, we have quite the vantage point to look back and see how things have changed. It's the nature of things, for people and organizations alike, that we don't … Continued
---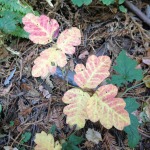 While the colorful display of poison oak leaves turning red in the fall is certainly beautiful among the redwoods right now, the sight is also totally frightening if that plant gives you a nasty rash! Despite most people despising this … Continued
---
The fall has always been my favorite season. Maybe because it means winter is coming — I love the snow — or because the memories are still fresh from a great summer, or because of the reminder of the cycle that will start up … Continued
---
In 1945, with victory in Europe and Japan within sight, individuals and organizations all across the country united in a nationwide effort to preserve 5,000 acres of old-growth redwoods as the National Tribute Grove. The effort, led by Save the Redwoods League … Continued
---
The redwood trees have put on another ring since I joined the staff of Save the Redwoods League as president and CEO! It's been one year since I started my new job and journey with the League, and I have … Continued
---
Join us this Saturday, September 27 as we walk the trails of Memorial Park discovering everything this amazing redwood forest has to offer. The League is partnering with San Mateo County Parks, the California Academy of Science and Sequoia Audubon for a Memorial Park Bioblitz.
---
RCCI researcher Wendy Baxter describes below why we are tracking weather in the woods: Monitoring the local weather and long-term climate is an integral part of the Redwoods and Climate Change Initiative (RCCI). Beginning in 2011, scientists from UC … Continued
---
Here at the League, we love getting people out into the redwoods to explore, learn and have fun. And we especially love bringing out everyone's inner scientist to discover the creatures big and small that call the redwood forest their … Continued
---
Guest bloggers Doug and Joanne Schwartz – League members and dedicated volunteers – are serving this summer as our Redwood Explorers-in-Residence, exploring the northern parks, and ground-truthing and mapping the groves of ancient forest they find. Along the way, they're documenting the many interesting … Continued
---
Countless volunteers contribute scientific observations every day to citizen science projects around the world, and until recently, their contributions have gone largely unrecognized. A new study by Cornell University looked at how many research papers on climate change and birds … Continued
---
With recreational marijuana legal in Colorado and Washington and medicinal marijuana available in 23 states and the District of Columbia, marijuana is here to stay. And, more of the marijuana on the U.S. market comes from California than any other … Continued
---
Learn More About Our Work