Dendrochronologist Allyson Carroll has decoded centuries of history hidden in giant sequoias and coast redwoods, thanks to the League's research grants program and our members' support.
---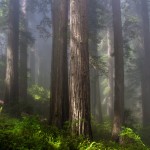 Understanding how climate change impacts the world's tallest forest is like assembling an incredibly large jigsaw puzzle – the full picture emerges slowly, one piece at time. But occasionally, a critical piece falls into place…
---
One of biologist Debbie Woollett's star colleagues has four legs. Wicket is a Labrador mix for Working Dogs for Conservation, an organization that Woollett co-founded to apply dogs' abilities to conservation projects. Wicket can recognize the scents of 26 species and has "alerted" on moon bears in China, elephants in Southeast Asia, invasive snails in Hawaii, and grizzly bears and black bears in North America.
---
The first rule of nature photography is to take in the scenery before you begin snapping shots willy-nilly. This will give you a feel for the scenes you want to capture. Once you have an idea of a few photos you'd like to get, set up for them and take your time with each one. The intention behind your images will show through when you get home to view them.
---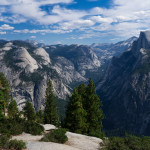 I have been to Yosemite National Park a handful of times, and on each visit I have a very different experience. Whether I am rock climbing in the valley, backpacking in Tuolumne or hiking trails with tourists from all over the world, every time the park takes my breath away. Its towering peaks, rushing waterfalls and granite rocks warrant some steep competition for other natural areas.
---
Blake Williams inherited his love of the forest from his father, a research entomologist and forester and the first African American in the United States to earn the trifecta of a BA, Masters, and PhD in that research area. "Growing up in Berkeley with that family background, I've always been interested in natural resources and forests," said Williams.
---
I came across a fallen redwood recently that had been severely strangled by English ivy. The redwood had fallen across the road and a cross-section had been cut through the redwood's trunk, revealing a shockingly think mass of ivy branches tightly wrapped around the tree's bark.
---
Susan Vreeland believes everyone needs some engagement with Earth's astonishing natural places. That's why she has named Save the Redwoods League in her will. "Save the Redwoods acknowledges this human need, for the sake of our national health, our emotional health," she said. "Preserving more redwood groves provides an atmosphere to heal, to consider one's life, to confront the eternal."
---
When you drive north on Highway 101, just past the small town of Orick, you will begin to marvel at the giant redwoods of Redwood National and State Parks. There is no sign letting you know you have arrived; you just slowly become shaded by the great canopies towering above you.
---
For botanist and plant ecologist Peter Comanor, the redwood forest is about receiving and giving. He first saw a redwood tree in an exhibit at the American Museum of Natural History in New York. It was, he recalled, an interesting and informative display, but it didn't prepare him for his first visit to the redwood forest.
---
I can think of no wilder adventure than spending a week exploring the Yosemite backcountry with three teenage boys. With my oldest son heading into his final year of high school, I decided to go all out this summer in search of a truly epic, life-changing, never-to-forget experience that my sons and I could share.
---
While working at Save the Redwoods League for the last five years, I've met people from all walks of life who share a resounding love for the redwoods. In listening to why people love the redwood forest, I often hear how at peace people feel when they walk among the giants.
---
Redwoods are Humboldt County's greatest treasure. They also happen to be an awesome teaching tool. Yet many of the area's young people know little about redwoods and forest stewardship careers. Thanks to your support, which enabled Save the Redwoods League to provide an education grant to our partner, The Forest Foundation, the next generation of forest caretakers is taking root.
---
Since about 92% of the redwood forest is second and third growth, restoration will be a key strategy. Restoring young forest so that it can become old growth once again is essential for the future of conservation. Restoration at San Vicente Redwoods started recently with a volunteer day. Twelve volunteers from the Oracle Corporation spent the morning pulling invasive weeds amongst the redwoods in the Santa Cruz Mountains.
---
The beautiful Avenue of the Giants that winds for 32 miles through Humboldt Redwoods State Park was dedicated 55 years ago, on August 27, 1960. Thousands of visitors drive under the towering redwoods that line the Avenue as they visit Humboldt Redwoods to experience the breath-taking majesty of the largest old-growth forest on the planet.
---
Peter B. Frazier, Save the Redwoods League Board of Directors Treasurer, comes from entrepreneurial pioneer stock. When his great grandfather was only 19 years old, he headed from Boston Harbor around Cape Horn to the then-tiny town of San Francisco. Like thousands of people from around the world, he made the long journey to look for gold.
---
If you live in California and have a garden, then you are probably like me — trying to find plants that will make your garden look beautiful without requiring too much water. Well, look no further because I have the … Continued
---
To a large degree, rodents have defined Tim Bean's career arc: The Humboldt State University assistant professor in the wildlife department made his academic bones with giant kangaroo rats. "I spent a lot of time in the Carrizo Plain National … Continued
---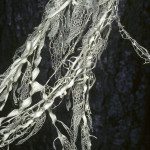 As many people know, each state has selected symbols to represent its natural and cultural heritage. In California, these symbols range from the state rock, serpentine; to the state marine mammal, the grey whale; to the state tree, the mighty … Continued
---
Recently, I had the honor of discussing research and forestry with guests from the Government of India and Michigan State University at Big Basin Redwoods State Park. This gathering was part of the US-India REDD+ Policy Exchange Tour and sponsored … Continued
---
Learn More About Our Work