As you know, Save the Redwoods League is celebrating its 100th anniversary of protecting and restoring California's coast redwood and giant sequoia forests in 2018. To mark this major milestone, the League is spearheading a major centennial celebration to capture the world's imagination and raise awareness and understanding for the next 100 years.
This toolkit has the background information, suggested activities, and free materials to support your organization in celebrating and standing for the redwoods.
DOWNLOAD the EVENTS AND ACTIVITIES TOOLKIT
Explore the toolkit online:
EVENTS | ACTIVITY SHEETS | LOGOS | SOCIAL MEDIA | PROMOTIONAL MATERIALS
---
EVENTS
The League's Centennial Celebration campaign runs through 2018 with activities and promotion throughout the entire year that include:
Free Second Saturdays every month in 2018 at over 40 redwood state parks. Learn more at FreeRedwoodsDays.org.
Educational programs, exhibitions and cultural partnerships to connect people with the wonders of the redwoods.
A new Giant Sequoia Parks Online Resources for Teachers and Students (PORTs) program. Learn more at SaveTheRedwoods.org/Celebrate.
Engagement campaign (social/ads/PR) to inspire people to "Stand for the Redwoods."
And much more…
Our campaign will culminate with Celebration Week from October 7-14, 2018, featuring the crescendo of our social/earned/paid media campaign, an immersive BART station experience, a documentary film premiere, a celebration gala event, and two Stand for the Redwoods Festivals.
While Stand for the Redwoods, Stand for the Future is a year-long campaign to celebrate the iconic redwoods, we invite you to host your own event during Celebration Week—October 7-14, 2018—that connects your mission to the redwoods. The possibilities are endless! We'd love to promote your redwood-themed events in our centennial events calendar. Share your event details with us so we can promote you.
We hope you will join Save the Redwoods League – as well as the San Francisco Giants, the California Academy of Sciences and 96 other organizations like yours – in hosting events throughout the week.
---
ACTIVITY SHEETS
Now you can transport the wonder of the redwoods anywhere with a whole host of redwoods-themed games, adventures, educational activities and materials. Download and distribute these free and fun activities!
Activities in and around the Redwoods
REDWOOD TRANSECT
IMAGINE REDWOODS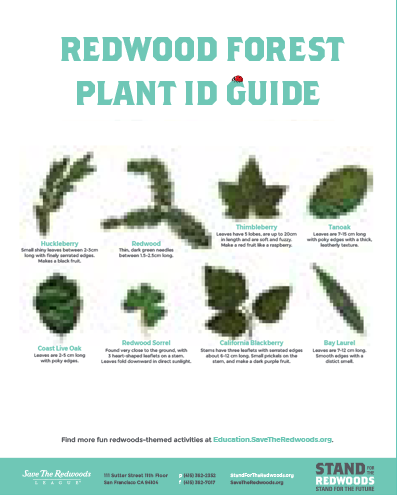 REDWOOD FOREST PLANT ID LESSON
Ready-to-use activities and program resources:
---
LOGOS
Download our one page overview for more information about the League's Centennial. To view and download the full size of each image, simply click on the image.

---
SOCIAL MEDIA
We want to cover the internet with redwoods in October. Please post pictures and stories about redwoods and use #Stand4Redwoods. We'll like, comment, and retweet! PLUS, we will hold Hashtag Parties on Twitter and Instagram with #Stand4Redwoods on:
Wednesday, October 3 between 9am-10am PST
Sunday, October 7 between 3pm-4pm PST
Thursday, October 11 between 1pm-2pm PST
Saturday, October 13 between 1pm-2pm PST
Please join us! Download our Social Media Toolkit for suggested posts on Facebook, Twitter and Instagram.
DOWNLOAD the SOCIAL MEDIA TOOLKIT
HASHTAG
#Stand4Redwoods
#STAND4REDWOODS FACEBOOK FRAME
Add the #Stand4Redwoods Facebook frame to your organization's profile picture and ask your supporters to use the frame to show support for the redwoods throughout the month of October.
IMAGES
To view and download the full size of each image, simply click on the image.
You can also download more images resources here.
VIDEOS
You can download these videos to use in your own social channels or share them directly by clicking on the share icon () in the upper right corner of each video. More sizes and formats are available here.
STAND FOR THE REDWOODS FESTIVALS
To view and download the full poster, click on the images below.
---
CUSTOMIZABLE PROMOTIONAL MATERIALS
As a Celebration Week partner, you will enjoy:
Promotion of your event on the event calendar at StandForTheRedwoods.org, event promotion on social media, and listing of your organization name and link on StandForTheRedwoods.org.
For social media, we may feature your social posts on our site and will list your organization name and link online.
In addition, we've made it easy to promote your event with these adaptable materials. Customize them for your event or activities and help get the word out!
To view and download the full file, simply click on the image below.
#Stand4Redwoods cards:
Download
to share why you stand for the redwoods!
ONLINE ADS
---
Questions?
For questions or updates about Centennial social promotions, please contact Annie Burke at aburke@SaveTheRedwoods.org.
For general partnership assistance, please contact Jerry Emory at jemory@SaveTheRedwoods.org