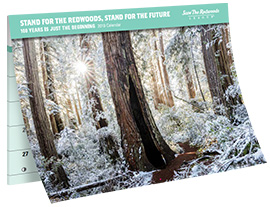 Take Survey, and get a 2019 Calendar
The Save the Redwoods League Annual Report 2018 shows how our members' support has made our accomplishments possible.
Help us improve our publications by telling us what you think of this report in the short survey below.
If you are among the first 20 respondents, you will receive our exclusive 2019 Redwoods Calendar!
Official Rules and Regulations: No purchase is necessary to enter. United States addresses only. Offer ends March 19, 2019.
Get your Free Calendar
Please note that all fields marked with an asterisk (*) are required.