Last week, I participated in the first-ever citizen science conference put on by the Citizen Science Association. This major event attracted over 600 people from 26 different countries! Science buzz was in the air, and the talks covered a range of programs — from engaging students in water-quality testing, to collecting data on precipitation, to identifying and tracking whale sharks using their skin patterns (that one was my favorite!) . The range and depth of programs was vast, but they all shared the common thread of connecting regular people to the wonderful world of science.
What struck me was how quickly community science programs have spread throughout the world. More and more scientists and institutions are recognizing the value both in engaging the public in science and nature and in getting a wide audience to help collect data to answer research questions. And, community-collected data is actually being used in research.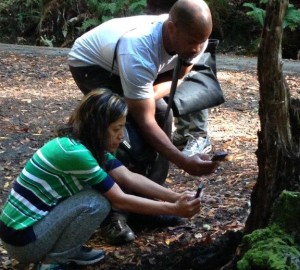 Throughout the conference, a few common themes started to emerge. Everyone agreed that community science programs are increasingly popular, and that the general public loves collecting data and contributing to science. But there are some important questions to answer: How do we make sure the data we collect is being used? How do we engage scientists to take an interest in our data? How do we energize and maintain a diverse group of amazing volunteers?
As with any emerging field, there are always going to be some growing pains — but as community science continues to increase in popularity, I see endless possibilities for what can be accomplished when we all work together for the good of nature.
Make sure to check back for new opportunities. The redwood forest needs you!