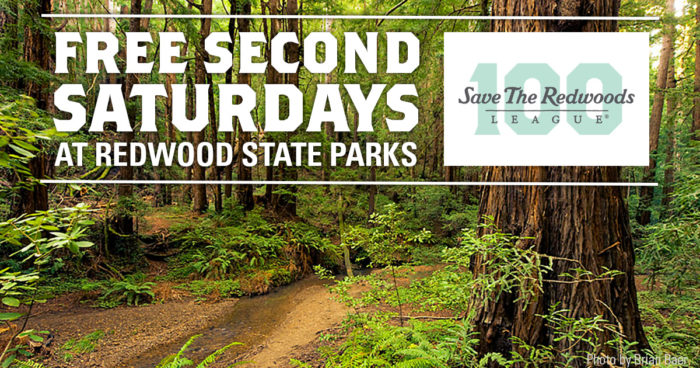 In celebration of the
League's Centennial year
, we invite everyone to experience the sights and sounds of
more than 40 of California's redwood state parks—for free
!
Every second Saturday of each month in 2018, Save the Redwoods League and California State Parks will be hosting a Free Redwoods Day. Parking passes are available on a first-come, first-served basis each month, ahead of the next event. Our next event is on March 10 — download your free pass now!
The upcoming 2018 dates for Free Second Saturdays are:
August 11
September 8
October 13
November 10
December 8
The League and our park partners will be planning guided hikes and other interpretive programs for the free days. On our second Free Redwoods Day in February, Rolando Coden, our Chief Operating Officer, and Harry Pollack, our General Counsel, led a small group of hikers through Portola Redwoods State Park. Along the trail, the small group of nine frequently stopped to marvel at mushrooms, fairy rings, whorled redwood bark and goosepens—all the strange, wonderful features of the redwood forest.
On March 10, you can join a Park Interpretive Specialist for the "What's the Point" walking tour of Patrick's Point State Park highlighting the great variety of recreational, educational, and inspirational opportunities available to visitors. You can also volunteer to remove English ivy at Patrick's Point State Park.
Visit FreeRedwoodsDays.org to plan your visit and to get your parking pass. Also, be sure to sign up for our mailing list to receive notifications when the passes to the next free second Saturday are available for download.
We can't wait to see you on the trails!