In celebration of the
League's Centennial year
, we invite everyone to experience the sights and sounds of
more than 40 of California's redwood state parks—for free
!
Every second Saturday of each month in 2018, Save the Redwoods League and California State Parks will be hosting a free day in the redwoods. Parking passes are available on a first-come, first-served basis each month, ahead of the next event. Our next event is on August 11 — download your free pass now!
We invite you to stand under the world's tallest and largest living creatures — the most powerful forests in the fight against climate change — and learn why we are working so hard to protect and restore them.
Be amazed and inspired by the beauty and power of these natural treasures.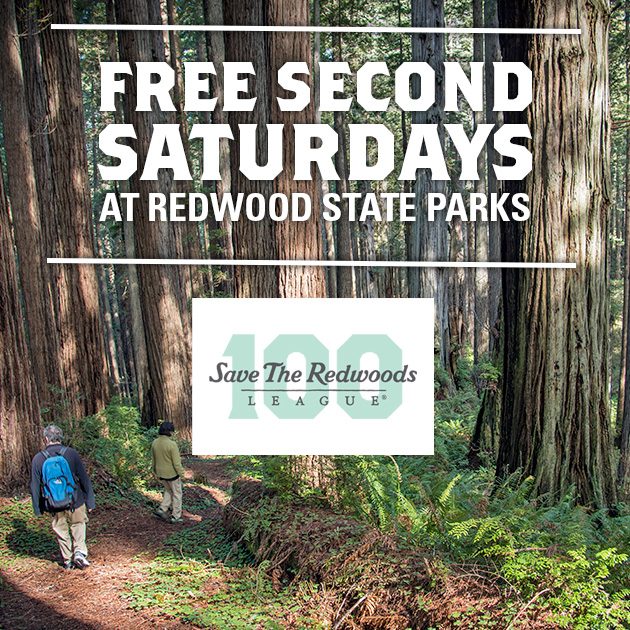 Free Redwoods Days Events in August
As summer begins to fade, it's our last call to squeeze in as many outdoor activities as possible before school starts and the weather begins to cool. But how, you might ask, can we thoroughly soak up the last days of summer before returning to our normal, rest-of-the-year lives? Three simple words: Free Redwoods Days!
Go for a swim underneath the redwoods, hike along miles of scenic trails, and gaze upon the unique and wonderful coast redwood and giant sequoia forests.
Check out these fun events from our park partners on August 11:
The weather this time of year can be ideal for exploring California's redwood forests, and if you're adventurous enough to take a dip in the swimming holes nestled within, check out the following off-the-beaten-path recommendations on our Giant Thoughts Blog.
Visit FreeRedwoodsDays.org to plan your visit and to get your parking pass. (Don't wait! Passes for certain parks go fast!) Also, be sure to sign up for our mailing list to receive notifications when the passes to the next free second Saturday are available for download.
We can't wait to see you on the trails! Hope you join us on August 11th!