In celebration of the
League's Centennial year
, we invite everyone to experience the sights and sounds of
more than 40 of California's redwood state parks—for free
!
Every second Saturday of each month in 2018, Save the Redwoods League and California State Parks will be hosting a free day in the redwoods. Parking passes are available on a first-come, first-served basis each month, ahead of the next event. Our next event is on July 14 — download your free pass now!
The upcoming dates are:
July 14 — Get Your July 14 Pass
August 11
September 8
October 13
November 10
December 8
July 14 is our seventh installment of the Free Second Saturdays in Redwood State Parks, and we want everyone to enjoy and be inspired by the coast redwoods and giant sequoia. Many of these forests only exist thanks to generations of conservationists who fought hard to protect these natural treasures.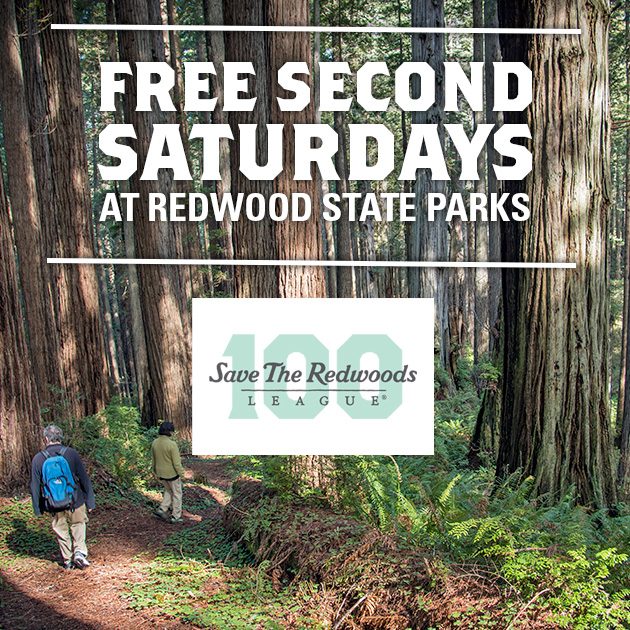 Free Redwoods Days Events in July
Summertime and the redwoods are calling! For anyone living in Central or Northern California, the chances are good that a marvelous redwood forest lies just a short car drive away. We've got a park for you!
Check out these fun events from our park partners on July 14:
The weather this time of year can be ideal for exploring the coast redwood forests in particular. As the hot summer sun raises inland temperatures, heat clashes with incoming cold gusts from the ocean. The contrast creates moisture, which condenses into fog. Like clockwork, this cool blanket rolls in at dusk. Fog not only provides redwood forests with plenty of water, it also lowers the temperature, creating an amenable environment for hikes. Usually, by mid-day, the fog evaporates, giving way to a sunny but mild summer day.
Visit FreeRedwoodsDays.org to plan your visit and to get your parking pass. (Don't wait! Passes for certain parks go fast!) Also, be sure to sign up for our mailing list to receive notifications when the passes to the next free second Saturday are available for download.
We can't wait to see you on the trails! Hope you join us on July 14th!