In celebration of the
League's Centennial year
, we invite everyone to experience the sights and sounds of
more than 40 of California's redwood state parks—for free
!
Every second Saturday of each month in 2018, Save the Redwoods League and California State Parks will be hosting a Free Redwoods Day. Parking passes are available on a first-come, first-served basis each month, ahead of the next event. Our next event is on June 9 — download your free pass now!
The upcoming 2018 dates for Free Redwoods Days are:
June 9 — Get Your June 9 Pass
July 14
August 11
September 8
October 13
November 10
December 8
The year is nearly half over, but we still have plenty of chances to celebrate the League's Centennial. As we approach the summer solstice, with longer daylight hours and warm weather in our future, California's incredible redwood forests are where you can get your summer started early.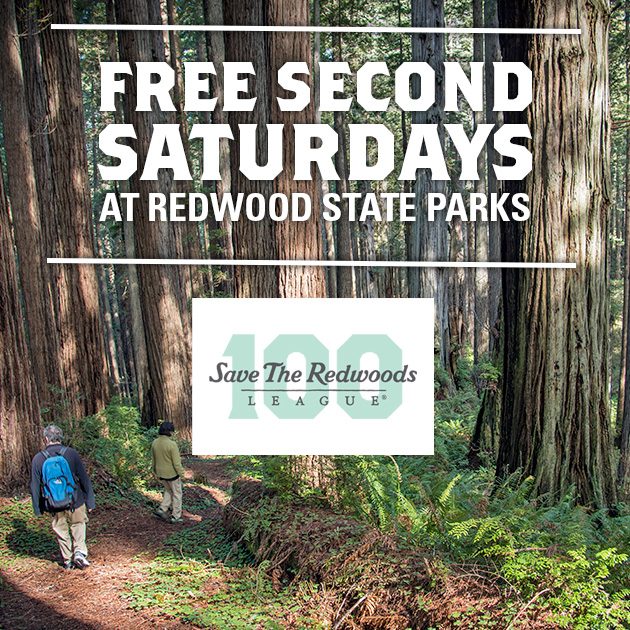 Free Redwoods Days Events in June
To kick off the summer, which redwood park will you visit? For anyone living in Central or Northern California, the chances are good that a marvelous redwood forest lies just a short car drive away. Consider visiting a redwood-fan favorite, like Julia Pfeiffer Burns State Park, which offers pristine views of the Pacific. Or visit Calaveras Big Trees State Park, which offers an entirely different experience, with giant sequoia the width monster trucks.
Check out these fun events from our park partners on June 9:
No matter what park you visit, signs of summer abound. Notice newly-formed leaves, in all their bright-green glory, on bay laurel trees. Marvel at the fresh young fiddleheads on western sword ferns, which will eventually unfurl to replace fully-grown fronds. Listen carefully to the ambient buzzing and chirping, a summer symphony of birds and insects. As we marvel at all that redwoods have to offer, we can celebrate our past and say cheers to another hundred years to come. Hope you join us on June 9th!
Visit FreeRedwoodsDays.org to plan your visit and to get your parking pass. (Don't wait! Passes for certain parks go fast!) Also, be sure to sign up for our mailing list to receive notifications when the passes to the next free second Saturday are available for download.
We can't wait to see you on the trails!