In celebration of the
League's Centennial year
, we invite everyone to experience the sights and sounds of
more than 40 of California's redwood state parks—for free
!
Every second Saturday of each month in 2018, Save the Redwoods League and California State Parks will be hosting a free day in the redwoods. Parking passes are available on a first-come, first-served basis each month, ahead of the next event. Our next event is on November 10 — download your free pass now!
We invite you to stand under the world's tallest and largest living creatures — the most powerful forests in the fight against climate change — and learn why we are working so hard to protect and restore them.
Be amazed and inspired by the beauty and power of these natural treasures.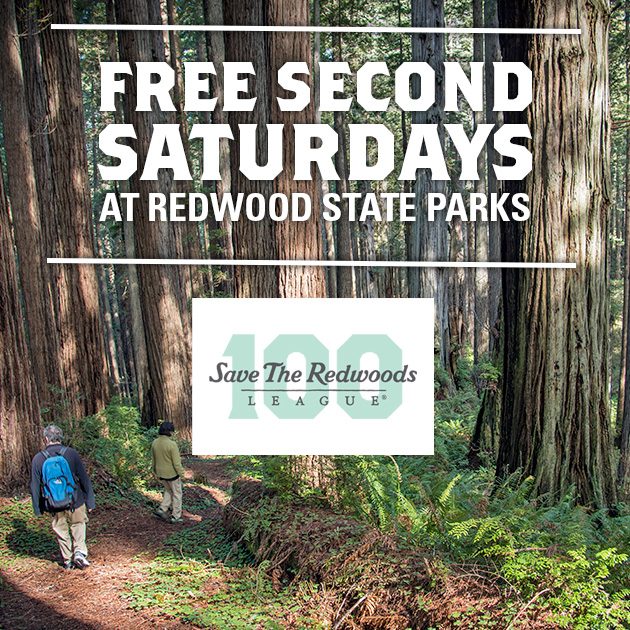 Free Redwoods Days Events in November
Ah, autumn. While deciduous leaves are fading into reds and yellows, redwoods retain their lush green glory. Never-fading in color is just one of the many things that make redwoods interesting and beautiful, and another reason to go see them on this Free Redwoods Day.
Check out these fun events from our park partners on November 10:
The California state parks system — which exists to protect the exquisite beaches, deserts, historical landmarks, and redwoods of our state — would not exist today without the foresight and compassion of our conservationist forebears. Today, 49 redwoods state parks are dotted across California, with majority protected in part by Save the Redwoods League.
Visit FreeRedwoodsDays.org to plan your visit and to get your parking pass. (Don't wait! Passes for certain parks go fast!) Also, be sure to sign up for our mailing list to receive notifications when the passes to the next free second Saturday are available for download.
We can't wait to see you on the trails! Hope you join us on November 10th!