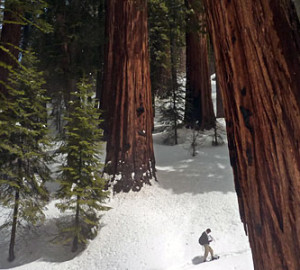 Everyone should have a chance to experience the magic of snow-draped sequoias, and this year, conditions are perfect. Snowpack in the Sierra is still well above average, so let's enjoy our wonderfully white winter with some outdoor recreation! Here are some ideas for where to go and what to do.
Calaveras Big Trees State Park
Snowshoeing: Bring your own gear, or join a guided snowshoe walk. Guided walks are every Saturday at 1 p.m., and snowshoes are provided when conditions are snowy.
Cross-country skiing: Bring skis and traverse the North Grove trail or the 3.5 mile-loop down the park road and back through the campground.
Play, sled or walk among snow-covered giant sequoias: The North Grove is open for winter play! Build a snowman, go gliding on a sled, and take in the majesty around you.
On weekends and holidays, stop at the park's Warming Hut for hot cider or cocoa.
Skiing: Badger Pass is open for both downhill and cross-country skiing.
Hiking: Some trails in the valley are usually accessible during the winter (backcountry routes become extremely limited).
Play in the valley's snow-covered open spaces.
Cozy up with cocoa in the rustic Wawona Hotel.
Enjoy the peace and stillness of the valley without the warm-weather crowds.
Sequoia and Kings Canyon National Parks
Skiing, sledding and snowshoeing: Try any (or all!) of these winter activities at the Wolverton Snowplay Area. You can rent gear at nearby Wuksachi Village. You could also join a free snowshoe walk in Grant Grove Village.
Hiking: Walk among snowy giants on the Big Trees Trail through the Giant Forest.
Skiing or snowshoeing to the Pear Lake Ski Hut: Experienced skiers and snowshoers can take in the serene beauty of the Sierra on the advanced-level, 6-mile trail from Wolverton to the Pear Lake area, and enjoy staying in a cozy cabin at the end of the journey. Reservations required.
Visit the park's website for even more winter activities and tips.
Remember: Keep warm and safe in winter conditions! Make sure to have chains for your tires – they may be required on park roads. Always bring warm winter layers and plenty of food and water. Check weather forecasts before you depart.
For more inspiration for your wintertime redwoods visits, check out Top 5 Redwood Parks to Visit This Winter and Winter White Ferns.
---
Tags: calaveras big trees state park, hiking, recreation, redwood parks, sequoia and kings canyon national park, skiing, sledding, snowshoeing, winter, Yosemite