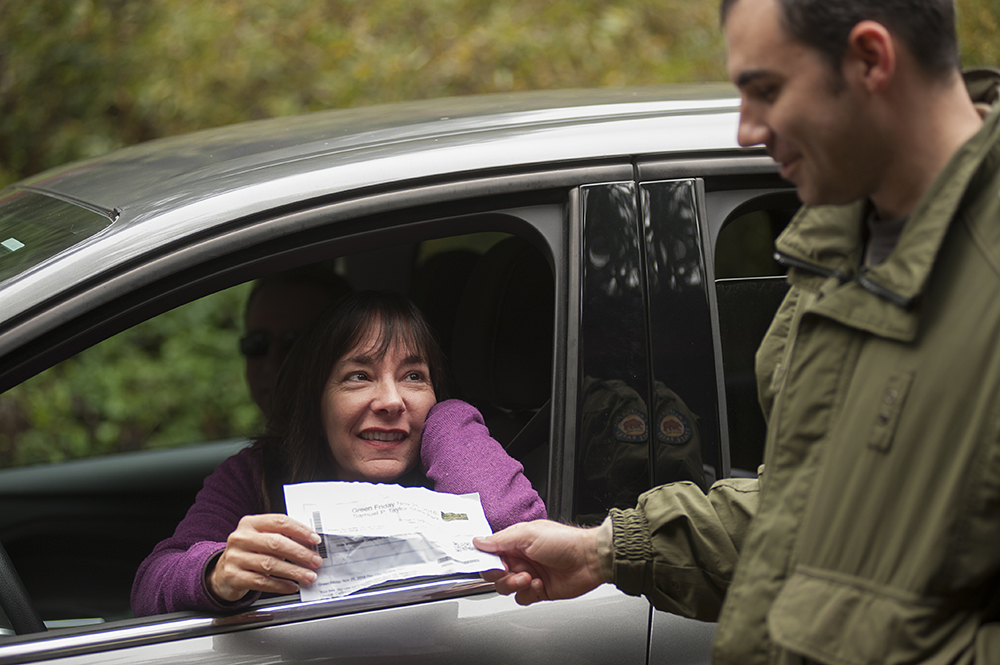 Last month, Save the Redwoods League kicked off the holiday season – and a new Thanksgiving tradition – with a walk in the park with 35,000 friends.
Save the Redwoods League and our Green Friday partners, California State Parks (external link) and California State Parks Foundation (external link), offered free day-use passes to 116 state parks throughout California on November 25th and every participating park had visitors. Additionally, in what was one of the busiest days in the parks this season, when the free passes ran out visitors kept coming – willingly paying the entry fee to spend the day outdoors with friends and family.
I spent the morning of Green Friday among the magnificent redwoods of Samuel P. Taylor State Park in Marin County, one of the most accessible redwood parks in the Bay Area with a fraction of the crowds of Muir Woods. I crossed Lagunitas Creek, full and flowing with the early winter rains. A short hike up the Pioneer Tree Trail brought me to the foot of the tallest tree in Marin County. While the campground was full of families camping (now that is an impressive Thanksgiving tradition!), the trails were quiet and lovely. The occasional shouts of kids exploring among the trees made the park feel loved! Clearly, I wasn't the only one enjoying Green Friday.
What participants throughout the state had to say about Green Friday
"My husband and I decided to explore a state park that we hadn't visited before with our 6-month old son. It was a wonderful experience, and we decided to make it an annual tradition, #GreenFriday."
"The giant redwoods were beautiful. I have lived in the Bay Area all my life and never got past Muir Woods. Jedidiah Smith State Park was wonderful!"
"We visited Big Basin State Park and did the 10-mile Berry Creek Falls hike. This is one of the best hikes I've ever done! It was so great to get the free parking pass. That motivated us to go to Big Basin State Park — thank you!"
Thanks to each and every park visitor for your willingness to spend Green Friday outdoors in some of California's most spectacular public landscapes. To every parent who inspired a love of the outdoors in your children; to every driver who safely transported carloads full of people to the parks; to every docent, volunteer, and ranger who dedicated their time to make the day special for everyone they encountered; and to every park goer who is already making plans to spend Green Friday outdoors with us again next year, thank you! Your enthusiasm and support for California's incredible state parks truly made Green Friday a remarkable day.