Discover Redwood Parks Interactive Map
Use this interactive map of the redwood regions to locate a park and find out what to do there.
*NOTE: Restrictions apply to the following activities/features: Dogs allowed, Fishing, Horses allowed, Mountain Biking, Road Biking. See the individual Park Information pages for details.


---
Featured Parks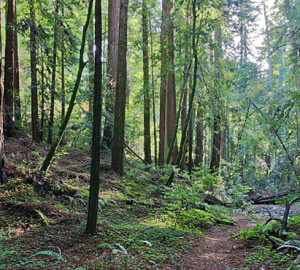 San Francisco Bay Area
Find out what to see and do there
---
Join Us
We hope you've enjoyed our free resources for enjoying and experiencing the redwoods. Be sure to explore more free trip planning resources.
When you visit the redwoods, you know there are few life experiences that compare. With our donors' support, Save the Redwoods League has protected nearly 200,000 acres (the size of 16 Manhattan islands) and helped develop dozens of redwood parks and reserves for everybody to enjoy. However, there's still more work to be done.
Will you help safeguard these special places so your loved ones and generations to come can enjoy redwoods into the future? Together, we can save our redwoods. Please join today.