The heart of northern California's wine country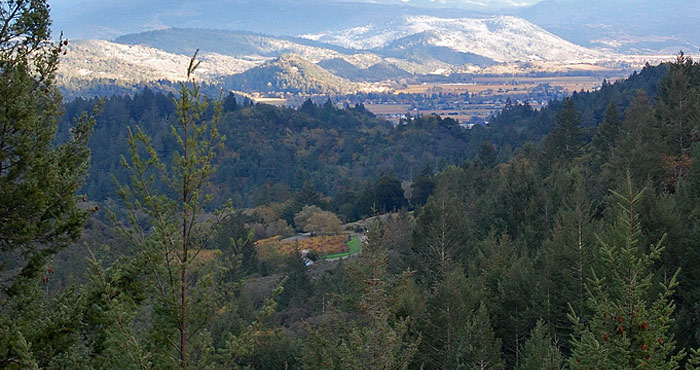 Park Information
Bothe Napa Valley State Park Brochure
HIGHLIGHTS: Bothe-Napa Valley State Park lies near Calistoga in the heart of northern California's wine country, farther inland than any other park with coast redwoods in California. In the face of climate change, Bothe-Napa's redwoods are important to preserve because they may be genetically adapted to dry and warm conditions. In 2008, Save the Redwoods League protected 131 acres of forested land adjacent to the park. Other park highlights are the spring-fed, year-round creek and Bale Grist Mill State Historic Park next door.
ACTIVITIES: Wine and cheese picnic, anyone? Or perhaps you prefer hiking or horseback riding. There's also a swimming pool (adult entry, $5; children $2) and a junior ranger program (external link).
VISITOR CENTER: By the park entrance, the Bothe-Napa visitor center is open most weekends from 10 to 4, depending upon availability of staff.
CAMPGROUNDS: The park's 50 campsites lie along spring-fed Ritchey Canyon. Restrooms and hot showers are nearby. RVs are welcome. To make reservations for the drive-in sites and 10 yurts, visit Reserve America (external link) or call (800) 444-PARK. Nine hike-in sites and one bike-in site are available first-come, first-served.
TRAILS: 10 miles of trails. On a hot day, try the shady, 3-mile-long Ritchey Canyon trail, which can be reached from the campground or from a parking area east of the visitor center. The path will take you past hefty second-growth redwood stands that sprouted after logging in the 1850s, as well as Douglas-firs, big leaf maples, madrones, tanoaks and oaks. Another popular hike is the 5-mile-long loop up to 1,170-foot Coyote Peak. Vegetation blocks the view in most places, but you'll get glimpses of Napa Valley and Mount Saint Helena.
MUST-SEE UNIQUE FEATURE OR SEASONAL HIGHLIGHT: Beside the visitor center, a Native American garden showcases the botanical knowledge of the Wappo, the first people to inhabit the area. A printed guide is available by mail or at the visitor center. In the fall, native grape vines and maples delight visitors with their fiery colors. Pileated woodpeckers and spotted owls are sought-after sightings for birders.
HIDDEN GEM: A little interpark travel can enrich your visit to Bothe. Start at Bothe's day-use area (east of the visitor center). From there, take the History Trail to the pioneer cemetery and water-powered, grain-grinding facility at Bale Grist Mill State Historic Park. Round-trip: 2 miles.
FEATURES ACCESSIBLE TO PEOPLE WITH DISABILITIES: Some restrooms, showers, campsites and yurts, as well as picnic area and campfire center. Pool lift in the swimming pool.
DOGS: Not allowed on trails or dirt roads. On leash elsewhere. In tent or vehicle at night.
ENTRANCE FEE: $8 for day-use vehicle entry; no charge to walk or bike into the park.
MORE INFORMATION: For details, visit the park's website (external link) or call (707) 942-4575.
---
Trip Ideas from Our Staff and Friends
STOP: Go wine tasting in Calistoga or Napa and pick up a lovely bottle for a picnic at the campground.
FAVORITE HIKE: The challenging Coyote Peak Trail takes you up out of the redwoods for views of the valley and mountains.
FAVORITE PARK ATTRACTION: Keep your eye out for the six different woodpeckers in the park.
DON'T MISS: During the hot summer months, the cold and refreshing swimming pool is great for a quick dip.
Tell us your favorite stops, hikes, places to eat, and more when visiting this park!
---
Nearby Redwoods Events
Browse all Events & Activities.
For more hikes, conservation news and redwood facts, sign up for our free enewsletter.
---
Extend Your Visit

Calistoga Bikeshop (Top Attraction)
1318 Lincoln Ave, Calistoga, CA 94515-1702
TripAdvisor Traveler Rating
125 reviews
Black Rock Inn (Top Bed and Breakfast)
3100 Silverado Trl N, St. Helena, CA 94574-9719
TripAdvisor Traveler Rating
148 reviews
Calistoga Inn (Top Restaurant)
1250 Lincoln Ave, Calistoga, CA 94515-1741
TripAdvisor Traveler Rating
653 reviews