Spectacular giant sequoias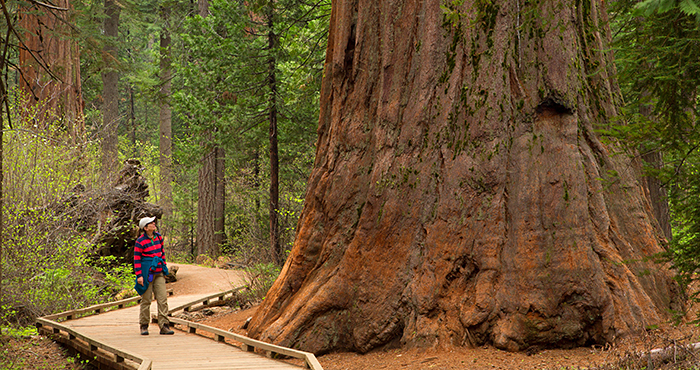 Park Information
Calaveras Big Trees State Park Brochure

HIGHLIGHTS: As the story goes, in 1852 a hunter named Augustus T. Dowd wounded a grizzly and chased him into this forest, only to find trees that were three times bigger than any he'd ever seen before. When he returned to civilization, he began spreading the word about the tall, red-barked giants. Today, at 4,800 feet in the central Sierra, Calaveras Big Trees State Park still surprises visitors with its spectacular giant sequoias (also called "Sierra redwoods" or Sequoiadendron giganteum), as well as stately stands of sugar pines, white firs, incense cedars and ponderosa pines. Save the Redwoods League helped establish this park in 1931, and has helped save 2,031 of the approximately 6,500 acres that make up the park.
ACTIVITIES: Hiking, bicycling, bird-watching, picnicking, cross-country skiing and snowshoeing. Trout fishing in the Stanislaus River. Swimming in Beaver Creek. The park also offers interpretive programs for adults and children. Every Saturday, there's a guided hike of the North Grove at 1 p.m. In January, February and March, try cross-country skiing and snowshoeing.
Most of the park's ranger- or docent-led programs (including campfire talks, forest walks, and Junior Ranger programs) start on Memorial Day weekend and end after Labor Day. Check the schedule for days and times. Aimed at kids age 7 through 12, these programs offer games, crafts, hiking, and exploring with other children.
VISITOR CENTER: In the northwest corner of the park, 3 miles northeast of Arnold off Highway 4. The center features exhibits on the park's history and its sequoias. Call (209) 795-7980 for further information.
CAMPGROUNDS: Calaveras has 74 sites in North Grove, near the visitor center, and 55 sites in Oak Hollow, about 3 miles farther down the main park road. To make a reservation, call (800) 444-7275 or visit www.reserveamerica.com (external link).
TRAILS: The 1.5 mile North Grove trail, which starts near the visitor center, is a good, though sometimes crowded, introduction to sequoias. To see a wilder, less impacted grove, drive 8.5 miles down the Walter Smith Memorial Parkway (the main park road) to the South Grove parking lot. From there walk 2.5 miles to the largest sequoia in the park, the 250-foot-tall, 25-foot-diameter Agassiz Tree. With over 1,000 sequoias, the South Grove was acquired in 1954 by Save the Redwoods League and the Calaveras Grove Association.
MUST-SEE UNIQUE FEATURE OR SEASONAL HIGHLIGHT: Pacific dogwoods are glorious in spring and fall. In May, look for their showy white petal-like bracts; in October, their brilliant red and pink leaves. In winter, snowshoeing through the North Grove is highly recommended. The park may have up to 4 feet of snow in January, February and March. Calaveras Big Trees Association hosts snowshoe tours on Saturdays and some holidays. Call 209-795-1196 for more information. Snow play is allowed in the North Grove area. Build a snow person, ride a sled, or simply marvel at the beauty. Bring your cross-country skis or snowshoes and take the North Grove trail or the 3.5-mile loop out the park road and back through the campground. Learn about snow and winter road conditions. (external link)
HIDDEN GEM: Most people come here to see the sequoias. But in springtime the Lava Bluffs Trail, off Memorial Parkway in the center of the park, offers an outstanding wildflower display, including leopard lily, Hartweg's iris, crimson columbine, monkey flower, harvest brodiaea, wild hyacinth and lupine.
FEATURES ACCESSIBLE TO PEOPLE WITH DISABILITIES: Visitor center, Jack Knight Hall, campfire center, some picnic areas and restrooms, campsites at North Grove and Oak Hollow, 1 hike-in "environmental" site and four trails: Three Senses (Braille text), North Grove, Beaver Creek and Stanislaus River.
DOGS: On leash in campgrounds and fire roads only. Not allowed on trails.
ENTRANCE FEE: $10 per vehicle for day use.
MORE INFORMATION: Visit Calaveras Big Trees State Park (external link) or Calaveras Big Trees Association (external link) or call the visitor center at (209) 795-2334.
---
Trip Ideas from Our Staff and Friends
EAT: Ruskin Hartley, former League Executive Director, suggests picking up a sandwich at one of the cute restaurants in Murphys. Drive out on Highway 4 for a wonderful glimpse of the Delta.
You can also hit Sarafina's Italian Kitchen (external link) in Arnold to fill up on carbs before a 5-mile hike. Reservations are recommended.
FAVORITE HIKE: Ruskin says the "Grove trail is beautiful, especially in the spring when the dogwoods bloom. Or in the fall when they turn color. In the winter, take a snowshoe walk among the giants. Or, strap on your boots for the longer walk to the remote South Grove and feel what a wilderness grove is like." The South Grove Trail is 5 miles round trip with 400-foot elevation gain.
FAVORITE PARK ATTRACTION: Ruskin recommends visiting the South Grove. Other notable attractions include the Agassiz tree, the Stanislaus River, Beaver Creek, the Lava Bluff Trail and Bradley Trail.
Tell us your favorite stops, hikes, places to eat, and more when visiting this park!
---
Nearby Redwoods Events
Browse all Events & Activities.
For more hikes, conservation news and redwood facts, sign up for our free enewsletter.
---
Extend Your Visit

Arnold Rim Trail (Top Attraction)
White Pines Logging Museum Parking Lot, Arnold, CA
TripAdvisor Traveler Rating
35 reviews
Arnold Black Bear Inn (Top Bed and Breakfast)
1343 Oak Circle PO Box 109, Arnold, CA 95223
TripAdvisor Traveler Rating
447 reviews
Sarafina's Italian Kitchen (Top Restaurant)
794 Highway 4, Arnold, CA 95223
TripAdvisor Traveler Rating
160 reviews