Massive ridge-top redwoods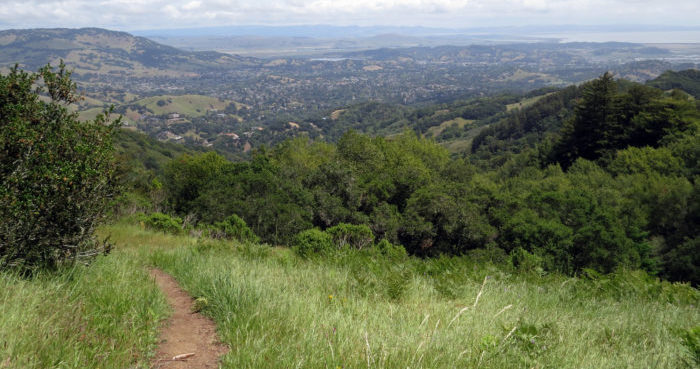 Park Information
HIGHLIGHTS: The 242-acre Indian Tree Open Space Preserve west of Novato is much doted on by locals, who view it as the premier hiking site in their community. The primary attractions are the massive redwoods clustered along the north-facing portion of the ridge that anchors the property. Trails traverse north-facing forests of oak, madrone and California laurel. The preserve thus provides a cool retreat during hot summer and early fall days, making it the perfect place to while away the midday hours.
ACTIVITIES: Hiking, mountain biking, horseback riding, dog-walking and picnicking are all popular.
VISITOR CENTER: None.
CAMPGROUNDS: None.
TRAILS: Indian Tree has 9 miles of trails, with the Big Trees Trail the undisputed favorite; this is the trail that leads to the giant ridge-top redwoods. Before an extensive rerouting in 1998, the Big Trees Trail was notorious for its steep and grueling grade. A series of switchbacks were added, and the trail is now a moderate 3-mile hike. For a more vigorous workout, the Big Trees Trail, Indian Fire Road, Ship's Mast Trail and Upper Meadow Trail can be combined for a 6-mile loop.
MUST-SEE UNIQUE FEATURE OR SEASONAL HIGHLIGHT: The giant redwoods at crest of the ridge are irresistible. They catch the summer fog, creating a cool microclimate even during Novato's hottest days.
HIDDEN GEM: A redwood-cloaked canyon in the lower portion of the preserve is a perfect place for picnics. Just follow the Upper Meadow Trail and head up the canyon where it reaches the Deer Camp Trail.
FEATURES ACCESSIBLE TO PEOPLE WITH DISABILITIES: The trailheads are accessible; the trails are rough.
DOGS: Allowed on-leash on single track trails, and off-leash and under voice command on fire roads, providing the owner carries a leash.
ENTRANCE FEE: None.
SPECIAL EVENTS: Marin County Parks often hosts or authorizes special events and programs on district properties. Go to the department's activities calendar for updates and details.
MORE INFORMATION: Call 415-473-6387 or go to the preserve's webpage.
PLACES TO EAT: Marvin's Restaurant in Novato is renowned throughout the North Bay for its breakfasts. Jennie Low's, also in Novato, serves excellent Chinese food.
---
Nearby Redwoods Events
Browse all Events & Activities.
For more hikes, conservation news and redwood facts, sign up for our free enewsletter.
---
Extend Your Visit

Marin French Cheese Company (Top Attraction)
7500 Red Hill Rd, Petaluma, CA 94952-9438
TripAdvisor Traveler Rating
166 reviews
Best Western Plus Novato Oaks Inn (Top Hotel)
215 Alameda Del Prado, Novato, CA 94949-6657
TripAdvisor Traveler Rating
841 reviews
Rancho Nicasio Restaurant & Bar (Top Restaurant)
1 Old Rancheria Rd, Nicasio, CA 94946-9701
TripAdvisor Traveler Rating
51 reviews