Great recreation in California's largest state forest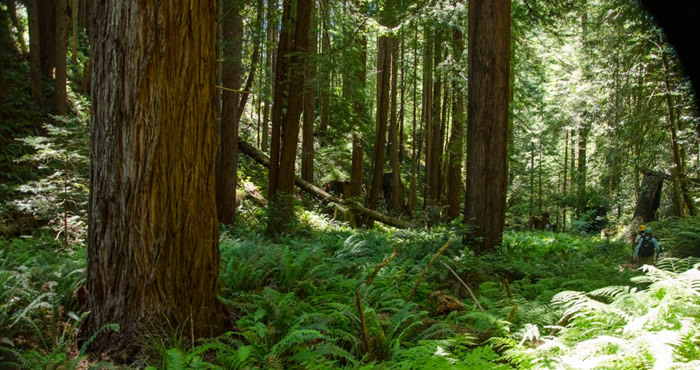 Park Information
HIGHLIGHTS: Jackson Demonstration State Forest is one of California's "working" forests, a property that is managed for a variety of uses, including sustainable timber harvest, recreation, watershed stability and wildlife habitat. At roughly 50,000 acres it's California's largest state forest, comprising portions of the Noyo and Big River watersheds. Redwood and Douglas fir forest characterize most of the property; tanoak, madrone and bay myrtle woodlands also are abundant.
Jackson has a multitude of roads and trails, all heavily used by hikers, equestrians and mountain bike riders. When timber harvest is proceeding, caution must be exercised on the roads due to logging trucks.
ACTIVITIES: Like other state forests, Jackson functions on a multiple-use recreation plan. Hikers, mountain bikers and equestrians share trails. Camping, picnicking and swimming are all popular pursuits. Mushroom foraging is allowed with a permit from CAL FIRE. Hunting also is allowed in season; fishing, however, is not permitted.
VISTOR CENTER: None.

CAMPING: 23 campgrounds, each with one to 17 sites are available on a first-come, first-served basis. No showers. RV access, but no hookups.

TRAILS: Jackson supports a large network of trails and roads. The Chamberlain Creek Trail and Camellia Trail comprise a moderate 3-mile round-trip that passes a dramatic waterfall and a small grove of old-growth redwoods. For hikers seeking a greater challenge, the Trestle Trail is a good choice: an 8.4-mile round trip on a remote trail through the beautiful watershed of the North Fork of the South Fork of the Noyo River. A large waterfall is visible about halfway up the trail.
MUST-SEE UNIQUE FEATURE OR SEASONAL HIGHLIGHT: The Forest History Trail provides an excellent overview of the forest. The trail traverses multiple ridges, and includes an observation point. The route passes through several distinct sections identified with markers that are correlated with a Forest History Trail Guide that may be obtained through CAL FIRE headquarters in Fort Bragg. The Redwood Ecology section explains the dynamics of the redwood forest; the Native American Section details the history of the Pomo Indians who once inhabited the forest; the Early Logging Days section describes the logging of the virgin redwood forest from 1850 to 1900; and the Forest Management section describes sustainable timber harvesting and redwood restoration.
HIDDEN GEM: Chamberlain Creek Waterfall on the Chamberlain Creek Trail and Camellia Trail is the centerpiece of a beautiful tableau: a lovely falls situated in a narrow canyon sheltered by old-growth redwoods and a luxuriant fern understory.
FEATURES ACCESSIBLE TO DISABLED PEOPLE: Restrooms and some campsites.
DOGS: Allowed on leash.
ENTRANCE FEE: None.
MORE INFORMATION: Visit the forest's website or call 707-964-5674.
PLACES TO EAT AND STAY:The coastal towns of Fort Bragg, Caspar and Mendocino have abundant dining and lodging options.
---
Nearby Redwoods Events
Browse all Events & Activities.
For more hikes, conservation news and redwood facts, sign up for our free enewsletter.
---
Extend Your Visit

Liquid Fusion Kayaking (Top Attraction)
32399 Basin St # 46A, Fort Bragg, CA 95437-5720
TripAdvisor Traveler Rating
62 reviews
Shoreline Cottages (Top Hotel)
18725 N Highway 1, Fort Bragg, CA 95437-8748
TripAdvisor Traveler Rating
496 reviews
David's Deli (Top Restaurant)
163 Boatyard Dr, Fort Bragg, CA 95437-5739
TripAdvisor Traveler Rating
267 reviews