Exquisite stretch of the central California coast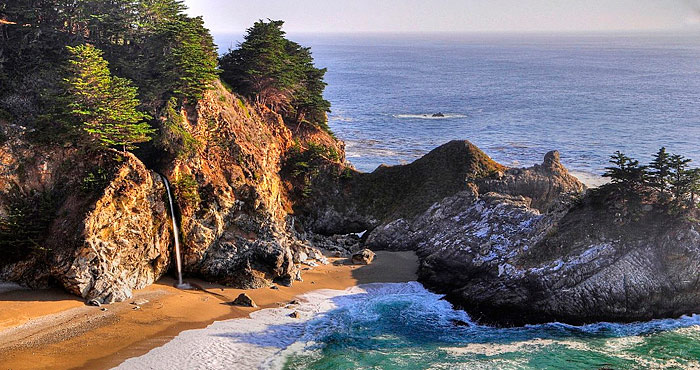 Park Information
Julia Pfeiffer Burns State Park Brochure
HIGHLIGHTS: Thirty-seven miles south of Carmel, Julia Pfeiffer Burns State Park showcases an exquisite 2-mile stretch of the central California coast.
ACTIVITIES: Hiking, picnicking, camping, wildlife watching. With a permit, scuba divers can explore the park's 1,680 acres of canyons, caves, tunnels and natural bridges.
VISITOR CENTER: No visitor center. But 10.5 miles to the north, Big Sur Station has a Julia Pfeiffer Burns State Park trail guide and map, as well as information about other interesting stops along this spectacular stretch of coast.
CAMPGROUNDS: The park has two campsites perched on a wooded, fenced promontory about one-third mile from the parking lot. Each site, which can accommodate up to eight people, has a picnic table and fire pit, but no drinking water, showers or RV access. For reservations, call (800) 444-7275 or go to the park website (external link).
TRAILS: 12 miles of trails. There's only one way to get to the Pacific Ocean. About 2 miles north of the park entrance (at mile marker 38), you can walk a half-mile down a fire road to the rocky beach at Partington Cove. There's an old-growth redwood grove there that Save the Redwoods League helped add to the park in 1981.
MUST-SEE UNIQUE FEATURE OR SEASONAL HIGHLIGHT: If you have time for nothing else, make the quarter-mile stroll to McWay Falls. From the parking lot, follow an easy trail under the highway. Turn right at the trail intersection. You'll soon see a waterfall that looks like something out of a tropical paradise, and-if you're lucky-possibly a sea otter, harbor seal or California sea lion. If you're visiting December through March, keep an eye out for the migrating gray whales that occasionally explore the cove.
HIDDEN GEM: The Ewoldsen Trail (external link) is a 5-mile loop that offers spectacular redwood and coast views.
FEATURES ACCESSIBLE TO PEOPLE WITH DISABILITIES: 0.5-mile-long Waterfall Overlook Trail leads to coastal views and McWay Falls.
HORSES: Not permitted.
DOGS: In parking lot only.
ENTRANCE FEE: $10 for day-use vehicle entry; no charge to bike into the park.
MORE INFORMATION: Go to the park website (external link), call (831) 667-2315, or write Big Sur Station #1, Big Sur, CA 93920.
---
Trip Ideas from Our Staff and Friends
EAT: Christine Aralia, Land Project Manager, suggests the Big Sur Bakery (external link) for to-go treats and Nepenthe (external link) for drinks and dinner!
Regan Ranoa, Outreach Manager, suggests a stop in at Fernwood Tavern (external link) for live music and a good beer.
STOP: Stop and stay in a yurt (external link)!
For an amazing experience, Regan recommends making a reservation at Esalen (external link) for their hot springs. The cliff-side, outdoor springs are only open to the public from 1am-3am.
FAVORITE PARK ATTRACTION: The 80-foot McWay waterfall!
Tell us your favorite stops, hikes, places to eat, and more when visiting this park!
---
Nearby Redwoods Events
Browse all Events & Activities.
For more hikes, conservation news and redwood facts, sign up for our free enewsletter.
---
Extend Your Visit

The Esalen Institute (Top Attraction)
55000 Highway 1, Big Sur, CA 93920-9546
TripAdvisor Traveler Rating
190 reviews
Post Ranch Inn (Top Hotel)
47900 Highway 1 PO Box 219, Big Sur, CA 93920-9576
TripAdvisor Traveler Rating
1156 reviews
Nepenthe (Top Restaurant)
48510 Highway 1, Big Sur, CA 93920-9549
TripAdvisor Traveler Rating
2809 reviews