A redwood sanctuary near San Francisco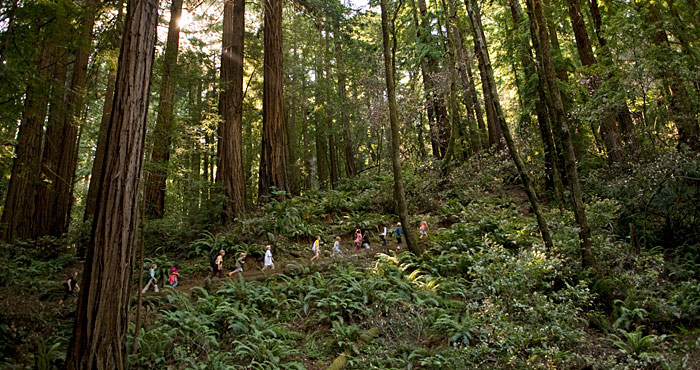 Park Information
HIGHLIGHTS: Eleven miles north of the Golden Gate Bridge, Muir Woods National Monument is a redwood sanctuary near San Francisco with coast redwoods more than 250 feet high and 400 to 800 years old. The monument's trails connect to Mount Tamalpais State Park. Please note that Muir Woods is often crowded. Weekdays are less crowded than weekends, early morning or late afternoon is less crowded than midday. Parking is difficult. It's best to take the shuttle, offered weekends April through October, and seven days a week mid-June through mid-August.

Parking and shuttle reservations are required starting January 16, 2018. Shuttle info (external link).
ACTIVITIES: Muir Woods has 6 miles of trails, including a 1/2-hour loop, a 1-hour loop, and a 1-1/2 hour loop, as well as longer hikes on trails that extend into Mt. Tamalpais State Park. Lower trails are asphalted or boardwalked. Upper trails are dirt, narrow and steep. Children flock here for educational programs. Among those funded by Save the Redwoods League is Quest, a poetic treasure hunt through the woods for families. There's also a Junior Ranger program, which involves a self-guided exploration of forest ecology for young people 6 to 12. No biking, horseback riding or picnicking is allowed in the park.
VISITOR CENTER: Though only 560 acres, Muir Woods attracts nearly 1 million people every year. Its visitor center (near the entrance) has excellent exhibits and a bookstore. There's also a cafe, picnic area and gift shop and restrooms.
CAMPGROUNDS: Camping is not allowed in the monument, but it is allowed in adjacent Mount Tamalpais State Park and in the Golden Gate National Recreation Area (external link). Please note that the monument doesn't offer RV parking facilities; vehicles over 35 feet are prohibited.
TRAILS: On a quick trip you might start from the entrance and hike half a mile to Cathedral Grove, which has some of the tallest and oldest trees in the monument. It's been declared a "quiet area." People are asked to speak in a whisper and refrain from using their cell phones. In 1945, the drafters of the United Nations charter held a commemorative ceremony here.
If you have more time and energy, you can descend into the monument from Pantoll, Bootjack or Mountain Home trails in Mt. Tamalpais State Park. Each of these hikes takes at least half a day. See the Mt. Tam brochure (external link) for the trail map.
MUST-SEE UNIQUE FEATURE OR SEASONAL HIGHLIGHT: In February, March and April, the pink and purple blossoms of redwood sorrel (which looks like a 3-leaved shamrock) accent the forest floor. In the same months, the coast trillium opens up its white 3-part flowers, which fade to a deep rose color after they've been pollinated. From March to August you might well hear nesting woodpeckers (downy and pileated) laughing and hammering on the trees. In May, deer are giving birth to their fawns. In late May, ladybugs start to show up after a 100-mile migration from the Central Valley. They swarm and cluster throughout the summer and fall, go under leaf litter when rains start, and leave in late winter. In late December through mid-February, steelhead and coho salmon spawn.
HIDDEN GEM: The park is open until 8 p.m. during the spring and summer months. "It is truly magical to walk in the forest at twilight, as vibrant green dims to shadows," says former Site Supervisor Mia Monroe. "Animal sightings increase, and you're likely to have the park to yourself."
FEATURES ACCESSIBLE TO PEOPLE WITH DISABILITIES: Parking, entrance plaza and exhibits, café and gift shop, assisted listening devices, main path into grove, Braille brochure and trail map,audio brochure, large print brochure, ASL interpreters available by advance request. Visitor center is usable, but visitors may need some assistance.
DOGS: Not allowed.

ENTRANCE FEES: $10 for visitors 16 years of age and older; free for visitors 15 years of age and younger. See the monument's fees page (external link) for information about passes and free days.
SPECIAL EVENTS AND ACTIVITIES:
STEWARDSHIP PROGRAM. Enthusiastic volunteers are needed to help with public programs and stewardship projects in the beautiful setting of Muir Woods National Monument. Learn more on the monument's volunteer page (external link).
MORE INFORMATION: Visit Muir Woods National Monument (external link). For recorded information about the park, call (415) 388-2595. Because of limited parking,  it's best to take the shuttle, offered weekends April through October and seven days a week mid-June through mid-August. Parking and shuttle reservations are required starting January 16, 2018. Shuttle info (external link).
---
Trip Ideas from Our Staff and Friends
EAT: Ruskin Hartley, former League Executive Director, and Susan Ingersoll, former Education Program Manager, recommend the Dipsea Cafe (external link). Susan says the Dipsea is "a quintessential Marin tradition." Ruskin prefers to see the redwoods in the morning and then enjoy breakfast at the Dipsea.
Susan also suggests trying Cafe Del Soul (external link), which is across the street from the Dipsea. It's a great spot that is popular with locals but unknown to tourists.
STOP: Bob Hansen, former President at The Yosemite Fund, recommends stopping at the Pelican Inn (external link). It's like a British pub, and it is also a good place to stay.
FAVORITE HIKE: The Coastal Trail at Hawk Hill is recommended. Susan says "Any trail is worth doing. Seriously!"
FAVORITE PARK ATTRACTION: Ruskin recommends going to the park early to beat the tour buses and have the park to yourself, even on a busy day.
The place Susan likes best is the cafe at Muir Woods (external link). It's run by Muir Woods Trading Company and the cafe was recently honored on the Food Network (external link) for their commitment to serving only local, organic food that tastes great. Their tomato soup and grilled cheese sandwich combo was raved about so much, that people started going to Muir Woods specifically for this dish. They are also really eco-friendly; for example, they only sell drinks in glass or cans,  not plastic!
DON'T MISS: The fall migration of hawks (September through November) at nearby Hawk Hill (external link).
Ruskin suggests keeping an eye out for a glimpse of the Farallon Islands on the horizon as you drop down to Muir Woods.
Tell us your favorite stops, hikes, places to eat, and more when visiting this park!
---
Nearby Redwoods Events
Browse all Events & Activities.
For more hikes, conservation news and redwood facts, sign up for our free enewsletter.
---
Extend Your Visit

Bennett Western Juniper (Top Attraction)
Eagle Meadows, Strawberry, CA
TripAdvisor Traveler Rating
4 reviews
The Cottage at Muir Beach (Top Hotel)
130 Sunset Way, Muir Beach, CA 94965-9743
TripAdvisor Traveler Rating
14 reviews
Mill Valley Beer Works (Top Restaurant)
173 Throckmorton Ave, Mill Valley, CA 94941-1909
TripAdvisor Traveler Rating
84 reviews