Enjoy spectacular scenery while hiking the coast and camping among the redwoods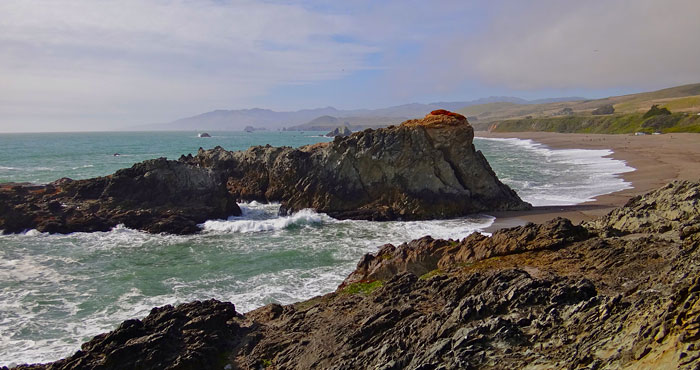 Park Information
HIGHLIGHTS: With its sandy beaches, rugged headlands and miles of trails, picturesque Sonoma Coast State Park offers a bounty of recreational opportunities for everyone.
ACTIVITIES: Hiking, camping, boating, fishing, tidepooling, horseback riding, picnicking. Explore the long, sandy beaches and respectfully observe the fascinating life in the tidepools. Watch the harbor seals and enjoy a picnic at Goat Rock—remember to look for migrating gray whales, too. Hike along the bluffs and inland to see the variety of plant communities that make up this scenic landscape, including coast redwood forest. Though beautiful, the surf can be treacherous here—keep a safe distance from the ocean and stay on the "high and dry" sand here.
VISITOR CENTER: Learn about the natural and cultural history of the area at the Jenner Visitor Center while enjoying a spectacular view of the Russian River. The volunteer-run facility is open on weekends in the summer months.
CAMPGROUNDS: The park has a few options for camping. Wright's Beach Campground has 27 developed sites near the beach; there are no shower facilities, but running water and flush toilets are nearby. At Bodega Dunes Campground, 98 developed sites have restrooms, a campfire center and hot pay showers. For reservations, call (800) 444-7275 or visit www.reserveamerica.com. Pomo Canyon and Willow Creek environmental campgrounds offer another 31 sites. At Pomo Canyon, you can camp in the park's beautiful redwood grove. These campgrounds are subject to seasonal closures and are first-come, first-served. Call (707) 875-3483 for availability. Willow Creek Campground is 1/2 mile east of Highway 1 on Willow Creek Road. Pomo Canyon Campground is two miles farther along Willow Creek Road.
TRAILS: You can enjoy the park's 5-mile trail system via your choice of several access points. Park Ranger Greg Probst recommends parking at Shell Beach. From there, the Kortum Trail goes north through lovely coastal prairie, and south to the beach. The Pomo Trail also begins at Shell Beach, gaining about 1,000 feet and providing stunning views of the coastline and Russian River along the way. The Pomo Trail will take you to the park's lovely redwood grove. For more direct redwoods access, park at the Pomo Canyon campground and explore the Red Hill Trail. You can also park and hike around Bodega Bay to the south.
MUST-SEE UNIQUE FEATURE OR SEASONAL HIGHLIGHT: Ranger Greg enjoys watching the harbor seal colony that lives at the mouth of the Russian River, and watching for migrating gray whales from Bodega Head on a clear day.
MORE INFORMATION: Visit Sonoma Coast State Park (external link). Check out the park brochure (external link) for a trail map and more helpful information.
---
Trip Ideas from Our Staff and Friends
EAT: With the town of Jenner just to the north and Bodega Bay to the south of the park, mealtime options are plentiful. Deborah Zierten, Education & Interpretation Manager, recommends Café Aquatica (external link) in Jenner for its homemade sandwiches, coffee and outdoor seating. At Bodega Bay, Fisherman's Cove (external link) restaurant offers tasty seafood and beautiful views.
Regan Ranoa, Outreach Manager, recommends grabbing a bite at Cape Fear Cafe (external link) in the lovely town of Duncans Mills.
STOP: Hitchcock fans might enjoy strolling through the town of Bodega Bay, where "The Birds" was filmed. Regan suggests stopping to check out antiques, tea, and railroad museum at Duncans Mills (external link).
FAVORITE HIKE: Ranger Greg likes the Pomo Canyon Trail for the spectacular views it offers on a clear day. Deborah agrees — with beautiful scenery all the way from the redwoods to the coast, she says the Pomo Canyon Trail has it all.
Tell us your favorite stops, hikes, places to eat, and more when visiting this park!
---
Nearby Redwoods Events
Browse all Events & Activities.
For more hikes, conservation news and redwood facts, sign up for our free enewsletter.
---
Extend Your Visit

Sonoma Canopy Tours (Top Attraction)
6250 Bohemian Hwy, Occidental, CA 95465-9105
TripAdvisor Traveler Rating
520 reviews
Highland Dell Lodge (Top Bed and Breakfast)
21050 River Blvd, Monte Rio, CA 95462-9781
TripAdvisor Traveler Rating
65 reviews
Cape Fear Cafe (Top Restaurant)
25191 Hwy 116, Duncans Mills, CA
TripAdvisor Traveler Rating
149 reviews