Rushing rivers, snow-capped peaks, dense forests; Big Trees Grove is the northernmost grove of giant sequoias in the world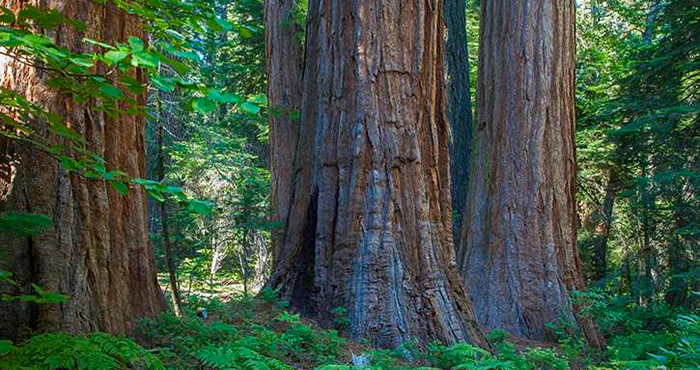 Park Information
HIGHLIGHTS: Located northwest of the renowned subalpine lake that shares its name, the 1.2 million-acre Tahoe National Forest is the home of Big Trees Grove, the world's northernmost stand of giant sequoias. Threaded by the forks of the Yuba and American Rivers, it is a land of rushing white water, sapphire lakes, lofty granite peaks and dense coniferous forests.
ACTIVITIES: The outdoor enthusiast will find much to do in the Tahoe National Forest in any season. Hiking, camping, backpacking, horseback riding, mountain biking and flat water canoeing and kayaking may be pursued late spring through summer. From late fall through early spring, there's cross-country skiing, snowshoeing, and snow camping.
VISITOR CENTER: Ranger stations are located at Foresthill, Sierraville, Truckee and Camptonville.
CAMPGROUNDS: The forest supports 76 campgrounds. Development is minimal. No showers. Some site-specific length restrictions for RVs: 20 to 35 feet. Check out these pages on specific campgrounds:
TRAILS: 500 miles, including Big Trees Nature Trail (hiking only).
MUST-SEE UNIQUE FEATURE OR SEASONAL HIGHLIGHT: The Big Trees Grove near Foresthill is the world's northernmost giant sequoia grove. This fact alone makes a visit something of a requirement for anyone visiting the Lake Tahoe region. The six trees constituting the grove are accessible by a half-mile nature trail. An interpretive brochure is available at the site. Not far from the grove is the Grouse Falls Overlook, offering a view of a beautiful 504-foot cataract that is reached by an easy hike through lush forests.
HIDDEN GEM: The Lakes Basin Recreation Area is an easily accessed subalpine basin characterized by numerous lakes, coniferous woodlands, open meadows and granite shields and peaks. The scenery is glorious, and the camping, hiking, and fishing are all superb.
FEATURES ACCESSIBLE TO PEOPLE WITH DISABILITIES: Some campsites, restrooms, picnic areas and restrooms. Free passes for permanently disabled U.S. citizens and permanent residents are available.
DOGS: On leash or under voice control on trails; permitted in developed areas on leash.
ENTRANCE FEE: None.
INFORMATION: Visit the forest's website or call forest headquarters at 530- 265-4531.
PLACES TO EAT AND STAY: Truckee and Nevada City both offer multiple options for lodging and dining.
---
Nearby Redwoods Events
Browse all
Events & Activities
.
For more hikes, conservation news and redwood facts, sign up for our free enewsletter.
---
Extend Your Visit

Kentucky Mine Museum (Top Attraction)
100 Kentucky Mine Road, Sierra City, CA 96125
TripAdvisor Traveler Rating
20 reviews
Milano's Inn (Top Bed and Breakfast)
27949 Cherokee Road, North San Juan, CA 95960
TripAdvisor Traveler Rating
5 reviews
Red Moose Cafe (Top Restaurant)
224 Main St Apt C, Sierra City, CA 96125-9995
TripAdvisor Traveler Rating
23 reviews