---
« Previous Story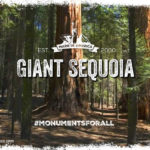 by Save the Redwoods League
on
The Trump administration is seeking the public's comments on Giant Sequoia National Monument and 26 other monuments, while threatening to roll back hard-won protections for these unique and spectacular places. The League is joining a coalition led by Conservation Lands Foundation to speak up for these American treasures. We have until July 10, 2017 to express how we value these public lands.
Share your comments today on MonumentsForAll.org.
Next Story »

by Save the Redwoods League
on
A walk among the hushed stands of 300-foot-tall ancient giants in Richardson Grove State Park is a sensory journey back in time. Many of the trees are more than 1,000 years old, and among the world's tallest. Save the Redwoods League recently protected Twin Trees forest, which buffers this jewel of a park. The Toumey Trail will lead you through magical Richardson Grove and Twin Trees.