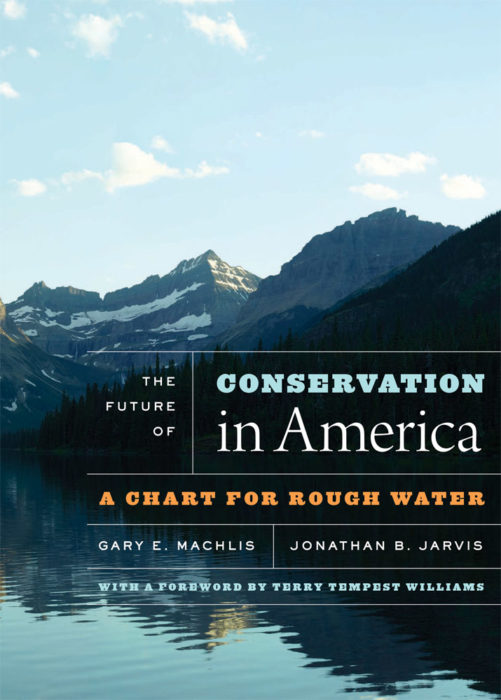 The Future of Conservation in America—A Chart for Rough Water
Gary E. Machlis and Jonathan B. Jarvis with a foreword by Terry Tempest Williams
Authors Gary Machlis and Jonathan Jarvis write that small books can have big aims: "Our goal is to provide a guide for how the conservation movement can effectively advance its agenda over the near- and long-term future." The Future of Conservation in America is an excellent effort to do just that.
Machlis served as Jarvis' science advisor while Jarvis was Director of the National Park Service from 2009 to 2017. The authors write that it is time for a new and unified vision for conservation. They explain how we are experiencing a turning point at which climate change is forcing us to rethink how protected areas will be managed and what type of collaboration will be necessary to succeed in this unfolding new world.
One of their central concepts is strategic intention. Chapter four is the core of this guidebook where 14 strategies are succinctly explained for readers to contemplate and act on. Strategies range from "Integrate climate change into all conservation decisions and actions," and "Protect, connect, and grow the network of protected areas," to "Connect all citizens to American nature." These strategies are similar to the strategies in the League's new Centennial Vision for Redwoods Conservation, described in this magazine.
While there is rough water ahead, the authors write that they "are confident in the future of conservation in America." At 112 pages, this is a small book. But it is big on ideas, and the perfect mini-manual for those who care and are looking for guidance in these opaque times.
The University of Chicago Press
2018, 112 pages, $14
---
Big Tree Hikes of Sequoia Country—A Guide to the Giants
Tyler Williams
Tyler Williams' guidebook, Big Tree Hikes of Sequoia Country—A Guide to the Giants, is a simple and respectful paperback for exploring giant sequoia country.
The author details 12 hikes, all situated in the southern Sierra Nevada, from Boole Tree Loop in the north to Trail of 100 Giants in the south. Hikes range from 0.2 miles to 5.5 miles, so we're not talking rigorous backcountry outings. In fact, the author's goal is for readers to quickly and easily access these magnificent trees.
Photos in Sequoia Country are mostly black-and-white, except for some color shots in the middle section. Each hike section begins with a general description, optimal season, round-trip distance, difficulty, and route surface. Simple maps are included, though I'd recommend bringing along something more detailed—as does the author. This is not a classic pocket guide, but at 5.5 inches by 8.5 inches, it's easy to carry or stuff in a knapsack.
The author describes six common trees of the sequoia forest, as well as two common plant species—manzanita and poison oak. Photos and descriptions are easy to follow, like mini guides within a guide for the layperson.
Other educational sections cover biggest and oldest trees, the historical range of sequoia, preservation efforts, influential naturalist John Muir, fire and sequoia, and more.
Sequoia Country is a perfect companion to Williams' 2013 book, Big Tree Hikes of the Redwood Coast.
Funhog Press
2017, 87 pages, $14.95
---
Tall Tall Tree
Anthony D. Fredericks with illustrations by Chad Wallace
Tall Tall Tree by Anthony D. Fredericks is one of those books that kids ages 3 to 8 will enjoy over and over. At 9 inches by 11 inches, it's the perfect size to read as a family, or for a new reader to spread open and explore.
Chad Wallace's dreamy and inviting artwork is a big part of the allure of discovering the creatures who live on, in, and around a tall redwood tree. A letter from a northern spotted owl opens the book. From there, rhyming text accompanies the numbers 1 through 10. Each number introduces a species: an eagle, spotted owls, climbing salamanders, and many others. Wallace also worked in a few hidden critters—a ghostly hummingbird veiled in fog, a millipede mixing it up with a bevy of banana slugs, a resting marbled murrelet on a distant branch, and several more.
A clear yet subtle environmental message permeates the book. The basic premise is that through learning about redwoods and the redwood forest, you can help protect fragile ecosystems and all the animals and plants they support.
Sam Hodder, Save the Redwoods League President and CEO, said Tall Tall Tree is a tribute to the remarkable forests and wildlife that the League has helped to save. "This wonderfully illustrated book explores the beautiful and rarely seen world within the redwood forest, inspiring children and adults alike to discover and care for these tall, tall trees," he said.
An Explore More section ends the book, offering more facts about redwoods and animals, as well as related activities in science, technology, engineering, art, and math.
If kids keep coming back to Tall Tall Tree, they will no doubt have many questions, and most of the answers can be found there.
Dawn Publications
2017, 32 pages, $16.95
---
Tags: Autumn 2018, books, Magazine