Episode 3's guest is Kathryn Luna who builds community and partnerships at the outdoors retailer Mountain Hardwear. She's also on the Board of Directors at GirlVentures, a non-profit that inspires girls to lead through outdoor adventure, inner discovery, and collective action. Host Emily Harwitz talks to Kathryn about her relationship to the outdoors, including: starting young, the safety of exploring in community, and passing that on to others through the work she's doing now. They also chat about coming from mixed cultural backgrounds and what we can learn from nature's ecotones—where two ecosystems meet to mix and blend.
Find Luna on Instagram at
@kllunaa
Follow I'll Go If You Go Podcast on Instagram @illgoifyougopod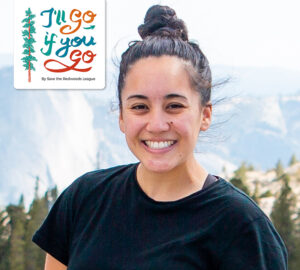 I'll Go If You Go, a Save the Redwoods League podcast.
Through conversations with Black, Indigenous, and people of color who explore and work in the outdoors, we're building community and illuminating how Californians from all walks of life think about and experience nature and conservation, in the redwoods and beyond.
---
About the host of Season 3
Emily Harwitz (she/her) is a multimedia science writer and photographer whose work focuses on the environment and our connection to it. She tells stories that foster community, provoke curiosity, and inspire a sense of deeper connection with the natural world around us.
---
Be sure to follow our podcast in your preferred app to be notified when new episodes are posted!
---
Subscribe to the podcast on your favorite streaming platform.