With our supporters, we are ramping up our redwood land protection, restoring landscapes of young and burned forests across their ancient range, and connecting new generations with the beauty and power of nature through transformational parks experiences. In the League's 2021-22 fiscal year, some pandemic restrictions were lifted, allowing long-awaited returns to in-person programs and activities of daily life. We marked the year with historic accomplishments, protecting and healing our natural systems and enhancing the redwood parks that heal us.
HIGHLIGHTS
Our conservation achievements were possible with the generous contributions of our members and supporters. This support enabled two historic land protection projects, great progress in the second full season of a landmark forest restoration initiative, momentum in restoring and protecting groves from severe wildfire, and the opening of two dramatic redwood park trails to offer inclusive experiences to millions of visitors who sought the joy of the redwoods.
PROTECT
We are securing the remaining viable old-growth redwood forests and doubling the protected coast redwood forest reserves over the next 100 years to ensure that the forests' health and beauty will endure for generations to come.
PROTECTED
Lost Coast Redwoods
A remote coast secured for all
Encompassing 5 miles of rugged, undeveloped California coast in northern Mendocino County, the 3,181-acre Lost Coast Redwoods property is a landscape of great cultural and ecological significance. Save the Redwoods League acquired Lost Coast Redwoods for $36.9 million in December 2021. The historic property acquisition includes the largest privately owned California coastline in the coast redwood range. With more than 2,250 acres of second-growth redwood forest and large old-growth trees scattered throughout, this forest will be set on a new path to become an old-growth forest of the future. It will potentially be an iconic coastal redwoods recreation destination for all people and will be a transformational addition to the mosaic of federal, state, and tribal protected lands that make up the Lost Coast landscape.
TRANSFERRED
Tc'ih-Léh-Dûñ
Restoring Indigenous guardianship to the redwoods
Save the Redwoods League and the InterTribal Sinkyone Wilderness Council partnered to permanently protect coast redwood forestland within Sinkyone Tribal territory in Mendocino County. The League donated and transferred the 523-acre coast redwood forest formerly known as Andersonia West to the Council in December 2021, garnering international media coverage. To ensure lasting protection and ongoing stewardship, the Council granted the League a conservation easement. Through this partnership, the Council returns Indigenous presence to a region from which Sinkyone people were forcibly removed generations ago. This forest is again known as Tc'ih-Léh-Dûñ (pronounced tsih-ih-LEY-duhn), meaning "Fish Run Place" in the Sinkyone language.
RESTORE
To ensure that redwood forests thrive, we are restoring forests and ecosystems throughout the redwood regions, leveraging the best available science to accelerate their healing.
ADVANCED
Redwoods Rising
Partnership builds momentum on ambitious forest restoration
Redwoods Rising—a landmark partnership between Save the Redwoods League, the National Park Service, and California State Parks—continued to build momentum this past year on its ambitious goal to restore vast landscapes of historically logged forests in Redwood National and State Parks. Now in their second full season of operation, crews have conducted 2,162 acres of forestry treatments, removed 15.5 miles of old logging roads, and restored more than 2 miles of stream channel.
RESTORED
San Vicente Redwoods
Speeding a forest's recovery from fire
Together with our partners Sempervirens Fund and Peninsula Open Space Trust, the League celebrated the 10th anniversary of the protection of San Vicente Redwoods by continuing restoration following the 2020 CZU Complex fires. We planted 23,000 redwood and 190 Douglas-fir seedlings, and have more projects planned in the months ahead. But the exciting news is that this 8,852-acre landscape will soon be open to the public under the management of the Land Trust of Santa Cruz County. This year, volunteers helped build trails in advance of a fall opening.
CHAMPIONED
Giant sequoias
Securing a future for embattled groves
Following the loss of 19% of the world's mature giant sequoias in 2020 and 2021, the League helped to launch the Giant Sequoia Lands Coalition of government agencies, tribes, and nonprofit organizations committed to a collaborative and dramatically increased investment in active stewardship to protect these incredible natural treasures. Together, we began sounding the alarm and developing recommendations for scaling up fuels management and fire resilience stewardship of the most at-risk groves in the range. The League helped to demonstrate that renewed commitment to good restoration and fuels reduction work in the stewardship of our Alder Creek property, conducting extensive post-fire restoration and monitoring following the 2020 Castle Fire.
PREPARED
Cascade Creek
Planning the future of this vital coast redwood forest
In our first full year of ownership of this important redwood forest linking Big Basin Redwoods State Park to the Pacific Ocean, we completed a new forest management and restoration plan that will help the forest recover following the 2020 CZU Complex fires. Fortunately, almost all of the property's coast redwoods survived the fires, but there's work to be done to restore the larger ecosystem to health.
RESTORED
Corridor from the Redwoods to the Sea
Building fire resilience in crucial habitat
The League continued its efforts to protect an important habitat corridor between Humboldt Redwoods State Park and the forests of the Lost Coast. The League and partners conducted a 109-acre prescribed burn on a section of the Corridor from the Redwoods to the Sea, on a conservation easement we hold on Stansberry Ranch. This is one of several fuel reduction and restoration projects the League has conducted in collaboration with the landowner Bob Stansberry.
SCIENCE
In addition to advancing original scientific research that is informing conservation strategies for the League and its partners, the science program is also bolstering the organization's policy recommendations, media outreach, and public information efforts.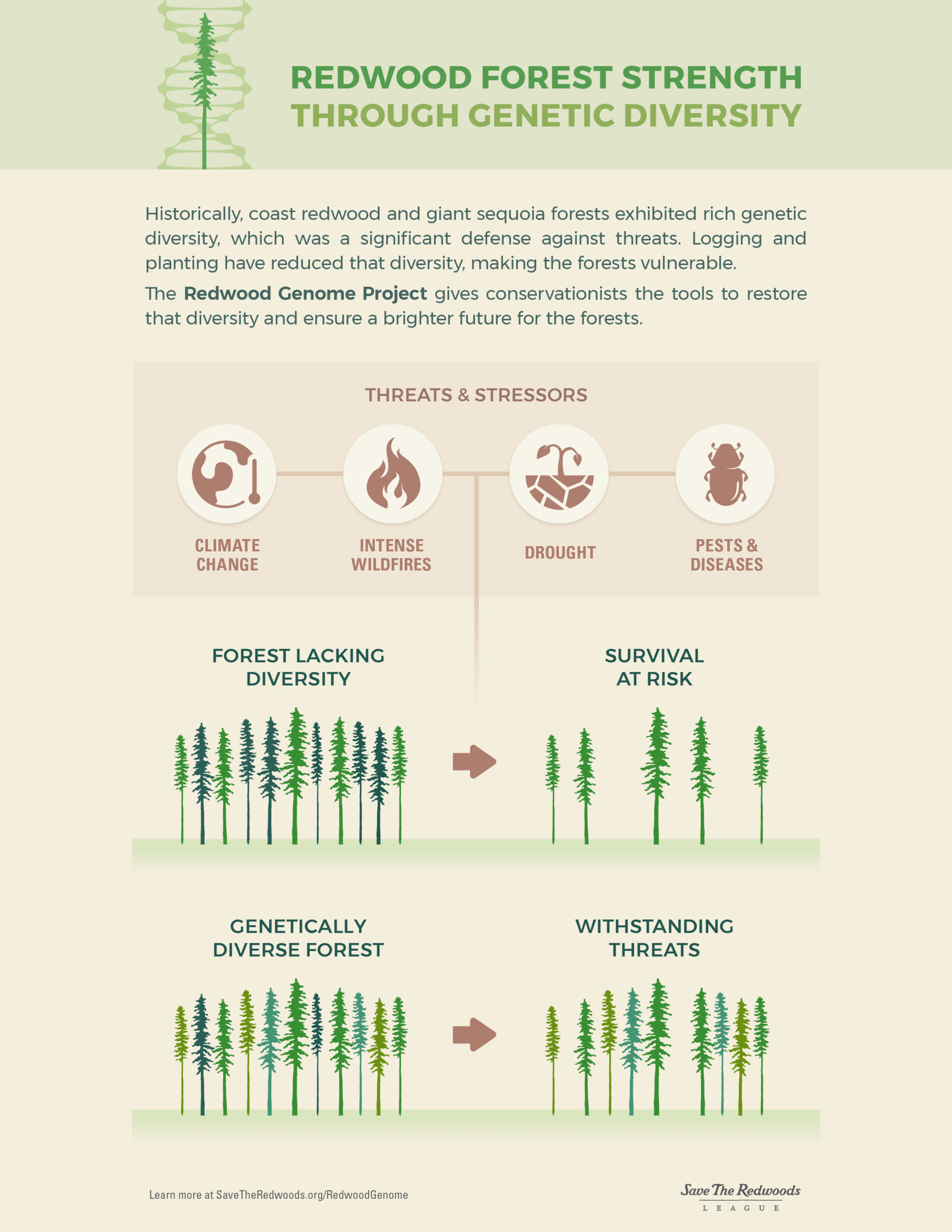 ADVANCED
Redwood Genome Project
Research supports understanding of redwoods' climate responses
New research by the League's Redwood Genome Project provides the scientific foundation to better understand redwoods' responses to climate impacts and pathogens. The 2021 announcement of the findings followed the full sequencing of the coast redwood and giant sequoia genomes for the first time. The research shows that hundreds of genes help the trees fight off stress at the cellular level. The genomic resources and screening tools that can be developed now will allow researchers to quickly assess evolutionary adaptive potential in these forests and ultimately inform forest restoration and management plans. Partners in announcing the findings are University of California, Davis, Johns Hopkins University, University of Connecticut, and Northern Arizona University.
PUBLISHED
Giant sequoias and fire
Documenting growing danger in the groves
For millennia, one of the defining characteristics of giant sequoias has been their innate resilience to wildfire. But in the last several years, according to a new study by League researchers published in the journal Forest Ecology and Management, the massive trees have become increasingly vulnerable to high-severity wildfires driven by modern changes in their environment. The study, which documents giant sequoia mortality following three wildfires that burned at high severity within giant sequoia groves between 2015 and 2017, illustrates a new reality that has already led to the loss of 19% of mature giant sequoias in recent years.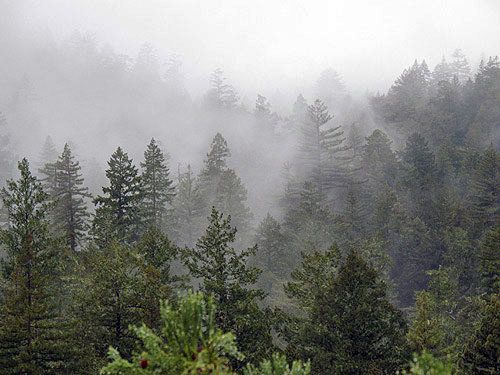 STUDIED
Redwoods and Climate Change Initiative
Monitoring a changing environment
The League continued its groundbreaking Redwoods and Climate Change Initiative in partnership with researchers from a variety of institutions – including Cal Poly Humboldt, UC Berkeley, NatureServe, United States Geological Survey, and Colorado State University – exploring critical questions related to redwoods and climate change. Having already documented the incredible carbon storage capacity of coast redwoods and giant sequoias, the team continued to monitor selected groves to build our knowledge about how effectively younger, recovering coast redwoods grow and offer resilient and increasing carbon storage.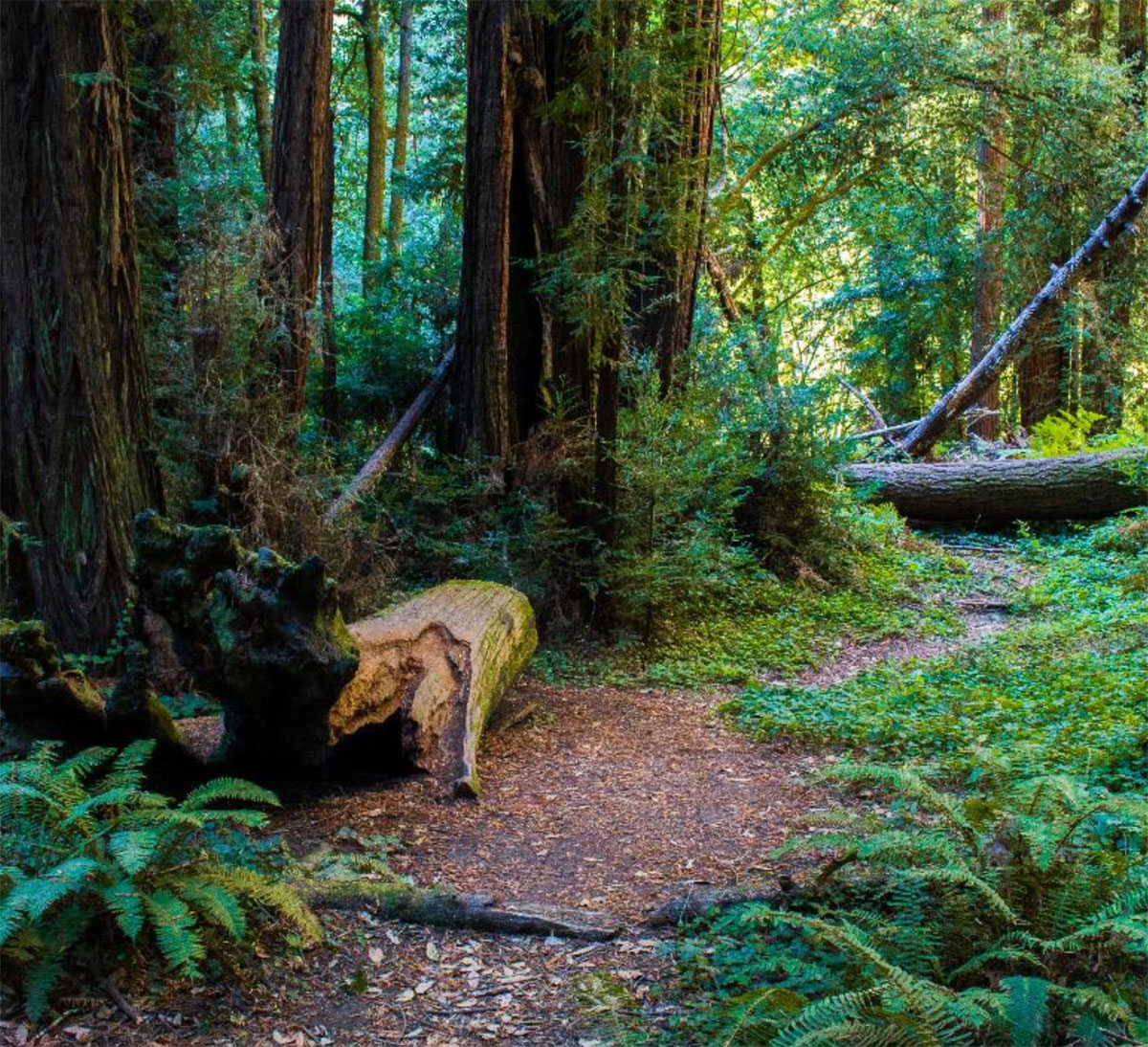 SUPPORTED
Science grants
Building knowledge and community
Continuing its effort to grow the body of knowledge about coast redwood and giant sequoia forests, the League awarded nearly $160,000 in grant funding for research projects in California. Selected grantees will investigate a range of topics that include assessing impacts of wildfires in the coast redwood and giant sequoia ecosystems, exploring how giant sequoias obtain water, and studying endangered California condors to inform their reintroduction in Redwood National Park. This included nearly $19,000 in starter grants for undergraduate and graduate students of color interested in research in coast redwood and giant sequoia forests.
CONNECT
We are creating inspirational and inclusive experiences for all redwood park visitors and fostering the understanding that these forests are critical elements of California's identity.
UNVEILED
Grove of Titans
Dramatic new trail opens to the public
The League—along with California State Parks, Tolowa Dee-Ni' Nation, Redwood Parks Conservancy, and the National Park Service—opened Grove of Titans and the Mill Creek Trail in Jedediah Smith Redwoods State Park. The spectacular 1,300-foot-long elevated walkway through the grove affords visitors access to some of the world's largest and oldest coast redwoods. The walkway was built to welcome people to the magnificent grove on formal trails and put an end to the use of unofficial trails that were damaging the habitat.
REOPENED
Pfeiffer Falls Trail
Renovated trail offers incredible Big Sur experience
Save the Redwoods League and California State Parks reopened a fully renovated Pfeiffer Falls Trail in Pfeiffer Big Sur State Park, marking the first time that this Monterey County hiking trail was open to the public since a 2008 fire. The spectacular trail now features extensive cliffside walkways and a newly constructed 70-foot pedestrian bridge that spans the Pfeiffer Redwood Creek ravine.
ADVANCED
Redwood Trails Gateway
Work begins on bold vision for former mill site adjacent to Redwood National Park
Save the Redwoods League and its partners broke ground on a southern gateway to Redwood National and State Parks, an ambitious transformation of the League's Orick Mill Site. The project will fully restore the lower portion of Prairie Creek and its floodplain and establish a new redwoods destination that connects with the vast network of park trails. With funding from California State Coastal Conservancy, NOAA Restoration Center, and Wildlife Conservation Board, as well as aquatic restoration expertise from California Trout, crews from the Yurok Tribe Construction Corporation and Fisheries Department implemented the first phase of the five-year project. This included construction of a 2-acre pond for juvenile salmonids, extensive planting of native wetland species, and removal of 2 acres of asphalt and invasive plants to begin grading for the future segment of the California Coastal Trail.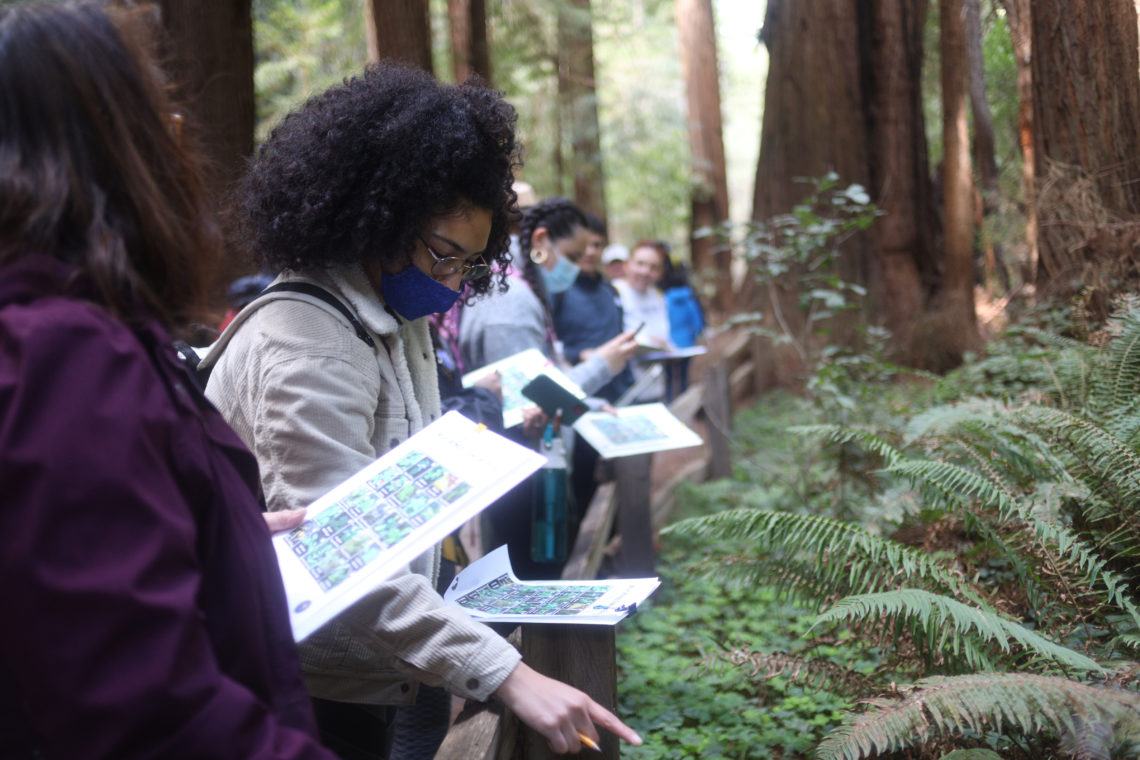 ENGAGED
Outreach
Building community partnerships
The League's outreach program engaged 4,000 people from historically underrepresented communities. Save the Redwoods led numerous listening sessions to better understand community interests, held two bilingual summer events at redwood parks in Northern California, released three of six planned episodes of the second season of the I'll Go If You Go podcast, and launched Redwood Rides, which helps groups overcome the biggest obstacle to visiting the redwoods: transportation.
CONNECTED
Education
Introducing redwoods to young learners
With its school partners, the League served 5,200 K-12 students through League and park programs. Spring field trips were conducted in all program regions, and Redwood Connect grantees are beginning to host field trips again after the easing of COVID-19 restrictions.
PREPARED
Harold Richardson Redwoods Reserve
Planning for a new park
The League completed a conceptual plan for opening Harold Richardson Redwoods Reserve as the first new old-growth redwood park in a generation. To help build the forest's wildfire resilience, plans for a prescribed burn in 16 acres of old growth have been finalized.
SUCCEEDED
Forever Forest Campaign
Setting in motion a new future for redwood forests
The League launched Forever Forest: The Campaign for the Redwoods in 2017 to set in motion a new future for our conservation work in the redwood forests—to dramatically scale up our pace, reach, and impact across the coast redwood and giant sequoia ranges. With a goal of $120 million, the Campaign raised over $143 million by March 2022, months ahead of our year-end goal. Together, we have truly changed the fate of redwood forests, protecting 20,500 acres, including the three largest old-growth coast redwood and giant sequoia lands left in private ownership; launching Redwoods Rising, a restoration collaboration of historically logged forests in Redwood National and State Parks; building miles of new trails; reaching 42,300 students through education programs; and much more.
2021-22 FINANCES AT A GLANCE
REVENUE BY CATEGORY 2021-22
Total Revenue $54,602 (in thousands)
The League's revenue for the fiscal year was $54.6 million. The League received significant support through gifts from individuals, foundations and corporations, and government agencies for our work. The revenue-by-category chart excludes realized and unrealized gains and losses from investments.
---
EXPENSES BY CATEGORY 2021-22
Total Expenses $34,441 (in thousands)
Expenses reflect the work of the League throughout the year in acquiring and stewarding land and conservation easements; conducting scientific research; providing outreach and education programs; and enhancing visitor experiences at state and national parks.
---
The financial information as of and for the year-ended March 31, 2022, has been derived from the League's financial statements audited by Hood and Strong, independent auditors. This condensed financial information should be read in conjunction with the audited financial statements and related notes. To review the complete audited financial statements please visit SaveTheRedwoods.org/financials.
---
EXPENSE RATIO 5-YEAR ROLLING AVERAGE
As is common in land conservation, the transaction cycle of purchasing, holding and transferring land often requires several years to complete. While land and forests are protected from the time of acquisition, the League often remains a steward of those lands until they can be transferred to a public agency or nonprofit land trust for ongoing stewardship, public access and permanent protection. The program expense is recognized only when a property is transferred to its permanent steward, or when a conservation easement is acquired. Since land divestments and conservation easement acquisitions are episodic and markedly affect the League's expense ratio from year to year, we believe a five-year rolling average is a more meaningful depiction of our program expense ratio.
---
Our net assets empower the League to purchase and protect threatened redwood forestland in a complex and fast-paced real estate market, enabling us to seize opportunities to buy, hold, restore and transfer properties for permanent protection.
---
STATEMENT OF ACTIVITIES AND STATEMENT OF FINANCIAL POSITION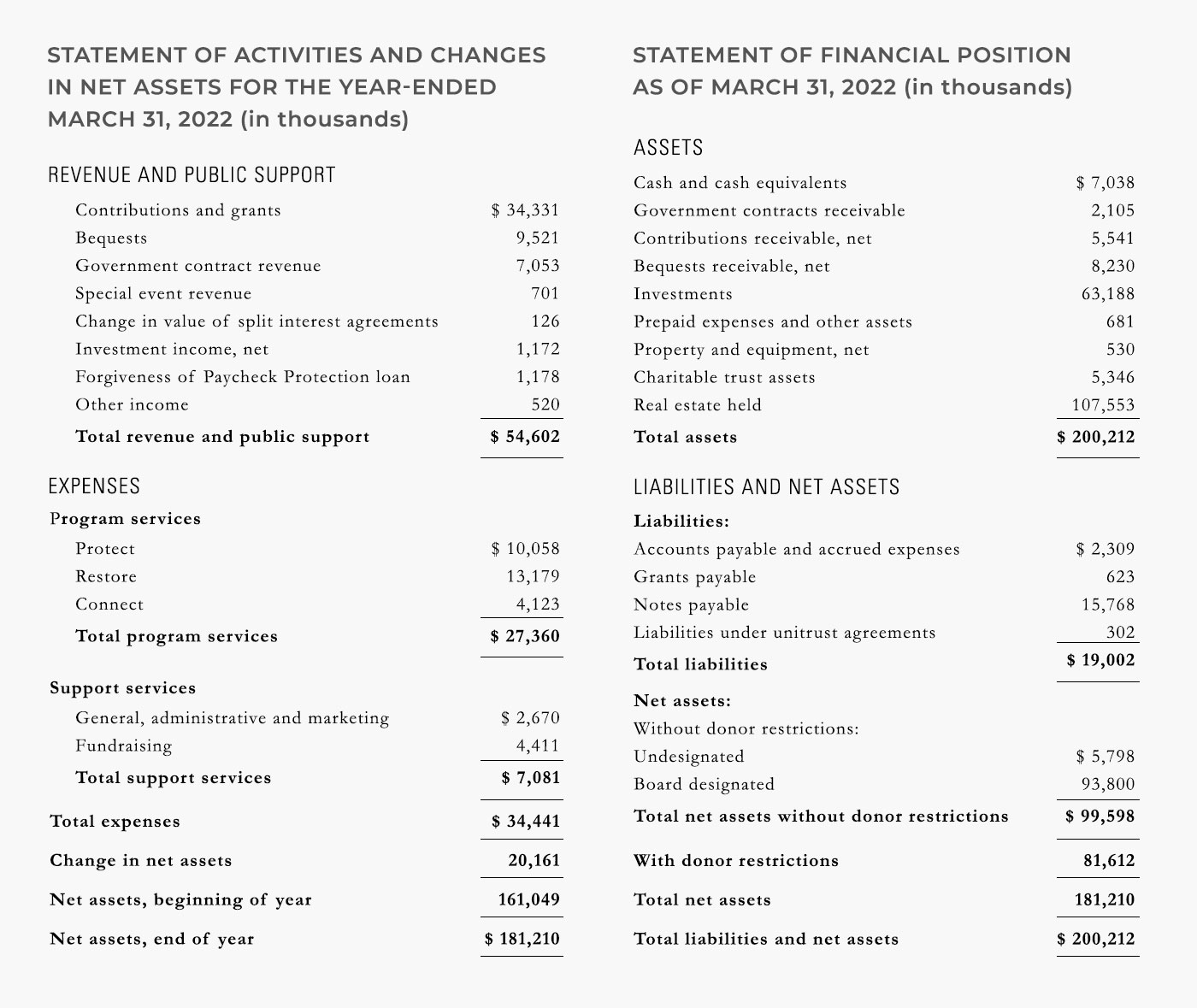 THANK YOU
We achieved so much together. Save the Redwoods League is grateful for your unwavering support and your sustained commitment to the forests that inspire us to reimagine and rebuild a better future.
BOARD OF DIRECTORS
Matthew K. Berler, chair
Rosemary Cameron, vice chair
Andy Vought, vice chair
Abe Tarapani, treasurer
C. Blake T. Williams, assistant treasurer
Mike Wyatt, secretary
Sara A. Clark
William A. Croft
Caryl Hart
Kristy Hsiao
Peggy Light
John Montague
John Scharffenberger
Andrea Tuttle
Michael Woo
Sam Hodder, president and chief executive officer
Rolando Cohen, chief financial officer
Harry Pollack, assistant secretary
COUNCIL
Kate Anderton • T. A. Barron • Matt Berler • Stephen J. Butler • Rosemary Cameron • James Campbell • Sara Clark • William Croft • Pete Dangermond • Sandra Donnell • Ralph Eschenbach • Justin M. Faggioli • Caitlyn Fox • Jerry Franklin • Reno Keoni Franklin • Denise Garone • Sandy Gibson • José G. González • Melissa Harris • Caryl Hart • Michael Helms • Sam Hodges • Kristy Hsiao • Reed Holderman • Annette Boushey Holland • David Horn • Erin Kelly • Lucy Kerhoulas • Yoriko Kishimoto • Ray Leon • Peggy Light • Christa Lyons • Dave Mahler • Donald Massey • Robert E. Mellor • John Montague • Lisa Allen Ortiz • Ralph Osterling • Richard Otter • Mary E. Power • Katie Prescott • Allegra Quinn • Jorge Ramos • Ethan Ravage • Heidi Richardson • Kimberly Rodrigues • Lorelle Ross • Corinna Roth • Cathy Rustermier • Roger Samuelsen • John Scharffenberger • Jim Sergi • Julia Sherwin • Carolyn Sherwood Call • Abe Tarapani • Melinda M. Thomas • Andrea Tuttle • Gerard van Steyn • Andy Vought • David Weinberg • Frank W. Wentworth • Mark X. Wentworth • Mindy Whittington • Blake Williams • Michael Woo • Mike Wyatt • Rob York
---
Review our annual audited financial statements and IRS 990 forms.
See our past Annual Reports.