About Redwoods
Three species of trees are commonly referred to as redwoods: California's coast redwood and giant sequoia, and China's dawn redwood.
For those who have had the chance to stand in a redwood grove, there are few life experiences that match it. Even if you have only ever seen a photo of the few ancient redwood forests left, it's hard to imagine life on our planet without these awesome and majestic places. We can all agree that there are some places on Earth that are so special that they are worth saving. That's why there is such strong support for protecting redwood lands.
---
Forests That Have Survived for Millions of Years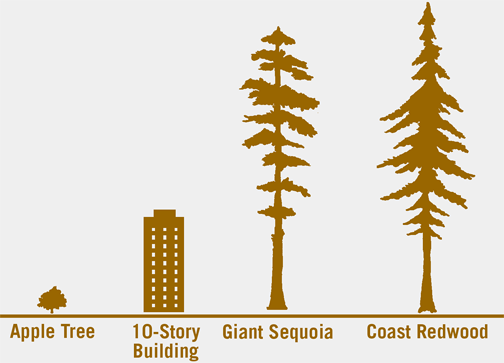 Redwoods get their common name from their bark and heartwood, the reddish-brown color of which stems from high tannin levels. Other chemicals found in the leaves, branches and bark give these trees a remarkable resistance to fungal disease and insect infestation. Their thick bark holds large quantities of water, which protects them from periodic, naturally occurring fires.
All three redwoods — Coast Redwoods, Giant Sequoias and China's Dawn Redwoods — are descendants of a group of conifers (cone-bearing trees) that flourished more than 144 million years ago when dinosaurs roamed the Earth. At that time, the Earth's climate was warmer and more humid than it is today, so redwood species grew throughout North America, Europe and Asia. Over time and in response to an ever-changing environment, they retreated from most of their former range, and many once-abundant redwood species became extinct.
Successive ice ages, including the last one that ended about 10,000 years ago, have restricted the remaining redwood species to three small, distinct regions, each supporting one of the species. Each region is the only place in the world where you will find native populations of that species.
---
Redwoods Are More than Trees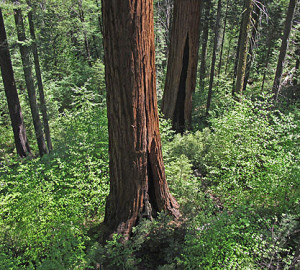 It's important to remember that redwoods are not just trees — they are part of complex communities of living things interacting with their environment. These ecosystems depend on redwoods and support these trees. About 82 percent of the remaining ancient coast redwood forests is protected in parks and reserves; more than 90 percent of giant sequoia forests is protected in national parks and forests. Much work remains to ensure that future generations can enjoy these magnificent forests.
There are still ancient redwoods slated for cutting that need to be protected. Redwood lands already protected in state and national parks also face threats such as devastating government budget cuts. These cuts close parks, leaving no personnel to protect the forest from threats such as illegal logging and pollution from marijuana cultivation. Some of these lands are still struggling to recover from years of past damage and neglect.
To thrive, protected forests also depend on the health of nearby land, much of which is privately owned, including by commercial timber companies. Finally, we do not yet know the impact that the Earth's changing climate will have on the size, strength and survival of redwood trees and forests. Save the Redwoods League is leading an effort to study redwoods and climate change.
With all these challenges before us, we are at risk of losing these magical places forever.


---
Protecting Redwood Lands for Nearly 100 Years
Save the Redwoods League is the only organization with the type of comprehensive approach needed to ensure that forests that take one thousand years to grow will be here for another thousand years.
Your donations help us save these special places, allowing us to purchase redwood land, restore logged forests, research how to best protect them and teach children and adults about these magical expressions of life.