Mission and History
The mission of Save the Redwoods League is to protect and restore redwood forests and connect people with their peace and beauty so these wonders of the natural world flourish.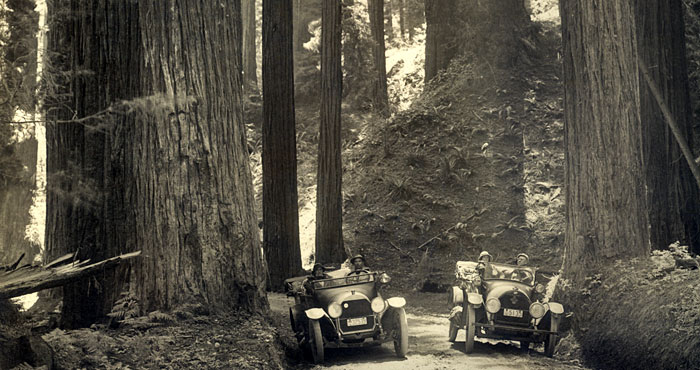 Our Objectives
Developed by our founders, our objectives remain essentially unchanged and continue to drive our work today.
To rescue from destruction representative areas of our primeval forests.
To cooperate with California State Parks, the National Park Service, and other agencies, in establishing redwood parks and other parks and reserves.
To purchase redwood groves by private subscription.
To foster and encourage a better and more general understanding of the value of primeval redwood or giant sequoia and other forests of America as natural objects of extraordinary interest to present and future generations.
To support reforestation and conservation of our forest areas.
Our History
For those who have had the chance to stand in a redwood grove, there are few life experiences that match it. We can all agree that there are some places on Earth that are so special that they are worth saving. This shared belief motivated our founders to establish Save the Redwoods League in 1918.
In 1917, the head of the National Park Service, Stephen Mather, inspired our founders — prominent conservationists John C. Merriam, Madison Grant and Henry Fairfield Osborn — to investigate the state of the redwood forests in Northern California. They had heard the new Redwood Highway had opened up the area to more logging, threatening the ancient trees.
Along the Mendocino County coast, they passed long-standing logging operations. Farther north, along the Eel River, they saw practically undisturbed forests. As they continued north, they reached the Bull Creek-Dyerville Flat area in Humboldt County, an area dense with gigantic redwoods reaching more than 300 feet high.
In the presence of such awe-inspiring beauty and serenity, Merriam, Grant and Osborn felt compelled to remove their hats and speak only in whispers. That evening, they agreed that a state or national park was needed to save some part of the north coast redwood forest for future generations.
Grant worked with Merriam, Osborn, Mather and others to form Save the Redwoods League in 1918, beginning with an initial donation of $100 toward the effort.
Thanks to you, our loyal members and friends around the world, we have achieved much to realize the founders' vision.
But our work is not done.
Unfortunately, today the work needed to protect redwood forests is harder and more complex than ever before. There are still ancient redwoods slated for cutting that need to be protected. Redwood lands already protected in state and national parks also face threats such as devastating government budget cuts. These cuts close parks, leaving no personnel to protect redwoods from threats such as illegal logging and pollution from marijuana cultivation. Some of these lands are still struggling to recover from years of past damage and neglect.
Today, we remain driven by the same objectives our founders established.
---
Learn More about the League's History