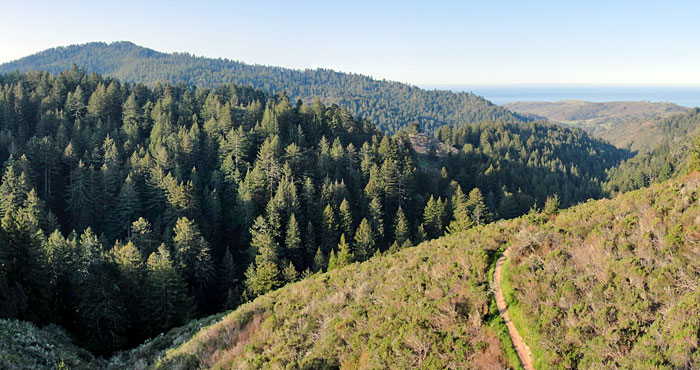 Our work to preserve redwoods protects crucial habitat for a wide range of wildlife. Many redwood forests are also home to imperiled species such as the marbled murrelet, a seabird, and coho salmon. Redwoods also protect clean water in forest streams. In addition, redwoods provide recreational and educational opportunities for people of all ages. The iconic redwood has stood tall for millennia, and with your help, they will continue to thrive. The redwoods depend upon all of us, and in return for your support, we pledge to always be careful stewards of your donations and to be transparent in our management of them.
Review our annual audited financial statements and IRS 990 forms on our Financial Information page.
---
Land Trust Accreditation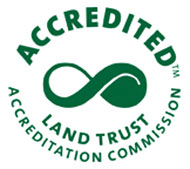 Save the Redwoods League has been awarded accreditation by the Land Trust Accreditation Commission (external link). There are nearly 400 land trusts in the country that have earned this status.
"The League's accredited status reflects our dedication to the permanent protection of the redwood forest," says Harry Pollack, Chief Operating Officer. "This distinction demonstrates our continued commitment to carrying out our mission to the highest standards."
Each accredited land trust submitted extensive documentation and underwent a rigorous review. Save the Redwoods League is now able to display a seal of accreditation indicating to the public that it meets national standards for excellence, upholds the public trust and ensures that conservation efforts are permanent. The seal is a mark of distinction in land conservation.
"We will display the accreditation seal proudly as we prepare to embark on our second century of redwood forest conservation," said Pollack.
Save the Redwoods League Stakeholder Notification/Public Notice
The land trust accreditation program recognizes land conservation organizations that meet national quality standards for protecting important natural places and working lands forever. Save the Redwoods League is pleased to announce it is applying for renewal. A public comment period is now open.
The Land Trust Accreditation Commission, an independent program of the Land Trust Alliance, conducts an extensive review of each applicant's policies and programs. Standards and Practices set forth by Land Trust Alliance set an appropriate-level bar for the land conservation community. And it helps Save the Redwoods League's identify key operational performance goals. Accreditation is an effective method to measure whether we maintain the standards routinely.
The Commission invites public input and accepts signed, written comments on pending applications. Comments must relate to how Save the Redwoods League complies with national quality standards. These standards address the ethical and technical operation of a land trust. For the full list of standards see http://www.landtrustaccreditation.org/help-and-resources/indicator-practices (external link).
To learn more about the accreditation program and to submit a comment, visit www.landtrustaccreditation.org (external link), or email your comment to info@landtrustaccreditation.org. Comments may also be faxed or mailed to the Land Trust Accreditation Commission, Attn: Public Comments: (fax) 518-587-3183; (mail) 36 Phila Street, Suite 2, Saratoga Springs, NY 12866.
Comments on Save the Redwoods League's application will be most useful by March 31, 2018.
---
Charity Ratings
A range of charity rating agencies provide potential donors with information about how well nonprofit organizations serve their causes. Prominent among these agencies are Charity Navigator, the Better Business Bureau Wise Giving Alliance and Charity Watch (formerly the American Institute of Philanthropy). As part of our total transparency policy, we have submitted our data to each of these agencies.
However, as a land trust, our work at Save the Redwoods League is somewhat complex: Purchasing forested land in order to ensure its permanent protection which includes acquisition, restoration and stewardship is expensive, and we make every effort to have on hand the resources needed to save and steward these lands when we have the opportunity to do so. Redwood lands are valuable economically as well as ecologically. The funds we raise must run into the millions of dollars; because opportunities to protect land happen irregularly, we need to have substantial funds to act swiftly and operate nimbly to protect our cherished redwoods and their surrounding landscapes.
Charity Navigator no longer evaluates land trusts (external link) such as the League because these conservation organizations' large land purchases cause wild fluctuations in revenue and expenses from year to year. This factor and others may yield inconsistent, unfair evaluations over time. In the last year the League was rated, we achieved the 4-Star ("Exceptional") rating, although the League, like other land conservation organizations, is no longer rated, the League continues to abide by Charity Navigator's standards as best practices.
Save the Redwoods League meets 19 out of the 20 Charity Accountability standards (external link) of the Better Business Bureau Wise Giving Alliance (BBBWGA). We meet all 5 'Governance and Oversight' standards, both of the 'Measuring Effectiveness' standards, all 6 'Fundraising and Informational Materials' standards, and 6 out of 7 'Finances' standards. We do not meet the last standard due to our financial reserves which we, like other land conservation organizations, prudently keep so that we can purchase important and costly redwood land and buffering landscapes when it becomes available. Some acquisitions include magnificent stands of ancient redwoods, and as you know these types of opportunities don't happen every day, so when they do we must act quickly. As stewards of the land and of the resources with which you entrust us, it is the League's responsibility to protect them when the opportunity arises. With your support we have accomplished a great deal, but the job of saving redwoods is unceasing and we have much more to do. Redwood forests and the surrounding lands are vulnerable to the threats posed by development, population growth and climate change, and we must continue working tirelessly to bring new lands under protection as well as wisely managing redwoods forestlands we have saved.
We have an extensive history of purchasing and stewarding redwood forest land and acquiring conservation easements, ensuring that these lands will be protected forever. Save the Redwoods League has protected more than 200,000 acres (the size of 16 Manhattan islands) and helped develop dozens of redwood parks and reserves for everybody to enjoy. Learn more about how we protect redwood lands.
---
GuideStar Exchange
Save the Redwoods League is a GuideStar Exchange Silver Participant. GuideStar provides information about nonprofits in an online database to promote transparency and reliability. This service helps verify that nonprofit organizations are established and responsible stewards of donor funds. GuideStar Exchange is not a rating system, but offers three levels of participation: Bronze, Silver and Gold. As a Silver Participant, Save the Redwoods League has provided GuideStar with comprehensive and up-to-date audited financial information, as well as basic information about our organization. The GuideStar Exchange report on Save the Redwoods League is available to any interested individual who registers at GuideStar.org. The trust of our supporters is invaluable. See our financial information.