Redwood National and State Parks are home to almost half of the world's remaining protected ancient old-growth redwood forests. These parks also safeguard the tallest redwoods trees known to exist, imperiled salmon and trout, and rare creatures such marbled murrelets and the endangered western lily. Additionally, these ancient redwoods store more carbon per acre than any other forests on Earth.
Despite their ecological wealth, and stunning beauty, these forests are far from being places of pristine, untouched wilderness. Large expanses of the parks are scarred by decades of logging, which left behind eroding roads, impaired streams, and spindly, young trees that hold neither the magic of an ancient forest nor its ecological strengths.


Redwoods Rising is a new collaboration between Save the Redwoods League, the National Park Service (external link), and California State Parks (external link). It will greatly accelerate the pace of redwood forest recovery within these parks and help protect the area's remaining old-growth groves.
These partners—and you—hold the key to the future of these forests. Join us to make Redwood National and State Parks a place where giants rise across the North Coast's landscape once again.
Redwoods Rising is one of the flagship projects of Forever Forest: The Campaign for the Redwoods, a comprehensive campaign launched by Save the Redwoods League in January 2020 to garner support for the organization's ambitious vision for the next century of redwoods conservation. The League's goal is to raise $120 million by 2022 to fund the first years of this centennial vision, which includes protecting entire landscapes through large-scale, strategic land acquisitions; restoring young redwood forests to become the old-growth forests of the future; and connecting all people with the beauty and power of the redwoods through transformational park experiences.
---
Why Do the North Coast's Redwood Forests Need Us?
Until the mid-20th century, the coast from southern Oregon to Big Sur was dominated by vast ancient redwood forests. Although the majority of these trees were lost, about 80 percent of the land remains undeveloped. Some 120,000 acres of these undeveloped lands—including 40,000 acres of old-growth forests—are found within the boundaries of Redwood National and State Parks.
Redwood National and State Parks represent a unique partnership of Redwood National Park and Del Norte Coast Redwoods, Jedediah Smith Redwoods and Prairie Creek Redwoods State Parks. The parks host steep mountains cloaked with redwoods, Douglas-fir, and spruce. Rivers and creeks cut deep gorges on their way to the Pacific Ocean, and cooling fog rolling in from the sea provides life-sustaining moisture.
However, these lands also saw about two thirds of their redwood forests logged, some as recently as the 1990s. The remaining old-growth areas exist as islands, disconnected from each other by swaths of second-growth that cannot support the plants and animals that depend upon these forests.
In many places these logged areas were replanted with unnaturally dense stands of other species like Douglas-fir, creating a forest today that is very different than what it once was. However, when given the chance, redwood trees can quickly reclaim these previously logged areas. Competing for precious sunlight, the trees grow tall and fast, but sacrificing strength for height makes them vulnerable to storms and disease. These thin, young woodlands do not possess the stable soils and clean rivers that support healthy fisheries and abundant wildlife habitat. Young forests also cannot hold as much sequestered carbon as a mature forest.
The legacy of damage to this landscape goes far beyond the loss of old trees. Eroding logging roads throughout the park send sediment pouring into its streams. Failing stream culverts dramatically alter the movement of water on the land and block fish migration. Invasive plant species also gain a foothold in these disturbed areas.
---
How is Redwoods Rising Meeting This Challenge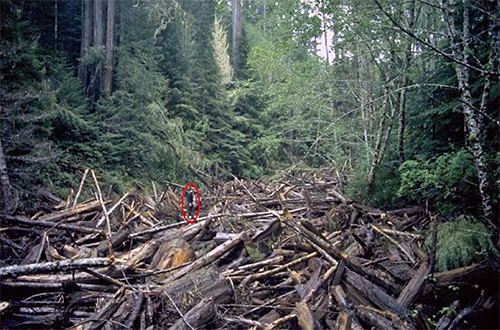 The damage to this landscape is beyond the point where nature can heal itself. The redwood forests of the future need us, now.
Going Farther Together
Redwoods Rising builds upon decades of research and ongoing redwood forest restoration projects in the parks, bringing a new, collaborative approach that integrates multiple disciplines and leverages the capacity and talents of each organization.
Redwoods Rising is driving the collaborative, landscape-scale visioning, planning, and project implementation necessary to increase the pace of redwood forest restoration. We are providing critical support to improve stream health, restore critical wildlife habitat, and remove invasive species. Together, we will reconnect remaining old-growth stands, set previously logged areas back on a trajectory towards old-growth conditions, and create landscapes that will be resilient in the face of future climate change.
First Steps
By coming together, we can work at the pace and scale necessary to restore 70,000 acres of previously logged forests and reconnect 40,000 remaining acres of old-growth redwood forests in Redwood National and State Parks.
"Our first priority must be our best places, the places where we have the most extensive stands of old trees," says Kristen Shive, science director for Save the Redwoods League. "Redwood National and State Parks are our greatest remaining reservoirs of redwood forest biodiversity. They contain the precious and irreplaceable components of the full, complete and healthy redwood ecosystem. It is our job to spread the ecological wealth of these ancient stands into surrounding lands."
We are currently working on compliance and permitting for our two main project areas: the Mill Creek and Prairie Creek watersheds.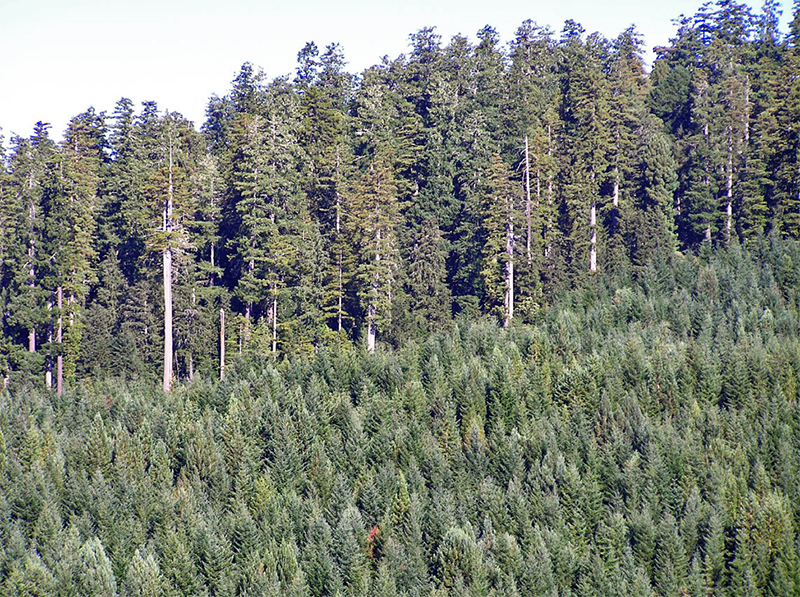 Mill Creek
Immediately upstream of the spectacular primeval forests of Jedediah Smith, about a quarter of the trees in the 25,000-acre Mill Creek Watershed are less than 30 years old. After it was logged, much of the watershed was seeded with Douglas-fir at ten times normal forest densities. These thick stands do not have the biological diversity of a healthy forest and shade out other plants. Crumbling roads continue to dump sediment into Mill Creek– a major spawning ground for coho salmon and steelhead trout.
While we and California State Parks have thinned more than 4,000 acres of forest, retired 69 miles of roads, removed 344 stream crossings, and installed 90 in-stream log structures since protecting the property in 2002, work here is only beginning. Through Redwoods Rising we are restoring 1,000 acres of the youngest forest, and developing a landscape level restoration plan that will treat the remaining 20,000 acres of second-growth forest in the coming years.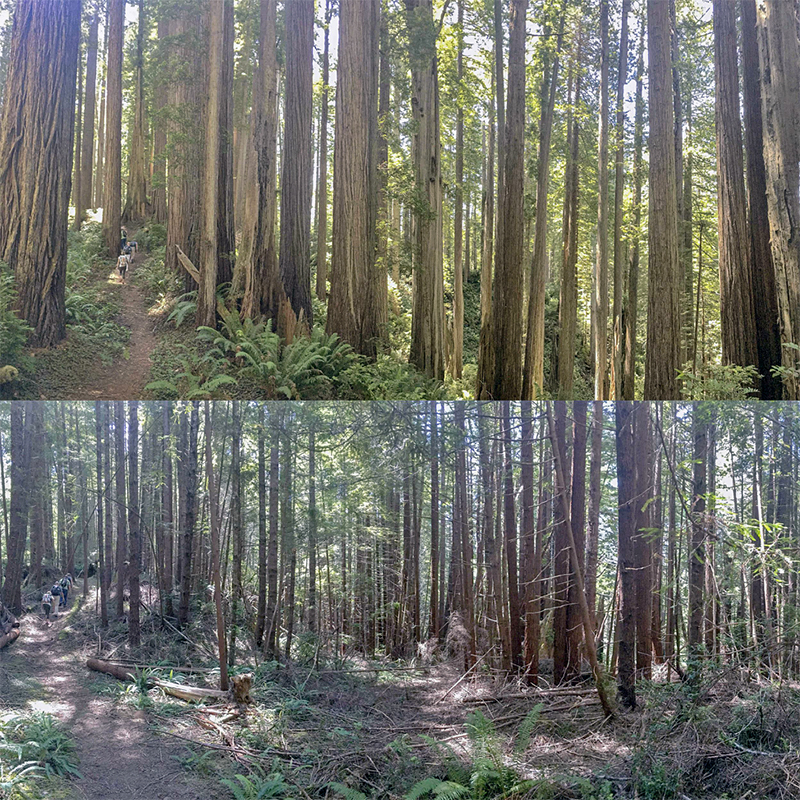 Prairie Creek
State Park lands in Upper Prairie Creek are home to mostly old-growth redwood forest, however the lower reaches of the watershed are a patchwork of young and old forest on both National and State Park lands. The National Park Service has thinned over 1,200 acres of forest, and removed about 60 miles of roads and over 100 stream crossings and other structures in this part of the watershed.
Under Redwoods Rising, we will be able to create 30,000 contiguous acres of old-growth forest in the Prairie Creek Watershed; the largest stand in the world. The League has been working in this part of the park since 1923, and we are thrilled to be able to continue to care for these lands through this new collaborative.
---
You Can Create the Forests of the Future. Join Us!
Redwoods Rising is a signature project for the League, National Park Service, and California State Parks, that will help heal the impacts of forest destruction and fragmentation, bring back the vast and primeval redwood forest, and enhance California's most powerful carbon sink.
The first phase of Redwoods Rising is being made possible by generous gifts from League Councilor John Scharffenberger, the Elizabeth R. and William J. Patterson Foundation, and the S. D. Bechtel, Jr. Foundation. It received $1.9M in Prop 68 funds and it is also a California Climate Investments (CCI) grant recipient. CCI is a statewide program that puts billions of Cap-and-Trade dollars to work reducing greenhouse gas emissions, strengthening the economy, and improving public health and the environment– particularly in disadvantaged communities. For more information, visit the California Climate Investments website.
Thanks to these supporters—and the generosity of thousands of League supporters like you—we can help previously logged areas of the Redwood National and State Parks become magnificent old-growth forests once again.
You can be a part of the future of these forests by making a gift to Redwoods Rising today.
Your Support Will Help Fund:
REDWOOD FOREST RESTORATION

Removing failing logging roads and invasive species; restoration thinning and tree planting

SALMON HABITAT RESTORATION

Improving water quality; removing migration barriers; providing shelter for young salmon within the streams

SCIENCE AND PLANNING

Researching and implementing best practices for forest restoration; tracking forest health; sharing what we learn with others

FOREST FELLOWS AND APPRENTICES

Creating the next generation of forest conservation professionals

EDUCATION AND INTERPRETATION

Telling the story of forest recovery to inspire park visitors and supporters
Ways to Give
Contributions to Save the Redwoods League designated to Redwoods Rising are tax-deductible, and can be made as outright gifts of cash or stock and through a donor-advised fund, IRA, or family foundation. You also can give by phone at 888-836-0005 or on our secure online donation page.
If you have questions or wish to learn more, please contact Georgia Young at (415) 820-5849 or gyoung@savetheredwoods.org.
---
Frequently Asked Questions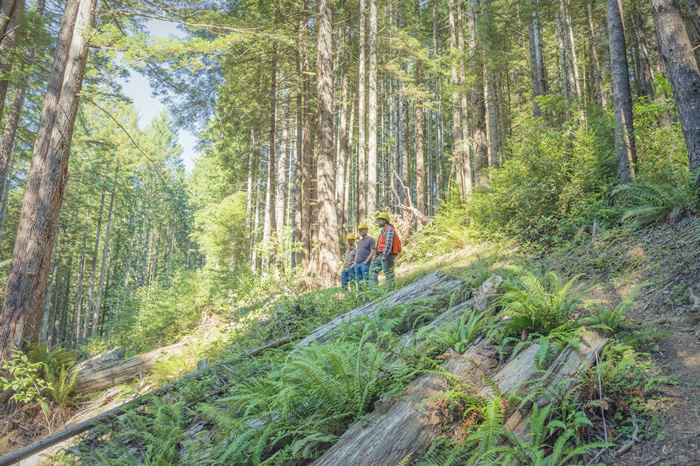 ---
Newsroom
To find out more about Redwoods Rising or to schedule an interview with any of the League's experts, please contact
Robin Carr at (415) 971-3991 or redwoods@landispr.com.
For hi-res images or videos, please visit the Media resources section.
Press releases