The North Coast's Redwood Forests Need Us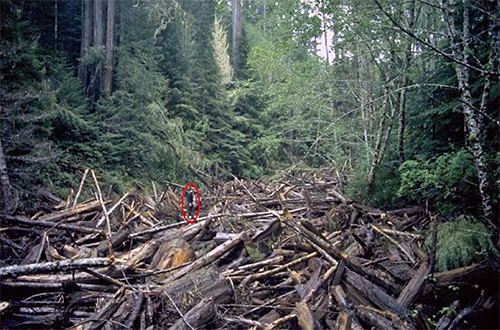 Many logged areas of the parks were replanted with extremely dense stands of other species like Douglas-fir, creating a forest today that is very different than what it once was. Packed together and competing for precious sunlight, these young forests have grown in tall, spindly, and dark.
The parks' remaining old-growth areas exist as islands, disconnected from each other by swaths of this dense second-growth that lack healthy fisheries or wildlife habitat. But the legacy of damage to this landscape goes far beyond the loss of old trees.
Hundreds of miles of eroding logging roads throughout the park send sediment pouring into its streams. These streams have been further damaged by failing culverts and crossings, which also block fish migration. Invasive plant species can also more easily gain a foothold in these disturbed areas.
Redwoods Rising is Meeting This Challenge
The damage to this landscape is beyond the point where nature can heal itself in the foreseeable future. The redwood forests of the future need us, now.
---
Going Farther Together
Redwoods Rising builds upon decades of research and redwood forest restoration projects in the parks. This new collaborative approach integrates the capacity and talents of each organization to drive the landscape-scale visioning, planning, and project implementation needed to increase the pace and scale of redwood forest, stream, and wildlife habitat restoration.
It is only through working this way that we will be able to reconnect remaining old-growth stands, set previously logged areas back on a trajectory towards old-growth conditions, and create landscapes that will be resilient in the face of future climate change.
Over the next 30+ years, our goal is to rehabilitate over 70,000 acres of second-growth forest in Redwood National and State Parks and remove 300 miles of abandoned, failing, and inaccessible roads.
First Steps
"Our first priority must be our best places, the places where we have the most extensive stands of old trees," says Kristen Shive, science director for Save the Redwoods League. "Redwood National and State Parks are our greatest remaining reservoirs of redwood forest biodiversity. They contain the precious and irreplaceable components of the full, complete and healthy redwood ecosystem. It is our job to spread the ecological wealth of these ancient stands into surrounding lands."
Restoration thinning, reforestation, and logging road rehabilitation and removal is underway in our two main project areas: the Mill Creek and Prairie Creek watersheds. Between 2020 and 2022 we are aiming to treat 3,266 acres of forest and remove 13 miles of failing and inaccessible old logging roads.
Mill Creek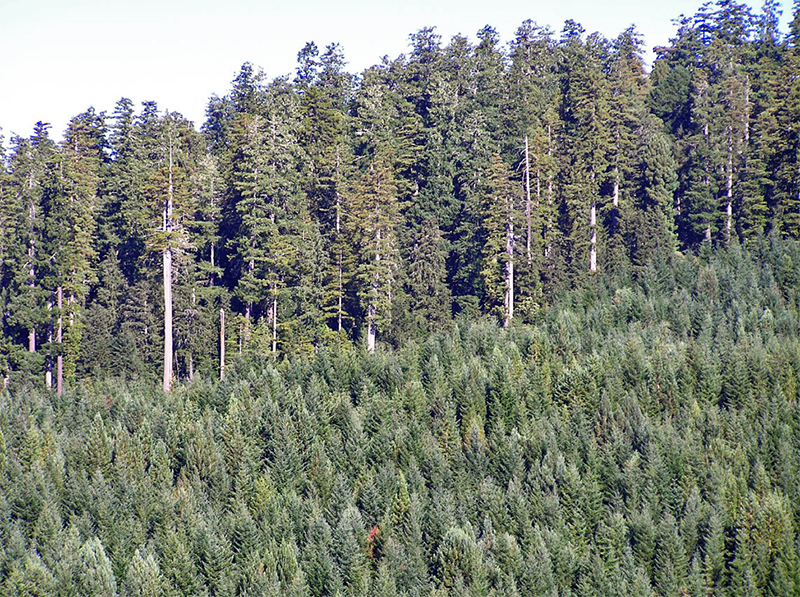 Immediately upstream of the spectacular primeval forests of Jedediah Smith, about a quarter of the trees in the 25,000-acre Mill Creek Watershed are less than 30 years old. After it was logged, much of the watershed was seeded with Douglas-fir at ten times normal forest densities. These thick stands do not have the biological diversity of a healthy forest and shade out other plants. Crumbling roads continue to dump sediment into Mill Creek– a major spawning ground for coho salmon and steelhead trout.
While Save the Redwoods League and California State Parks have thinned more than 4,000 acres of forest, retired 69 miles of roads, removed 344 stream crossings, and installed 90 in-stream log structures since protecting the property in 2002, work here is only beginning. Through Redwoods Rising we are restoring the watershed's youngest forests, and developing a landscape-level plan to treat the remaining 20,000 acres of second-growth forest in the coming years.
Prairie Creek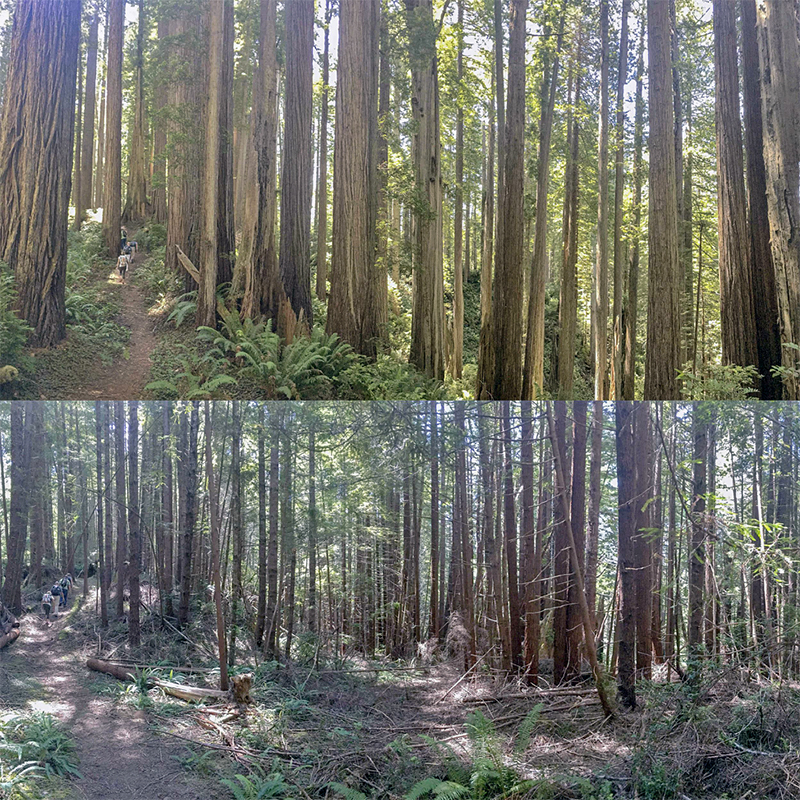 State Park lands in Upper Prairie Creek are home to mostly old-growth redwood forest, however the lower reaches of the watershed are a patchwork of young and old forest on both National and State Park lands. The National Park Service has thinned over 1,200 acres of forest, and removed about 60 miles of roads and over 100 stream crossings and other structures in this part of the watershed.
Under Redwoods Rising, we will be able to create 30,000 contiguous acres of old-growth forest in the Prairie Creek Watershed; the largest stand in the world. The League has been working in this part of the park since 1923, and we are thrilled to be able to continue to care for these lands through this new collaborative.