Meet our experts
Our experts are available for speaking engagements and interviews. To learn more, please contact redwoods@landispr.com.


Adrianna Andreucci
Land Protection Manager
Adrianna Andreucci grew up in Auburn, California, in the foothills of the Sierra, but as a child she spent many summers in the coast redwood forest with her father.
"My dad and I took trips to Humboldt Redwoods State Park every summer. That was our thing," she says. "Looking back, it's no wonder I ended up where I did. We spent so many summers hiking and biking among those big trees."
Today, as land protection manager for Save the Redwoods League, she works directly to help protect those big trees, guiding the sale of land and negotiating conservation easements between landowners and the League. She also interfaces with public agencies as the League transfers ownership of properties it has acquired to the National Park Service, Bureau of Land Management, United States Forest Service, and other agencies.
Andreucci appreciates the multi-faceted nature of her work, but she especially enjoys the special relationships she builds with landowners who have chosen to protect their land in perpetuity by selling it to the League or holding it in a conservation easement.
"Purchasing a property outright is wonderful. Under the League's ownership, we get to steward and manage and nurture it the way we see fit," says Andreucci. "But partnering with awesome landowners to keep land under their ownership, often lands that have been in a family for generations, while still making sure that sound management endures is really special." It's a long-term relationship, and often the process can take years.
The League identifies priority properties—lands with significant conservation values or old-growth characteristics—but Andreucci says they also work with landowners who reach out directly as it's important to also be opportunistic when the right property comes along.
It's this long-term impact that drew Andreucci to her position. She grew up with a love of the outdoors, whether visiting Founders Grove in summer or catching crawdads in creeks closer to home, but it was an introductory environmental studies class in her sophomore year of college that opened her mind to new career possibilities. "I never thought I could have a career spending time in the places I love, doing work to ensure the protection of those very places," she says.
Andreucci earned her B.A. degree in Environmental Studies and Planning from Sonoma State in 2011. One of her positions after graduating was with Greenbelt Alliance, an environmental advocacy group focused on promoting smart growth development and the preservation of open space. Andreucci first joined the League's staff in 2017, where she served as a conservation programs assistant & associate before moving into her current position in April 2021.
Her busy days include lots of phone calls, mostly with landowners and agency partners. She also spends time in the forest, conducting site visits with donors, staff members, and other stakeholders.
She says the place-based nature of the work is what she loves most about her job.
"I work on a project and it's so tangible," she explains. "I can say after it's done that this piece of land will be protected forever. I become connected to these places in a deeper way."
Andreucci feels like she has come full circle when she recalls her family ties to the redwoods. Her grandparents both grew up on the north coast in Scotia and Fortuna. Her grandfather told stories of his father, Andreucci's great-grandfather, working in the Pacific Lumber Company mill and what it was like to grow up in a lumber company town. He died before she started working for the League, but her grandmother, who could remember taking long drives through the redwoods, was thrilled to know she was working to protect those magnificent trees.
Andreucci spends her free time hiking, biking, camping, backpacking, canoeing, and satisfying her endless thirst for outdoor adventures. In the winter you will find her skiing and snowshoeing in the Sierra. More recently, she has been learning to play disc golf. She also enjoys quality indoor time cooking and spending time with her beloved Siamese cat, Zooey.
Tim Borden
Sequoia Restoration and Stewardship Manager
Tim Borden can trace the origins of his love for the outdoors to growing up in an agrarian community in New Jersey. But it was leading Boy Scout troops on backpacking trips in New Mexico that really shaped his relationship with wild places. He decided to pursue an advanced degree in environmental policy at Harvard University, but in the course of his studies came to discover his true interest was in was land management.
"Everything I cared about, whether it was water quality or biodiversity or carbon sequestration, could be tied to how we manage our landscapes," he explains
Borden realized that the federal government is the largest manager of landscapes in the U.S. "I had ideas about what work needed to be done, but I had no idea about how it actually happened," he says. So he decided to take some time before graduating and work for the U.S. Forest Service and National Park Service. There he gained hands-on experience managing wildfires, monitoring areas that had burned, and implementing fuels treatment projects.
"I spent thousands of hours behind the trigger of a chainsaw," he says. "That work is not nearly as easy as you might think it is. And it's time consuming."
As Sierra Stewardship and Restoration Manager for Save the Redwoods League, Borden is the on-the-ground person managing all of the League's stewardship projects within the giant sequoia range.
"I'm the property manager for the sequoia groves we own, but I also work with our partners at the federal, local, and tribal agencies to try to promote healthy restorative restoration work to protect those groves for the future."
Approximately 48,000 acres of giant sequoia groves in the Sierra fall under management of the National Park Service, California State Parks, and the League. The League owns and manages around 750 acres.
Though sequoia themselves weren't logged as intensively as coast redwood, many other trees, especially sugar pines, were removed. As a consequence, the composition of sequoia groves has changed dramatically.
With so many sugar pines logged, and in the absence of a natural fire regime, white fir and incense cedar proliferated. The density of these groves makes them more susceptible to wildfire. For Borden, reducing the threat of catastrophic wildfire to these ancient groves is an urgent task.
"I believe that landscape-scale restoration work is vitally important for the long-term protection of our forests, not just in the giant sequoia range but all over the American West."
Borden works with partners to break down barriers and rally the resources necessary to conduct large-scale restoration work. This includes communicating the importance of restoration work. He frequently leads tours through the League's Alder Creek property, much of which burned in the Castle Fire in 2020, pointing out areas that burned at low to moderate severity and compares them to areas where the fire burned hot, killing many old-growth sequoia.
"I take donors and media through that property and promote what needs to happen in these sequoia groves in order to protect them from future high-severity wildfire," says Borden. "These groves are going to burn. We want to make sure they burn in a way that's healthy and vital and will not have the kind of tree mortality like we saw last year."
An Eagle Scout, Borden remains active in the Scouts and serves on the organization's ethics committee. He's a committed runner and skier—his dog is named Mogul—and he successfully completed his first 100-mile trail race in the summer of 2021. He also brews his own beer and plays Old-Time fiddle.
"I take time off to go run or to travel to fiddle conventions and festivals where I play music with other people," he says. "That's my life."
Becky Bremser
Director of Land Protection
Becky Bremser, Save the Redwoods League's new Director of Land Protection, grew up in West Bend, Wisconsin, right along the Milwaukee River.
"On a western bend of the Milwaukee River, appropriately enough," says Becky. "We were a company town, known for West Bend Company cookware. Pots and pans."
The manufacturer of that kitchenware decamped in 2003, but West Bend was and remains an exceedingly pleasant place to grow up. Becky recalls a childhood spent almost wholly outdoors.
"We'd always be swimming and fishing on the lakes, catching frogs and crawfish in the streams and poking around in the nearby woods," she says. "Also, my great-grandparents had a farm outside of town. It was an incredible place, and we never got tired of exploring it."
When Becky was older, the family decided to sell the farm, and negotiated a sale of part of the property to the city. It was the portion of the farm that contained the best natural, recreational, and historical values, says Becky.
"There are Native American bird effigies on the property, and the city has since built a river boardwalk, miles of trails, and a lighted ballfield complex," she says. "I was really gratified when the city turned it into a huge park. It's a tremendous public asset now and a gift my family is very proud of."
Little did she know, the process that turned her family's farm into a much beloved public park left a deep impression on her.
"I kept thinking about the old farm as I went through school, and I started feeling that I wanted to work in conservation," she says. "Saving special places seemed like a good calling."
After graduating from high school, Becky enrolled at the University of Wisconsin in Madison, where she got her Bachelor of Science degree in conservation biology and environmental studies in 1998. On graduation, she took a giant step–or at least, a long flight–and enrolled in a work exchange program at an eco-resort on St. John, the smallest of the U.S. Virgin Islands.
"Wisconsin is a wonderful place, but it has extremely long winters," says Becky, "and by the time I graduated, I was ready to go somewhere warm."
Becky had been working one month at the resort when Hurricane Georges hit the Virgin Islands. Residents and visitors alike fled St. John at Georges' approach, and both were slow to return. But for Becky, the storm's clouds had a decidedly silver lining.
"About 75 percent of St. John is protected by Virgin Islands National Park," Becky says. "Like a lot of national parks, it has a private sector partner–Friends of Virgin Islands National Park, in this case–whose mission is to protect and preserve the natural and cultural resources of the park for people to responsibly enjoy. After Georges, I was fortunate enough to land a job as a program manager with The Friends, and I spent the next four years at that position. I worked on managing special projects for the park, including private inholding acquisitions, and we were successful in securing some extremely important transactions while I was there."
For some of the more complex deals, The Trust for Public Land was tapped for assistance.
"They have so much experience with land protection acquisitions, along with a deep bench of experts conversant in every aspect of negotiations, conservation, and funding," she says. "They helped us out on several of the more challenging transactions. I learned a lot from them, and developed a deep respect for what they do."
That high regard was reciprocated. When Becky moved back to the States, the Trust for Public Land promptly hired her for their St. Petersburg office, where she worked on acquisitions for southwest Florida and the Caribbean.
"I was able to continue to contribute to some spectacular projects, including the Sarasota Legacy Trail," Becky says. "It's a 10+ mile biking and hiking trail that runs along the spine of Sarasota County, Florida. TPL bought the land from CSX Railroad and conveyed it to the county. The county has developed a safe, recreational trail that more than 225,000 people use annually"
After 10 years in Florida, Becky took a position as senior project manager based at TPL's headquarters in San Francisco overseeing the acquisition work in Southern California. Among her favorite projects in California were an expansion of Runyon Canyon Park in the Hollywood Hills and the creation of Kellogg Park in the City of Ventura.
"I'm proud of all the work we did, but Kellogg Park was really important," says Becky. "Virtually all of Ventura's parks are on the east side of the city–the city has kind of turned its back on the west side, which lacks all the pricey boutiques and restaurants and is primarily Latinx. So we acquired approximately two acres of property on the west side and developed a beautiful park. Along with increasing environmental equity, we were able to achieve a measure of social justice. We were able to right a wrong."
Becky spent six years at TPL's San Francisco office, and then accepted the position of Director of Land Protection for Save the Redwoods League.
"Part of my job will be overseeing the League's land protection program, including transactions," says Becky, "but I'll also be working to integrate land protection goals with all the other programs the League supports, such as Redwoods Rising, the Vibrant Forests Program, and Centennial Vision. The best part of the job is simply knowing that we're preserving the special places, the places that matter. I've always felt that way about this work. I may not get to personally visit all the places the League and our allied organizations protect–but I know that they exist, and that they're safe. For me, that's enough."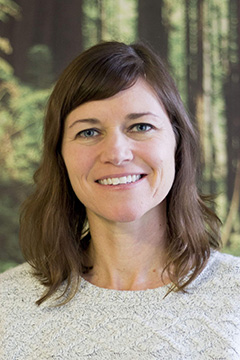 Jessica Carter
Director of Parks and Public Engagement
Jessica Carter's career is grounded in the importance of diversity and inclusion in the great outdoors. In her early work, she managed a program that highlighted leadership and career development in science, technology, engineering and mathematics for underserved teens at Girls Inc. There, she discovered that the simple privilege of experiencing nature can be a game changer for individuals, entire communities, and the planet.
"We regularly went on field trips that provided opportunities for the girls to both learn and take positive risks – outdoor experiential programs offered an unparalleled platform for this," says Carter. "The girls were engaged and inspired each time we went on an adventure, from hiking or cross-country skiing to kayaking, and I saw how this translated into new perspectives on their everyday lives."
After a decade of growing partnerships to enhance visitor access and programs at Golden Gate National Recreation Area – where she also led partnership development for a $38 million Alcatraz embarkation site and visitor welcome center – she joined Save the Redwoods League as Director of Parks and Public Engagement in 2018. Her expertise in managing nonprofit, commercial, and interagency partnerships is valuable in expanding the League's parks support, education, interpretation, and public outreach projects.
Carter's work embodies a critical issue that has been emerging as a key to conservation: engaging communities that have previously been underrepresented in the movement, and possibly even felt excluded from enjoying natural spaces. "As society becomes increasingly ethnically and socioeconomically diverse, everyone must come to appreciate the value of redwood forests to ensure their protection," Carter says.
And there is, of course, an even bigger picture. She adds, "Bridging equity gaps doesn't only serve the conservation purpose, but it also plays a key role in the wellness and prosperity of our society at large. I've seen how environmental education and access to the outdoors expands confidence, perceptions, and interests, all of which contribute to the foundation of personal success. Redwoods experiences can serve as a great equalizer in this respect, particularly for low-income communities that may not have access to many alternative resources."
Carter will cultivate the League's education programs and park projects, such as the future visitor center at Redwood National and State Parks. She'll be collaborating closely with partners, parks agencies, and indigenous tribes, among others, to define and engage specific audiences in the League's Centennial Vision, providing more and more people the opportunity to tap into the magic of the redwoods.
"I'll never forget the first time I went to Muir Woods National Monument after starting my job with the National Park Service. Being surrounded by the majestic redwoods in the deep quiet of the forest was powerful," Carter says. "In fact, late in my pregnancy with my son, I woke up one morning with a burst of energy and went on a hike through Joaquin Miller and Redwood Regional parks in Oakland, and then promptly went into labor an hour after returning home. So redwoods have a very special place in my life now."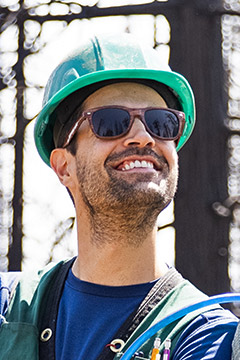 Anthony Castaños
Land Stewardship Manager
Anthony Castaños grew up in San Diego and took frequent trips to the Sierra with his family. He credits solo time exploring the chaparral and forests for his deep comfort in wild places.
"As a kid I would just leave to wander in the woods for hours, not knowing where I was or how to get back, but somehow I always managed to get home," he says. "I like to joke that I never get lost in the woods; I just get delayed."
Anthony Castaños grew up in San Diego and took frequent trips to the Sierra with his family. He credits solo time exploring the chaparral and forests for his deep comfort in wild places.
"As a kid I would just leave to wander in the woods for hours, not knowing where I was or how to get back, but somehow I always managed to get home," he says. "I like to joke that I never get lost in the woods; I just get delayed."
Castaños earned a B.A. in Urban Studies from the University of California at Berkeley and quickly learned that mastering the skills of a project manager gave him versatility in his career choices. As land stewardship manager, Castaños oversees all of the League's held properties and conservation easements, which are scattered throughout the redwood range from the Oregon border to Big Sur.
It's a broad role. A typical week includes several days out in the forest, checking on properties, and ongoing restoration projects. He stays in contact with dozens of contractors and seeks grant funding for restoration projects on these properties. Though not required, sometimes he pulls on boots and works alongside crews doing chainsaw work and data collection.
Castaños says the restoration projects are even ramping up in light of a growing awareness: that simply preserving land through ownership or conservation easement isn't enough.
"For most of the past 100 years, Save the Redwoods League bought land, transferred ownership to an agency, and said, great, it's protected," he explains. "But with climate change, the accumulation of fuels, and the need to incorporate Indigenous people's historic land management practices, we're realizing these lands can't just be left alone."
The scope and intensity of wildfires over the past several years is the driving motivation for land stewardship. The biggest focus is on fuels reduction—hand crews in the forest doing the time-consuming but necessary work of thinning small trees and removing "ladder fuels" that carry fire up the tree. "That way, when a fire does come through, it will just burn on the ground floor rather than up into the canopy where it can cause a lot of damage," explains Castaños.
In addition to overseeing ecological thinning projects, Castaños has also begun managing prescribed burns. "It's been quite a thrill to get that work done because we've seen very positive results," he says, pointing to a prescribed burn completed in February of 2020 in the Santa Cruz Mountains as a case in point. An intense wildfire burned through the area later that year.
"All the trees outside the prescribed burn were burned head to toe," recalls Castaños. "But the trees within the prescribed burn area were still green and had healthy canopies." Castaños foresees this restoration work expanding as the state embraces the need for active management. Castaños first joined the League in early 2011 as the conservation programs assistant and has since been promoted three times. He's been in his current role since 2016.
"I feel like I have a lot of institutionalized knowledge," he says. "I can reference past projects, past relationships, and partners." This deep knowledge has been critical for helping facilitate new projects and figure out how to accomplish them.
When he's not working, Castaños spends much of his free time volunteering: planting trees with Friends of the Urban Forest, packing food at the San Francisco-Marin Food Bank, and mentoring kids at an after-school program in the Tenderloin neighborhood in San Francisco.
If doing good work is critical to Castaños' personal happiness, so is living in the state of California.
"When I drive along the 101 and see the ocean, the cliffs, and the redwood trees, I find it so beautiful and captivating," he says. "I cannot imagine living anywhere else."
Catherine Elliott
Senior Manager of Land Protection
Catherine Elliott spent much of her career as a regulator on forestry and environmental issues, and she considers that experience invaluable in her current role.
While the process of protecting the redwood forest typically involves a great deal of scientific and legal analysis, success often depends on basic human interactions.
"Relationships in this line of work can become both close and nuanced," observes Catherine Elliott, the Senior Manager of Land Protection for Save the Redwood League. "The favorite part of my job is getting to know the landowners who become our partners in preservation. Many have forestry backgrounds, but they come from all walks of life. I learn a lot from working with them, and it's great getting to know them."
Landowners differ in opinion on conservation issues, says Elliott, but she observes most share a common bond.
"They know their land, and they have a deep and abiding love for it," she says. "They want to preserve and enhance it, and that's why they to choose to work with the League."
As an example, Elliott cites her work with an old-growth redwood mill in Mendocino County. The League recently partnered with the mill to save 400 acres of old-growth redwoods along the Noyo River.
"The company had purchased the parcel and was planning to log it," recalls Elliott. "We didn't take a position on their timber harvest plan when we began negotiations because if we had stood against all logging, it would've just stopped the negotiations. We were interested in determining if they were willing to sell the property, so that's where we started the conversation."
Elliott says the mill's executives were open to the possibility of a land sale and were forthright and honorable in their negotiations.
"They were very gracious and open," Elliott says. "Eventually we were able to purchase the property, which has since been transferred to the Mendocino Land Trust for management. No cutting is allowed except for forest restoration and fire protection. It was an agreement that worked for everyone, and we established a wonderful relationship in the process."
Old-growth forest acquisition and preservation remains a priority for Elliott, but her mission also has expanded to a broader purview.
"With 95 percent of the old-growth redwoods already cut, our vision and methods will change for the League's second hundred years," says Elliott. "We're looking to acquire or establish conservation easements on properties that will buffer and connect old-growth forests, and we're working on restoration programs to accelerate old-growth characteristics in younger forests. I'm excited about working on the landscape-scale projects that these goals require."
Elliott spent much of her career as a regulator on forestry and environmental issues, and she considers that experience invaluable in her current role.
"That's essential work, and I respect it deeply," she says. "But I've spent ten years with the League, and I've become tremendously invested in the collaborative process that's our hallmark. It can be extremely effective simply because it's not adversarial. The whole point is to look for mutually beneficial solutions, rather than a zero-sum win, and I find that incredibly satisfying and inspiring. In the most basic terms, I just like discovering common ground with people."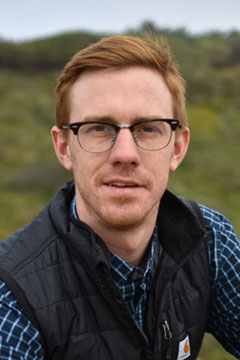 Mitchell Hayes
Partnership Manager
In 2015, Mitchell Hayes graduated with a B.S. in Project Management from California State University, Chico. He took on project management positions for a few different organizations, but he craved a role that was more fulfilling. So, he decided to take a step back.
"I knew natural resources was of high interest to me, and I wanted to be able to use the skills I'd gained in college and in practice and apply those to relatable areas in natural resources," says Hayes.
For nearly two years, Hayes worked as a seasonal park ranger and aide for California State Parks and California Land Management in Placer and Mendocino counties. In these roles he interacted directly with visitors and became intimately familiar with the natural landscapes of the parks, including Standish-Hickey State Recreation Area, Richardson Grove State Park, and Hidden Falls Regional Park. Soon after, he went back to school, earning an MBA in Strategic Sustainability from Humboldt State University. He accepted the role of partnership manager with Save the Redwoods League in the summer of 2021.
In this role, Hayes administers Redwoods Rising, a collaborative effort to accelerate redwood forest recovery within Redwood National and State Parks and to help protect the remaining old-growth groves there.
Hayes views himself as the connective tissue among the partners, which include the League, the National Park Service, and California State Parks. This translates into frequent meetings and lots of communication.
"My value to the project is doing the behind-the-scenes work and keeping everyone in the loop," says Hayes. "A huge component of my job is relationship building, not only with partners but with funders of the project." Coordinating tours and presentations for funders and other parties helps them understand what their generosity has helped accomplish on the ground.
The restoration projects coordinated under Redwoods Rising are aimed at rehabilitating crowded second-growth forests, restoring streams, and decommissioning the many miles of defunct logging roads that wind through these forests.
"It's gratifying to be part of a transformation, as forests that were treated poorly are stewarded back into health," says Hayes. "And knowing, too, that old-growth forest helps with carbon sequestration, and that restoration work helps increase wildfire resilience."
But even more important, says Hayes, is being part of a complex and successful collaborative where projects of such scale and importance are possible.
"Being part of that model and being able to share that knowledge is one of the most important parts of my job," he says.
Currently, about $30 million in public funds has been committed to Redwoods Rising. Hayes is tasked with planning and tracking budgets with all of the granting agencies. He also meets regularly with the League's other departments, helping convey the importance of the initiative and keeping colleagues updated on the latest developments.
Through his experience administering projects of all types, Hayes has learned that conflicts are inevitable.
"Knowing how to communicate and what to say in those delicate moments is a skill I've found to be universal to all project management-related roles," says Hayes.
His natural proclivity for understanding different points of view make him particularly well-suited as the administrator of a complex collaborative partnership.
"Being able to be that connective tissue—to take the middle ground—is very beneficial," says Hayes. "It's not that I know exactly what decision to make, but I'm very good at hearing from everybody first and facilitating a decision."
Hayes loves to play where he works, and he blows off steam four or five days a week on his mountain bike. He rides all over Humboldt County. Blue Lake, Arcata Community Forest, and Paradise Royale near Shelter Cove are some of his favorite places to ride. He also enjoys camping, backpacking, and kayaking.
He grew up in Santa Cruz County, on the southern end of the redwood range.
"The landscape on the North Coast is very similar to Santa Cruz and very near to my heart," says Hayes. "It's a huge reason why I'm doing this kind of work."
Sam Hodder
President and CEO
Sam Hodder, the President and CEO of Save the Redwoods League, takes the long view on his role and blends it with the urgency of the moment. That's appropriate, given his mandate of protecting redwoods – some of the oldest living things on the planet, which stand today because people like Hodder were determined to protect them over the last 100 years.
As the League enters its second century, says Hodder, its vision and methods are evolving in response to the dynamic forces now at play in both the redwood forest and the broader community in which we work.
"The League is lucky to have one of the best reputations and strongest staffs in the conservation world," he says. "Our scientists are conducting cutting-edge research in the redwood forest; our land team is advancing a transformational portfolio of complex land transactions to protect ancient redwoods and the younger recovering forests that will sustain them; our stewardship team is in the field accelerating the regeneration of formerly logged redwood stands; and our education team is bringing redwood science into urban classrooms, and urban students into redwood parks. They all are doing important work at a critical time, and my job is to make sure that they have what they need to get it done."
Since joining the League, Hodder has lead the team in the permanent protection of more than 20,000 acres of redwood lands and the implementation of ambitious forest restoration projects. He has guided the development of the League's Centennial Vision, a bold 100-year plan to accelerate forest conservation and the regeneration of coast redwood and giant sequoia forests across their range and to dramatically enhance visitor experience in the redwood parks. He has further advanced the League's Redwoods and Climate Change Initiative, a project that has led to pioneering research on the unique ecosystems thriving in the old-growth redwood canopy. Hodder also has provided greater focus the League's investment in educational programs and redwood park public access improvements.
Hodder grew up in New England and spent much of his boyhood exploring the trails of Maine, Vermont and New Hampshire. While studying at Princeton University, he worked summers on trail crews for the Appalachian Mountain Club (AMC) in New Hampshire's White Mountain National Forest.
"Ever since my first summer job building hiking trails, I have been inspired by the role of accessible open space in our communities," says Hodder. "The White Mountains are the wilderness playground for the cities of the northeast, and every summer the trails fill with Cub Scout troops, inner city camping programs and pavement-weary families from all walks of life."
"As we worked the trails each summer, there was a nearly constant stream of hikers wandering past in the midst of an experience they would never forget," Hodder continued. "I was proud to have a hand in getting people to these beautiful places and to feel connected to that collective experience. As a country, we have worked hard to set aside special places for all of us to share. From city parks to national wilderness areas, we have made a choice in the 'democratization' of natural beauty because, quite simply, time spent in the wonder of the outdoors makes our lives better. It makes our communities stronger, our families happier, our life experiences richer and our bodies healthier."
After graduation, Hodder sought work in land conservation, working at the Trust for Public Land (TPL) for the next 22 years and ultimately serving as TPL's Maine State Director and California State Director. He joined Save the Redwoods League as President and CEO in 2013.
As he shepherds Save the Redwoods League into its second century, Hodder feels fortunate to have found a career that aligns so completely with the things he cares most about. He spends much of his free time exploring the wildlands of the West with his wife, Kendra, and their four sons, and he takes great pride in that, together with his colleagues at Save the Redwoods League past, present and future, he has played a role in saving our most special places.
"Spending time in nature is transformative," Hodder says. "Whether on the forested trails of the White Mountains or the standing among the mighty ancient redwoods, you come out a better person. We need these places now more than ever, and there is no more fulfilling challenge than ensuring that future generations will have the benefit of a thriving, resilient redwood forest to inspire them."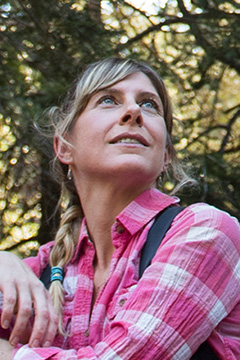 Jessica Inwood
Senior Parks Program Manager
Jessica Inwood typically works with Department of Parks and Recreation (DPR) staff on multiple projects at any given time, shuttling between properties from the Oregon border to Big Sur, and east to the Sierra.
Save the Redwoods League helped establish the California State Park system in 1927, and the League has worked closely with the state in expanding and protecting these legacy public holdings through the intervening 90 years. The League has donated property to more than 40 state parks, and it continues to work with Department of Parks and Recreation (DPR) staffers to restore state-held redwood forests and enhance visitor experiences.
"California's state parks are foundational to our mission," says Jessica Inwood, the League's Senior Parks Program Manager. "They not only protect thousands of acres of coast redwoods and giant sequoia, but they're also the primary public gateway to the redwood forest. People connect to the redwoods through state parks, and those connections build future constituencies."
Inwood typically works with DPR staff on multiple projects at any given time, shuttling between properties from the Oregon border to Big Sur, and east to the Sierra.
"I'm on the road a lot," she says. "Right now I have five active projects. That includes working with Pfeiffer Big Sur State Park staff to rebuild the Pfeiffer Falls Trail, which was burned out in a 2008 wildfire. One portion of the trail is finished, and we're currently drawing up plans for a 70-foot bridge that will span some extremely rugged terrain. It's so steep that we may have to fly in the sections by helicopter."
The League also is partnering with DPR and the Mountain Parks Foundation to update the interpretative displays at the nature museum in Big Basin Redwoods State Park, says Inwood.
"I also devote a lot of time to our Free Redwoods Days initiative," Inwood says. "On occasion, we have sponsored free passes to more than 40 redwood state parks to encourage people to connect to the redwood parks for the first time or to renew their love of them. The results far exceeded our expectations, which were high for these events. This is an incredibly effective way to connect people with public open spaces, and we think it'll become a powerful tool for building support for state parks generally, and the redwood parks in particular."
Inwood enjoys backpacking and hiking, and she is a devoted soccer enthusiast.
"I play in a co-ed league in Alameda," she says with a rueful laugh, "and I recently realized that everyone I play with is younger than me. It didn't use to be that way."
But it's hardly all fun and games for Inwood, even during her spare time. She's the founder of the Asla Foundation, an organization that provides scholarships to children in Nicaragua.
"I was in the Peace Corps from 2000 to 2002, and I found that most kids in my area only go to school through sixth grade," Inwood says. "Their families simply can't afford additional education. So I started a program in 2001 to help some kids further their educations, and it grew from there. We incorporated as a nonprofit in 2009, and we're funding 120 scholarships this year. Kids who are beneficiaries have to participate in community service, so they help others while they receive help."
Laura Lalemand
Senior Scientist
Laura Lalemand grew up in Maine, a state notable for stalwart individualism, a rugged coastline, abundant lobsters, and a vast, forested interior. She loved the place, largely due to the role the outdoors played in her daily life.
"You were never far from a lake or river," Laura recalls. "Anytime you wanted you could just take a hike, go swimming in a pond, go fishing or canoeing. There was a simplicity to it all that was incredibly satisfying."
That connection to the wild and all the living things in it led her to a Bachelor's degree in biology from the University of Maine at Farmington. After graduating in 2007, she went west, taking a position as a biological science technician with the U.S. Geological Survey. Laura worked on various projects in the Sierra Nevada, northern California, and southern Oregon for the USGS, with much of her effort focused on tree growth, mortality, drought response, and forest restoration. She joined Save the Redwoods League as a forest fellow in 2016 and completed her Master's degree in Forestry from Humboldt State University in 2018. She was hired as a forest ecologist by the League at that time and is currently working with her colleagues on Redwoods Rising, the seminal and deeply ambitious partnership involving the National Park Service, California State Parks, and the League to restore 120,000 acres of degraded forest in Redwood National and State Parks.
"I'm inspired by the vision of Redwoods Rising, and I'm honored to be a part of it," Laura says. "This collaboration will allow us to restore forest ecosystems on a landscape scale. More than that, we're working to accelerate old-growth characteristics in second-growth and third-growth forests. Our work will allow these young, degraded forests to progress to a more dynamic and resilient mature state far sooner than would occur if they were simply left alone. I also see Redwoods Rising as being a model for future collaborations who are working together on integrated, landscape-level restoration and land stewardship."
"Prescribed fire, or controlled burning, is a valuable tool for forest restoration," Laura observes. "It allows us to reintroduce the natural process of fire back onto the landscape in a controlled manner, on our terms. Fire is a critical component in many western forests, including redwood forests. I believe it's essential that we develop healthy relationships with fire, allowing it to fulfill its important, ecological role in fire adapted systems and to assist in fuels reduction and wildfire management."
"That said," Laura notes, "every prescribed burn is unique and forest type and structure, terrain, fuel loading, and climatic variables all need to be taken into consideration when developing a successful prescribed burn plan."
"We also have to address the political and educational aspects," Laura says. "People need to understand why fire is a valuable restoration tool, and we need to show them how it works. We need to be educators as well as forest managers."
The best part of her job, says Laura, is that it allows her to contribute to an all-encompassing vision of conservation.
"The League is working toward a convergence of forest conservation, restoration, and land stewardship at the largest possible scale, and I find that incredibly exciting," she says. "We're not just working to restore and maintain redwood forests. We're working to conserve all the associated species that depend on ancient redwoods. We're integrating in-stream aquatic restoration, road removal and soil stabilization, forest restoration–everything that affects the redwood ecosystems. And we're doing it as an equal partner with other agencies and groups, collaborating to define and sustain our long-term mission. I find this work very important and satisfying."
Much of Laura's spare time is spent enjoying the Humboldt and Del Norte County coastlines and ancient forests.
"I love canoeing, hiking, and just exploring the woods," she says. "I also enjoy fiber arts, growing and preserving food, raising chickens, ducks, and geese, and connecting with others while building community."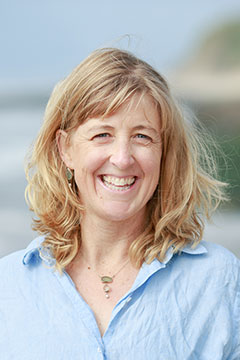 Joanna Nelson
Director of Science and Conservation Planning
Joanna Nelson has more than 20 years of experience designing, directing, implementing and evaluating research to support conservation objectives. Her work has been focused in California and includes international research initiatives as well. Nelson is an expert in conservation sciences, including forest, coastal and fire ecology, and she will use that expertise to direct all aspects of the League's scientific research programs. Chief among them are the League's Redwoods and Climate Change Initiative, Redwood Genome Project and Research Grants programs, in addition to understanding wildfire and drought effects in the coast redwood and giant sequoia ranges.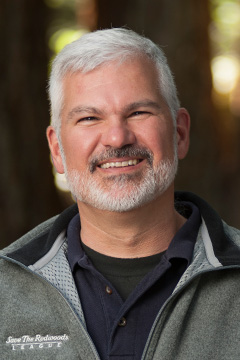 Paul Ringgold
Chief Program Officer
Paul Ringgold has been an outdoor enthusiast his entire life, and about 10 years ago he and his wife took a hike. It was through a particularly beautiful part of California — an ancient redwood forest at Prairie Creek Redwoods State Park, to be exact. And as the couple strolled among the behemoth trees, Ringgold felt a certain longing.
"I realized how happy I'd be if I could somehow find a way to help preserve these kinds of forests," Ringgold says. "That walk through Prairie Creek somehow crystallized my priorities. It made me realize what I really wanted to do with the rest of my life."
Luckily for Save the Redwoods League, those ambitions have been realized. Ringgold has worked in conservation and land management for more than 30 years, serving as a Forest Policy Analyst for the Pinchot Institute of Conservation, a Forest Manager and Research Program Director for the University of Washington, and the Vice President of Land Stewardship for the Peninsula Open Space Trust. As the League's Chief Program Officer, he oversees all land conservation transactions, land stewardship and management activities, forest restoration programs, public funding and policy engagement, park support, as well as education and interpretive programs. He also establishes specific priorities for the breadth of the League's programs.
"At this point, my interests have come back full circle to forest management and conservation," Ringgold says. "I started my career as a forester in the Pacific Northwest. And while I deeply enjoyed my subsequent work in research, policy and land conservation, which included rangelands and farms as well as timberlands, I've felt this deep pull to reorient to forests — the redwood forest in particular."
Ringgold is particularly excited to work with Save the Redwoods League as the organization prepares to celebrate its Centennial. The League, he observes, is launching a bold set of initiatives that will both honor its historic mission and expand its purview to meet the challenges of climate change and accelerating natural resource demands.
"In the coming years, we're going to have to both balance demands among stakeholders and prioritize among our own efforts," says Ringgold. "That doesn't mean compromise — ultimately, the restoration and ongoing preservation of the coast redwood and giant sequoia forests throughout their ranges remains our immutable goal. But how and when we get there is of paramount importance. We have to be as smart in the way we approach the challenges of the coming century as our founders were in addressing the pressing issues of the League's early decades."
Ringgold holds a Master's degree in Forest Policy and Rural Sociology from Yale University and a Bachelor's degree in Forest Resources Management from the University of Washington. In addition to his work at the League, he serves as the Advisory Council Chair of the Bay Area Open Space Council.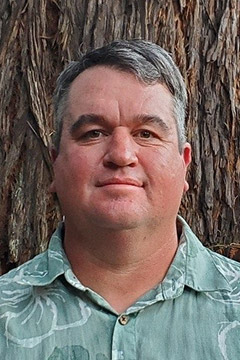 Spencer Stiff
Redwoods Rising Field Operations Manager
Spencer Stiff knows the forests and streams of the North Coast intimately. He grew up west of Willits, CA, at the edge of the redwood belt. Before joining Save the Redwoods League, he spent his career as a fish biologist, hatchery manager, roads superintendent, and logging contracts administrator. Over the course of 11 years, he held a number of positions with Green Diamond Resources Company. Much of his work there focused on roads and ensuring logging operations did not negatively impact fish and their habitat.
Stiff took the position of Restoration Field Operations Manager with the League in May of 2021. In this role, he oversees the implementation of restoration projects under the
Redwoods Rising
initiative, a collaboration between the League, California State Parks, and the National Park Service to bring back more than 70,000 acres of previously logged coast redwood forest.
"I was really interested in doing large-scale watershed restoration—fully restoring these streams, removing the roads, and getting the forests thinned back and into a healthy state," says Stiff. "In order to reduce the chance of catastrophic wildfires and recreate old-growth forest conditions".
Stiff is pleased to support the mission of Redwoods Rising and to help usher redwood groves on their way to becoming old-growth forest. The projects under his purview take place in two focus areas: greater Prairie Creek, west of Orick, and Mill Creek, south of Crescent City.
"We're doing biomass removal with variable density thinning and also 'lop and scatter,' where we thin trees and leave them on the ground," he explains. He also oversees the decommissioning of roads and road reoccupation, where old roads that haven't been used in decades are cleared so crews can access stands that need thinning.
Stiff is the on-the-ground point person for these projects. On a typical day, he might meet with park inspectors and contractors, prepare for upcoming projects, and solve problems that inevitably come up.
Stiff earned a B.S. in Freshwater Fisheries from Humboldt State University in 2002. An avid fisherman, Stiff spent 10 years as a river guide for salmon and steelhead. He loves both freshwater and ocean fishing and still owns a drift boat and a jet boat.
His role with the League enables him to spearhead work that will help improve conditions for fish. Decommissioning roads, for example, will help stem the erosion that can cloud creeks.
"We're also pulling lots of crossings that were delivering sediment to Class 1 creeks and smaller Class 2 tributaries," says Stiff. "A lot of them were completely buried." Unearthing those streams and removing the fill material will allow gravel to move down the creeks into larger streams, where they can provide high-quality spawning and rearing habitat for salmon and other fish.
Stiff has also started implementing aquatic restoration projects, working with contractors to place whole logs with intact "root wads" into streams, where they can help slow the movement of water and help create ideal habitat for young fish.
Stiff is striving to make all of these projects more efficient so that grant money and donations can stretch farther.
"I would like to get as many miles of road removed as we can and as many acres of thinning completed as we can with the grants and funding that we have," he says.
Deborah Zierten
Education and Interpretation Manager
Deborah Zierten's mission is educational outreach, both in the schools and the redwood parks.
Protecting, connecting and rejuvenating the redwood forests demand ample hands-on work, but the process is predicated on hearts and minds. Unless people understand the significance of redwood conservation, they won't support the projects forest restoration requires.
"The best way to reach adults with our message is to inspire them when they're children," says Deborah Zierten, the League's Education and Interpretation Manager. "Children find redwoods fascinating – thrilling, even! We don't have to convince them of their importance. They're so often captivated by the forests' beauty and grandeur, and they understand the importance intuitively when they're presented with the facts."
Zierten's mission, then, is educational outreach, both in the schools and the redwood parks.
"We need to do both," she observes. "The schools offer our best opportunity for replicable programs across the entire redwood range. For high schools, we provide a redwood forest program that ties into climate change and carbon sequestration. Our curricula are locally focused, so that kids can conduct hands-on research almost literally in their backyards."
The League also has an elementary school program, Explore Your Watershed, Zierten says.
"We take students on field trips to redwood forests in the upper reaches of their local watershed and to the San Francisco Bay," she says. "They're taught how it all is connected, and how the health and integrity of the coast redwood forest can ultimately affect water quality in the Bay. For many of these kids, our field trips provide their first visit to a forest. It's incredibly moving to watch them becoming engaged with the redwoods, to see them explore the connections between critical natural systems."
Such youthful enthusiasm is infectious, Zierten notes, and that's an essential factor in redwood conservation outreach.
"A truism in this work is that you teach the kids to reach the parents," Zierten says. "When your kids develop an intense interest, you inevitably end up sharing it."
Zierten also provides professional development to docents in California's redwood parks to inform them of the latest findings in redwood research
"The parks, of course, are the best possible venues for educating people about the redwood forest," Zierten says. "Park visitors are already in a receptive frame of mind – they want to know more about the redwood forest, and what they can do to protect it. We want to make sure there are people on the ground who can answer their questions, enhance their experiences and engage them directly in redwood conservation."
Part of that task involves direct training of docents and park staff, "we also ensure that the parks have access to the tremendous body of research produced by League scientists," says Zierten. "We help the parks find innovative ways to communicate about redwood conservation with the public."
Zierten grew up in Oakland and spent much of her free time exploring the expansive redwood parks of the East Bay. She earned her Bachelor's degree in biology at the University of Oregon and her Master's degree in environmental education at Southern Oregon University.
"I love Oregon," she says, "but I'm glad to be back in the Bay Area. The redwood forest is where I feel most at home and where my heart is."