With our supporters, we are ramping up our protection of redwood land, restoring young and burned forests across their natural ranges, and connecting new generations to the wonders of nature through transformational outdoor experiences.
HIGHLIGHTS
Our conservation achievements were possible with the generous contributions of our members and supporters. Your support enabled…
crucial land acquisitions
the setting of a new bar for collaborative redwoods restoration
the substantial increase in wildfire resilience throughout the giant sequoia range
a celebration of California's unrivaled state park system
the opening of new trails and exhibits in redwood forests.
PROTECT
We are securing the remaining viable old-growth redwood forests and doubling the protected coast redwood forest reserves over the next 100 years to ensure that the forests' health and beauty will endure for generations to come.
Montgomery Woods Initiative
Expanding protections and experiences at a beloved reserve
Montgomery Woods State Natural Reserve is a spectacular old-growth grove near Ukiah in Mendocino County. Save the Redwoods League has a long history here, having assembled much of the land for the reserve over the years, and more recently, the development of the day-use and trailhead area and interpretive panels. Broadening its vision for Montgomery Woods and the surrounding region through the Montgomery Woods Initiative, a $19.3 million project, the League acquired and protected the adjacent 453-acre Atkins Place property for $1.18 million in August 2022. The League raised $1.08 million toward the purchase of a $14 million conservation easement on the adjacent sustainably managed working forest of the 3,862-acre Weger Ranch, in addition to a $9.5 million grant from Cal Fire's State Forest Legacy program and a $3.42 million grant from the California State Coastal Conservancy. Save the Redwoods also raised $2 million for a partnership with California State Parks to redesign the visitor experience at Montgomery Woods, which borders both properties. The acquisitions will protect wildlife habitat and buffer the old-growth forest, while creating opportunities for expanded public access to Montgomery Woods. At the reserve, work began on reconstructing and expanding the 2-mile perimeter loop trail.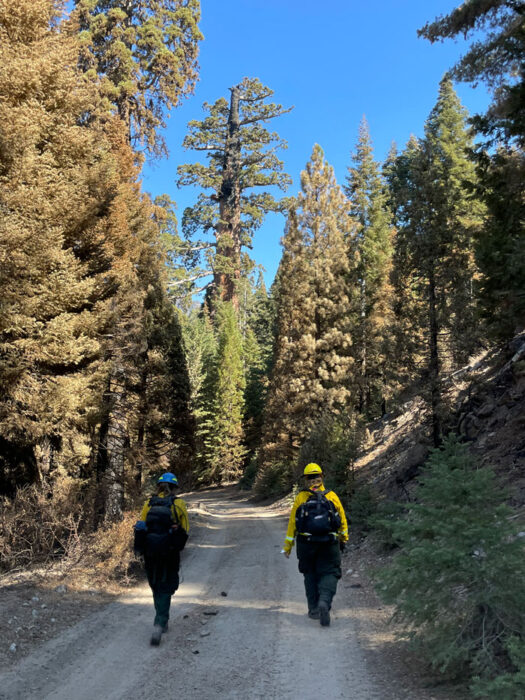 Red Hill
Protection strengthened for ancient giant sequoia forest
Red Hill was one of the two largest remaining privately owned giant sequoia properties in the world when the League purchased it in 2018. In 2022, Save the Redwoods transferred the 160-acre property to the USDA Forest Service so that it may be protected and managed as part of Giant Sequoia National Monument and Sequoia National Forest. The acquisition and transfer of the property will allow the Forest Service to manage Red Hill in coordination with the national monument's general plan, which emphasizes protection of ancient giant sequoias, wildfire risk reduction, watershed protection, habitat enhancement for threatened species and recreational opportunities. "Cohesive and collaborative management is essential for giant sequoias' survival across their already limited range," said Teresa Benson, Sequoia National Forest supervisor.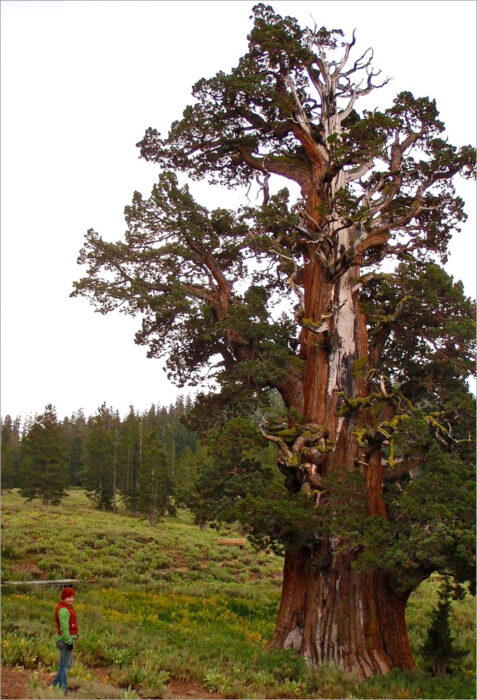 Bennett Juniper property
Ancient tree gains a new, long-term steward
The 80-foot-tall Bennett Juniper is the largest juniper and one of the oldest known trees in the world, standing in an inholding in Stanislaus National Forest in the Sierra Nevada. Save the Redwoods League in November 2022 donated the 3,000-year-old tree and surrounding 3-acre property to Mother Lode Land Trust (MLLT) and secured $40,000 in seed funding for MLLT's long-term stewardship of the land. The Bennett Juniper property had been stewarded by the League since 1987. "The gnarled and knotted Bennett Juniper has withstood drought, hard winters, and lightning strikes for thousands of years," said Ellie Routt, executive director of Mother Lode Land Trust. "MLLT's ownership of this property ensures local oversight and permanent protection so that everyone can have the chance to see this amazing tree."
RESTORE
To ensure that redwood forests thrive, we are restoring forests and ecosystems throughout their range, leveraging the best-available science to accelerate their healing.
Giant sequoia emergency
Fighting for groves' survival
Save the Redwoods advanced its work as a member of the Giant Sequoia Lands Coalition, established in 2021 to safeguard giant sequoias from severe wildfire and other existential threats, while sounding the alarm for their conservation. In collaboration with Coalition organizations, the League surveyed sequoia groves impacted by wildfire to determine tree mortality and regeneration success. Crews conducted post-fire restoration work across 145 acres at the League-owned Alder Creek property in Tulare County, removing ladder fuels and standing dead trees in preparation for replanting more than 50,000 native seedlings. With Coalition partners, League scientists continued to study tree health and changing conditions in the giant sequoia range to guide future restoration work. The League also worked to refine and advance the bipartisan Save Our Sequoias Act, which authorizes emergency measures, funding, and other mechanisms that will enable federal agencies along with their state, tribal, and nonprofit partners to advance critical work on the ground to protect these irreplaceable natural treasures from severe wildfires.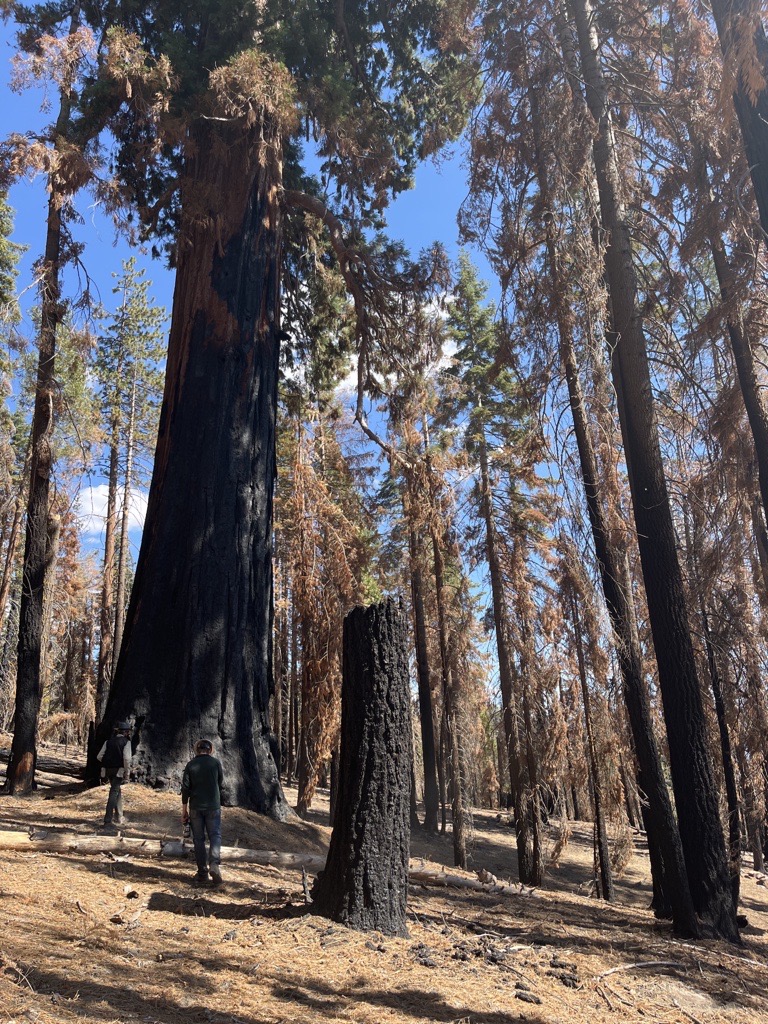 Giant Sequoia National Monument
No time to waste in treating vulnerable groves
In partnership with the USDA Forest Service, the League led emergency restoration treatments in Giant Sequoia National Monument's 568-acre Long Meadow Grove, home to the popular Trail of 100 Giants. Crews treated 82 acres in areas severely burned in the 2021 Windy Fire while reducing fuel loads around at-risk ancient trees. "There is a tremendous urgency to treat the remaining forests while we still can," said Sam Hodder, League president and CEO, of the need to accelerate restoration in the giant sequoia range. Under a stewardship agreement signed in fall 2022, the League and the Forest Service also will restore three other groves in the monument: the 533-acre Packsaddle Grove, 4,192-acre Freeman Creek Grove, and 409 acres of Alder Creek Grove. These four groves are among some of the southernmost giant sequoia groves within the monument, making them particularly vulnerable in a warmer and drier climate. The League estimates restoration of the four groves will be complete by 2026.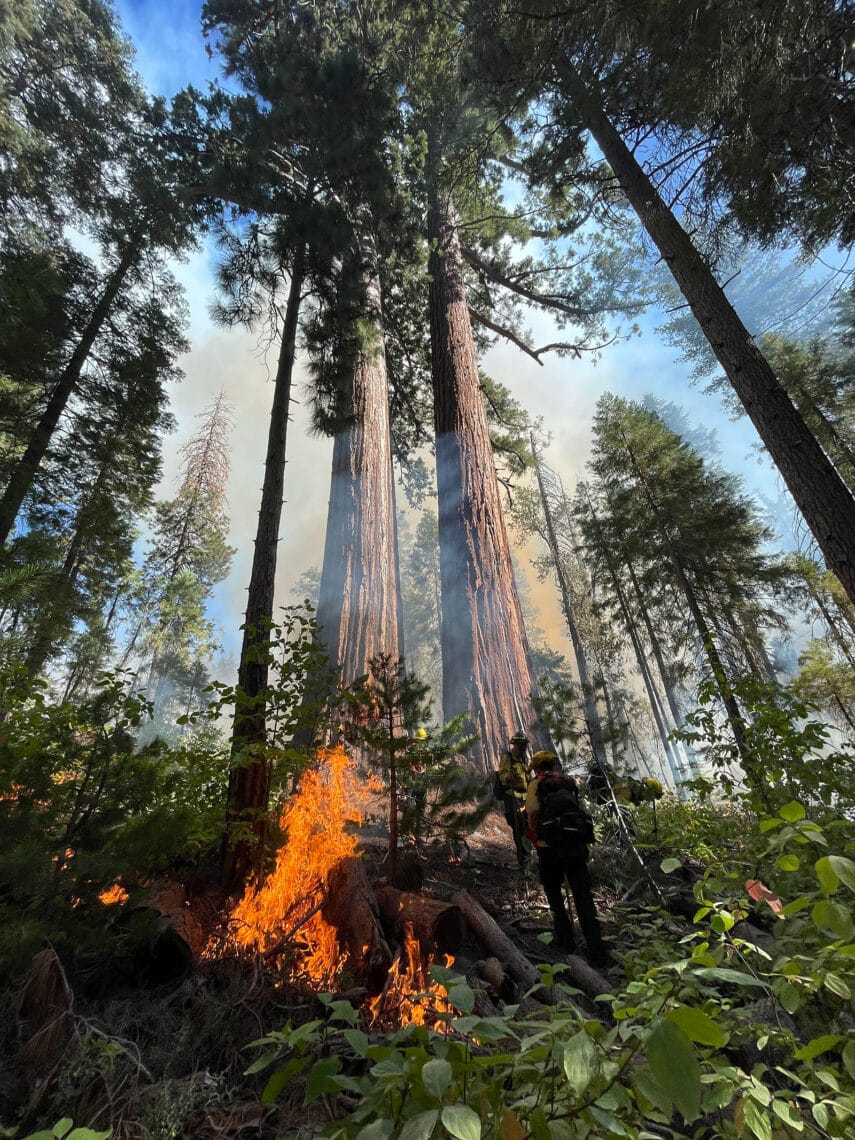 Calaveras Big Trees State Park
Prescribed burns set sequoias up for success
In the spring and fall of 2022, weather conditions created windows of opportunity for prescribed burns in Calaveras Big Trees State Park in the central western Sierra Nevada. Crews treated 222 acres in and around the park's North Grove of giant sequoias, with assistance from Cal Fire and outreach and logistical support from Save the Redwoods League. In addition, the League's forest ecologist, Linnea Hardlund, participated in the burn as a fire-effects monitor in the spring of 2022. Funded by a Forest Health Grant from Cal Fire, the restoration work reduced fuel loads in the ancient grove to prevent future catastrophic wildfires. The low-intensity prescribed burns consumed understory fuels and pockets of dense shrubs, moving this grove closer to a resilient structure that is better prepared to undergo future burns and survive in a hotter, drier climate. These burns also demonstrated that the work that lies ahead to restore resilience to these forests after decades of poor management decisions is going to be really hard, and not without risk. Even in these carefully executed burns, two giant sequoias were significantly impacted when the fire climbed into the crown. The impact on any single tree is heartbreaking, but such potential risk is necessary for the positive ecological results of this fire and the hundreds of monarchs that are better prepared for the wildfires that are almost certain to occur.
Redwoods Rising
Partnership makes great progress in ambitious forest restoration
Redwoods Rising—a landmark partnership between Save the Redwoods League, the National Park Service, and California State Parks—made great strides in 2022 toward its ambitious goal to restore vast landscapes of historically logged forests in Redwood National and State Parks. Now in its fifth season, Redwoods Rising has worked to restore 2,600 acres of unnaturally overcrowded forest left behind by repeated cycles of logging and planting; removed 22 miles of old, eroding logging roads; improved 32 miles of roads for stability to prevent erosion; restored 3 miles of stream channel, and fixed, replaced, or removed 34 stream crossings. In addition, for the fifth year, Redwoods Rising offered apprenticeships as career development opportunities for college students in partnership with Cal Poly Humboldt and College of the Redwoods.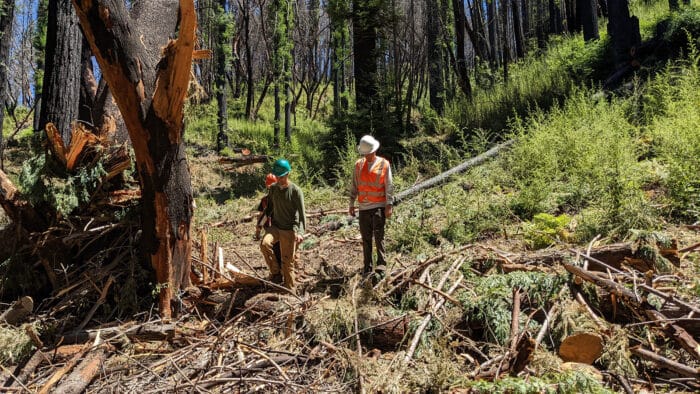 San Vicente Redwoods
Restoration work accelerates post-fire recovery
Restoration of San Vicente Redwoods was in full swing when the 2020 CZU Lightning Complex fires roared through the Santa Cruz Mountains, burning across the property's 8,532 acres, including the entire 2,700-acre Deadman Gulch Restoration Reserve. Save the Redwoods saw a silver-lining opportunity to study how prior treatments may have helped reduce the fire's severity. Based on this ongoing research, and with funding from the Wildlife Conservation Board, the League completed 550 acres of restoration work across a second treatment unit in the Deadman Gulch Reserve in 2022 to promote future wildfire resilience and accelerate the return of old-growth characteristics. The League will continue to monitor the site and collect post-treatment data on the response of the recovering forest. Save the Redwoods is a partner in conserving San Vicente Redwoods with Land Trust of Santa Cruz County and owners Sempervirens Fund and POST.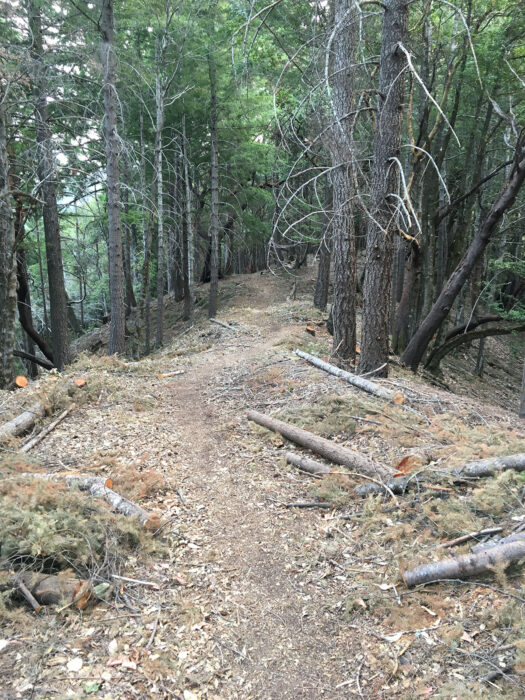 Corridor from the Redwoods to the Sea
Fuel break guards crucial habitat corridor
In 2022, Save the Redwoods League finished work on a 16-mile-long fuel break within the Corridor from the Redwoods to the Sea, which connects the ancient groves of Humboldt Redwoods State Park to the forests of the Lost Coast. Project partners—including the Bureau of Land Management, Mattole Restoration Council, Mattole Salmon Group, and landowner Bob Stansberry—celebrated the completion of the multiyear collaboration, which was funded by a $1.3 million grant from Cal Fire. In addition to enhancing carbon sequestration and reducing the risk of severe wildfire, the Corridor from the Redwoods to the Sea protects important habitat for imperiled species, including northern spotted owl, marbled murrelet, Humboldt marten, coho and Chinook salmon, red tree vole, and Pacific fisher.
SCIENCE
In addition to advancing original scientific research that is informing conservation strategies for the League and its partners, the science program is also bolstering the organization's policy recommendations, media outreach, and public information efforts.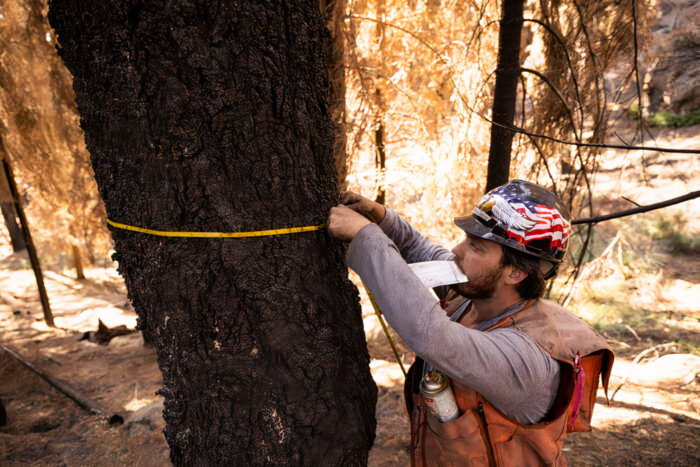 Giant sequoia research
League scientists guide forest restoration and legislation efforts
Save the Redwoods continued its leadership role in studying wildfire impacts and restoration outcomes in the giant sequoia range, where approximately 20% of the large, mature trees have been destroyed by severe wildfire since 2015. Joanna Nelson, PhD, League director of science and conservation planning, served as co-chair of the Giant Sequoia Land Coalition's Learn team, helping to create a comprehensive action plan for investigating sequoia health and ecology in these times of rapid change, documenting fire behavior and tree mortality, completing post-fire assessments, and investigating the role of Western cedar bark beetles as an emerging threat to sequoias. Nelson also provided expert insight on the Save Our Sequoias Act—bipartisan legislation that would enable emergency action to use preventative, active management and stewardship in forests to protect giant sequoias from severe wildfire and other threats. She provided testimony in a House Natural Resources Committee Forum in July 2022. Her recommendations drew on studies by League and affiliated scientists, which showed that active restoration management reduced the risk of giant sequoia mortality.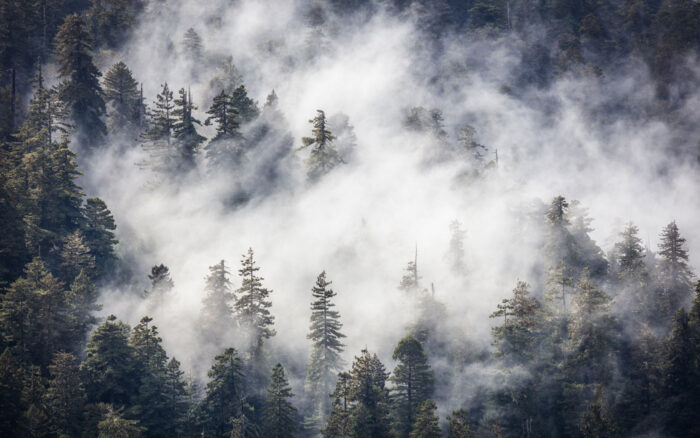 Redwoods and Climate Change Initiative
Research highlights climate impacts and opportunities
Save the Redwoods League in 2022 completed the third stage of the Redwoods and Climate Change Initiative (RCCI), a long-term research program tracking the effects of climate disruption in redwood forests. In partnership with the League, scientists at Cal Poly Humboldt published study results in the December 2022 issue of Forest Ecology and Management, showing that the coast redwood range is drying due to warming temperatures and that drought has inhibited tree growth south of Arcata, California. Earlier, RCCI researchers found that old-growth coast redwoods store more aboveground carbon per acre than any other forest type on Earth—followed closely by giant sequoias, making both species an important part of the fight against climate change. In early 2023, the League also hosted a four-part RCCI speaker series, with scientists from Cal Poly Humboldt and the University of Washington presenting their latest research on climate-related topics such as using tree-ring data to show long-term redwood responses to climate, plant diversity in the canopy of redwoods, and the long-term carbon storage capacity of redwoods. We enjoyed active participation and insightful questions from our Board, Councilors, and donors.
CONNECT
We are creating inspirational and inclusive redwoods experiences and elevating the forests as critical elements of California's identity.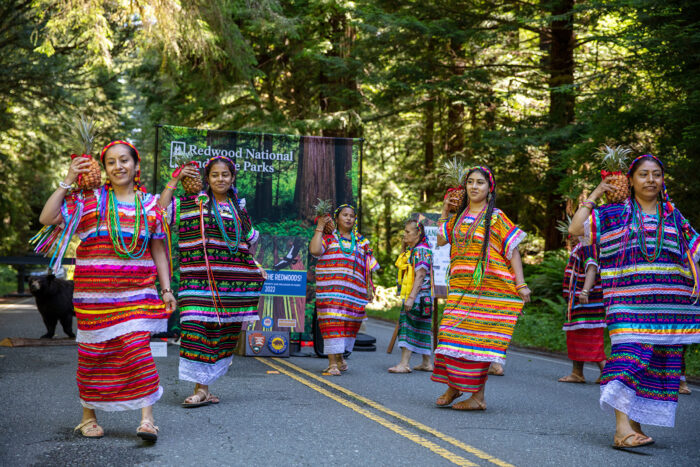 California State Parks Week
First annual event celebrates the Golden State's iconic places
Save the Redwoods League, California State Parks, Parks California, and California State Parks Foundation presented the first annual California State Parks Week in June 2022 to honor the important role parks play in communities statewide. Special community events and in-person and virtual programming celebrated California's 280 state parks and the people who visit and help protect these iconic places. Hundreds of participants joined the League and partners at Prairie Creek Redwoods State Park for the Summer in the Redwoods event, a celebration of community and inclusion in California State Parks. The National Park Service joined the League and California State Parks in sponsoring the event, which featured local partner organizations. Visitors enjoyed Indigenous land acknowledgement, multilingual interpretive programs, a resource fair, food, and music.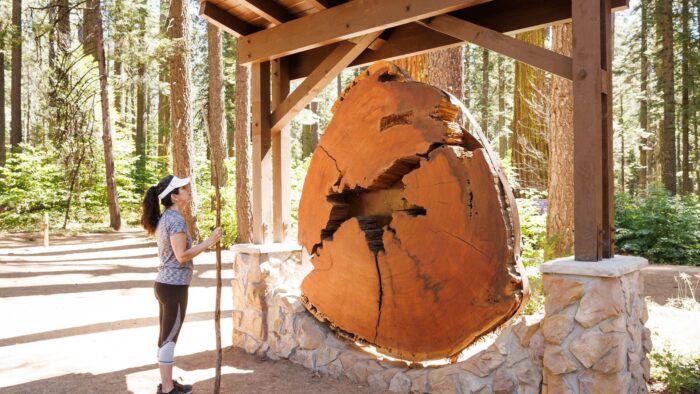 Pioneer Cabin Tree
New exhibit commemorates ancient fallen 'tunnel tree'
In Calaveras Big Trees State Park, an enormous cross section from a 1,223-year-old fallen giant sequoia now reveals a fascinating history of fires, drought, and injuries. Save the Redwoods League, California State Parks, and Calaveras Big Trees Association unveiled the Pioneer Cabin Tree interpretive exhibit in the North Grove in July 2022 after storms toppled the tree in 2017. In the 1880s, the former owners of the North Grove squared off a fire scar in the tree, creating a tunnel that became a tourist attraction. The cross section or "cookie" and two interpretive panels are displayed at a kiosk next to the visitor center. A third interpretive panel is next to the Pioneer Cabin Tree itself.
San Vicente Redwoods
New multi-use trails open to public
A new network of hiking, biking, and equestrian trails opened to the public in December 2022 at San Vicente Redwoods in Davenport north of Santa Cruz. This new access is the culmination of a partnership between the League, Sempervirens Fund, Peninsula Open Space Trust, and Land Trust of Santa Cruz County to protect and restore this landscape and make it available to the public to enjoy. The 7.3 miles of trails are the first phase of a proposed 38-mile trail system offering ocean views and a forest in recovery from logging and the 2020 CZU Lightning Complex fires. "It is a rare treat for the public to gain new access to the redwood forests of our region, especially close to a city," said Sam Hodder, League president and CEO.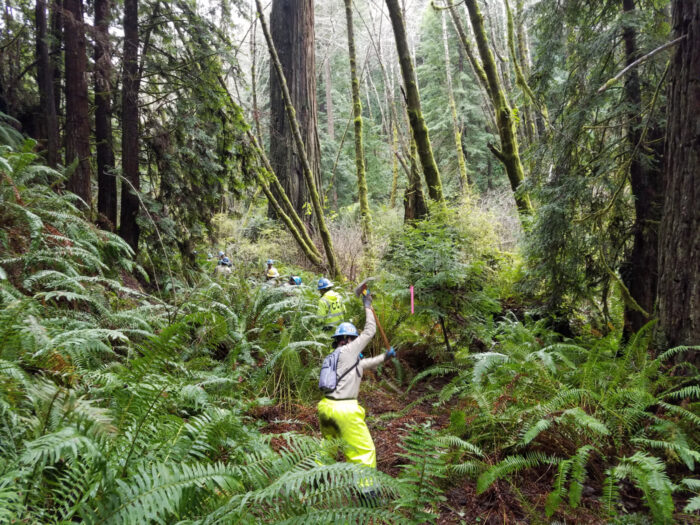 Shady Dell
Grading complete on two new trail loops
In Mendocino and Humboldt counties, the Lost Coast Trail offers one of the few coastal wilderness hiking experiences in the United States. Crossing Shady Dell, one of three adjacent, League-owned properties near the southern border of Sinkyone Wilderness State Park, the path is known as the Peter Douglas Trail, named for the founding director of the California Coastal Commission and showcasing ancient redwoods shaped like candelabras by wind and salty air. The League worked with Mendocino Land Trust, California Conservation Corps, and the American Conservation Experience to complete grading of two marvelous loops that connect to the Peter Douglas Trail in Shady Dell. Work is underway on platforms, stairs, and signage. Our goal is to formally open the loops in summer 2024.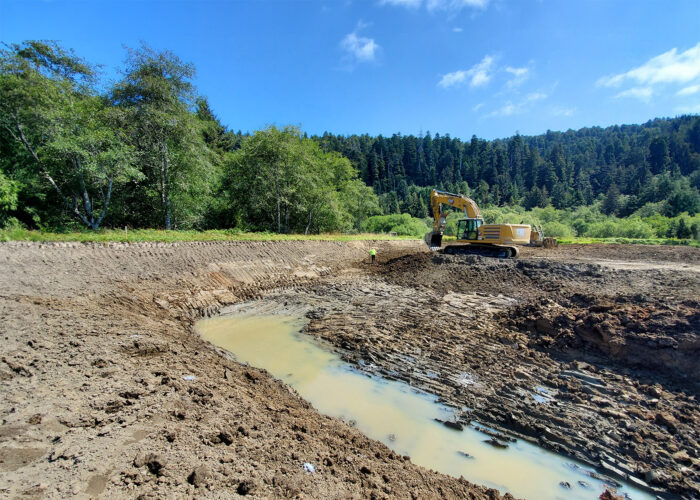 Redwood National and State Parks Trails Gateway & Prairie Creek Restoration
Work advances transformation of former mill site
Save the Redwoods, the Yurok Tribe, California Trout, and other local partners completed a second year of construction on the Redwood National and State Parks Trails Gateway & Prairie Creek Restoration project at the League's Orick Mill Site in Humboldt County, the traditional lands of the Yurok. The project will fully restore the lower portion of Prairie Creek and its floodplain and establish a new redwoods destination that connects with a vast network of park trails. The Yurok Tribe Construction Corporation removed extensive invasive vegetation and excavated an 800-foot section of creek channel through a disconnected pasture. To create the foundation for visitor amenities, they replaced more than 10 acres of asphalt with soil that was excavated to make the creek channel. This complex project will be completed in 2025.
Outreach
Connecting communities with redwoods
Five thousand young people and families from historically underrepresented communities participated in experiences across the coast redwood and giant sequoia ranges through the League's outreach program. For the second year, Redwood Rides coordinated free bus rides to redwood parks for organizations reaching people of color as well as low-income communities. The League also is working with researchers at San Francisco State University to study and promote the health benefits for people of color who spend time in nature. In addition, Save the Redwoods released the first three episodes of the third season of I'll Go If You Go podcast, which illuminates how Californians from all walks of life think about and experience nature and conservation in the redwoods and beyond.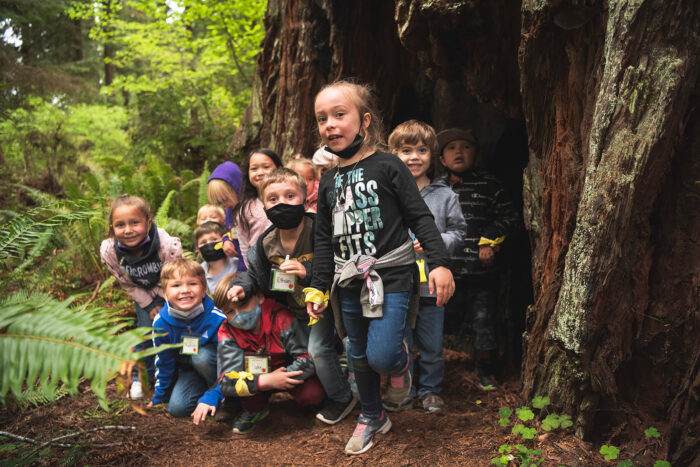 Education
6,500 people of all ages learn about redwoods
More than 6,500 students and adults gained fascinating insight into redwoods through our education program's free field trips and presentations. The free field trips and remote presentations gave K-12 students opportunities to discover and develop a deeper connection to redwood forests. Our education program awarded 13 grants to nonprofits and schools that provided experiences for youths online in the redwoods. In addition, members of UC Botanical Garden and California Native Plant Society, as well as seasonal staffers of Redwood National and State Parks learned about the forest through presentations.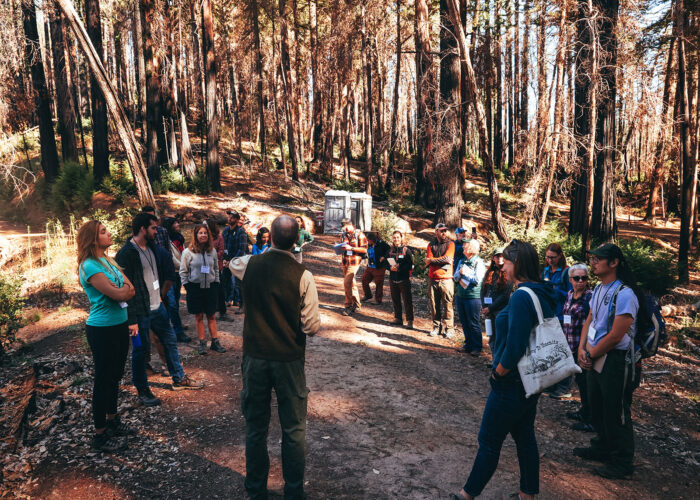 Interpretation
Training unifies redwoods interpretation across the trees' range
Save the Redwoods League and California State Parks helped build a more interactive network and unify interpretation in redwood parks, drawing from new technology, research, and inclusive storytelling best practices to ensure messaging is current and more consistent across the coast redwood range. The two organizations hosted the first Redwoods Interpretation Training for 25 participants from seven agencies that manage national, state, regional, and county redwood parks as well as environmental education organizations. The three-day event included presentations and workshops about restoration, fire ecology, climate change, community engagement, technology use, elevating Indigenous voices, and the League's redwoods curriculum.
2022-23 FINANCES AT A GLANCE
REVENUE BY CATEGORY 2022-23
Total Revenue $34,285 (in thousands)
The League's revenue for the fiscal year was $34,285. Save the Redwoods received significant support for our work from foundations and corporations, government agencies, restoration timber revenue, and gifts from individuals. The revenue-by-category chart above excludes realized and unrealized gains and losses from investments.
---
EXPENSES BY CATEGORY 2022-23
Total Expenses $33,461 (in thousands)
Expenses reflect the work of the League throughout the year in acquiring and stewarding land and conservation easements; conducting scientific research; providing outreach and education programs; and enhancing visitor experiences at state and national parks.
---
The financial information as of and for the year-ended March 31, 2023, has been derived from the League's financial statements audited by Hood and Strong, independent auditors. This condensed financial information should be read in conjunction with the audited financial statements and related notes. To review the complete audited financial statements, please visit SaveTheRedwoods.org/financials.
---
EXPENSE RATIO 5-YEAR ROLLING AVERAGE
As is common in land conservation, the transaction cycle of purchasing, holding, and transferring land often requires several years to complete. While land and forests are protected from the time of acquisition, the League often remains a steward of those lands until they can be transferred to a public agency or nonprofit land trust for ongoing stewardship, public access and permanent protection. The program expense is recognized only when a property is transferred to its permanent steward, or when a conservation easement is acquired. Since land divestments and conservation easement acquisitions are episodic and markedly affect the League's expense ratio from year to year, we believe a five-year rolling average is a more meaningful depiction of our program expense ratio.
---
Our net assets empower the League to purchase and protect threatened redwood forestland in a complex and fast-paced real estate market, enabling us to seize opportunities to buy, hold, restore and transfer properties for permanent protection.
---
STATEMENT OF ACTIVITIES AND STATEMENT OF FINANCIAL POSITION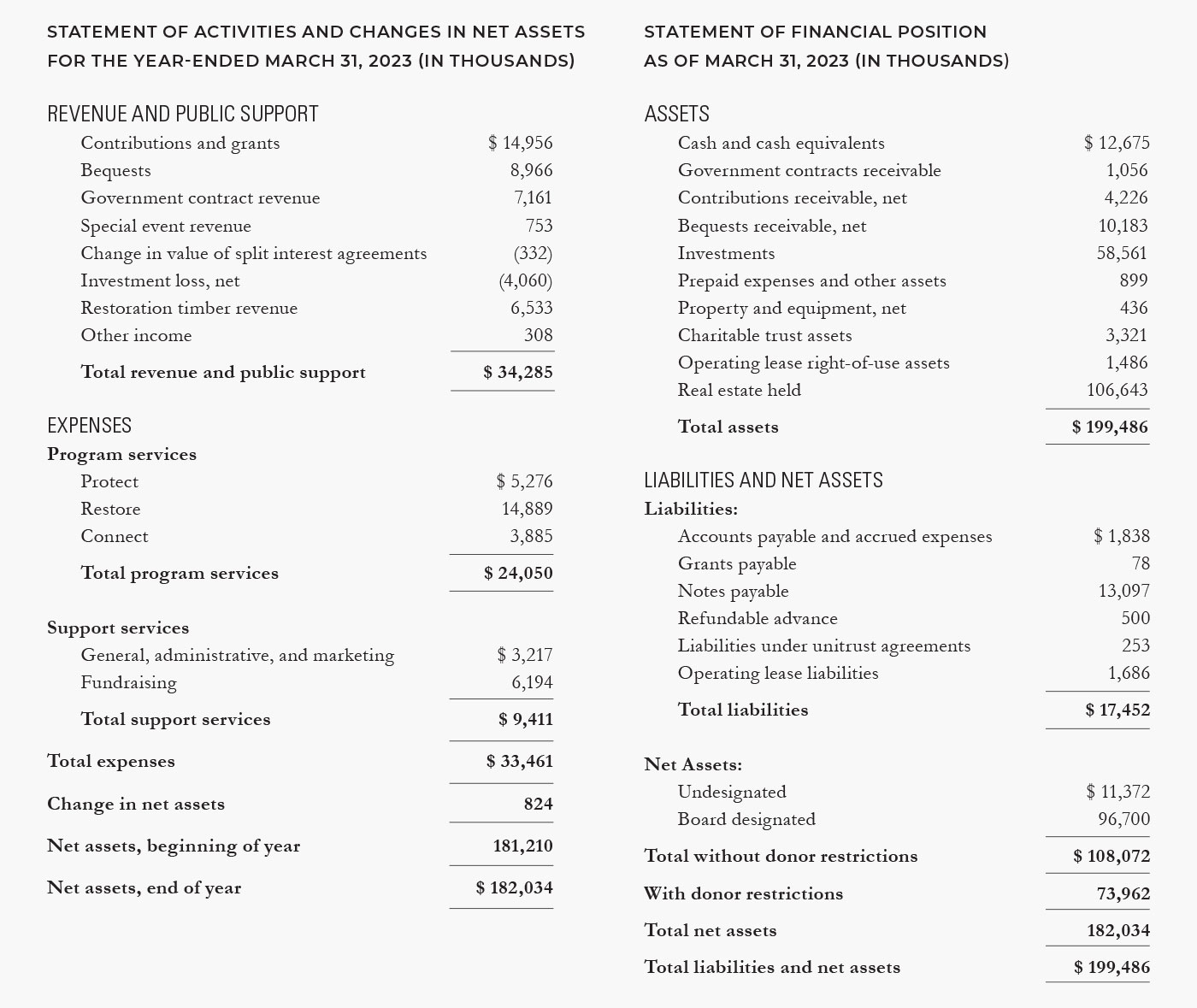 THANK YOU
We achieved so much together. Save the Redwoods League is grateful for your unwavering support and your sustained commitment to the forests that inspire us to reimagine and rebuild a better future.
BOARD OF DIRECTORS
Matthew K. Berler, chair
Sara A. Clark, vice chair
Abraham Tarapani, treasurer
C. Blake T. Williams, assistant treasurer
Michael F. Wyatt, secretary
William A. Croft
Caryl Hart
Kristy Hsiao
Peggy Light
Dave Mahler
John Montague
John Scharffenberger
Andrea Tuttle
Sam Hodder, president and chief executive officer
Rolando Cohen, chief financial officer
COUNCIL
Matthew K. Berler • Stephen J. Butler • Carolyn Sherwood Call • Rosemary Cameron • James Campbell • Sara Clark • William A. Croft • Ralph Eschenbach • Justin Faggioli • Eric Fishman • Caitlyn Fox • Jerry Franklin • Reno Franklin • Denise Garone • Sandy Gibson • José González • Brigit Grimm • Melissa Harris • Caryl Hart • Colby Hastings • Michael Helms • Annette Holland • David Horn • Kristy Hsiao • Erin C. Kelly • Lucy Kerhoulas • Yoriko Kishimoto • Ray Leon • Peggy Light • Christa Lyons • Dave Mahler • Donald Massey • Robert E. Mellor • John Montague • Lisa Allen Ortiz • Mary Power • Katie Prescott • Allegra Quinn • Jorge Ramos • Ethan Ravage • Heidi Richardson • Kim Rodrigues • Lorelle Ross • Corinna Roth • Cathy Rustermier • Roger Samuelsen • John Scharffenberger • Jim Sergi • Carl Chapiro • Gerard van Steyn • Abraham Tarapani • Andrea Tuttle • Andy Vought • David Weinberg • Rich Wendling • Frank W. Wentworth • Mark Wentworth • Mindy Whittington • Blake Williams • Michael Woo • Mike Wyatt • Rob York
---
Review our annual audited financial statements and IRS 990 forms.
See our past Annual Reports.