Mindy Whittington


Co-chair



Rich Wendling


Co-chair



---
Join us for an unforgettable redwoods-inspired celebration!
---
Saturday,
May 18, 2024

Historic Building 937, Presidio
San Francisco
We have a spectacular event coming your way.
Mark your calendars and get ready to hike, bike, trek, or valet
to our highly anticipated fundraiser, blossoming next spring.


TAKE ME TO THE TREES:
A REDWOODS CELEBRATION
Join us as we create an enchanting night filled with nature's beauty and celebrate the simple pleasures of reconnecting with one another to help protect and restore our forests and land and connect all people to the peace and beauty of nature.
The excitement is building as we prepare to welcome you
to an unforgettable evening of delights.
Prepare to be swept off your feet by an exquisite night of farm-to-table dining, live entertainment, campy activities, redwoods-inspired auction packages, and sunset dancing with San Francisco's Golden Gate bridge as your backdrop.
---
Take Me to the Trees
promises to be a feast for all the senses.
So, gather your trailblazing attire, dust off those hiking dance shoes,
and join us as we celebrate the beauty of nature in spring in all its glory.
Let the anticipation grow as we unveil more surprises leading up to the big night.
We can't wait to celebrate with you!
With excitement and anticipation,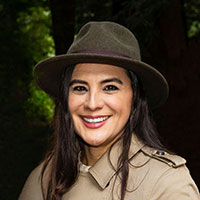 Luz Perez
Senior Events Manager
[email protected]
(415) 820-5833
---
To receive event updates, add your name HERE.
Add event to calendar
Apple • Google • Office 365 • Outlook Web • Outlook • Yahoo