All the Ways to Give
Today, it takes a community of caretakers — scientists, land managers, volunteers and donors — to protect redwood forests.
Your contributions help Save the Redwoods League safeguard these special places, allowing us to purchase redwood land, restore logged forests, study how to best protect them and teach children and adults about these magical expressions of life. With your help, we know that the 2,000- and 3,000-year-old giants will inspire the imagination of countless generations to come.
You can double your gift easily if your employer matches charitable donations. Usually all you have to do is get a simple form from your employer, complete it and send it to us with your gift.
---
The Impact Your Support Has Made
180,000
+ Kids Served by Education Programs
300
+ Trees &
1048
Groves Dedicated

Learn more about the difference your support has made.
---
All the Ways You Can Make a Difference
Just as redwoods grow in circles, we are nurturing a close community of people with a common stake in protecting our shared natural resources. Learn about the privileges of membership and become a guardian of the redwood forest by joining or renewing your membership today.
Membership ($25, $50, $100): Enjoy our enewsletter Redwood Matters, our upcoming biannual Redwoods magazine, and project updates.
Membership ($250, $500): Receive all of the above plus our yearly redwoods calendar, and attend events in the redwoods!
Redwood Leadership Circle ($1,000−$9,999): Join our leading circle of donors who make annual gifts of $1,000 or more. Enjoy invitations to our annual member event, private hikes, project tours with our program team, and recognition in our annual report. For more information, please call Jennifer Verhines at 415-820-5830.
Canopy Club ($10,000 or more): Join our premier circle of donors who make annual gifts of $10,000 or more. Enjoy all of the opportunities of the Redwood Leadership Circle, plus invitations to private special events, and prominent recognition in League publications. For more information, please call Georgia Young at 415-820-5849.
Legacy Circle: The Redwood Legacy Circle honors those visionary individuals who have provided for the League in their wills and estate plans. Members are invited to the annual Legacy Circle Luncheon and many other donor events throughout the year. They also are recognized in the League's publications. For more information, please call Sharon Rabichow at 415-820-5828.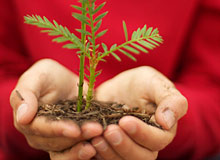 Name a tree or redwood grove to mark your important occasions — such as births, weddings, anniversaries — or name them in memory of your loved one. Your contributions will help us protect and restore redwood forests.
Discover the many ways to make your lasting contribution and help ensure the future of redwood forests.
---
Tax-deductible gifts also may be made by phone or fax and through the mail. Please make checks payable to Save the Redwoods League. We accept all major credits cards. Thank you for your generous support.
Save the Redwoods League
111 Sutter Street, 11th Floor
San Francisco, CA 94104
Phone: (415) 820-5800 or (888) 836-0005 (toll free)
Fax: (415) 362-7017