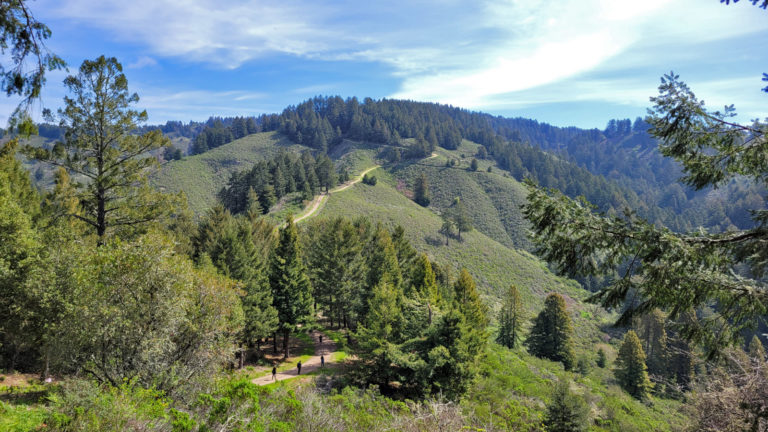 Save the Redwoods League is committed to protecting your privacy. The following describes what information the League collects on its website at savetheredwoods.org, we use it and how we will protect your personal privacy within our website(s).
To fully understand your rights, we encourage you to read this Privacy Policy. Save the Redwoods League reserves the right at any time and without notice to change this Privacy Policy simply by posting such changes on our websites. Any such change will be effective immediately upon posting.
---
What Information We Collect
Save the Redwoods League collects information that you voluntarily submit, such as information you provide when you contact us for any reason by telephone, fax, mail or email. For example, we collect information you provide when you use the forms on our websites to become a League member. We also collect information you submit when you make a donation to the League or become a member of the League through our websites unless you check a box to tell us that you prefer to make the donation anonymously. Information we collect, directly or indirectly through our websites includes personally identifiable information (for example, name, address, and email, telephone number), and other information you provide about yourself.
The League also collects potentially personally identifying information that is collected by Google Analytics. The analytics feature the League has implemented is based on Display Advertising (e.g., Remarketing, Google Display Network Impression Reporting, the DoubleClick Campaign Manager integration, or Google Analytics Demographics and Interest Reporting). Visitors can opt-out of Google Analytics for Display Advertising and customer Display Network ads using Ads Settings (external link). The League uses the Google Analytics Demographics and Interest Reporting feature to identify trends in the usage of its website which may be published in reports for internal use.
The League will not facilitate the merging of personally identifiable information with non-personally identifiable information collected through any Google advertising product or feature unless we have robust notice of, and the user's prior affirmative (i.e., opt-in) consent to, that merger.
At any time, visitors may choose to opt-out of Google Analytics tracking with the Google Analytics opt-out browser add-on (external link).
Save the Redwoods League may also collect aggregate information about use of its website such as what pages and sections are most popular with users. However, this information does not include personably identifiable information. Our Web server does not automatically recognize and collect your domain name or email address.
Children's Privacy Policy
The League recognizes the particular importance of protecting privacy for children under the age of 13. The League does not knowingly or intentionally collect or solicit personally identifiable information from users under the age of 13 through its website. Nor is any part or our website designed with the purpose of attracting users under the age of 13. If a user under the age of 13 has provided us with personal information without parental or guardian consent, we ask that the parent or guardian contact us by emailing [email protected]. We will remove the user's information and unsubscribe the user from any of our electronic marketing lists.
Internet Protocol Address
We collect an IP address from all visitors to our website. An IP address is a number that is automatically assigned to your computer when you use the Internet. We use IP addresses to help diagnose problems with our server, administer our website, analyze trends, track users' movement, gather broad demographic information for aggregate use to improve the site, and deliver customized, personalized content. We use Google Analytics search and analysis tools. Read Google Analytics' privacy policy (see Section 7 of external link). For more general information read Google Analytics' terms of service (external link). IP addresses are not linked to personally identifiable information.
How We Use Information You Provide
Save the Redwoods League uses the contact information and other information we collect to help us communicate with you. We also use this information to shape and carry out our programmatic, outreach and other activities. For example, we may use this information to determine the publications, emails, Web content, and other League information that may be of interest to you. Save the Redwoods League may contact you with information or to ask you to support League work. We may also use aggregate information about website usage to shape website content and accessibility.
Sharing Information with Third Parties
Save the Redwoods League shares the information it collects with League contractors and agents who help us maintain and improve our websites and provide support for other League operations. We also make personally identifiable information and other information available to League contractors, agents and third parties for purposes of furthering League programmatic, development and outreach activities. On a selected basis, we may make your personal identifiable information available to selected organizations whose products or services may interest you. If you prefer that we do not share this information, please contact us either by phone, email, or mail using the contact information set forth below.
Contact Information
If you have questions, concerns, special requests, or wish to change or delete your personal information, please contact us by email, mail, or telephone at:
Email: [email protected]

Save the Redwoods League

111 Sutter Street, 11th Floor

San Francisco, CA 94104

Telephone: (415) 362-2352

Toll Free: (888) 836-0005
Email Lists
The Save the Redwoods League websites contain forms that you can use to become a League member or donor. If you provide us with your email address or other contact information on these forms or otherwise, we may contact you via email or other method. You can unsubscribe from any email list through the unsubscribe link on any email we send you. As new email lists are developed, you may be sent an invitation to subscribe.
Computer Tracking and Use of Cookies
A cookie is information stored on your computer that is used for record keeping. Use of cookies makes Web-surfing easier by performing certain functions such as saving your passwords, saving your personal preferences regarding your use of a particular website, and ensuring you do not see the same ad repeatedly. Many consider the use of cookies to be an industry standard. Our sites may use cookies to enhance your experience while using our websites. Our websites do not currently track, collect, or distribute personal information not entered by the user. Our websites may generate non-identifying site usage data such as the number of visits to our websites. The League and its contractors and agents will use this usage data to improve our websites and other League activities.
Your browser is probably set to accept cookies. However, if you would prefer not to receive cookies, you can alter the configuration of your browser to refuse cookies. If you choose to have your browser refuse cookies, it is possible that some areas of our websites will not function properly when you view them.
California Do Not Track Disclosure
California law requires the League to disclose how we respond to web browser Do Not Track (DNT) signals. There currently is no legal standard or industry standard for recognizing or honoring DNT signals. Therefore, the League does not respond to DNT signals at this time. We await the result of work by the privacy community to determine when such a response is appropriate and what form it should take.
Security
All sensitive data, such as credit card and other financial information, provided to Save the Redwoods League is collected on secure forms and transmitted using industry-standard SSL (Secure Socket Layer) encryption. SSL is a proven coding system that lets your browser automatically encrypt, or scramble, data before you send it to us. Credit card information is retained only as long as necessary to complete the donation or purchase request of the user. We also protect account information by placing it on a secure portion of our website that is only accessible by certain qualified employees of Save the Redwoods League. Unfortunately, however, no data transmission over the Internet is 100% secure. While we strive to protect your information, we cannot ensure or warrant the security of such information.
Links to Other Sites
The League's websites contain links to a number of other third-party websites that we believe may be of interest to you. We select our links carefully, but do not take any responsibility for the content or security of linked websites, or for the privacy policies of those sites. We recommend that you review the privacy policies posted on these third-party websites prior to use.
Privacy Policy Changes
We may amend this privacy policy from time to time by posting on our website. If you use our websites after the date revisions are posted, it will be deemed to be your agreement to the changed terms.
Updated August 18, 2021