Help Us Create the Forests of the Future.
Thanks to these supporters—and the generosity of thousands of League supporters like you—we can help previously logged areas of the Redwood National and State Parks become magnificent old-growth forests once again.
Your support will help fund:
REDWOOD FOREST RESTORATION

Removing failing and inaccessible logging roads and invasive species; restoration thinning and tree planting

SALMON HABITAT RESTORATION

Improving water quality; removing migration barriers; providing shelter for young salmon within the streams

SCIENCE AND PLANNING

Researching and implementing best practices for forest restoration; tracking forest health; sharing what we learn with others

EDUCATION AND INTERPRETATION

Telling the story of forest recovery to inspire park visitors and supporters

FOREST FELLOWS AND APPRENTICES

Creating the next generation of forest conservation professionals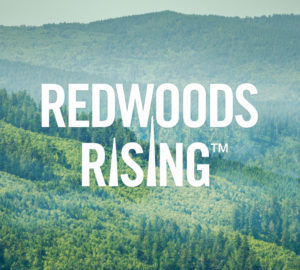 Be a part of the future of these forests by supporting Redwoods Rising today.
Contributions to Save the Redwoods League designated to Redwoods Rising are tax-deductible, and can be made as outright gifts of cash or stock and through a donor-advised fund, IRA, or family foundation.
You also can give by phone at 888-836-0005 or on our secure online donation page.
If you have questions or wish to learn more, please contact Georgia Young at (415) 820-5849 or gyoung@savetheredwoods.org.
---
Thanks for your support
Redwoods Rising is being made possible by generous gifts from League Councilor John Scharffenberger, the Elizabeth R. and William J. Patterson Foundation, the S. D. Bechtel, Jr. Foundation, Cotyledon Fund, and Oracle. Our collaboration is also supported by public grants from the California Department of Forestry and Fire Protection (CAL FIRE), National Park Service, California State Coastal Conservancy, and Wildlife Conservation Board.
Redwoods Rising is also one of the flagship projects of Forever Forest: The Campaign for the Redwoods, a comprehensive campaign launched by Save the Redwoods League in January 2020 to garner support for the organization's ambitious vision for the next century of redwoods conservation. The League raised over $120 million by 2022, meeting its goal to fund the first years of this centennial vision — which includes protecting entire landscapes through large-scale, strategic land acquisitions; restoring young redwood forests to become the old-growth forests of the future; and connecting all people with the beauty and power of the redwoods through transformational park experiences.