Frequently Asked Questions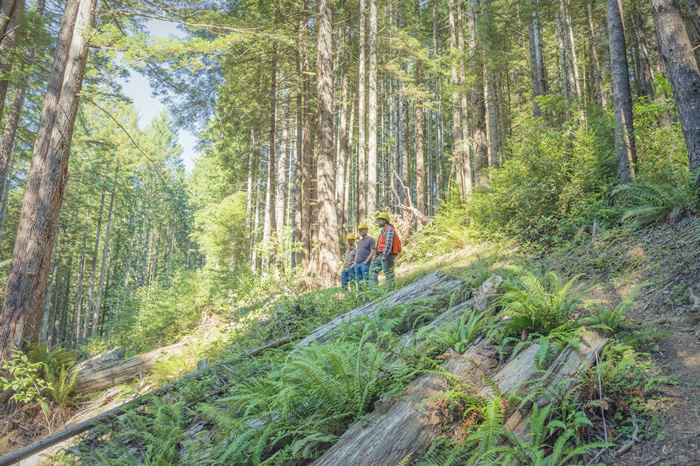 What is Redwoods Rising?
Redwoods Rising is a collaboration among Save the Redwoods League, the National Park Service, and California State Parks. By coming together, we can work at the pace and scale necessary to restore more than 70,000 acres of previously logged forests and reconnect 40,000 remaining acres of old-growth redwood forests in Redwood National and State Parks.
When does it start?
Initial conversations about Redwoods Rising began in 2016, but the Memorandum of Understanding (MOU) that officially formalized the collaborative was signed on April 27, 2018. Project implementation began in 2020.
What are the primary objectives?
Create a shared restoration strategy among the collaborating organizations
Enhance restoration capacity for larger and more frequent projects
Develop dedicated and increased funding for restoration
Build and expand public support for restoring, protecting, and stewarding redwood ecosystems
Why is Redwoods Rising necessary?
The complexity and costs of restoration continue to increase, making the need for coordinated and efficient project planning, execution, and funding more critical than ever. Scaling up and accelerating the pace of restoration activities across state and federal boundaries is also necessary if these fragmented ecosystems are to be resilient to the harmful impacts of drought, fire, disease, invasive species, and climate change.
How is Redwoods Rising funded?
The three collaborating organizations are providing funds and staff time for surveys, planning, compliance, project management, communication and outreach, and implementation. Individual donors, foundations, and public and private grant funds will also help increase agency capacity and accelerate the pace of restoration efforts.
120,000 acres? Where will you start?
We are working towards our goal to rehabilitate over 70,000 acres of second-growth forest in Redwood National and State Parks and remove 300 miles of abandoned, failing, and inaccessible roads in the next 30+ years. We are also continuously building capacity for greater collaboration and enhanced restoration of redwood ecosystems within the Prairie Creek and Mill Creek Watersheds.
Won't nature heal itself if given enough time?
Such significant damage was done to the landscape, that in many cases natural processes like hydrology, erosion and plant regrowth no longer function the way they would need in order to recover on their own in the foreseeable future. If left alone, these ecosystems would likely continue to deteriorate for a long time before they could even begin to recover—putting the plant and animal species that depend upon them at great risk.
Furthermore, fierce competition for light among second-growth trees has led to stands of tall, skinny trees of similar age that are vulnerable to being easily knocked down by wind, rain or snow. In some cases, exotic tree species were planted or aerial seeded following logging operations further altering forest composition.
The goal of Redwoods Rising is to undo this damage to fast-track the development of healthy redwood forests. While it takes hundreds of years for an old-growth forest to form, the techniques being used here can set the restored areas on an accelerated trajectory towards old-growth conditions. Some qualities such as a diverse understory and shelter for wildlife can be created within decades, while other features like complex canopies, fire scars, and very large trees can take much longer to achieve.