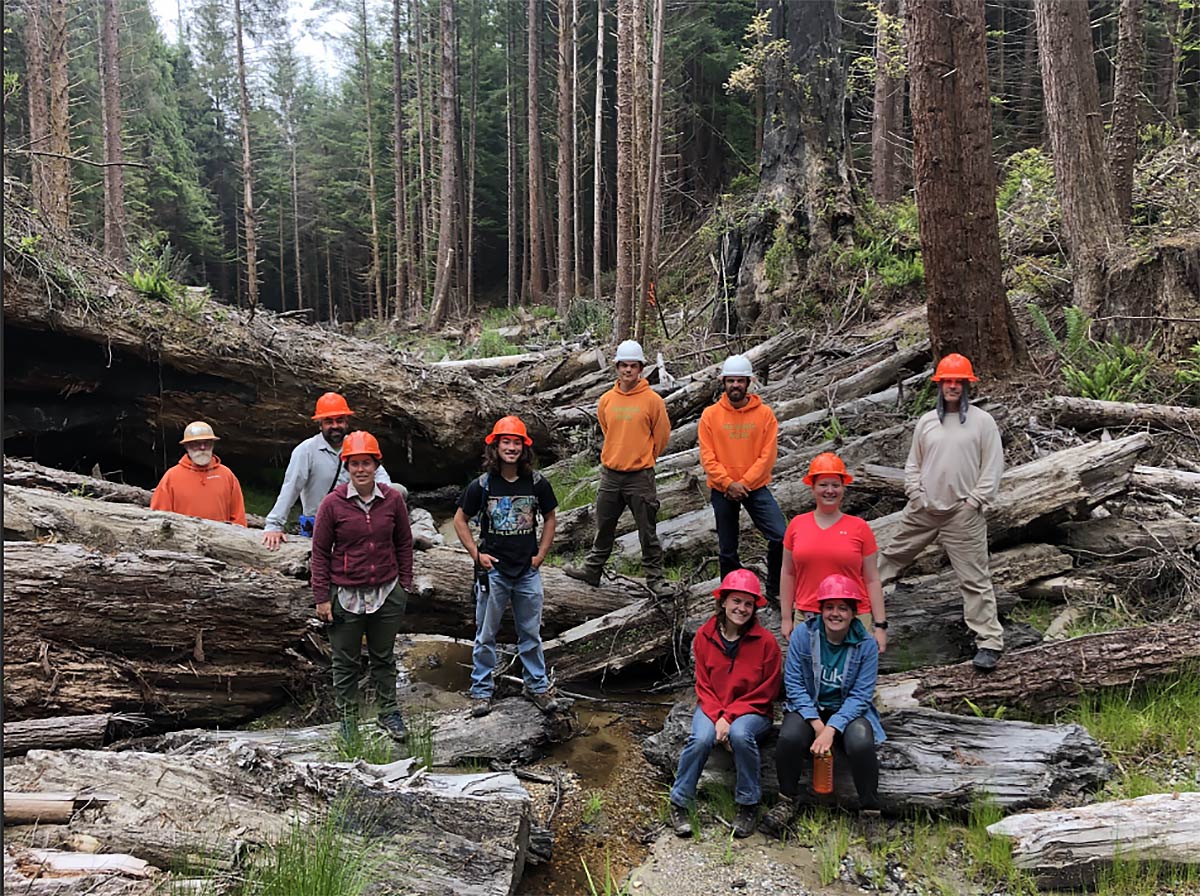 Training the next generation of natural resource managers
About Redwoods Rising
Redwoods Rising is a collaboration between Save the Redwoods League, the National Park Service, and California State Parks that will greatly accelerate redwood forest recovery within these parks and help protect their remaining old-growth groves.
Approximately 80,000 of the parks' 120,000 acres of redwood forests (that's two-thirds) — bear the scars of decades of industrial-scale commercial logging — some of which took place as recently as the 1990s. The mission is to protect old growth stands, restore redwood forest ecosystems, and ensure the long-term health of these lands.

---
Redwoods Rising Apprenticeships
The primary goal of the Redwoods Rising Apprenticeship is twofold: to provide a career development opportunity for the next generation of natural resource managers, and to boost capacity for Redwoods Rising restoration projects. Apprentices are hired every year from Cal Poly Humboldt and College of the Redwoods. Apprentices work alongside RNSP scientists on many different components of Redwoods Rising including collecting data for road removal, forestry restoration, watershed restoration, and more. Apprentices spend their time in the field collecting data in second-growth forests that is essential for treating and improving the degraded forests. Apprenticeship tasks vary year to year depending on project needs. Redwoods Rising has hired Forestry, Watershed, Roads, Wildlife, Outreach, and Botany Apprentices to work on a variety of projects to advance the recovery of redwoods throughout the Northern California coast.

---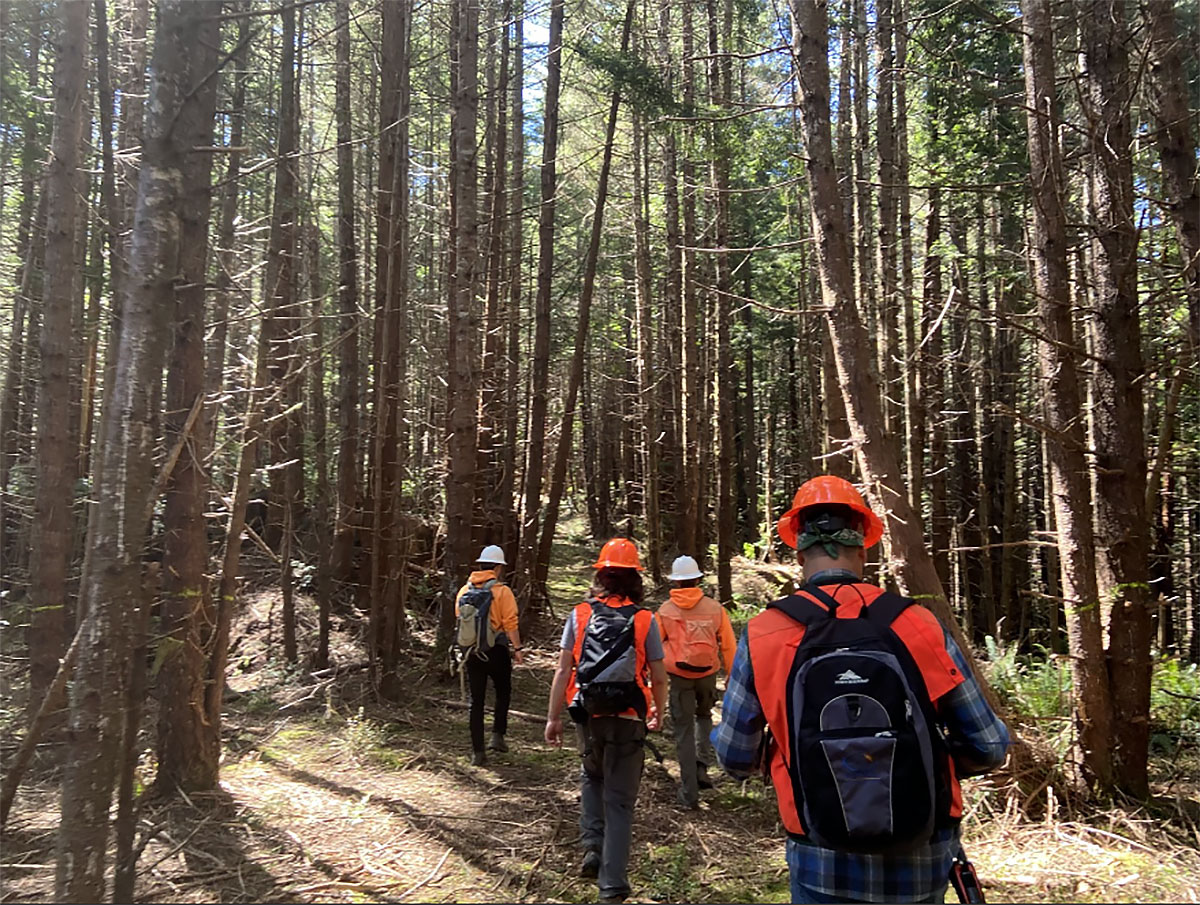 Applying to the 2023 Redwoods Rising Apprenticeship Program
The Redwoods Rising apprenticeship program is in its 6th year. Apprentices were selected to work on restoration projects in Redwood National and State Parks and function as a team, working closely with staff from the National Park Service on redwood ecosystem restoration. This program provides professional networking opportunities with Save the Redwoods League, National Park Service, and California State Parks. Apprentices develop skills in scientific inventory and monitoring, data collection and survey methods, public speaking, and field safety. This year we hired Forestry, Watershed, Roads, and Education and Interpretation apprentices.
Check back soon for more information on applying for the 2024 Apprenticeship Program.

---
Meet the Program Leads
Dr. Lucy Kerhoulas is an Associate Professor in the Department of Forestry, Fire, and Rangeland Management at Cal Poly Humboldt. She has a B.S. in Botany and an M.S. in Biology from Cal Poly Humboldt (thesis on coast redwood physiology), as well as a Ph.D. from Northern Arizona University. Her Forest Physiology Lab investigates all-things-forest-related – she enjoys exploring the natural world! Lucy is also a Councilor for Save the Redwoods League, serving on their Science and Restoration Committee. She has been involved with Redwoods Rising since its establishment in 2018 and is honored to help simultaneously facilitate professional development opportunities for students and restoration activities in Redwood National and State Parks through this Apprenticeship program.

Dr. Erin Kelly is a Professor in the Department of Forestry, Fire, and Rangeland Management at Cal Poly Humboldt, where she teaches forest policy and economics courses. Her research is centered on the human dimensions of forests, and alongside her students she has explored many topics, including the impacts of timber industry decline on rural communities, the challenges and benefits of cross-boundary collaboration in fire-prone landscapes, and the development and implementation of forest carbon markets in California. She is a Councilor for the Save the Redwoods League on the Land Protection Committee, and serves on many other boards and committees dedicated to forest and working lands conservation. She loves working with Redwoods Rising apprentices because they have the opportunity to apply their academic skills out in the field and they return from their apprenticeships full of knowledge of and love for the ecosystems they will one day steward.
---