2018 DATES: Aug. 11 | Sep. 8 | Oct. 13 | Nov. 10 | Dec. 8
To celebrate 100 years of saving California's iconic redwood forest, Save the Redwoods League and California State Parks are offering free day-use admission to more than 40 redwood state parks on the second Saturday of each month in 2018. The goal of Free Second Saturdays at Redwood State Parks is to reconnect the people of California with these magnificent natural legacies, to inspire visitors with the beauty and power of the redwoods, and to celebrate Save the Redwoods League's 100-year conservation legacy. Learn more and download your free day-use pass now.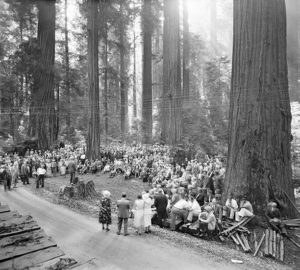 April 20 through September 14, 2018 | 10 a.m. to 4 p.m.
Marking the 100th anniversary of the founding of Save the Redwoods League, Sustaining Grandeur is a free, collaborative exhibition between The Bancroft Library at the University of California, Berkeley, and the League. The spring exhibition explores the organization's first century of protecting California's redwoods forest and the surrounding lands that sustain them and looks forward to their continued efforts to steward these magnificent landscapes. Learn more about this event.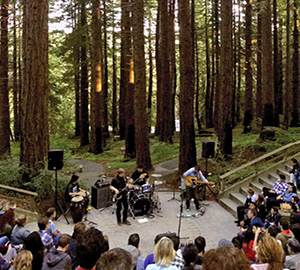 Redwood Grove Summer Concerts 2018
June 7 through August 30, Every Thursday and Special Tuesdays | 5:30 – 7:30 pm
University of California Botanical Garden at Berkeley is proudly partnering with Save the Redwoods League for this year's Redwood Grove Summer Concerts. Enjoy a magical music experience this summer under towering redwoods in the Berkeley Hills. Ticket includes admission to the Garden before closing at 5 pm. Picnics are welcome. Learn more about this event.
Starting June 15 | 9:30 am to 5:00 pm Monday to Saturday, and 11:00 am to 5:00 pm on Sunday.
Life at the edge of land and sea is a dynamic, ever-changing place—where fog rolls in, tectonic plates shift, and rocky coastlines trace the majestic outline of our state's rich natural history. Starting Friday, June 15, visitors to the California Academy of Sciences will discover the giant wonders that make Northern California like nowhere else in the world at Giants of Land and Sea. In the Academy's newest major exhibit, science becomes sensory as you explore Northern California's natural wonders through a variety of interactive experiences. In partnership with Save the Redwoods League, visitors will also learn about coast redwood ecology and local conservation efforts. Giants of Land and Sea celebrates the extraordinary biodiversity in our own backyard—and the scientists and citizens taking action every day to sustain it. Learn more about this exhibit.
Stern Grove Festival Concert – San Francisco Symphony
July 22, 2018 | 2 p.m.
The League is proud to sponsor the San Francisco Symphony Concert at the Stern Grove Festival on July 22, 2018 at 2pm. Join us for this free concert with nature and to learn more about Save the Redwoods League. Learn more about the Stern Grove Festival.
Stand for the Redwoods Celebration Week
October 7 – October 14, 2018
Join us in taking a stand for the redwoods in October 2018. During this week, we will celebrate all things redwoods with our Centennial Gala in San Francisco, a community Redwood Forest Festival, and more!
Sign up to receive communications from the League so you can stay updated on the many ways you can celebrate our centennial anniversary.
Are you a Save the Redwoods League donor?
In appreciation of your generous support, we are inviting our donors to join us for some very special Centennial Commemoration Events hosted by Save the Redwoods League.
Learn more about our Centennial donor events.
Explore the events calendar below to see all events during our Centennial year.


| Monday | Tuesday | Wednesday | Thursday | Friday | Saturday | Sunday |
| --- | --- | --- | --- | --- | --- | --- |
| 25 | 26 | 27 | | 29 | 30 | 1 |
| 2 | 3 | 4 | | 6 | | 8 |
| 9 | 10 | 11 | | 13 | | |
| 16 | 17 | 18 | | 20 | 21 | |
| 23 | 24 | 25 | | 27 | | 29 |
| 30 | 31 | 1 | | 3 | 4 | 5 |
+ Export Events
---
California Academy of Sciences' Golden State NightLife
June 14, 2018 | 6 p.m. – 10 p.m.
On June 14, 2018, we joined with the California Academy of Sciences to celebrate the incomparable California coast and discover the giant forces that make the golden state like nowhere else in the world at the Golden State NightLife event. Event attendees were able to get an early look at the Academy's newest exhibit, Giants of Land and Sea, where they could step inside an immersive Fog Room and welcome the return of the remodeled earthquake simulator. The night included talks from Emily Burns, League Director of Science, and Sam Hodder, League President and CEO, and a variety of opportunities to learn more about some of the Golden State's native flora and fauna.
Congrats to our Tall Trees Sweepstakes winners! Michael M. won music festival tix, Anthony Y. won gear from REI and Alyssa P. won cool shades from Sunskis. For more fun, check out our pics from the event.
March 10 through May 10, 2018
As part of Save the Redwoods League's Centennial celebration in 2018, we encouraged children in elementary school throughout the country to explore the magic of the redwoods through books, stories, and activities. The inaugural Reading the Redwoods contest ran from March 10-May 10, 2018. In addition to the rewards of reading, prize packages awarded on a weekly basis and culminating in the chance to win a First Prize and Grand Prize. Visit ReadingTheRedwoods.org for more information.
April 21, 2018 | 11 a.m.
On Saturday, April 21, the 46th annual Earth Day SF Street Festival will be themed "Stand for the Redwoods, Stand for the Future." At the center of this event, which draws roughly 10,000 participants each year, will be the Save the Redwoods Speaker Tent, with individual and panel discussions on such topics as climate change, conservation, recycling and others. Learn more about this event.
Tu B'Shevat in the Park
January 28, 2018
Join Reboot and Save the Redwoods League as we celebrate Tu B'Shevat in Golden Gate Park on January 28, 2018 at 2 p.m. Tu B'Shevat is a day to celebrate the trees and the work must do to keep our planet green and healthy for generations to come. We literally plant trees for our future. Tu B'Shevat in the Park will celebrate the work of Save the Redwoods League and Reboot and anyone who is committed to healing our planet with great music and activities. Learn more about this event.