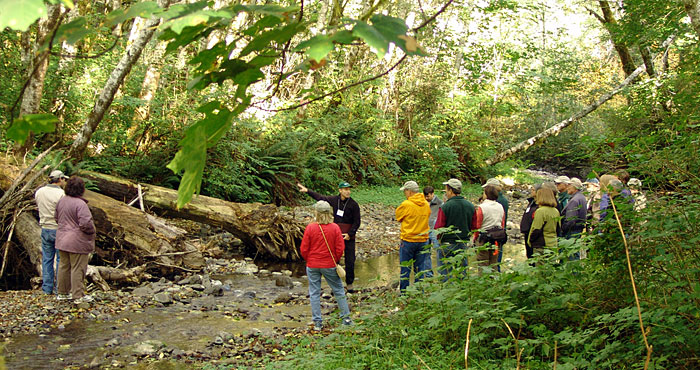 Members of the Council learn about stream restoration in Mill Creek forest. Photo by Mark Bult
The Role of the Council
The Council has more than 60 committed volunteers who sit on the League's committees and task forces and multiply the efforts of the staff and board.
The Council serves as the experienced source for the Board of Directors.
Meet the Councilors
---
Berler, Matthew K.
Butler, Stephen
Cameron, Rosemary
Campbell, James
Clark, Sara A.
Croft, William
Eschenbach, Ralph
Faggioli, Justin
Fox, Caitlyn
Franklin, Jerry
Franklin, Reno Keoni
Garone, Denise
Gibson, Sandy
Gonzalez, Jose G. A.
Harris, Melissa
Hart, Caryl
Hastings, Colby
Helms, Michael
Holland, Annette B.
Horn, David R.
Hsiao, Kristy
Kelly, Erin C.
Kerhoulas, Lucy
Kishimoto, Yoriko
Krasznekewicz, Allegra
Leon, Rey
Light, Peggy
Lyons, Christa
Mahler, Dave
Massey, Donald
Mellor, Robert
Montague, John
Oritz, Lisa
Power, Mary Eleanor
Prescott, Katherine D.
Ramos, Jorge
Ravage, Ethan
Richardson, Heidi
Rodrigues, Kimberly
Ross, Lorelle
Roth, Corinna
Samuelsen, Roger
Shapiro, Carl
Scharffenberger, John
Sergi, Jim
Sherwin, Julia
Sherwood Call, Carolyn
Tarapani, Abe
Tuttle, Andrea
Vought, Andy
Weinberg, David
Wentworth, Frank
Wentworth, Mark X.
Whittington, Mindy
Williams, Blake
Woo, Michael K.
Wyatt, Mike
York, Dr. Robert A.