With our supporters, we are ramping up our protection of redwood land, restoring young and burned forests across their natural ranges, and connecting new generations to the wonders of nature through transformational outdoor experiences.
HIGHLIGHTS
Our conservation achievements were possible with the generous contributions of our members and supporters. Your support enabled…
crucial land acquisitions
the setting of a new bar for collaborative redwoods restoration
the substantial increase in wildfire resilience throughout the giant sequoia range
a celebration of California's unrivaled state park system
the opening of new trails and exhibits in redwood forests.
PROTECT
We are securing the remaining viable old-growth redwood forests and doubling the protected coast redwood forest reserves over the next 100 years to ensure that the forests' health and beauty will endure for generations to come.
Montgomery Woods Initiative
Expanding protections and experiences at a beloved reserve
Montgomery Woods State Natural Reserve is a spectacular old-growth grove near Ukiah in Mendocino County. Save the Redwoods League has a long history here, having assembled much of the land for the reserve over the years, and more recently, the development of the day-use and trailhead area and interpretive panels. Broadening its vision for Montgomery Woods and the surrounding region through the Montgomery Woods Initiative, a $19.3 million project, the League acquired and protected the adjacent 453-acre Atkins Place property for $1.18 million in August 2022. The League raised $1.08 million toward the purchase of a $14 million conservation easement on the adjacent sustainably managed working forest of the 3,862-acre Weger Ranch, in addition to a $9.5 million grant from Cal Fire's State Forest Legacy program and a $3.42 million grant from the California State Coastal Conservancy. Save the Redwoods also raised $2 million for a partnership with California State Parks to redesign the visitor experience at Montgomery Woods, which borders both properties. The acquisitions will protect wildlife habitat and buffer the old-growth forest, while creating opportunities for expanded public access to Montgomery Woods. At the reserve, work began on reconstructing and expanding the 2-mile perimeter loop trail.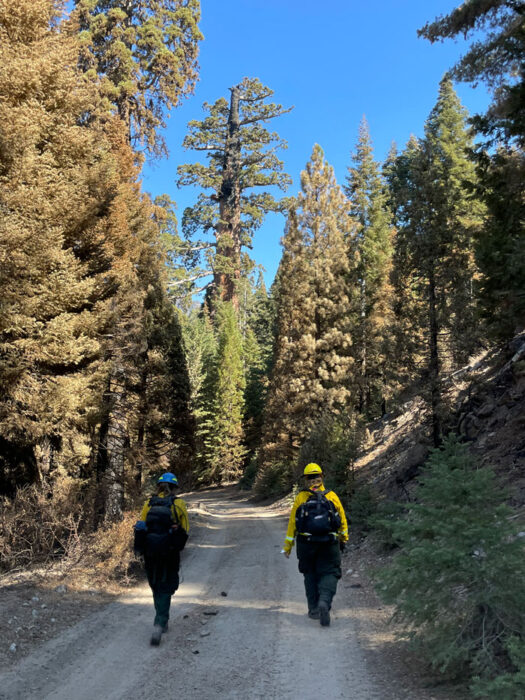 Red Hill
Protection strengthened for ancient giant sequoia forest
Red Hill was one of the two largest remaining privately owned giant sequoia properties in the world when the League purchased it in 2018. In 2022, Save the Redwoods transferred the 160-acre property to the USDA Forest Service so that it may be protected and managed as part of Giant Sequoia National Monument and Sequoia National Forest. The acquisition and transfer of the property will allow the Forest Service to manage Red Hill in coordination with the national monument's general plan, which emphasizes protection of ancient giant sequoias, wildfire risk reduction, watershed protection, habitat enhancement for threatened species and recreational opportunities. "Cohesive and collaborative management is essential for giant sequoias' survival across their already limited range," said Teresa Benson, Sequoia National Forest supervisor.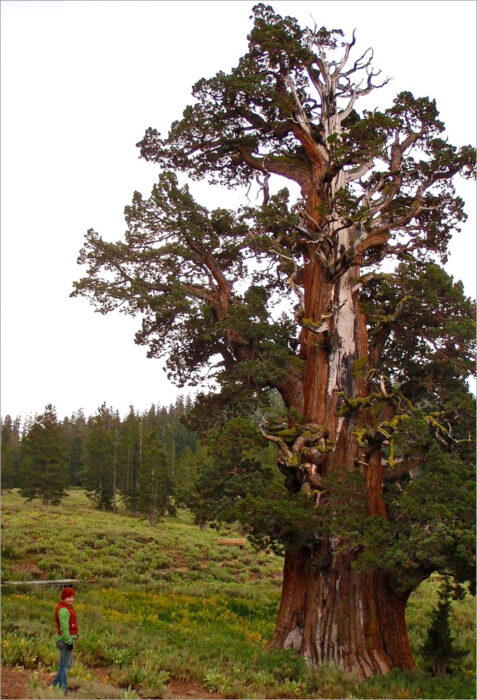 Bennett Juniper property
Ancient tree gains a new, long-term steward
The 80-foot-tall Bennett Juniper is the largest juniper and one of the oldest known trees in the world, standing in an inholding in Stanislaus National Forest in the Sierra Nevada. Save the Redwoods League in November 2022 donated the 3,000-year-old tree and surrounding 3-acre property to Mother Lode Land Trust (MLLT) and secured $40,000 in seed funding for MLLT's long-term stewardship of the land. The Bennett Juniper property had been stewarded by the League since 1987. "The gnarled and knotted Bennett Juniper has withstood drought, hard winters, and lightning strikes for thousands of years," said Ellie Routt, executive director of Mother Lode Land Trust. "MLLT's ownership of this property ensures local oversight and permanent protection so that everyone can have the chance to see this amazing tree."
RESTORE
To ensure that redwood forests thrive, we are restoring forests and ecosystems throughout their range, leveraging the best-available science to accelerate their healing.
Giant sequoia emergency
Fighting for groves' survival
Save the Redwoods advanced its work as a member of the Giant Sequoia Lands Coalition, established in 2021 to safeguard giant sequoias from severe wildfire and other existential threats, while sounding the alarm for their conservation. In collaboration with Coalition organizations, the League surveyed sequoia groves impacted by wildfire to determine tree mortality and regeneration success. Crews conducted post-fire restoration work across 145 acres at the League-owned Alder Creek property in Tulare County, removing ladder fuels and standing dead trees in preparation for replanting more than 50,000 native seedlings. With Coalition partners, League scientists continued to study tree health and changing conditions in the giant sequoia range to guide future restoration work. The League also worked to refine and advance the bipartisan Save Our Sequoias Act, which authorizes emergency measures, funding, and other mechanisms that will enable federal agencies along with their state, tribal, and nonprofit partners to advance critical work on the ground to protect these irreplaceable natural treasures from severe wildfires.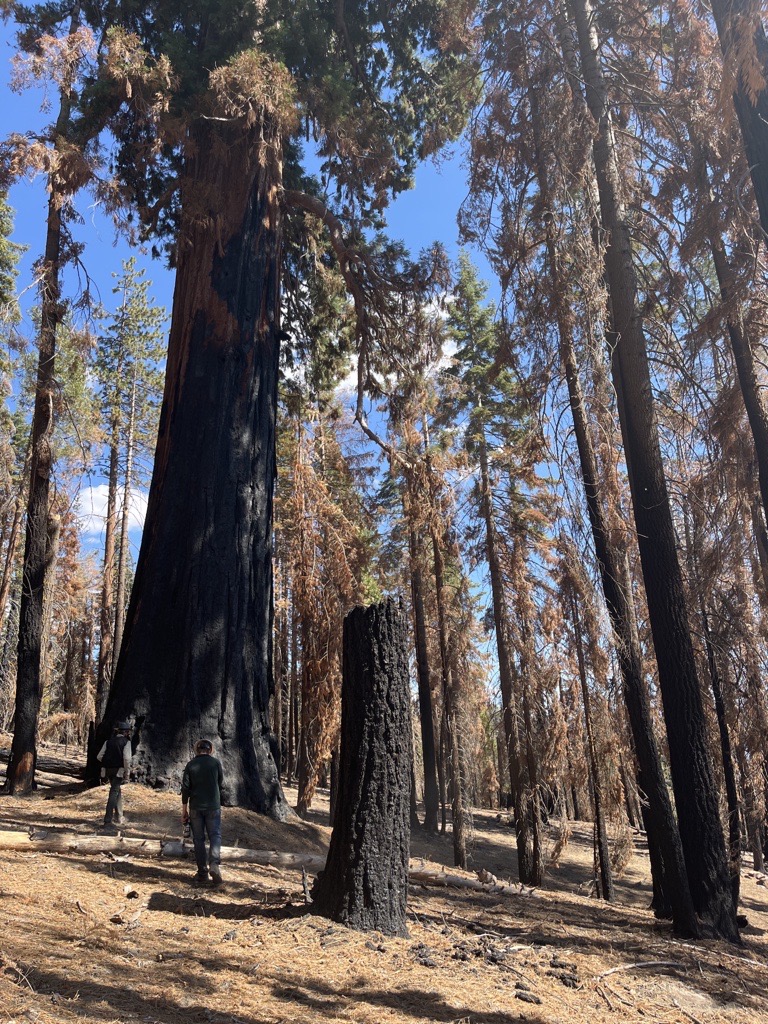 Giant Sequoia National Monument
No time to waste in treating vulnerable groves
In partnership with the USDA Forest Service, the League led emergency restoration treatments in Giant Sequoia National Monument's 568-acre Long Meadow Grove, home to the popular Trail of 100 Giants. Crews treated 82 acres in areas severely burned in the 2021 Windy Fire while reducing fuel loads around at-risk ancient trees. "There is a tremendous urgency to treat the remaining forests while we still can," said Sam Hodder, League president and CEO, of the need to accelerate restoration in the giant sequoia range. Under a stewardship agreement signed in fall 2022, the League and the Forest Service also will restore three other groves in the monument: the 533-acre Packsaddle Grove, 4,192-acre Freeman Creek Grove, and 409 acres of Alder Creek Grove. These four groves are among some of the southernmost giant sequoia groves within the monument, making them particularly vulnerable in a warmer and drier climate. The League estimates restoration of the four groves will be complete by 2026.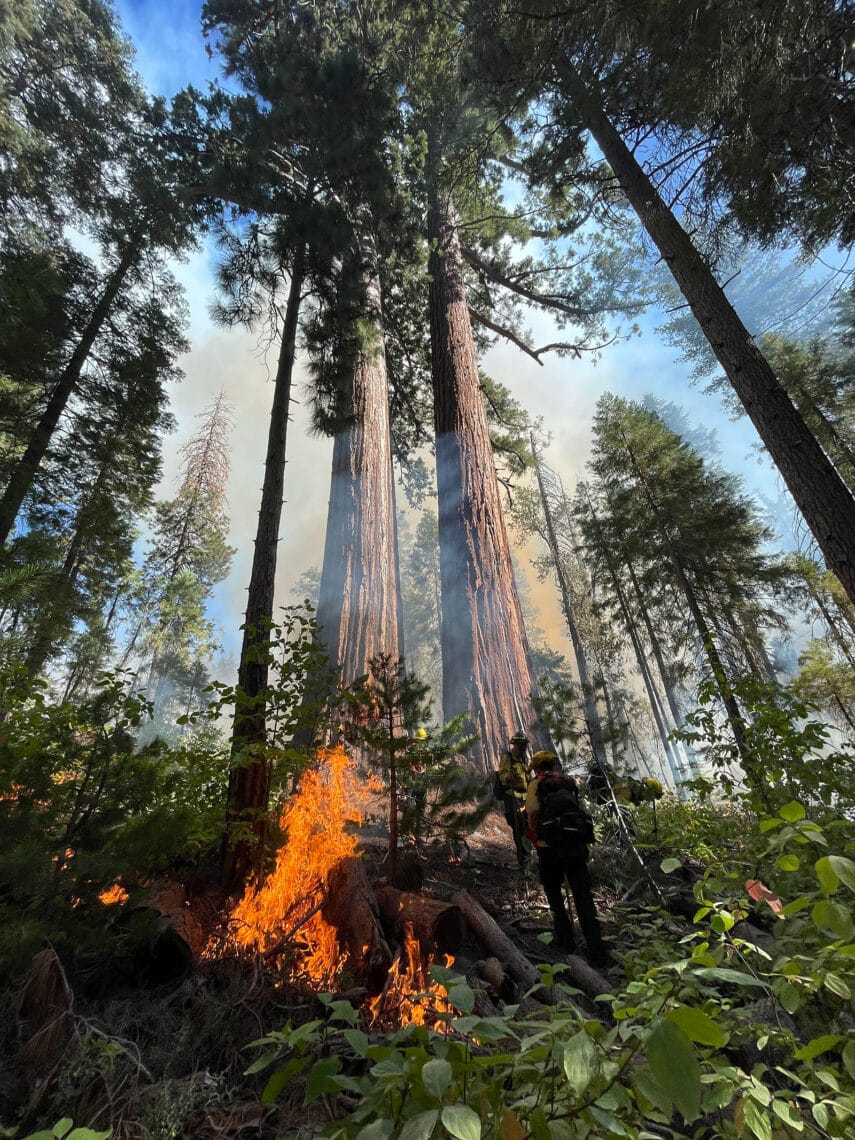 Calaveras Big Trees State Park
Prescribed burns set sequoias up for success
In the spring and fall of 2022, weather conditions created windows of opportunity for prescribed burns in Calaveras Big Trees State Park in the central western Sierra Nevada. Crews treated 222 acres in and around the park's North Grove of giant sequoias, with assistance from Cal Fire and outreach and logistical support from Save the Redwoods League. In addition, the League's forest ecologist, Linnea Hardlund, participated in the burn as a fire-effects monitor in the spring of 2022. Funded by a Forest Health Grant from Cal Fire, the restoration work reduced fuel loads in the ancient grove to prevent future catastrophic wildfires. The low-intensity prescribed burns consumed understory fuels and pockets of dense shrubs, moving this grove closer to a resilient structure that is better prepared to undergo future burns and survive in a hotter, drier climate. These burns also demonstrated that the work that lies ahead to restore resilience to these forests after decades of poor management decisions is going to be really hard, and not without risk. Even in these carefully executed burns, two giant sequoias were significantly impacted when the fire climbed into the crown. The impact on any single tree is heartbreaking, but such potential risk is necessary for the positive ecological results of this fire and the hundreds of monarchs that are better prepared for the wildfires that are almost certain to occur.
Redwoods Rising
Partnership makes great progress in ambitious forest restoration
Redwoods Rising—a landmark partnership between Save the Redwoods League, the National Park Service, and California State Parks—made great strides in 2022 toward its ambitious goal to restore vast landscapes of historically logged forests in Redwood National and State Parks. Now in its fifth season, Redwoods Rising has worked to restore 2,600 acres of unnaturally overcrowded forest left behind by repeated cycles of logging and planting; removed 22 miles of old, eroding logging roads; improved 32 miles of roads for stability to prevent erosion; restored 3 miles of stream channel, and fixed, replaced, or removed 34 stream crossings. In addition, for the fifth year, Redwoods Rising offered apprenticeships as career development opportunities for college students in partnership with Cal Poly Humboldt and College of the Redwoods.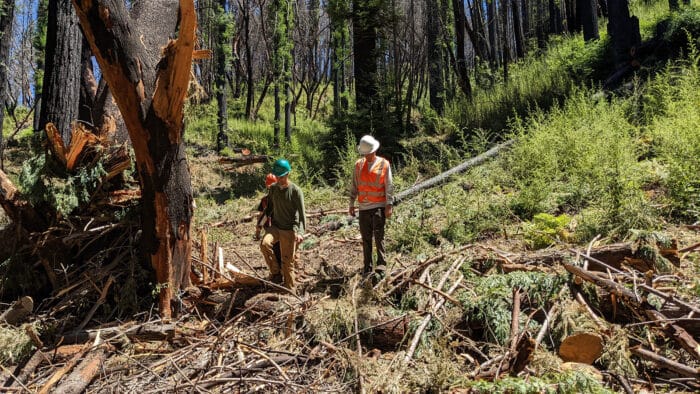 San Vicente Redwoods
Restoration work accelerates post-fire recovery
Restoration of San Vicente Redwoods was in full swing when the 2020 CZU Lightning Complex fires roared through the Santa Cruz Mountains, burning across the property's 8,532 acres, including the entire 2,700-acre Deadman Gulch Restoration Reserve. Save the Redwoods saw a silver-lining opportunity to study how prior treatments may have helped reduce the fire's severity. Based on this ongoing research, and with funding from the Wildlife Conservation Board, the League completed 550 acres of restoration work across a second treatment unit in the Deadman Gulch Reserve in 2022 to promote future wildfire resilience and accelerate the return of old-growth characteristics. The League will continue to monitor the site and collect post-treatment data on the response of the recovering forest. Save the Redwoods is a partner in conserving San Vicente Redwoods with Land Trust of Santa Cruz County and owners Sempervirens Fund and POST.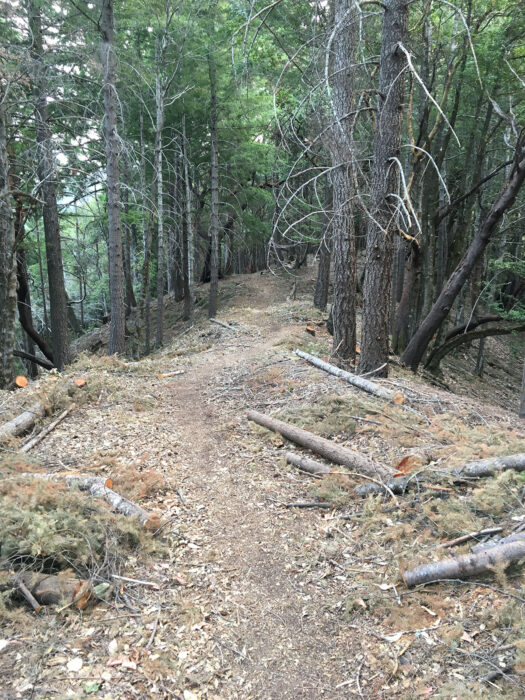 Corridor from the Redwoods to the Sea
Fuel break guards crucial habitat corridor
In 2022, Save the Redwoods League finished work on a 16-mile-long fuel break within the Corridor from the Redwoods to the Sea, which connects the ancient groves of Humboldt Redwoods State Park to the forests of the Lost Coast. Project partners—including the Bureau of Land Management, Mattole Restoration Council, Mattole Salmon Group, and landowner Bob Stansberry—celebrated the completion of the multiyear collaboration, which was funded by a $1.3 million grant from Cal Fire. In addition to enhancing carbon sequestration and reducing the risk of severe wildfire, the Corridor from the Redwoods to the Sea protects important habitat for imperiled species, including northern spotted owl, marbled murrelet, Humboldt marten, coho and Chinook salmon, red tree vole, and Pacific fisher.
SCIENCE
In addition to advancing original scientific research that is informing conservation strategies for the League and its partners, the science program is also bolstering the organization's policy recommendations, media outreach, and public information efforts.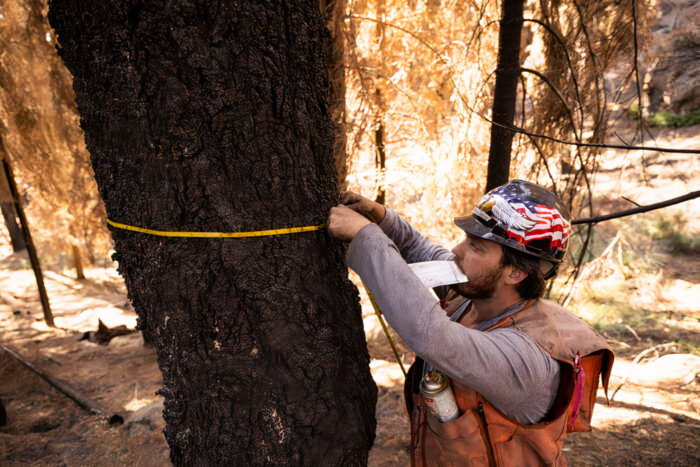 Giant sequoia research
League scientists guide forest restoration and legislation efforts
Save the Redwoods continued its leadership role in studying wildfire impacts and restoration outcomes in the giant sequoia range, where approximately 20% of the large, mature trees have been destroyed by severe wildfire since 2015. Joanna Nelson, PhD, League director of science and conservation planning, served as co-chair of the Giant Sequoia Land Coalition's Learn team, helping to create a comprehensive action plan for investigating sequoia health and ecology in these times of rapid change, documenting fire behavior and tree mortality, completing post-fire assessments, and investigating the role of Western cedar bark beetles as an emerging threat to sequoias. Nelson also provided expert insight on the Save Our Sequoias Act—bipartisan legislation that would enable emergency action to use preventative, active management and stewardship in forests to protect giant sequoias from severe wildfire and other threats. She provided testimony in a House Natural Resources Committee Forum in July 2022. Her recommendations drew on studies by League and affiliated scientists, which showed that active restoration management reduced the risk of giant sequoia mortality.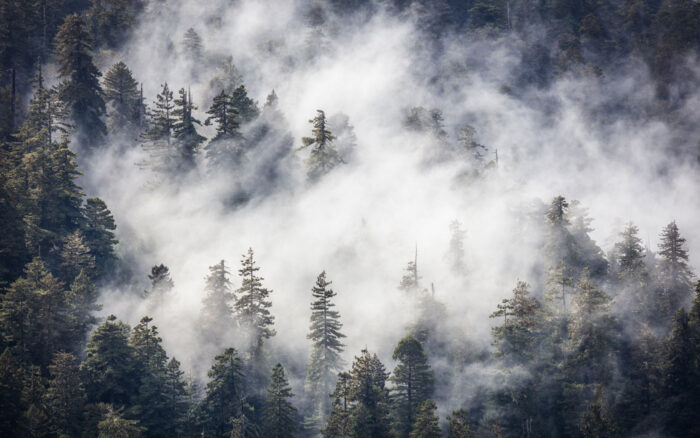 Redwoods and Climate Change Initiative
Research highlights climate impacts and opportunities
Save the Redwoods League in 2022 completed the third stage of the Redwoods and Climate Change Initiative (RCCI), a long-term research program tracking the effects of climate disruption in redwood forests. In partnership with the League, scientists at Cal Poly Humboldt published study results in the December 2022 issue of Forest Ecology and Management, showing that the coast redwood range is drying due to warming temperatures and that drought has inhibited tree growth south of Arcata, California. Earlier, RCCI researchers found that old-growth coast redwoods store more aboveground carbon per acre than any other forest type on Earth—followed closely by giant sequoias, making both species an important part of the fight against climate change. In early 2023, the League also hosted a four-part RCCI speaker series, with scientists from Cal Poly Humboldt and the University of Washington presenting their latest research on climate-related topics such as using tree-ring data to show long-term redwood responses to climate, plant diversity in the canopy of redwoods, and the long-term carbon storage capacity of redwoods. We enjoyed active participation and insightful questions from our Board, Councilors, and donors.
CONNECT
We are creating inspirational and inclusive redwoods experiences and elevating the forests as critical elements of California's identity.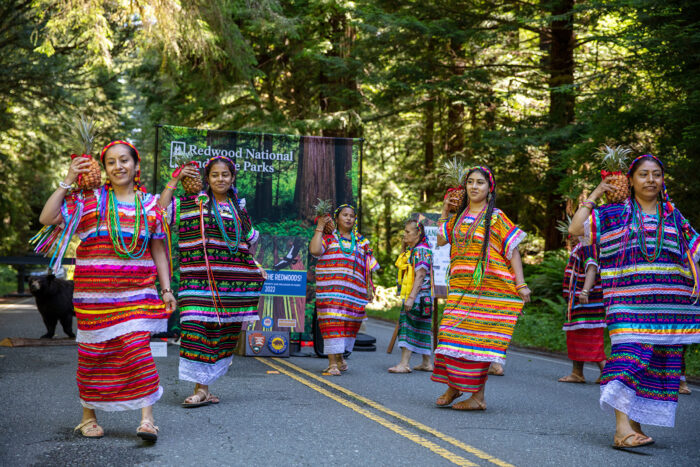 California State Parks Week
First annual event celebrates the Golden State's iconic places
Save the Redwoods League, California State Parks, Parks California, and California State Parks Foundation presented the first annual California State Parks Week in June 2022 to honor the important role parks play in communities statewide. Special community events and in-person and virtual programming celebrated California's 280 state parks and the people who visit and help protect these iconic places. Hundreds of participants joined the League and partners at Prairie Creek Redwoods State Park for the Summer in the Redwoods event, a celebration of community and inclusion in California State Parks. The National Park Service joined the League and California State Parks in sponsoring the event, which featured local partner organizations. Visitors enjoyed Indigenous land acknowledgement, multilingual interpretive programs, a resource fair, food, and music.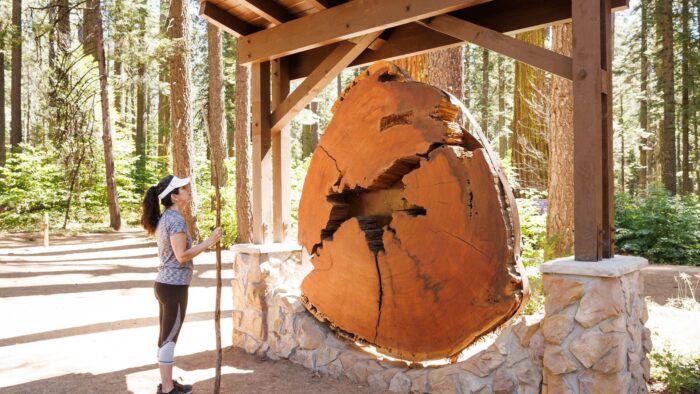 Pioneer Cabin Tree
New exhibit commemorates ancient fallen 'tunnel tree'
In Calaveras Big Trees State Park, an enormous cross section from a 1,223-year-old fallen giant sequoia now reveals a fascinating history of fires, drought, and injuries. Save the Redwoods League, California State Parks, and Calaveras Big Trees Association unveiled the Pioneer Cabin Tree interpretive exhibit in the North Grove in July 2022 after storms toppled the tree in 2017. In the 1880s, the former owners of the North Grove squared off a fire scar in the tree, creating a tunnel that became a tourist attraction. The cross section or "cookie" and two interpretive panels are displayed at a kiosk next to the visitor center. A third interpretive panel is next to the Pioneer Cabin Tree itself.
San Vicente Redwoods
New multi-use trails open to public
A new network of hiking, biking, and equestrian trails opened to the public in December 2022 at San Vicente Redwoods in Davenport north of Santa Cruz. This new access is the culmination of a partnership between the League, Sempervirens Fund, Peninsula Open Space Trust, and Land Trust of Santa Cruz County to protect and restore this landscape and make it available to the public to enjoy. The 7.3 miles of trails are the first phase of a proposed 38-mile trail system offering ocean views and a forest in recovery from logging and the 2020 CZU Lightning Complex fires. "It is a rare treat for the public to gain new access to the redwood forests of our region, especially close to a city," said Sam Hodder, League president and CEO.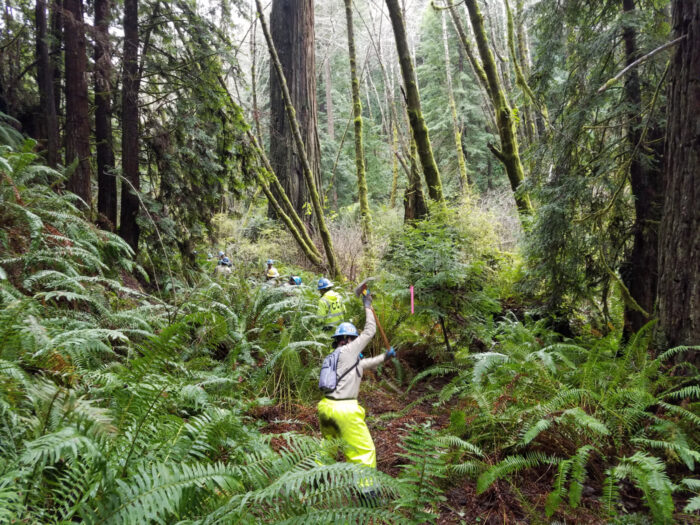 Shady Dell
Grading complete on two new trail loops
In Mendocino and Humboldt counties, the Lost Coast Trail offers one of the few coastal wilderness hiking experiences in the United States. Crossing Shady Dell, one of three adjacent, League-owned properties near the southern border of Sinkyone Wilderness State Park, the path is known as the Peter Douglas Trail, named for the founding director of the California Coastal Commission and showcasing ancient redwoods shaped like candelabras by wind and salty air. The League worked with Mendocino Land Trust, California Conservation Corps, and the American Conservation Experience to complete grading of two marvelous loops that connect to the Peter Douglas Trail in Shady Dell. Work is underway on platforms, stairs, and signage. Our goal is to formally open the loops in summer 2024.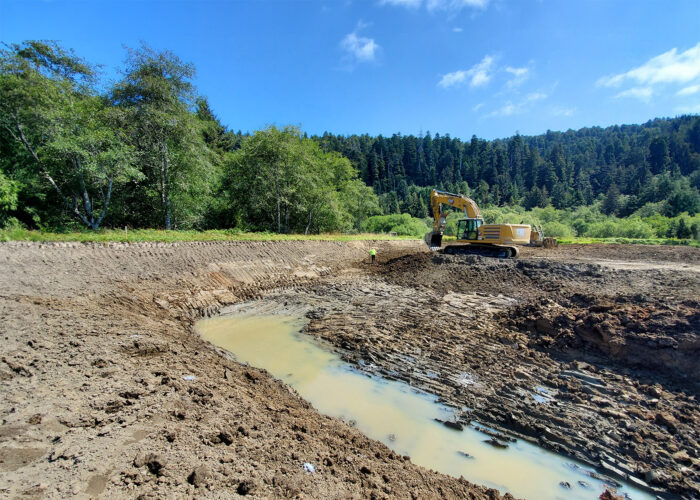 Redwood National and State Parks Trails Gateway & Prairie Creek Restoration
Work advances transformation of former mill site
Save the Redwoods, the Yurok Tribe, California Trout, and other local partners completed a second year of construction on the Redwood National and State Parks Trails Gateway & Prairie Creek Restoration project at the League's Orick Mill Site in Humboldt County, the traditional lands of the Yurok. The project will fully restore the lower portion of Prairie Creek and its floodplain and establish a new redwoods destination that connects with a vast network of park trails. The Yurok Tribe Construction Corporation removed extensive invasive vegetation and excavated an 800-foot section of creek channel through a disconnected pasture. To create the foundation for visitor amenities, they replaced more than 10 acres of asphalt with soil that was excavated to make the creek channel. This complex project will be completed in 2025.
Outreach
Connecting communities with redwoods
Five thousand young people and families from historically underrepresented communities participated in experiences across the coast redwood and giant sequoia ranges through the League's outreach program. For the second year, Redwood Rides coordinated free bus rides to redwood parks for organizations reaching people of color as well as low-income communities. The League also is working with researchers at San Francisco State University to study and promote the health benefits for people of color who spend time in nature. In addition, Save the Redwoods released the first three episodes of the third season of I'll Go If You Go podcast, which illuminates how Californians from all walks of life think about and experience nature and conservation in the redwoods and beyond.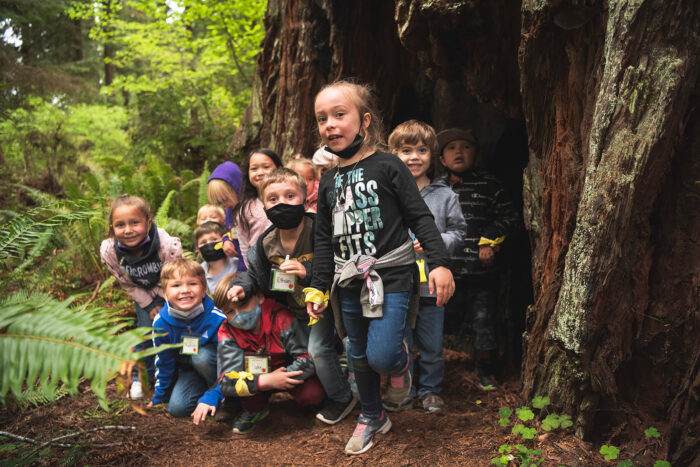 Education
6,500 people of all ages learn about redwoods
More than 6,500 students and adults gained fascinating insight into redwoods through our education program's free field trips and presentations. The free field trips and remote presentations gave K-12 students opportunities to discover and develop a deeper connection to redwood forests. Our education program awarded 13 grants to nonprofits and schools that provided experiences for youths online in the redwoods. In addition, members of UC Botanical Garden and California Native Plant Society, as well as seasonal staffers of Redwood National and State Parks learned about the forest through presentations.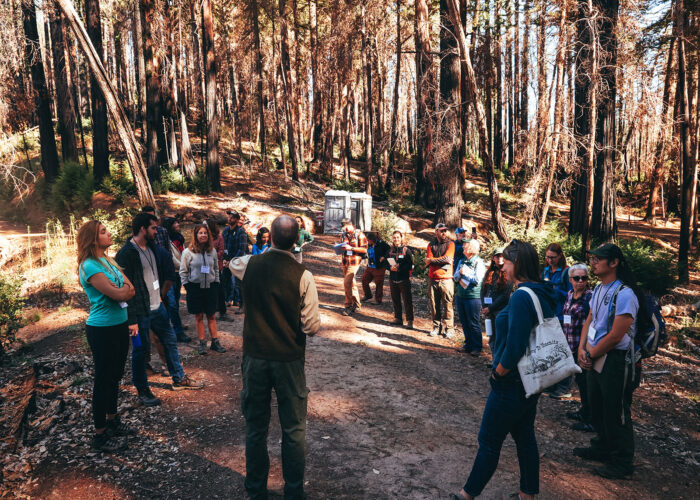 Interpretation
Training unifies redwoods interpretation across the trees' range
Save the Redwoods League and California State Parks helped build a more interactive network and unify interpretation in redwood parks, drawing from new technology, research, and inclusive storytelling best practices to ensure messaging is current and more consistent across the coast redwood range. The two organizations hosted the first Redwoods Interpretation Training for 25 participants from seven agencies that manage national, state, regional, and county redwood parks as well as environmental education organizations. The three-day event included presentations and workshops about restoration, fire ecology, climate change, community engagement, technology use, elevating Indigenous voices, and the League's redwoods curriculum.
2022-23 FINANCES AT A GLANCE
REVENUE BY CATEGORY 2022-23
Total Revenue $34,285 (in thousands)
The League's revenue for the fiscal year was $34,285. Save the Redwoods received significant support for our work from foundations and corporations, government agencies, restoration timber revenue, and gifts from individuals. The revenue-by-category chart above excludes realized and unrealized gains and losses from investments.
---
EXPENSES BY CATEGORY 2022-23
Total Expenses $33,461 (in thousands)
Expenses reflect the work of the League throughout the year in acquiring and stewarding land and conservation easements; conducting scientific research; providing outreach and education programs; and enhancing visitor experiences at state and national parks.
---
The financial information as of and for the year-ended March 31, 2023, has been derived from the League's financial statements audited by Hood and Strong, independent auditors. This condensed financial information should be read in conjunction with the audited financial statements and related notes. To review the complete audited financial statements, please visit SaveTheRedwoods.org/financials.
---
EXPENSE RATIO 5-YEAR ROLLING AVERAGE
As is common in land conservation, the transaction cycle of purchasing, holding, and transferring land often requires several years to complete. While land and forests are protected from the time of acquisition, the League often remains a steward of those lands until they can be transferred to a public agency or nonprofit land trust for ongoing stewardship, public access and permanent protection. The program expense is recognized only when a property is transferred to its permanent steward, or when a conservation easement is acquired. Since land divestments and conservation easement acquisitions are episodic and markedly affect the League's expense ratio from year to year, we believe a five-year rolling average is a more meaningful depiction of our program expense ratio.
---
Our net assets empower the League to purchase and protect threatened redwood forestland in a complex and fast-paced real estate market, enabling us to seize opportunities to buy, hold, restore and transfer properties for permanent protection.
---
STATEMENT OF ACTIVITIES AND STATEMENT OF FINANCIAL POSITION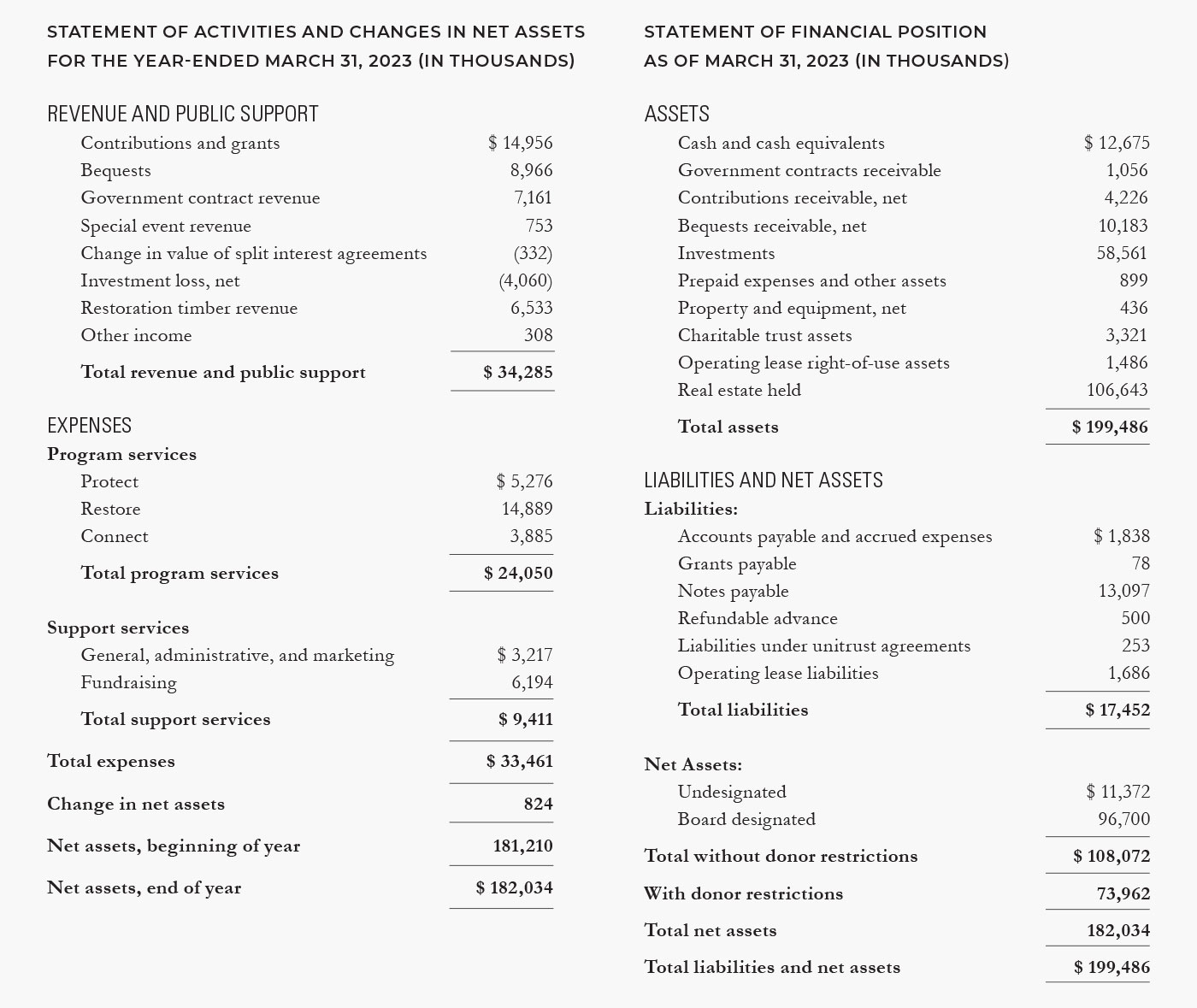 THANK YOU
We achieved so much together. Save the Redwoods League is grateful for your unwavering support and your sustained commitment to the forests that inspire us to reimagine and rebuild a better future.
BOARD OF DIRECTORS
Matthew K. Berler, chair
Sara A. Clark, vice chair
Abraham Tarapani, treasurer
C. Blake T. Williams, assistant treasurer
Michael F. Wyatt, secretary
William A. Croft
Caryl Hart
Kristy Hsiao
Peggy Light
Dave Mahler
John Montague
John Scharffenberger
Andrea Tuttle
Sam Hodder, president and chief executive officer
Rolando Cohen, chief financial officer
COUNCIL
Matthew K. Berler • Stephen J. Butler • Carolyn Sherwood Call • Rosemary Cameron • James Campbell • Sara Clark • William A. Croft • Ralph Eschenbach • Justin Faggioli • Eric Fishman • Caitlyn Fox • Jerry Franklin • Reno Franklin • Denise Garone • Sandy Gibson • José González • Brigit Grimm • Melissa Harris • Caryl Hart • Colby Hastings • Michael Helms • Annette Holland • David Horn • Kristy Hsiao • Erin C. Kelly • Lucy Kerhoulas • Yoriko Kishimoto • Ray Leon • Peggy Light • Christa Lyons • Dave Mahler • Donald Massey • Robert E. Mellor • John Montague • Lisa Allen Ortiz • Mary Power • Katie Prescott • Allegra Quinn • Jorge Ramos • Ethan Ravage • Heidi Richardson • Kim Rodrigues • Lorelle Ross • Corinna Roth • Cathy Rustermier • Roger Samuelsen • John Scharffenberger • Jim Sergi • Carl Chapiro • Gerard van Steyn • Abraham Tarapani • Andrea Tuttle • Andy Vought • David Weinberg • Rich Wendling • Frank W. Wentworth • Mark Wentworth • Mindy Whittington • Blake Williams • Michael Woo • Mike Wyatt • Rob York
ANNUAL GIFTS
The accomplishments described in this report were made possible with generous gifts from donors like you. While space limitations prevent us from listing all the supporters who helped Save the Redwoods League fulfill its mission during the 2022-23 fiscal year, we are grateful for each and every donor. Those listed on the following pages made annual gifts of $1,000 and more from April 1, 2022, through March 31, 2023. Thank you for helping to protect, restore, and connect people to the redwood forests. We strive to ensure the accuracy of this list, but if you notice an omission or discrepancy, please call us at 888-836-0005 so that we can correct this oversight for the future.
INDIVIDUALS
CANOPY CLUB
Hyperion Circle
($100,000 and more)
Kay Baum and David Stuhr
Mrs. Laurel Clark
Mr. Ralph Eschenbach and Dr. Carol Joy Provan
Scarlett C. Hibner
Find a Need and Fill It Fund
Peggy Light
The Robert and Lisa Margolis Family Foundation
Nora McNeely Hurley and Michael Hurley
Joanna Miller
Elizabeth R. and William J. Patterson Foundation
Sherman Starr
Rich, Cody, and Katie Wendling
Daen Wombwell and Grace Barnard
The Saxifrage Fund at Vanguard Charitable
Anonymous (6)
Ancient Forest Circle
($50,000-$99,999)
Barbara August
Steve Blank, Alison Elliott and Family
Bradley Brooke
Mr. Helge H. Bruckner
Joan Egrie
Richard and Helen Erdman
Brigit and Mike Grimm
Heising-Simons Family Fund
Ms. Pamela S. Jue
Hannah and Jeffrey Levy
Gilman* and Marge Ordway
Maricela Perdomo and Robert Dixon
Jan and Bill Terry
Anonymous (1)
Monarch Circle
($20,000-$49,999)
Robert F. Amarante
Roberta Bowman
Katherine and James Burnett
Fran and Steve Butler
Shawn and Brook Byers
Mr. John A. Clingman
Mary-Ellen and Chris Diorio
Ms. Eileen Exton
Molly Graham and Alan Clifford
Thomas Heinzel
Grace Hoagland
Alice Horowitz
Gary J. James
Christine Knuth
William and Karen Lavoie
Mr. Steve Lawton and Ms. Jeanie Taylor
Hollis Lenderking
Laurie Macdonald and Peter Belmont
John Mertes
Mr. and Mrs. John P. Montague
Steve and Jan Pearson
James Rundel
Mary Anne and Al Sanborn
Carolyn and Gregory
Jerry Vurek-Martyn
Elaine Wedegaertner
Mary and Kenneth Wright
Anonymous (4)
Canopy Circle
($10,000-$19,999)
Jean Andresen
Beth and Steve Bangert
Mr. and Mrs. Thomas A. Barron
Matt and Amy Berler
Mr. Gerson C. Bernhard and Mrs. Arlyne Sandra Bernhard
Jeffrey and Marguerite Browne
Fredrick Butler
John C. Callan, Jr.
Sheldon and Patricia Campbell
Bruce Ceniceros
Susan M. Clark
Sarah Dorahy and Geoff Crouse
Jamini V. Davies
Peter J. Davis
Lois De Domenico
Ms. Deborah DeDomenico and Mr. Charlie Martin
Robert and Carole Dell'Agostino
Matthew and Karen Devine
Carol DeVol, Katy Fox, and Zachary Fox-DeVol
Janice Dinsmore-Scott
Yvonne Dodd
Lowell Dodge
Edward C. Driscoll, Jr. and Susan Learned-Driscoll
DuPont Family Endowment Fund
Arthur J. Dusdall*
Lisa Erdberg and Dennis Gibbons
Linda L. Finn
Eric Fishman
Caitlyn Fox and Matthew Newcomb
Robin and Peter Frazier
Janie and Donny Friend
Mack Fuhrer
Ursula A. Gallichotte
Sandy Gibson & Better Place Forests
Steve Gompertz
Richard and Sally Goodman
David Gurney
Dr. Richard E. Hoffman
John C. and Molly Hooper
John W. Houghton, Jr.
Andrew and Lara Housser
William and Susan Hurrell
Howard and Judith Jelinek
Christine Jobe
Drs. Donna and Thomas Jovin
Yoriko Kishimoto and Leland (Lee) Collins
Mary Ellen Kleinhenz
Ralph Koldinger
Kermit Kubitz and Kate Edwards
Courtney Lessard
J. Stoner Lichty, Jr.
Greg and Liz Lutz
Michael and Linda Lyon
Dave and Alette Mahler
The Koehler Mahlstedt Family Foundation
Cliff C. Marcussen
Donald and Lynelle Massey
Cynthia Mirsky
Stephen L. Mock
Thomas J. Nerger
Jane Noon
Mary Belle O'Brien and Georgia A. Heid
Lisa and Rafael Ortiz
The Applewood Fund at Community Foundation Santa Cruz County
Candace C. Pelissero and Brian O. Larsen
Carole Pirruccello
Katie Prescott
Audrey and Paul Richards
Esther and James Roitman
Lisa Rosenfield Podolsky
Lawrence A. and Karena Lee Sanford
Aislynn Shaffer
C.S. Shine
Kieley Smith
Thomas Spillane
Juchi Tang-Liu and Teyin Mark Liu
Judy Teitler
Scott Thomas
Andrea Tuttle
Dr. Ashok Vaish and Mrs. Gita Vaish
Gerard and Kathryn van Steyn
Daphne White
Dr. Joan Woolard
Kenneth and Anna Zankel
Anonymous (8)
REDWOOD LEADERSHIP CIRCLE
Cathedral Circle
($5,000-$9,999)
Melissa Allen
Christine Amini
Anonymous SF Family
John "Eric" Arens and Elizabeth Saucier
Paul Arthur
Gwen Babcock
Corinne and Brian Ball
Mary Frances Barranti
James and Alison Barta
Michael and Susan Bates
Maison Battat Inc
Mr. and Mrs. Lowell Bennion
Mr. Daniel Berko
Patty and Bob Biasca
Rev. and Mrs. C. Frederick Buechner
Dr. and Mrs. Gilbert M. Burnham
James Campbell and Adam Gavzer
Mr. Eric Cantlay
Caren Chappell
Ms. Lynn Chiapella
David Cohan and Sharon Jacobs
Timothy G. Coon
Dr. and Mrs. William W. Cooper
Mrs. Cynara Crandall
Daniele and Janine De Iuliis
Gail DeGarmo
Daniel DeKimpe
Mr. Jeffrey L. Dennis
Robert Devens
Devon Dickenson
Craig and Kristin Donato
Bill and Nancy Doolittle
Scott and Meg Dudley
Dr. Noel O. Dybdal
Helen Kay Easton
Arline and Joel Epstein
Nancy Weston and William Euphrat
Bryan and Bonnie Fandrich
Conor Farese
Ms. Gail H. Fernald
Lauren Friedman and Linda Rudin
Martin and Mia Gaehwiler
Lori Ganz
Mr. Peter Goetz
Robert Bradley & Victoria Gordon
Sallie Griffith
Lawrence and Anne Hambly
Ben Hammett
Dr. Douglas T. Hanks
Kirsten and Paul Hardwick
Melissa and Shepard Harris
William N. Harris
Martha and Michael Helms
Don and Birgit Henninger
Ms. Jane Hiatt
Mr. and Mrs. Melville T. Hodder
Sam Hodges and Aliisa Rosenthal
Billye M. Howard
John and Dana Hunter
Douglas and Jami Kerr
Mr. Earl Killian
Walker Kirby and Ines Guinard
William and Judith Klink
Joyce T. Koch
Leslie Kogod and Laurie Goldberger
Gregg and Anne Korbin
LaVerne Leach
Gabrielle Levine and Daniel Cecil Gates
Victoria Lilienthal
Nancy Luebbert
Larry L. Lundberg
Christa Lyons
Mr. John McCabe
Ms. Kathleen McCarthy
Mr. Jeffrey S. McKay
Arthur L Meader III
Janet L. Mills Foundation
Paul E. and Margaret A. Mistele
Jim Morrison and Sonia Liu
Tanya and Greg Musgrave
Ms. Janice Parakilas and Mr. Roy Baker
Anne S. Petty
Bruce Phelps
Jack and Janis Piper
Mary E. Power and Bill Dietrich
Ann L. Pryor
William L. Rand
Rory and Cynthia Reid
Paul and Sheri Robbins
Mr. and Mrs. Lynn P. Roe
Steven and Elizabeth Rosenberg
Craig and Amanda Ross
David and Shari Safianoff
Roger and Jeane Samuelsen
Frank E. Scherkenbach
Linda Hervey Simpson
Lauren Kogod and David Smiley
Kathryn Stanger
Denise Stephens
Mr. Larry L Stites
Kathleen A. Sura
Ms. Barbara A. Teichert
Samuel Test
Buzz and Penelope Thayer
Mr. John R. Underhill
Grant Ute and Janice Cantu
Ms. Sandra Venning
Dr. Scott R. Votey and Dr. Lisa M. Vollendorf
David B. and Marvalee H. Wake
Mr. and Mrs. Richard C. Walker
Mark and Katie Wentworth
Mindy and Michael Whittington
Mr. Frederick T. Williams and Mrs. Judith Dara Epstein
Fran and Cameron Wolfe, Jr.
Jan and Edith C. Wolff
Vikki and Bruce Wolff
Mike and Gretchen Wyatt
George and Carroll Yandell
Anonymous (3)
Crown Circle
($2,500-$4,999)
Lorna Altshuler
Nancy Amini
Ralph and Regina Anavy
Karen and Tucker Andersen
Carol Armstrong
Peter and Kristine Baldo
Alex Bernhard
Janet Bruman
Mr. Robert E. Burnett
Dr. Audrey B. Buyrn
Frank and Hyla Cameron
Mr. Gordon B. Chamberlain
Sara Clark and Will Riffelmacher
Mort and Jan
Dan E. Cohn and Lynn Brinton
Ken Conner
Ms. Mary C. Connick
Andrea Crawford
Mrs. Catherine J. Dolton
David and Kristine Donadio
John and Karen Dreher
Michael and Theresa Duncan
Laurence Elias and Martha Griswold
Elizabeth Erdos and Wayne DeJong
Penni and David Ericson
Aileen Fell
Angelo Figone and Laurence Brenner
William and Carol Anne Ford
Forward Fund
Janet Gendler
Rolland and Margaret Graham
Dave and Michele Harris
Colby Hastings and Daniel Sachs
Catherine Haynie
Gillian G. Hays
Dwight Jaffee and Lynne L. Heinrich
Jack and Rita Henne
Greg and Annette Holland
Mrs. Georgia M. Holmberg
Mr. and Mrs. Ted S. Howard
Susan Howell and Niels Andersen
Charles A. Isham
Mary Sue Ittner and Robert Rutemoeller
David Jenkins
Jeffrey Jens and Ann Boisclair
Tobi Jones
Leslie Kahan
All of her Cost her
Howard and Sharon Lau
Kathryn Lawhun and Mark Shinbrot
Kathryn Parks Lenton
Mr. and Mrs. Joseph W. Little
Mr. and Mrs. Peter F. Major
Mr. and Mrs. J. Patterson McBaine
Deborah K. McCurdy and Richard Gatti
Joy and Al McFadyen
Clay McGuire
Paul and Ellen McKaskle
Ms. Dorothy McKinney
Nancy Milliken
George and Kathleen Myers
James Nafziger
Mr. Peter J. Neusel
Paul and Elaine Newacheck
Joseph and Ann Obegi
Edward and Andrea Owens
Robert Parker
Barbara and James Peck
Zachary Peckler
Richard Pettys
Wayne Pfeiffer
Theresa and Tom Preston-Werner
Charles and Linda Rausch
Hawk Rosales
Mary Lou Rosczyk
Miquel Salmeron and Greta Vollmer
Judy Sartor
Susan Schwasnick
Elizabeth and Mitchell Siegler
Gavin Simon
Shauna Sitton
Ann and Joe Stockwell
Geoffrey and Robin Strawbridge
Mark Sutherland
Jean-Luc Szpakowski and Gloria Polanski
Alison Taggart-Barone and Dr. Larry Barone
Wendy and Abe Tarapani
Seth Thaler
Kevin Theissen
Ronald W. and Donna M. Thompson
Todd And Fazeela Thompson
Mary L. Topliff
Fran Tuttle
Mr. Bart Van Schravendijk
David and Karen Vandervoet
Mrs. Rita L. Vasquez-Myers and Mr. Brys C. Myers
James and Deborah Wadsworth
Helen Wall
Paul D. Werner
Katherine Whitson
Catherine Ferrell Wilhelm and Douglas Robert Wilhelm
Bruce and Ann Willard
Ruth Woodruff
Scott and Samantha Zinober
David B. Myers
Anonymous (12)
Redwood Circle
($1,000-$2,499)
Susan Abby
Sharon Adams
Marion Adeney
Ruth Albright
Ms. Lynn Aldrich
Douglas Allchin
Jim and Marcia Allegretti
Clyde T. Allen
Andrea and Richard Amend
Mark and Betsy Amparan
Candi Anderson
Jamie Anderson
Margaret Anderson and B McConnell
Richard and Mary Anderson
Roger and Joanne Anderson
Kate Anderton
Terrance Andreucci
Dean and Laura Angelides
Ms. Jeannine Angell
Nancy Archer
Mr. and Mrs. Edward Arens
Jeanne and Lawrence Atherton
Chloe Atkins and Erin Flynn
Jay Atkinson and Arial Summerlin
Alison Aubrejuan
The Augustyn Foundation Trust
Judith Aune
David Baker
Mia Banducci
Dr. Alfonso Banuelos and Ms. Suzanne Wittrig
Evelyn Baran
Megan Barber Allende and JJ Allende
Kitty Barr
Ronald Bassoni
Richard Baumgartner
Kimberly and Smoky Bayless
LeRoy and Debra Beasley
Bill and Joyce Becker
Christine Bee
Nina T. Bell
Thomas Bensinger
Richard Benson and Catherine Criss Flowers
Wilbur Benware
Paul and Maria Berning
Mr. and Mrs. Rob Bernstein
Mrs. Ann Bernstein
Mr. William G. Bertonneau
Maureen Besancon
Gerald Betzen
Belinda Biddle
Matthew Bigelow
Elsa Binder
Kera Binns
Meredith Bishop
Margot Blair
Myron Blom
Susan H. Blomberg
Ronald and Carola Blubaugh
Marjorie Bock
Holly Boone
Mr. and Ms. Richard G. Botzler
Bob Boughton
Robert M. Bowen
Alan Bowers and Diane Sullivan
Mr. John B. Bowers and Ms. Linda Stevens
J. Lee Braly
John and Sharon Brauman
Althea M. Brimm
Catherine Bristow
Marlow Brooks
Mr. and Mrs. Emmet J. Brophy
Cecilia M. Brown
Faith and Stephen Brown
Peter Carsley Brown
Connie Brunig
Mr. Brutlag
Larry Buc and Leigh Houck
Traude and Michael Buckland
Maynard* and Katherine Buehler
Stacey and Paul Burkhart
Ken and Michelle Burkus
Beth A. Burrous and Kevin G. Baer
Zachary Butler
Tracy Bye
Brant Bynum
Nancy Cameron
Ava-Kathryn Capossela
Robert W. Carlson, M.D. and Ms. Stacey A. Starcher
Mr. Robert M. Carr and Ms. Andrea L Lopinto
Margaret L. Carter
Rhonda Cartwright-Ladendorf
Carolyn Carty
Mrs. Susan Casentini and Mr. Kyle Milligan
Roberta Chamberlain
Tzu I. Chiu
Fritz and Jan Clark
Julie Clark
Lesley Clement
Ms. Bonnie R. Clendenning
Sean Coady
Hayyim Cohen
Jerrold Cole
Jay Conger
Mr. Joseph F. Conley
Daniel Cooley
Paul Cooley
Carla Corwin
David Cosman
C. Beth Cotner
Jeannine Coyle-Bardo
John and Ruthmary Cradler
Dr. David C. Crafts
Ms. Diane L. Culbert
Sallie Cunningham-Seltzer
Ms. Christine Curtis
Nichols Cutting
Ben Dadbin
David Dahl
Patrick Daley
Ronald Dammann
Mr. and Ms. Steven Daniels
Paul Dankert
David and Patricia Davidson
Sally Davidson
Mr. Kenneth Davis and Ms. Linda Paul
Nora Davis
Patricia Anne Davis
Mr. and Mrs. Scott Davis
James Dax
Pamela and Michael Dayton
C. Russell De Burlo Jr.
Mr. Bruce W. De Terra
Paul De Waard
Harriett Degraff
Meredith Delich
Mr. and Mrs. Thomas P. DeMund
Dorothy Deringer
Sandhya Desai
Monica Desai Henderson and Steve Henderson
Tamra and Donald Dickerson
Ariel Diertani
Stephen Dodson
Mrs. Anita E. Doheny
Virginia Dole
Katherine Domoto and Don Reilly
Sabrina Strawbridge Donahue
John and Sara Donnelly
Stephanie Douglass
Peter Dowler
Eve Doyle
Ms. Marilyn Murphy DuBois
Jae Duffy
Lisa Wolterink and David Dunneback
Holly L. Earl
Ellen Edwards
Joyce M. Edwards
William and Justine Eick
David Eisenbud
Paul and Sharon Eklof
Mary Eldredge
Phyllis and Donald Epstein
Ms. Susan Erdmann
Barbara and Paul Erhard
Anne L. Esbenshade and Michael R. Miele
Marette Esperance
Carol and Chris Espinosa
James and Deborah Estes
Robert Ettinger
Justin M. Faggioli and Sandra D. Donnell
Mike Fallis
Shirley Familian
Raymond Fangboner
Catherine and Ed Fey
John Fielden
Sam and Kristen Finder
Wendy S. Finen
Robert and Ann Fischer
Leonard Fisher and Risa Teitelbaum
Shelley and James Fishkin
Pat Fitz
Elizabeth Fleisig
Mark Forbes
Resa Foreman
Douglas Forsell
John and Elizabeth Fowler
Jeff Frank
R & C Frank
Valeda Franklin
Gary Frenkel
Adam Fried
Bart Friedman
Leslie J. Friedman and Jonathan Clark
Robert Friedman and Kristina Kiehl
Martin and Marian Friedrich
Nancy C. Frost
Mary Anne Gailliot
Ellen Garber and Glenn Hunt
Kenneth R. Garr
Margaret Gaston
Mr. and Mrs. Robert J. Geering
Ms. Ann M Gessert
Mr. Edgar A. Gilbert
Jason, Lita, and Brandon Gillis
Nancy T. Montgomery
Dennis Glass
Mr. Steve M. Goldberg
Rachel Goldeen
Mark and Ellen Goldman
Stephen and Diana Goldman
Charlyn Gollogly
Paula Leibovitz Goodwin
Mr. and Mrs. Peter Gordon
Mr. Gregory Edward Gorman
Ms. Beverly Grahmann
Carl and Faye Gregory
Peter Grimm
Kate Haas
Ginnie and Peter Haas, Jr.
Mrs. Jacquelyn Hall
Doug Hamilton
Marshall Hamilton
Russell Hamilton
Michael Hamm
James Hanko
Ms. Karen A. Hanlon
Mr. and Mrs. James S. Hans
Fredrick Hanson
Sarah Hanson
Mr. and Mrs. W. J. Harkinson
Kim Harley and Chris Fry
Dr. Dale E. Harris and Dr. Michelle Petrofes
Dr. James Hart and Mary Pfeiffer Smith
Ryan Hart and J'Mi Ponce
Kristina Heckart
Doug and Susan Hendrickson
Nancy Hendrickson
Lee Hendrix
William Henzel
John Herrman
Louis Herskowitz
Jason Hickey
Amanda Y. Hicks
Ms. Jane M. Hicks
Kenneth Himes
Michael Himes
Derene Hinchliff
Michael and Natalie Hirt
Jill and Gerben Hoeksma
Fred and Judy Hoeptner
James Hoff
Mr. and Mrs. Wilson Hoffman
Ms. Laura Hofmeister
Alice Holzman
Mr. and Mrs. Michael Honigfort
Nancy and John Hoogendyk
Mr. Douglas M. Hopkinson
Karen and David Horn
Lucy Huffman
Jan Hughes
Paula Hughmanick and Steven Berger
Mr. Paul G. Hunrichs
Thomas and Ann Hunt
Judy Husted
Jane and Jim Isomoto
Mr. Kent Iverson
Harriet Iwamoto and Colin Rudolph
Mr. and Mrs. Michael B. Jacob
Robert and Harriet Jakovina
Patrick Janssen
Hollis and Karen Jencks
Hope Jessup
Kenneth N. Jochimsen
Lucy Johns
Johnson Family Fund
Ms. Carolyn Johnson and Mr. Rick Theis
David Johnson
Harry and Joyce Johnson
Holiday Phelan Johnson
Katherine Johnson
Kent and Sheryl Johnson
Melanie and Ronald Johnson
Ms. Melanie Ruth Johnson
Patricia Johnson
George and Irene Jones
Ken and Karen Jones
Martha R Jones
Mr. Stephen R. Jones and Ms. Nancy A. Dawson
Mr. James P. Jorgensen
Dr. Peter G. Joseph
Russell and Kathy Jura
Gretchen and Ronald Jurek
JoAnn Kahn and Tom Lyon
Mary F. Kalinyak
Helmut Kapczynski
Bill and Christl Kasler
Robert Katrein
Stacey Keare and John Hodge
Carolee Keene
Elodie Keene
Sharon Keigher and Libe Washburn
Randy and Gwendolyn Keiser
Joanne and Dennis Keith
Ginni Keith
Jennifer Keller
Susan Kelso
David and Maureen Kennedy
Angela and Matthew Kilman
Neil Kinney
Ms. Patricia E. Klahn
Mary Klee
Gudrun Kleist
Ned and Laura Klingelhofer
Matthew Klopfenstein
Janice and Jim Knight
Mrs. Barbara Koch
Jerome Koch
Abner Korn and Catherine Powell
Kevin Kranzusch
Rona Kremer
Mr. and Mrs. Craig Kronman
Kim and Max Krummel
Mr. and Mrs. James Kuester
Mr. Andre R. Kuper
Robert E. Kvaas
Lily Kwong Kroll and Nick Kroll
Debra Lam
Ron and Katharine Lang
Genie and Ken Lange
Sally Lappen and Nik Warren
Joseph Laska
Mr. Kenneth R. Latham
Jean Louis Le Renard, M. D.
Robin C. Lea
Mr. Richard H. Leirer
Victoria Beckner and Russell Lemle
Frances Leonard and Richard Best
Lawrence and Susan Levenstein
Fred Levin
Bob Lew and Marion Franck
Mr. and Mrs. Evan Lewis
Judy Lichterman
Nancy and Larry Liden
Mr. Paul Russell Lindstrom
Katharine Linforth
Kathleen and Stephen Linowski
Mr. David Littlejohn
Roy Liu
Michael Lloyd
Andrea London, Aceves-London Family Fund
Mr. Craig G. Lorimer
Nikko and Nellie Lubinski
Ms. Diane Marie Luders
Rivka Lund and Philip Dito
Mr. and Mrs. Richard M. Lundy
William and Margaret MacLaughlin
Bruce Macleod
Amie and Trey MacPhee
Ms. Maria Magana
Ronald and Amanda Mallory
Salvatore Manzi
Jane Marcus
Russel Martin
Mark Maslack*
Melissa Matthews
Mr. Charles A. Matuszak and Mrs. Alice Jean Boyer Matuszak
Janet McAlpin
Daniel and Maya McBride
James and Anne McCammon
Cindy McCarthy
Mr. and Mrs. Neal S. McDougal
Jeffrey McGuire
David McIlhenny
Richard McKee
Thomas McKerr
Elizabeth E. McManus, in memory of Tom McManus
Courtney McNaught
Michael Mekeel
Robert E. and Suzanne Bolton Mellor
Patricia Melosh
Marla Mercer
Ms. Deborah S. Meyers
Richard and Karen Meyers
Michaelson Family
Sally and David Mikkelsen
Susan Miley
Mr. Roger J. Millar
Mr. Gregg H. Miller
Mr. Jeff Miller
Virginia Miller
Bill Miller and Ida Houby
Milligan Family Foundation
George Mills
Marie Mintz
Pat Michell
Gale Mondry and Bruce Cohen
Mr. Nikolaos D. Monoyios and Ms. Valerie A. Brackett
Mr. Deaderick C. Montague
Margaret Moore
Ms. Linda Morasch
Robert and Susan More
Susan Morey
Shelly Morgan
Bill and Judy Moritz
Jack Morton and Mary Ellen White
Brian Mountford
Carolyn J. Mueller and Mr. James F. Carley
Darcy Muirhead
Kevin Mulroy
Russell Murfey
Patricia Murphy
Patricia Murray and Gregory Bonfiglio
Mr. and Mrs. Richard Murray
Maizy Myers
Mary Naftzger
David Napier and Laura Tropp
Thomas H. Nash, III and Dr. Corinna Gries
Mr. Mark Nespeca
Redwoods Network
Gerda Newbold and John Adler
Gabriel Nicolau
Ms. Karen E. Nielsen
Nancy Nordhoff and Lynn Hays
Karen Oakes
Roxanne and David O'Brien
Micheal and Tanya O'Connor
Michael Oddo and Jennifer Hyde
Barbara and Piemaria Oddone
Doug and Emilie Ogden
Leslie O'Loughlin
Fred and Barbara Ordway
Aminy Ostfeld
Mr. and Mrs. Mark Ostrau
Judy and Dick Otter
Dr. William J. Otto
Janna Paardekooper
Chieko Palenberg
Julie and Will Parish
Shirley Park and Christopher Yang
Eileen and Jordan Park Peed
Martha Parr
John and Katie Parry
Tim and Ruth Patterson
Kendal Peirce
Arden Pennell
James E. Perry
Brian R. Peter
Mr. Richard S. Petretti and Ms. Lola E. Langner
Richard and Sandra Pezner
Mr. David G. Pfeiffer
Dan and Helen Phan
Lianna Piccetti
Lynn and Jeff Pierce
Carole and Ira Pittelman
Harry Pollack and Joanne Backman
Lon Poole and Karin Bliman
Nancy Pryer and Winthrop Jackman
Ms. Ruth H. Quigley
Allegra and Edward Quinn
Carla Raffetto
Elizabeth Raible
Anthony and Jean Ramirez
Paul and Robin Rankin
Karen Rath
Nicholas Rau
Mr. Loren C. Rauch and Ms. Heather Kuiper
John and Flinn Rauck
Dr. Donald G. Redalje
Nir Reichkind
James and Kathleen Reinhardt
Bruce and Nan Reitz
Jeffrey Resnik and Rebecca Meyer
Louis P. Richard and Sally Adams
Maura and Hal Richardson
Heidi Richardson
James Richardson & Susan E. Lynch
Ms. Cynthia J. Rigatti and Mr. Brian T. Ashe
Kelley Ristau
John Roberts
Alan Robinson
Marcia Rodgers
Ms. Marti Rodriguez and Mr. Robert Kunde
James C. and Amy F. Rogers
Bryan Rogers
James Rogers
William Rogers
Paul G. Rohrdanz
Peter and Kathy Rosmarin
Corinna Roth
Richard Rothman
Stephanie Rothman
Selma and Scott Rothstein
Caitlin Rotkis
E. Scott Royce
Allen and Pamela Rozelle
Peter Rozsa
Jozef Ruck and Donna Ito
Ms. Susan Kay Ruf
Mr. and Mrs. Richard Runyon
Mr. and Mrs. Douglas Rusch
Audrey Ryan
Mr. Kenneth J. Ryan
Rob Saliba
Michael Sampson and Susan Hector
Wendy Sanborn
Michelle SanPedro
Mr. Charles M. Santori and Ms. Kathryn F. Benedicto
Ms. Judith Sarason
Jennifer Sauer
Sally Love Saunders
Penny and Dale Schaber
Leonard J. Schaustal, Jr.
Mr. Kurt N. Scheidt
Don and Cindy Scherer
Daryl Scherkenbach
Brenda and Steven Schick
Gloria G. Schlaepfer
Stephen and Valerie Schreiber
Richard and Amy Schuh
Judith Scott
Mr. John H. Scudder
Mr. Stephen K. Seaborg
Siro-Lee Seaman
Mr. Christopher Seidman and Ms. Barbara Lynn Gallisath
Edwin and Barbara Seipp
Gary and Pam Sejkora
Ms. Vivian E. Selecman and Harold T. Selecman
Steven and Ruina Senkovich
Mr. and Mrs. Gregory R. Serrurier
Gail Seydel
Chip Sharpe and Celestine Armenta
Tracy Shepard and Susan Baller-Shepard
Dr. Sanford Sherman
Scott Shershow
Bill Shine
John and Rebecca Shockley
Dr. and Mrs. Elliot Shubin
Ms. Kathryn A. Shurtleff
Nitya and Aspi Siganporia
Eric Sigg
Melvyn Jay Simburg
Mrs. Sharan L. Simkins and Mr. Paul Belo
Ms. Janelle Simmons
Ms. Barbara R. Simon
Sher Singh and Jean Younis
Ms. Rae Lee Siporin
Joy Skaggs
Kathleen Skinner
Mr. and Mrs. Charles H. Smith
Mark Smith and Glenn Hessel
Wesley D. and Molly M. Smith
Isabel Snyder
Steve and Janet Snyder
Tom Spelce
Chuck Squatriglia and Lana Raymonde
Kristen St John and Steven Parkes
Fred and Alice Stanback
Bruce E. Stangeland
Mr. Alan G. Stangenberger
Peter Starr
Sara Steelman
Peggy Steffel
Mrs. Patricia Stegen
Mr. John C. Stephens
Ellen Stern
Glenn and Helga Stewart
Riza and Jeffrey Stillwell
William Stoesser
Mr. Max Stolz, Jr.
Mary and Richard Stone
Kandice Strako
William K. Street
Daniel and Gilda Sullivan
Robert and Petra Sullivan
Carl Sutherland
Mr. Rodney B. Swanson
Gail K. Swarbrick
Duchess A Swift
Margaret Swink
Jim Szewczak
Carol Taggart
Joann and Taavi Taijala
Dwight Tate
Edward Taub and Sheri Gish
Stephanie R. Taylor
Susan Terebey and David Van Buren
Curt and Carol Terwilliger
Ian Texeira
Jon and Joan Thayer
Mr. and Mrs. Neal Thomas
Ashley Thompson
Barbara and Rich Thompson
Mr. John R. Throne
Audrey and Mark Thurmond
Henry O. Timnick
Mr. and Mrs. Tommy Tomlin
Michael Tomola
Andrea Trasatti
Michael Trieschmann
Carol and Rita Turner
Rebecca Shafer Tuuk and Roger J. Tuuk
Mr. and Mrs. Jerry Ulrich
John Vallerga
Jack Van Sambeek and CeCe Wilkens
Mr. and Mrs. Michael Van Winkle
William and Rita Vandenburgh
Martin Vanderlaan
Dr. and Mrs. John Varady
Karen and Anthony Varnhagen
Robert and Laura Venning
Matthew Vieyra
Sam Vigersky
Kim Viner
Tyler Vits
Mr. Simon Paul Vlasveld
Andy and Andrea Vought
Mr. and Mrs. Jon Wactor
Charles and Camille Wade
Stephen Waldman
Jason Walker
Donn and Tracy Walklet
Ginger and Joe Walmsley
Dr. Bradford B. Walters and Mrs. Carol J. Walters
Mr. and Mrs. John C. Watson
Nancy Watson
Kris Weafer
Erik Webb
John and Laura Weeks
Nadine Weil
Robert and Diane Weir
William and Barbara Welke
Jacqueline Welsh-Holder
Mr. and Mrs. Frank W. Wentworth
Honorable Kathryn Werdegar and Dr. David Werdegar
James West
Janice Wezelman and David Bartlett
Marilyn P. Whelan
Barbara Ann White
Mr. and Mrs. Raymon Whitney
Roberta Wilkes
Seth Wilkinson
Richard Williams
Anne Wilson
Carl Winberg M.D.
Marilyn Winkleby
Peter and Robin Winokur
Christine Witschi
Melinda Wolf
Albert R Wolff
Howard and Barbara Wollner
Dean Michael K. Woo and Laurie Dowling
Barry M. Wood
Jean Woodrow
Bobbie Wunsch and the Faison Children
Ruth Yager
Lisa Zabel
Marjorie and Robert Zamorski
Jason Zarrow
Richard F. Davis and Linda D. Zinn
Steven Zlotowski
Margaret Zukin
Anonymous (31)
FOUNDATIONS
Hyperion Circle
($100,000 and more)
American Forest Foundation
Cotyledon Fund
Hearst Foundation, Inc.
Nancy Eccles and Homer M. Hayward Family Foundation
Parks California
Pitzer Family Foundation
The Robert and Lisa Margolis Family Foundation
Anonymous (1)
Ancient Forest Circle
($50,000-$99,999)
Achelis and Bodman Foundation
American Online Giving Foundation at Benevity Community Impact
Melvin and Geraldine Hoven Foundation
The Shanbrom Family Foundation
National Park Foundation
Valhalla Foundation
Anonymous (2)
Monarch Circle
($20,000-$49,999)
Cantus Foundation
F. M. Kirby Foundation, Inc.
Flora L. Thornton Foundation
George & Audrey Rasmussen Family Foundation
The Joseph and Vera Long Foundation
Pinpoint Foundation
Raintree Foundation
Canopy Circle
($10,000-$19,999)
Hugh Stuart Center Charitable Trust
Barton J. & Gail Ingraham Foundation
Blackbaud Giving Fund
Give Lively Foundation Inc.
John and Ann Turner Family Foundation
Maxwell | Hanrahan Foundation
Thomas O. Brown Foundation
William H. and Patricia M. Smith Foundation
Cathedral Circle
($5,000-$9,999)
Community Foundation of Mendocino County
Holdfast Collective
Kelson Foundation
The Nathan M. Ohrbach Foundation
Nature Defense Foundation
Quadra Foundation
The Cosman Family Foundation
The Griffith Family Foundation
The Summers Family Foundation
Unbroken Chain Foundation
Crown Circle
($2,500-$4,999)
AmazonSmile Foundation
BridgeBuilders Foundation
Edward Joseph Daly Foundation
Hologic Charitable Fund at the San Diego Foundation
Pledgeling Foundation
Salesforce.com Foundation
Sequoia Park Zoo and Foundation
Sternberg Foundation
Redwood Circle
($1,000-$2,499)
Bright Funds Foundation
George R. & Elise M. Fink Foundation
Lennox Foundation
Marjorie Mosher Schmidt Foundation
PayPal Giving Fund
RC Charitable Foundation
Rosen Family Charitable Fund
Sing for America Foundation
Stuart Foundation
The Merck Foundation
Wild Woods Foundation
Woodside-Atherton Garden Club
CORPORATIONS AND PARTNERS
Hyperion Circle
($100,000 and more)
Google Inc.
Ancient Forest Circle
($50,000–$99,999)
Oracle
Canopy Circle
($10,000-$19,000)
Solberg Manufacturing, Inc.
Kobrand Corporation
Cathedral Circle
($5,000-$9,999)
Maison Battat Inc
St. John's Presbyterian Church
Crown Circle
($2,500-$4,999)
FrontDoor
Sequoia Grove Winery
Anonymous (1)
Redwood Circle
($1,000-$2,499)
CTS Enterprises
Erkiletian Development Company
Frontstream Global Impact Fund
Headlands Brewing Company
Ipswich Investment Management Co., Inc.
Key to Life Supply
Lianna Soap
SCI Consulting Group
SHP Financial
Society of the Transfiguration
Wells Fargo Clearing Services, LLC
Wild Tribute
Zenith Insurance Company
ESTATES & TRUSTS
Virginia Benson CGA
Estate of Lillian B. Boly
Stephen Brown Revocable Trust
Ms. Susan P. Buck
John W. Carson Trust
Mr. John A. Clingman
Coon/Hathaway Trust
Mr. Timothy Daly
Mrs. Doris R. Devereau
The Devereaux Living Trust
Mr. Richard G. Dooley
Arthur J. Dusdall
Edsel Dallas Ford and Linda Kay Ford
Margaret Fraze
Gerald E. and Sheila R. Gould Revocable Trust
Grace Jones Richardson Trust
The Gray Family Trust
Estate of William Thomas Green
Laurie J. Hahn
Mr. and Mrs. Robert A. Hanson
Edwin Hantman Estate
Thomas and Beth Hinkle
Ms. Berniece M. Huhnerkoch
Howard W. Jones Estate
Belta P. Kalajian
Estate of Sherwin A. Kane Jr.
Estate of Gerald J. Klebauskas
Donald W. Leonard Estate
Betty A. Lewis University Environmental Charitable Trust
The Frederick Marshall Adams Trust
The Jean McNamara Trust
Rolph-Nicol Fund
The Margery and Iain Nicolson Trust
Shirley Otto
Robert C. Page Living Trust
George and Paulina Pollak
Prisanlee Trust at the Hawaii Community Foundation
Marie W. Putnam Charitable Remainder Trust
Gail Randolph
Rudolf Schmid Trust
Estate of Peter Llewellyn Sheldon
Estate of Dana Sherman
Mrs. Betty Slauson
The Daniel Ross Gallie Trust
The Greenberg Family Trust
Triple Happiness Trust
Anonymous (1)
Redwood Legacy Circle
The Redwood Legacy Circle includes our members who have created a living legacy by naming the League in their wills and trusts. Learn more at MyRedwoodsLegacy.org.
Hedy Aardema
Natalie Abel
Claire Achen and Mary Rohwer
Gil and Tes Adams
Lynn and Barbara Adamson
Thom and Kim Akeman
Dr. Gregory and Hanita Alexander
Richard Alexander
Jim and Marcia Allegretti
Mr. Christopher M. Allen
Carolyn Strange and Peter Alley
Wilson* and Patty Alling
Paul B. Althouse
Dr. and Mrs. R. Gerald Alvey
Mr. and Mrs. Eilif Andersen
Mr. Horace L. Anderson
Mr. and Mrs. John A. Anderson
Lynn
Dr. Anderson
Roger and Joanne Anderson
Grant and Patricia Andreasen
Steve and Suzi Andrews
Mr. Ivan Angle
Christine Aralia
John "Eric" Arens and Elizabeth Saucier
Jeanne and Lawrence Atherton
Mr. Leland E. Auger
Janet Rizner Backs
Mark and Melinda Bailey
Ms. Kristy Baker
Russell Baldwin
Ms. Balogh
Beth and Steve Bangert
Mr. Alterio A. Banks
Deborah and Daniel Bardon
Marya Mendelson Barey
Richard and Brenda Barnes, Popcorn Rock
Mrs. Eloise C. Goodhew Barnett
Penny and Robert Barron
Nancy Barrow and Orpha Peterson
Marie Schoppe Bartee
Kay Baum and David Stuhr
Mr. William Beardsley
Mr. and Mrs. Stephen C. Bechtold
Bill and Joyce Becker
Paul P. Behr
Nina T. Bell
Ronald Ezra and Teresa Bell
Bethany N. Bella
Mr. Brian A. Berg
Walter and Nancy Berger
Patty Biasca and Bob Anderson
Mr. and Mrs. Edward F. Bielski
Sheila Bigelow and John Berger
Paula Diane Bigley
Michael Bitsko
Earl U. Biven
Ronald E. Blubaugh and Carola C. Blubaugh
Jeanne Bodiford
Rose-Marie H. Boller
Mr. Ivan Nikolaevich Bortnikov
Kathy Bouchard
Patrick and Judy Brady
JoAnn Brand
Elisabeth and Richard Brandt
Anne Bredon
Karen Briggs and Mike Johnson
Mrs. Wally Brink
Mr. Audie Brinkmeier
Ralph Britton, Jr.
Danielle Broelinckx
Allan and Marilyn Brown
Mr. Peter Bruck
Helge and Renee
Mr. Brutlag
Mary L. Bryan
Peggy and John Bryant
Nadine Buchko
Elizabeth J. Buckley
Judith Bunch
Mr. Rodney Burge
Ursula Burkhard
Marjorie A. Burnham
Emily E. Burns, Ph.D. and Ruskin K. Hartley
Andy Butcher
Mr. and Mrs. R. D. Butler
Fran and Steve Butler
Judith Cabus
Mr. Larry Camp
James Campbell and Adam Gavzer
Mrs. Pauline B. Campbell
Mrs. Diane E. Cannon
Mr. Philip H. and Mrs. Cathleen Cannon
John S. Carson, M.D.
William Carter
Donald Casavant
Joseph Cascarano and Margaret Wilson-Cascarano
Ric Catron
Ms. Cecily Cedilote
Joel B. and Patricia A. Chaban
Mr. and Mrs. Sky Chaney
Ms. Gay E. Cheney
Steven and Elaine Cherkezov
Dr. Norman and Sally Christensen
Tim and Susan Christoffersen
P. Chrostowski and L. Pearsall
Mr. Luigi S. Cicolani
Ms. Marilyn R. Clark
Ms. Sandra Clark
Susan M. Clark
Rose Marie Cleese
Bette Jean Clute
Mort and Jan
Mr. Rolando Giuseppe Cohen
Tim Collins
Karen Carr* and Suzanne Colwell
Peter L. Comanor
Ms. Deirdre Conley
Karen K. Cook
Paul Cooley
Carla Corwin
Marilyn Cossey and Darrell Hogan
Beth Cotner
Dixie Peyton Coutant
Janet E. Covell
Mr. Elbert H. Craighead
Dr. Richard D. Crosland
John and Kay Cruz
Ms. Patricia M. Cummings
Patricia Curia
Rebecca Dakota
Donna M. D'Amico
Michael and Joan Dannenberg
Richard L. and Rebecca J. Davies
Darrell D. Davisson
Ken Dawdy
Ms. Aila Dawe
Mr. Dan De Angelis
Ms. Charlotte De Pineda
Gloria J. DeVictoria
Christine Decker
Daniel DeKimpe
Dr. and Mrs. Bruno DePalma
Sean Catherine Derek
Megan Derhammer
Helen and Raj* Desai
Mr. Charles T. Dewoody
Ellen Digiampaolo
Mr. Reed K. Dils and Mrs. Karen K. Dils
Janice and Tim Dinsmore-Scott
Art Dodd, Jr.
Lowell Dodge
Ms. Robin Dolbear
John and Sara Donnelly
Serena Heart Dossenko
Ms. Paula Downing
Dane Drefke
Ruth Dresher-Brown and Vern Brown
Edward C. Driscoll, Jr. and Susan Learned-Driscoll
Robert and Susan Dubrow
Emery and Cynthia
Lisa Wolterink and David Dunneback
Arthur J. Dusdall
James D. Edwards, O.D.
Ms. Laurie Edwards
Steven A. R. Edwards
Carole and Frank Ehrhardt
Mr. Leonard Eiserer
Mrs. Rosalyn Eisler
Paul and Sharon Eklof
Carol Elchert
Dennis L. Elder
Frank Eldredge
Margaret Elizares
Catherine Elliott and Tom Luster
Mr. Craig A. Engel
Kathryn Engle-Debes
Constance Engvall
Mr. Walter A. Eppler
Arline and Joel Epstein
Dr. Hollis N. Erb
Thomas L. Ervin
Mr. Ralph Eschenbach and Dr. Carol Joy Provan
Ms. Etgen
Mr. James C. Fabris
Mr. Carl A Fagerskog
Justin Faggioli and Sandra Donnell
Gretchen and Walter Falk
Peter Farquhar
Lisa Farrand
Jeffrey and Judith A. Farrin
Thomas and Katheryne Federico
Gloria J. Fenner
Caresse Fernandez
Charles L and Donna Lee Figone
Kathy Filachek
Pat Fitz
Sharon Flaherty and Michael Flaherty
Bill and Sally Fletcher
Mr. Daniel A. Flickinger
Stephanie Fogel
Father J. Patrick Foley
Nadine D. Foley
Douglas Forsell
Robert and Shirley Foster
Barbara J. Fraser
Robin and Peter Frazier
Gene Freeman
Ken Friedman and Family
Mack Fuhrer
Captain Gerald A. Fulk
Robert Galbraith and Robin Chapman
Ms. Gena Galenski
Ms. Gallagher
Mr. Paul H. Gardiner
Dr. and Mrs. John N. Gardner
Bill and Mina Gardner
Holly K. Garrison
Ron and Debbie Geary
Mr. and Mrs. Robert J. Geering
Mr. Paul C. George, in memory of Mary L. Doljack
Mrs. Sharon George
Alan and Judith Gibbs
Mr. Edgar A. Gilbert
Ms. Michele Gilbert
David A. Gill
Shirley Glanz
Richard P. Glasser
Mr. and Mrs. George Gloeckler
Reverend Sherwood R. Glover and Mrs. Jeanne Glover
Geoff and Marilyn Godfrey
Peter E. Goldbeck, Esq.
Lea Goldstein and Brian Greenberg
Mrs. Wilbur J. Gooder
Mary Devereux Goodwin
Rolland and Margaret Graham
Beverly A. Grahmann
Deborah Green
The Greenberg Family Trust
Andrew Scott Greer
Steven L. Griffing
Ms. Catherine E. Gross
Clifford Group
Mr. Alfred S. Grundy
Mr. Ronald A. Guidotti
Robert and Julianna Guillou
Dr. Frank B. Guthrie
Ms. Susan Guyer
Richard Haase
David E. Hague
Carol Snyder Halberstadt
Mr. Bruce M. Hale
Ms. Audrey Hall-Mendoza
Elizabeth Halstead
Nell Hamm
Felicity Hammer
John and Nancy Hand
Mr. Eric V. Hankam
Carol Louise Hanson
Erik and Marian Hanson
Paul and Kathryn Hanson
Jean Hardwick
Ms. Catherine L. Hardymon
Jack F. Harper and Deyea V. Harper
Mr. and Mrs. William P. Harper
Alisa Mae Harrison
Mr. and Mrs. Douglas Harvey
Barb Hauser
Mr. Erik C. Havana
Ms. Patricia T. Hayes
Michelle Heathman
Barbara Hebner
Ms. Wendy Terra Hegy
Patricia Heiden
Dwight Jaffee* and Lynne L. Heinrich
Harvey Helfand
Paul and Nancy Helman
Michael and Martha Helms
Thomas Lee Herd
Tom and Dot Herr
John Herrman
Mr. William C. Hersh, Jr.
Louis Herskowitz
Brad Higbee
Scott Highfill
Carolyn M. Hill
Judith Abrahm
Kathy Hobson
Edward Hochman
Sam Hodder
Fred and Judy Hoeptner
Mr. K. Frank Hogan
Greg and Annette Holland
Ms. Julia Holleran
Alice M. Horowitz
John W. Houghton, Jr.
Larry G. Houghton
Kent Housman and Bryn Bridenthal-Housman
Mr. and Mrs. John Hovey
Barry C. and Bonnie B. Howard
Dr. Jack Hoyt
Joseph E. Huard
Mr. Edgar A. Huber
Gregory D. Huber
Betty Hughes
Laura and Donald* Huisman
Sarah Hummingbird
David Husch
Phyllis A. Hyde
Reinhard and Elsie Ilgner
Doris Illes
Mr. and Mrs. Daniel W. Imbody Jr.
Ms. Michelle A. Irvine
Dr. Stephen G. Irving
Charles Isham
George Istvan
Douglas L. Iszard
Ms. Michele Ivaldi
Claire Jackson
Rich Jacobs
Mr. Richard A Jaffe
Paula Jain
Robert and Harriet Jakovina
Find a Need and Fill It Fund
Allen Jamieson
Ann
Anne Jefferis
Jacquelyn Jenkins and Jeffrey Blake
Mr. Joseph Ward Jennings
Connie Jeung-Mills
Reuben A. Jimenez and Joel Masotti
Charles and Dianne Johnson
Cynthia R. Johnson
Harry M. Johnson and Joyce G. Johnson
Ms. Patricia Johnson
William H. Johnston, MD
David and Susan Jonas
David T. Jones and Susan Turner Jones
Robbyne Jones
Mr. Stephen R. Jones and Ms. Nancy A. Dawson
Laurene and Michel Jonqueres
Virginia and Gregory Jost
Glenn Joy
Tracey L. Kahan
Pamela Kalinowski
J. R. K. Kantor
Rona Kardener
Janey and Kevin Kaster
Ms. Lynne Kasuba and Mr. Charles Ferris
Mr. and Mrs. Paul Katen
Ms. June Keizer
David Kell
Ms. Nancy Kelley
Cheryl Kelly
Ms. Louise M. Kemen
Douglas and Jami Kerr
John P. Kesselring and Jane E. Kesselring
Helen J. Kessler
Catherine J. Kidd
Mr. Earl Killian
Mrs. Bonnie J. Killip
Mr. and Mrs. R.S. Kilpatrick
George C. Kirk
Rachael and Matthew Kirk-Cortez
Mr. Noel W. Kirshenbaum
Jeremiah Kirwan
Patricia E. Klahn
Christopher and Valerie* Klein
Joyce T. Koch
Helen C. Koenig
Edward A. Komczyk
Joann Koppany
Francis J. Koppeis, Jr. and Patricia S. Koppeis
Karen Kotvas
Bernard H. and Sondra Krakower
Muriel T. and John W. Kurtz
Olivia Kuser
Mr. Robert E. Kvaas and Mrs. Sara Kvaas
Ms. Anita C. Ladewig
David Laing
Mark Lamotte
J. A. Lamph
Melinda Landry
Mr. Lawrence Lantz
James and Diane Larson
Edward A. Latham, Jr. & Rhonda Lee Latham
Howard and Sharon Lau
Mr. Sam Lawson
Mr. Steve Lawton and Ms. Jeanie Taylor
Scott Laxier
Robert and Susan Lea
Robert E. Lee
Hilda Leefeldt
Thomas and Renee Warnock
Valente and Diana Lemos
Hollis Lenderking
Kathryn Lenton
Lyn R. Levin
J. Stoner Lichty, Jr.
Peggy Light
Mr. Thomas W. Lincoln
Charles and Dore Lindquist
In Honor of Lost Big Trees
David Penning and Nancy Linton-Penning
Mrs. Kara Littell-McWilliams
Kenneth H. Lobitz and Robert T. Wilson
Marianne Locke
Margret Engel Lohfeld
Ellen Love
Alan L. Lovett
Mr. and Mrs. Frans Ludding
Curtis Lund
Larry L. Lundberg
Karen Lutter
Mr. Dennis C. Lynch
John* and Christa Lyons
John A. Magnuson
Laurie Ann Macdonald
Hannah MacLaren
Jim Madden
Mrs. Maddock
Patricia Madison
Kenneth and Freya Mahaffey
Ms. Michelle Makarski
Rudolf and Frances Makkreel-Tanikawa
Sarah Malashock and John Holler
Ms. Marleen K. Mandt
Richard E. & Helen Manley
Ms. Nancy J. Mann
Michael and Cynthia Marotteck
Sandra and Hans Marquardt-Kristensen
Carol L. Marshall
Ms. Lucy Marshall
Ben R. Martin
Mr. and Mrs. Wilbert Mason
Laurie Masover
Donald and Lynelle Massey
Elizabeth F. Massie
Janice Matsumura
Peter and Patricia Mattson
Ms. Ina F. Mauck
Alfred Mayerski
Dr. Randy H. McBride
Mr. John McCabe
Melanie McDaniel
Corinne E. McElroy
David McGinness
Cathy McIntosh and Jan Pardoe
Patrick Samuel McInturff, Jr. and Linda Joyce McInturff
Paul and Ellen McKaskle
Mr. and Mrs. Gordon P. McKay
Ms. Joan McLaughlin
Janice V. McLean, Ph.D
Elizabeth E. McManus, in memory of Tom McManus
Ms. Jeanne McMillan
Chris McMullan
Ms. Lynelle McNiel
Stephen M. McPherson
Michael Mecham
Patricia and Michael Meehan
Ms. Mary Lynn Meletiche
Joyce & Mark Mellander
Patricia Melosh
Brenda Melstein
Ms. Constance A. Menzies
Robert H. Menzies
John Mertes
Robert Meyers
Sally and Steven Meyers
Michaelson Family
Ms. Ginnie Mickelson
M. Miglio
Joseph Migliore
Mrs. Anadel Miller
Arnold Irvin Miller
Drs. William E. Miller and Ida Houby
Marilyn Millet
Janet Mills
Mr. Rene Minshew
Paul E. and Margaret A. Mistele
Billie Hopper and David Mitchell
Pat Michell
Mr. William J. Modica
Bea and Bob Moore
Ms. Linda Morasch
Mr. Charles C. Morehouse
John and Susan Moreschi
Keith Mason Morgan
Ms. Linda M. Morgan
Mr. Arthur G. Morley
Jim Morrison and Sonia Liu
Lynne Mowry and Ed Loweecey
Bob and Lyn Mangelsdorf
Richard and Janice Mullard
Ken and Madonna Mulmat
Wendy A. Munster
Joe B. Murphy
Philip and Cherri Murray
Adrienne V. Muschell
Ms. Barbara A. Nabors
David Nason
Mrs. Cynthia H. Neal-Harris
Mr. George F. Neavoll
R. Scott Neely
Russell P. Neff
Rose Lochmann and Michael Newhouse
June Newman
Robert S. Newman
Marilyn
(aka Nikki) Nichols
Mr. and Mrs. Ronald Nichols
Stephen and Joanne Nickerson
Iain & Margery Nicolson
Mark A. Noblett
Mr. and Mrs. Michael Norris
Ms. Marsha Novak
Maria Evelyn Nuque
Ms. Jean M. Nusbaum
Mr. Dave Olson
Paul O'Neil and Sally Flory-O'Neil
Martha and Robert Orton
Mary Keith Osborn
Dr. William J. Otto
William G. Owens, Jr.
Ms. Paula Palmer
Stephen and Amy Parlett
Mr. Donald J. Patrick
Margot Patrick
R. Lee Paulson
Dr. Helen Paulus
Mrs. Gale Payne
Candace C. Pelissero and Brian O. Larsen
Grant & Sue Perkins
Mr. Joel T. Perlstein
Lois and Eugene Perrine
Mr. Ken Peters
Ted Petersen
Mr. Kenneth B. Pettis
George Peyton
Ms. Dominique Peytraud and Mr. Ira Stein
Jay
Louise Pierce
Mr. Ronald F. Pierpoint
Gail VanBenthuysen Pigeon
Carolyn Burhenn and David Pinkernell
Annalee Pogue and M. A. McKiechan
George and Paulina Pollak
Judith Pond
Mr. Edward Carver Pope
Ms. Stephanie M. Pope
Mr. and Mrs. James* Powell
Ms. Patricia Powell
Linda and Robert Powers
Susan J. Puder
Polly Quick and Judith Flory
Ms. Lisa Kuhn
Sharon and Eric Rabichow
Mr. Philip Radford
Dorrit F. Ragosine
Ms. Judith Rappaport
Ms. Karen Ratzlaff
Mr. Roy Rausch
Reverend Kathryn W. Ravenwood
Ramona M. Raybin
Robert J. Reardon
Janis Reed
Ms. Laurie M. Reed
Thomas W. Reese, III and Amanda M. Reese
Mr. Peter A. Rennert
Ms. Myra A. Reybear
James Richardson & Susan E. Lynch
Robyn E. Rishe
Suzanne Ritchie
Mr. Daniel Robertson
Allan Robin
Theresa and Benjamin Robinson
Mr. and Mrs. Lynn P. Roe
Susanne C. Roessler, M.D.
Lola E. Rogers
Ms. Catherine M. Rose
Sally Schulz Ross
Shirley Louise Ross
Corinna Roth
Stephanie Rothman
Kathy Rowell and Matt Friel
Pamela L. Lowry and Allen Rozelle
Ms. Jacki Fox Ruby
Mr. Leif E. Rudd and Ms. Kimberly D. Accardy
Joan Rhea Russell
Douglas and Patricia Ryan
Rose Ryan
Mr. and Mrs. Richard W. Ryon
Isabel Sadurni
David and Shari Safianoff
Debra Sally and Ken Ling
Roger and Jeane Samuelsen
Mary Anne and Al Sanborn
Wendy Sanborn
Mr. Byril J. Sanders
Mr. Zachary B. Sank
George Sardina, M.D.
Robert Scarlett
Barbara A. Schaefer
John Scharffenberger
Richard Schechter
Mr. and Mrs. Farrel L. Schell
Brenda and Steven Schick
Barry and Libby Schiller
Jeff "Houndog" Schiller
Gloria G. and Karl F. Schlaepfer
Douglas Schmalenberger
Edward Schreiber
Mr. Theodore Schriefer, Jr.
D.W. Schuler
Mr. Robert R. Schultz
Triple Happiness Trust
Werner Schumann
Don and Bobbie
Ms. Margaret Z. Schwartz
Mr. and Mrs. Richard W. Scott
Mary Scott
John Scudder
Gary and Pam Sejkora
Ms. Marilyn Smolik Sequoia
Andy Shapiro
Ms. Helen N. Shapiro
Mr. Ned Shaw
Mr. and Mrs. Robert W. Shaw, Jr.
Mrs. Debra W. Sheehan
Estate of Peter Llewellyn Sheldon
John M. Sherman
Carolyn and Gregory
Christine Kimball Shewmaker
Kathy and Elliot Shubin
Ms. Ginny Siegel
Edward and Merry Sierecki
Ms. Vicki Sievers
David W. Siktberg and Jennifer H. Christian
Frederick C. Simon
Ms. Rae Lee Siporin
Daniella Siroskey & Irene Siroskey
Danielal Siroskey & Irene Siroskey
Ms. Lee Slaughter
Mr. and Mrs. Marshall G. Slaughter
Mr. Stephen M. Slivinsky
Mrs. Nordi Sloman
Ms. Marguerite Smiley
Mrs. Barbara S. Smith
Benjamin Steen Smith
Mr. David L. Smith
Douglas L. Smith
Ardith and Douglas Smith
Jeanie
Ms. Penelope Smith
Ms. Vicki Smith
Rev. Wendy M. Smith
Steve and Janet Snyder
Mrs. Sonia Allen Spalding
Andrea Speraw
Dr. Marcia J. Speziale
Dolores M. Sprague
Mr. John A. Srnka
Therese Stack
Ashleigh Stacy
Mrs. Ruth S. Stahl
Mr. John H. Staley, Jr.
Bruce E. Stangeland
Mrs. Jill Stanley
Ms. Claudia J. Starks
Ms. Erika Steffe
Carl Stein
John and Kathryn
Denise Stephens
Pamela M. Stephens
Steven Lavine and Janet Sternburg
Ms. Helen M. Stevens and Mr. Robert Stevens
Ms. Lois K. Stewart
Mr. and Mrs. Franklin Farrar Stockton
Dr. and Mrs. Donald Stone
Jennifer Kay Stone
Kandice Strako
Darylan Stratten
Mr. Edward A. Strojni
Mr. Timothy H. Stroud
Harold* and Geri Sullivan
Ms. Elin Linnea Swanson
Ms. Linda L. Swartz
Mrs. Lois Sweet
David W. Sweetser
Ms. Ruth A. Swenson
Karen J. Swope
Sandy Szanderek
John and Donna Taapken
Nancy Ruth Tague
Stephanie and Alan L. Tarkington
Mr. and Mrs. Nick Tary
Dwight Tate
Ms. Linda M. Tate
Dave H. Taylor
Mr. John D. Taylor
Ms. Patricia J. Taylor-Romero
Judy Teitler
Anonymous Catholic
Mr. and Mrs. Bob Thompson
Bruce Thompson
Lawrence H. Thompson
Mr. John R. Throne
William and Eleonore Thuemmel
Martin and Susan Tierney
Henry O. Timnick
David Toner
Mary L. Topliff
Anne McPherson Tracy
Harriette Treloar
Mr. Thomas Tucker
Mr. and Mrs. Jerry Ulrich
Anna Unkovich
Ms. Karin C. Uphoff
Mr. Richard W. Van Alstyne
Ms. Sandra Van Horn
Tuija Lisa Van Valkenburgh
Stephen J. Van Woert
Mr. and Mrs. Ed Vario
Katie and Joe Veni
Robert and Laura Venning
Carol Volk, DVM and Gary Korb
Carol Voorhis
Andrew Vought and Andrea Testa-Vought
Susan Vreeland and Joseph Gray
Jerry Vurek-Martyn
Dr. Paul Wachter and Mrs. Dorothy Wachter
James Wadsworth Foundation
David B. and Marvalee H. Wake
Mr. Kim C. Waldo
Glenn A. Walker
Beau and Nancy Walker
Mr. Thomas Walker
Wynne A. Walker
Ms. Holly Wallace
Janet Walters
Ronald G. Warfield
Mr. Glen Warner
Roxanne Warren
Shlomo Waser
James and Virginia Waters
Ms. Vanessa Watkins
Mr. and Mrs. Rich Watson
Mr. David S. Way
Linda Weaver
Jennifer Weber
Shoshana Wechsler
Shirley Weidner and Frederic Strong*
Nadine Weil
Mr. Michael Weinberg
Arlin Weinberger
Daphne and Stuart Wells
Mr. and Mrs. Frank W. Wentworth
Paul Werner and Patricia Smith
John D. West
Dr. Mariquita West
Ms. Hyla Wetherill
Tim M. Whalen
Marilyn P. Whelan
Mrs. Marilyn J. Whelan
Debra Reifman Whitall and Richard Whitall
Deborah Toll White
Lornie White
Nancy K. White
Steve Whiteman
A Gift in Honor of Harry Hicks
Jan Widdowson
John & Lynn Wiese
Kevin Wiest
Kenneth Wilcox
Ms. Ann Wiley
Mary and Jim Wilkins
Mr. and Mrs. Alan Wilkinson
Mr. Donald Willeke
Mr. Frederick T. Williams
Ms. Linda M. Williams
Patricia M. Williamson
Mr. and Mrs. Buron J. Wilson
Richard and Nancy Wilson
Dana
Mr. and Mrs. David Winkler
Daniel Wise
Drs. Jan and Edith C. Wolff
Jimmy Wong
Evelyn Katherine Woo
Mr. Forrest H. Wooldridge
The Woolley Family
Ted and Juliette Wrablik
Mary Wright
Ms. Betty Wrightson
Bryan L. Wyberg
Mr. Gerald S. Wysocki
Donald and Barbara Yara
Mr. and Mrs. Dennis H. Yarnell
Laurel Yost
Georgia Young and Peter Duyan
John T. Young
Ms. Sally Jo Dwilla Young
Anonymous (203)
Take Me to the Trees: A Redwoods Celebration
Annual Celebration
PRESENTING SPONSORS
($100,000)
Federated Indians of Graton Rancheria
Peggy Light
REDWOOD HERO
($25,000-$99,999)
Matt and Amy Berler
Mr. Ralph Eschenbach and Dr. Carol Joy Provan
Martha and Michael Helms
Rich, Cody and Katie Wendling
Anonymous (1)
REDWOOD CHAMPION
($10,000-$24,999)
Mr. Helge H. Bruckner
Barbara and Michael Calbert
Paul A. and Nancy E. Helman
Chris and Michelle Hoff
Brandon Keefe and Jennifer Latimer
John Krasznekewicz
Dave and Alette Mahler
John Scharffenberger
Michael Haddad and Julia Sherwin
Claire and Holden Spaht
Mike and Gretchen Wyatt
The Mervyn L. Brenner Foundation, Inc.
Anonymous (3)
REDWOOD GUARDIAN
($5,000-$9,999)
Christine Amini
Deborah and Daniel Bardon
Ben Bisconti
Bob Boughton
Rosemary Lyn Cameron and David Perper
Colby Hastings and Daniel Sachs
Douglas and Jami Kerr
Mr. and Mrs. John P. Montague
Mary Anne and Al Sanborn
Mr. Carl Shapiro and Ms. Marti Hearst
Carolyn and Gregory
Diane and Howard Zack
Sequoia Grove Winery
Anonymous (3)
REDWOOD TRAILBLAZER
($2,500-$4,999)
Landis Communications, Inc.
Will and Melinda Evers
Denise Garone and Stuart Kogod
Karin Kirchoff
Kathryn Lawhun and Mark Shinbrot
Marianna Leuschel and Peter Langlois
Katie Prescott
Mark and Katie Wentworth
Tim M. Whalen
Ze-ai and Jinn Wu
Georgia Young and Peter Duyan
Coastal Wilderness
REDWOOD CARETAKER
($1,000-$2,499)
Bruce and Betty Adams
Roger and Joanne Anderson
Fran and Steve Butler
James Campbell and Adam Gavzer
Nancy Cole
Gregory Davis and Karin Orsic
Ms. Deborah de Domenico and Mr. Charlie Martin
Paul and Sharon Eklof
Justin M. Faggioli and Sandra D. Donnell
John Fruehe
Mr. Kevin Gottesman
Amy Hansen
Ohrbach foundation
Katherine and Rad Hastings
Anna Henderson and Josh March
Sam Hodder
Sam Hodges and Aliisa Rosenthal
Bernard Hsiao
John Hsiao
Walker Kirby and Ines Guinard
Maria Lampasona
Joseph Laska
Riaz and Lily Moledina
Robert and Susan More
Karen Mosher
Suzanne Moss and Herb Kasler
Stephen and Amy Parlett
Janet and Ben Pruden
Ramona M. Raybin
Jacob Saper and Dannie Herzberg
Robert Scarlett
Bruce and Barbara Schmidt
Cynthia Shen
Jennifer Tapken
Abe and Kelly Tarapani
Gerard and Kathryn van Steyn
Martin Vanderlaan
Mordechai and Barbara Winter
Anonymous (2)
Gifts In-Kind
Coastal Wilderness
Humboldt Distillery
Headlands Brewing Company    
Julia Sherwin & Michael Haddad
Sequoia Grove Winery   
Westport Hotel
Grove Dedications
April 1, 2022, through March 31, 2023
Butano State Park
Pamela Jean Farrell Memorial Grove
Forest of Nisene Marks State Park
Tom and Beth Hinkle Memorial Grove
Grove of Old Trees
Robert L. Dixon and Maricela Perdomo ArtBlocks Grove
Humboldt Redwoods State Park
Daniel Ross Gallie Grove
Laurie Macdonald and Peter Belmont Redwood Grove
Jedediah Smith Redwoods State Park
Daniel Ross Gallie Memorial Grove
Limekiln State Park
Starr Family Grove: Remembering Sherman, Virginia, Lenora, Roxanne, Katherine and Robert
Navarro River Redwoods State Park
Vernon F. Vikingson Memorial Grove
Prairie Creek Redwoods State Park
Daniel Ross Gallie and John A. McCabe Grove
Purisima Creek Redwoods Open Space Preserve
Pam and Jan's Grove
Wilder Ranch State Park
Robert A. & Lawanda L. Hanson Family Coastal Grove
Evergreen Members
Evergreen Members make an important monthly commitment to the redwoods and provide stable support for our work to protect and restore redwood forests.
Susan Abby
Laura Abernathy
Jennifer Abouav
Laura Achee
Joanne Adams
David Adams
Amanda Marie Adams
Mr. Jon Adams and Ms. Elise E. Eichhorn
Andrea and Bruce Adams-Morden
Marion Adeney
Elizabeth Aebischer
Briana Aguilar
Mirabel Aguilar
Kathleen Ahern
Mr. Christopher Ahrens
Dorothy Aicega
Mrs. Gail Akamine and Mr. Edward Akamine
Neslihan Akbas
Mr. John J. Akielaszek
Ms. Nancy E. Albertson
Sierra Alder
Ms. Anita S. Alexander
Amanda Alford
Mr. Mark Allen
Nancy Allen
Lynn Alley
Mr. Brent Almond
Carl And Murray and Murray Altman-Kaough
Mr. Gary H. Alton and Mrs. Cherie E. Alton
Dr. Seth David Ammerman
Guri Andermann
Jon Anderson
Katherine Anderson
Nancy Anderson
Laura Anderson
Mr. and Mrs. Jeremiah W. Anderson
Michelle Anderst
Paul Andrews
James Angley
Dana Arkinzadeh
Gail Arnold
Ms. Julia Arnold
Mrs. Charlotte Arnstein and Mr. Walter Arnstein
Deborah Aron
Peter Arrant
Ms. Atoorina Arsenous
Ms. Janet I. Ashford
Samuel Ashman
Mr. James L. Atkinson
Terry E. Attwood
Lora Attwood
Delayne Auerbach
Christine L. Aus
James Austin
Darshana Avila
Ms. Debora Babe
Caleb and Claudia Bach
Sandra Madsen Bachand
Ms. Chantal Bade
George Badger
Mary Baiamonte
Eric Bailey
Iva Baird
Juan Baires-Adair
Barbara Baker
Ms. Catherine Baker
Ms. Brenda J. Baker
Paulianne Balch-Rancourt
Cynthia Ballard
Mr. Michael Banks and Mr. John Kramer
Robin Baral
Alex Barber
Nancy Barcellona
Ms. Jan Bargen
Jeffrey Barker
Rebecca Barnes
Bradford Barnhardt
Robert and Penny Barron
Ursula and Immanuel Barshi
Magdalena Gloria Basaldu
Laura Bassi
Mr. Jay Baum
Terry A. Baxter
Mr. Thomas B. Bayer
Mr. Peter A. Beaver
Joe Becerra
William Beck
Michael Becker
Jani Beckett
Ms. Mary Beight
Mary Bell
Jeanette Bellaci
Dr. Kirstie Bellman
Alex Benjamin
Dorothy Bennett
Keith Bentz
Ms. Judith I. Berger
George L. Berlacher
Mr. and Mrs. Martin Berman
Mrs. Joyce Berner and Mr. Alan C. Berner
Judith and Steven Bernstein
Kate Berry
Mr. Charles J. Betlach, II
Marjorie Betz
Regina Bianucci Rus
David Biegelsen
Judith and Robert Biehler
Mr. John Bigler and Ms. Deborah Lidgate
Bruce and Petra Bingham
Jim Birch
Christopher and Sean Bisch
Sadie Roberta Black
Mrs. Joan Blackham
Kathryn Blanchard
Samuel Blau
Traci Bliss
Susan H. Blomberg
Victor Bloomberg
David Bochner
Ms. Carol Bodeau
Ron Boeck
Bill Boehler
Martha Boesenberg
Ms. Nancy M. Bollero
Despina Bonadies
Eunice Bonaparte
Mr. Anthony Bond
Mr. and Mrs. H. Charles Bone
Ann and Jay Bonestell
Beth Bontley
Mike Borders
Leon Isaac Boroditsky
Suzanne Borstad
Daniel Bort
Elizabeth Bortolotto and Robert Bortolotto
Milton Bosch
Rob Boughton
Grant Boyadjian
Mr. Mark S. Boykin
Mr. Michael M. Boyle
Mr. William M. Brabender
Janice Bradley
Stuart Bradley
Mr. John W. Brady, Jr
Courtnay Bragagnolo
Benjamin Brand
James and Carol Brandenburg
Marilyn Braudrick and Arthur C. Braudrick
Joseph and Loyce Braun
Alexandria Brava
Patricia Bremicker
Nathan Brennan
Ms. Isabel Breskin
David and Anita Brew
Carol Brewer
Donna Brewster
Dawn Bridson
Margaret Ann Briggs and Douglas R. Thompson
Aaron Brinkerhoff
Mr. and Mrs. William J. Britton
Ms. Danielle Broelinckx
Bette Brohel
Ms. Shari Brooks
William and Candace Brooks
Antoinette Brooksher
Jeremy and Shelley Brott
Ms. Donna Kathleen Brown
Douglas Brown
Catherine Brown
Louise Brown
Beth L. Brown
Mr. David Bruce Brown
Valerie Brownrigg
Jeanette Bruce
Nina and Frank Brunetti
Connie Brunig
Ingrid Brust
Linda Bryant
Joanne Buckley
Sue Buckner
Shauna Buckner
Charles Burgess
Kathleen Burke
Julia Firmian Burke
Erika and Alton Burkhalter
Steve Burkholder
Bob Burkle
Denise Burns
Mr. and Mrs. Thomas H. Bushaw
Judith Bushey
Julie Bustamante
Lisbeth Butler
Jo Ann Byler
Eugene Cabana
Stephanie Cabral
Mark Cabral
Daniel A Caeton
Donald Caldwell
Ms. Terrea L. Callahan
Kris Campanale
Mr. Ethan Campbell
John Campbell
Marianne and Barrie Campbell
Ms. Norma Campbell
Rebecca Canright
Claude Cantin
Blanca carbajal Gonzalez
Virginia Carder
Ms. Elizabeth J. Carlisle
Ms. Brooke A. Carlson
David Carlson
Alan Carlson
Ms. Emily M. Carlton
Martha and Paul Carpenter
David and Kathleen Carr
Velma Carroll
Win Carson
Margaret L. Carter
Ms. Nancy Castle
R. Frances Chadwick
Ms. Diana L. Chamberlain
Roberta Chamberlain
Mr. Matthew Chamberlain
Erica Chan
Bonnie Chan
John Chao
Mr. James H. Chapman
Steven Chapman
Robert B. Chapman
Silas Chapman
Courtney Chaves
Jackie Cherry
Lywen Chew
Thomas Chow
Susan Christ
Kaerli Christensen
Mary Cialella-Smith
Melissa Ciandro
Nicholas Cicchetti
Ceil Cirillo
Margaret Clancy
Mr. Michael Clancy
Jonathan Clark
Ms. Ellen M. Clark
Christopher Clark
Julie Clark
Julianne Clark
Kathleen Clarke
Ms. Nova Ann Clarke
Ms. Suzan Clausen
Mr. and Mrs. Bob Claypole
Sherry Clements
Mr. David J. Clover and Mrs. Kristi A. Clover
Brian Cobb
Ms. Eda M. Coburn
Wendy Cohen
Genevieve D. Colborn
Ms. Judith Collas
Barbara Collins
Theresa Collins
Mr. David A. Collins
Mrs. Iris J. Colwell
Ms. Megan G. Colwell
Glenda Combs
Matthew Comer
Ms. Sandy Commons
Patricia Compton
Chris Conard
Michael Conley
Neil Conner
Mr. Stephen Joel Coons
Kathy Coots
Nathan Copeland
Mr. Craig Corbett and Ms. Carol Lawson
Michael Cordero
Anne Corning
Diane E. Cornwall
Sm Corral
Rebecca Corruccini
Carla Corwin
Marilyn Cossey and Darrell Hogan
Linda Cotrufello
Janet E. Covell
Ms. Whitney Covington
Mr. Andrew W. Cox
Sandra Crampton
Janis Crandall
Dr. Galen Cranz
Mr. and Mrs. Philip E. Crenshaw
Mr. Thomas Creswell
Les and Muna Cristal
Linda Cromwell
Ms. Carol J. Cullins
Janice Cumming
Ms. Victoria E. Cummings
Margaret A. Cunningham
James Cunningham
Ms. Joan Curtis
Clara Curtis
Ms. Christine Curtis
Cecil Cutting
Sandra Cutuli
Danielle Cvitanich
Vincent Dagostino
Eileen Dalton
John Daniel
Viv Daniel
Stacey Daniel
Robert Daniels
Mary Anne Dann
Yannick Dassignies
Beverly Dattilo
Ms. Deanna L. Davenport
Anne Davenport
Ms. Yvonne Davidoff
Thomas J. Davids
Patricia Davis
Mr. Kenneth Davis and Ms. Linda Paul
Gail Davis
Francesca Davis
Mr. and Mrs. Audel G. Davis
Daniel Davis
Mr. Clay Davis
Nancy Dawson
Arwin de Boer
Teddy de Groot
Ms. Margaret De Jong
Maria De La Fuente
Ms. Brenda Neal De La Ossa
Mr. Bruce W. De Terra
Paul De Waard
Antonio De Wolk
Susan Deal
Keishyra Dean
Mr. Don Dearborn
Lisa DeChiara-van de Grift
Laura Deck
Christine Decker
Mr. Marlin Deckert
James Dees
Daren Deffenbaugh
Mr. Dale C. Deffenbaugh
Darren Deffner
Ms. Antonia Dell
Wendy Delvalle
Tarah Demant
Patricia Denn
Mr. Daniel Dennison
Mariko Denton
Dee DePriest
Sean Catherine Derek
Laura and Kim Detiveaux
Jodi Detjen
Mark Detterman
Melissa Devine
Namrita Dhillon
Garry Diamond
Chris Diani
Mary Dias
Silvia Diaz
Ellen Dice
Amy Dickie
Brenda Dickson
Ariel Diertani
Ellen Digiampaolo
Mr. and Mrs. John Dillon
Mr. Reed K. Dils and Mrs. Karen K. Dils
Ellen Dimler
David and Nicki Dinette
Tom Dipaolo
Mr. and Mrs. Dan M. Dixon
Brian and Karen Dixon
Ms. Anne Dobrzynski
Aaron Dobson
Mr. and Mrs. Richard F. Docter
Lowell and Diane Dodge
Mr. Jackson M. Dodge
Linda Dodson
Virginia Dole
Roger Domrois
Rosemary Donaghue
John Donahue
Vicki Donatell
Dennis and Patricia Dong
Ms. Alexsana Donne and Mr. Jeff Hartlove
William E. Donnelly
Joan Donovan
Laura Dooley
Ms. Bonnie L. Doran
McCormick Douglas
Scott Douglas
Meghan Dow
Doreen Drake
Edin Draper-Beard
Sarah Drennan
Mrs. Ruth Dresher-Brown and Mr. Vern Brown
Chris Drew
Edith Drury
Edwin Duerr
Quinton L. Duke
Beth Duncan
Kathryn Dunn
Mrs. Andrea K. Dunning and Mr. Richard T. Dunning
Edmund Durso
Dr. Noel O. Dybdal
Debbie Dyke
Pamela S Dymsza
Maggie Ebenstein
Stacey Ebiner
Beverly Eden
Philip Edwards
Roberta Edwards
Irene Ehret
David Eichelberger
Kathy Eisaman
Dustin Elliott
Ed Elliott
Patricia Eltahtawy
Peggy Elterman
Mr. Richard W. Ely
Noah Emery
Ted H. Emigh
Elizabeth Emmel
Monica Eneriz-Wiemer
Nichole England
Jeremy Enos
Melissa Enright
Patricia L. Erb
Richard and Helen Erdman
Dave Erichson
Mr. Michael D. Erickson
Bethany Erickson
Penni and David Ericson
Thomas L. Ervin
Angel T. Escobar
Antonio Esparza
Sally Esser
Elaine Estrada
Claire Etcheverry
Neil and Saskia Etling
Jennifer Eubanks
Jeremy Evans
Luci Evanston
Chris Eves
Alexander Fabian
Mr. Carl A Fagerskog
Mr. and Mrs. Francis H. Farrell
Mrs. Ann Faut
Judith Favor
Ruth Feldman and John Crevey
Nancy Ferrari
Amalia Ferry
Lydia Fey
Ms. Alice Fichandler
Mr. James T. Field
Dr. William Finch
Mr. and Mrs. Scott H. Finley
Bob Finstead
Mr. and Mrs. Bruce Fisher
Eric and Janice Fisher
Leslie Fisher
Jay Fisher
Dr. and Mr. Claire E. Fitch
Barbara Flagg
Abel G. Flamenco
Jeremy Fleischman
Elizabeth Fleisig
Jonathan Fleming
Charlayne Fliege
Rudolph Flinker
Mayra Flores
Marvin Flyer
Ms. Pamela D. Flynn
Sandra Foehr
Dr. Jeanne C. Folks
Taunya Foote
Margaret and William Forbes
Mr. and Mrs. Carl Ford
Ms. Melissa Ford
John-Scott Forester
Dr. Eve R. Forrest
Mr. Douglas J. Forsell
Alice Forsyth
Ron and Charlene Foster
Ms. Theresa Anna Foster
Marilyn Fowler
Deborah Fox
Ms. Marcia A. Frahman
Karen Frank
Michael and Nancy Frazier
Ms. Judy Frazier
Cathy Freedland
Mr. James Freedman
Jamison Fregulia
Mr. Harry A. Freiberg, III
Joshua Friedlein
Susan Friedman
Mr. Kenneth Friedman
Norma Fritsche
Gottfried Fritz
Katherine and Herbert Fromm
Ms. Ellen Fujikawa
Yukisato Fujita
Kristina Fukuda
Judy Fukunaga
Mr. Steven Fuller
Kyle Furlong
Carol Fusco
Mr. James W. Galvin
Vincent Gannuscio
Bill Gardner
John Garfinkle
Greg Gargiulo
Larry Gasco, Ph.D.
Patricia Gaston
Damon Gay
Michael and Kristine Gellerman
Kim George
Mr. Paul Gepts
Connor Geraghty
Ms. Loree Gerboth and Dr. Linda Zimmerman
Cindy Germain
Ms. Marilyn Gibbs
John Giguette
Cameron Gil
Nancy Gilbert
Ms. Sally Gill
Ms. Andrea Gilliatt
Jeffrey Gilman and Carol Reif
Suanna Gilman Ponce
Meg Gilmore
Mr. Charles H. Ginsberg
Debbie Gioia
John and Dorothy Givens
Mr. and Mrs. Michael Gjerde
Dennis Glass
Robert Glaze
Rosemary Glos
Sherna Gluck
Robert Godes
Geoff and Marilyn Godfrey
John Goebel
Fred J Goebel
Mansi Goel
Alex Goergen
Jonathan Goerke
Ms. Margaret D. Goetze
Mary Goidwin
Leslie Gold
Mr. Peter Goldberg
Michael Goldman
Matthew Goldman
Mr. Ralph Goldsticker
Charlyn Gollogly
Bob Gomez
David Gonzales
Margrit Gonzalez
Vincentt Gonzalez
José G. A. González
Risa Goodman-Rice
Beau Goodrick
Ms. Anne Gordinier and Mr. Todd Gordinier
Ms. Barbara R. Gordon
Mr. Gregory Edward Gorman
Gregory Gorski
Taylor Graham
Jay Gray
Anne Greeley
Rebecca Green
James and Olive Greene
Emeraldivyoak Greenwood
A. Scott Greer, Ph.D. and Mrs. Rima B. Greer
Christine Greer
John Greiten
Elysabethe Greyrose
Gail Griesmer
Tami Griffith
Richard and Dianne Grimard
Bruce Grobman
Ms. Catherine E. Gross
Drew and Carol Gruenburg
Mr. Brett R. Grundl
David Grunzweig
Maie Grynick
Thomas and Nina Gschneidner
Isabel Guajardo
Richard Gudorf
Robert Guercio
Fred and Lynn Guest
Mrs. Ann A. Guild
Angela Guzman
Eleanor Haase
Mr. Jon H. Haber and Ms. Bonnie Levin
Richard Hack And Suzan Ben-Poorat
Mark Hackett
Vince Hackley
Michael Haeger
Regina Haemel
Mr. and Mrs. Doug M. Haigh
Alina Haigler
Frank Haist
Jeremy Hakes
Ms. Margaret Rita Halbeisen
Carol Halberstadt
Diana Hall
Mrs. Stacy A. Hall
Austin Hall
Roger Halstead
Judith Hamill
Tim Hamill
Maurice Hamington
Mark Hamlin and Family
Mr. Robert Hammes
Mr. Thomas Hanley and Mrs. Carol J. Hanley
Mrs. Vickie Hannah
Mr. and Mrs. James S. Hans
Amy Hansel
Erik and Marian Hanson
Bill Hardgrave
Mr. Robert F. Harless, Jr.
Susan Harper
Mr. Barry Harper
Ms. Laurel A. Harris, D.V.M.
Susan Harris
Carroll Harris
Ronda Harris
Mr. David M. Harrod
Mrs. Christina G Harshell and Mr. Thomas E. Harshell
Mr. Douglas B. Hart
Mr. David Hartley
Dr. Peter Hartline and Rebecca Kucera
Arianne Hartsell-Gundy
Mr. and Mrs. Harold Eric Hasenbeck
Joshua Hash
Ms. Kathleen A. Haskett
Ms. Joan Helene Hasselgren
Amber Hasselman
Leslie Hassett
David and Karen Hassig
Ed Hasson
Willard and Mary Ann Hastings
Taylor Hatcher
Christopher and Victoria Hays
Pamela Hazen
Jess Hazlewood
Susan Head
Mr. and Mrs. Stanley Hecht
Daniel Heckman
James Hefel
Kelsey Hefner
Bonnie Heikes
John and Lois Heinsius
Jack and Terry Heintz
Caroline R. Helmuth
Jeff Hendricks
Mr. and Mrs. Gerald T. Hennessey
Ms. Maureen Hennessy
Melissa Henriksen
Jerry Hentzler
Weston Hermann
Carlos Hernandez
Lynda A. Hernandez
Natalie Hernandez
Ms. Anna Marie Hernandez
Kenneth Herrington
Alan Herro
Rebecca Herron
Sonja Hersorn
Julian Herszage
Ms. Noreen Herzfeld
Mr. and Mrs. John D. Hewitt
Mr. Steve R. Hibshman
Jeanette Hill
Eric Hill
Mr. Michael A. Hindery
Sarah Hinds
John Hirst
Helen Hobart
Mr. Jonathan Hofer
James Hoff
Mr. Michael E. Holland
Robin Holloway
Ellen Holmes
Catherine Homsey
Christina Honde
Ms. Mary Hood
Robert Hopkins
Kimberly Horner
Marjorie Hoskinson
Mr. Larry G. Houghton
Andrea Houghton
Ms. Margaret C. Howard
Hauke Hoyer
Ms. Colleen A. Hoyt
Nancy Hubbs-Chang
Mr. Gregory D. Huber
Victoria Huber
Ms. Sally Smith Hughes
Marvin and Lise Hull
Rose Hulls
Holli Hume
Ann Hung
Martha Hunkins
Mr. Paul G. Hunrichs
Robert Hunt
Megan Hunter
Jan Hunter
Eileen Hunter
Mr. Joel W. Hurd
Janine Hurd-Glenn
Samuel Hurley
Heidi Hutchinson
Socorro Huynh
Ms. Dawnell Ibsen
D Ibsen
Keith Ignatowicz
Debra Ingebretsen
Curt Ingram
Sharon Inkelas
Mr. Roger Innes
Douglas L. Iszard
Anton Ivashov
Rebecca and Julius Ivester
Barbara Jackson
Pam Jackson
Heather Jackson
Sharon Jacoby
Joyce M. Jaecques
Judy Jaeger
Carrie James
Mrs. Gail Jarocki
Thomas and Kathleen Jaudzemis
Jeffrey Jennings
Tyler Jensen
Hope Jessup
Ms. Connie Jeung-Mills
Dr. and Mrs. Ervin J. Jindrich
Megan Johannsen
Jennifer Johnson
Kent Johnson
Stephen Johnson
Stuart Johnson
Kent Johnson
Kelly Johnson
Allison Johnson
Monica Jolley
Mrs. Susan Jonas
Paul Jonckheere
Mr. Phillip W. Jones
Robbyne Jones
Randall Jones
Dan Jones
Clayton Jordan
Heath Jorgenson
Alfred Kagan
Mike Kahn
Mr. and Mrs. Carl J. Kalb
Cathy Kalbach
Patrick Kaliski
Anna Kaminska
MacKenzie Kamm
Frederick Kamp
Patricia Kampmann
Rebecca Kanow
Sandra Kaplan
Homa Karimabadi
Mr. Ronald E. Karp
Irwin Karp
Peter Karsten
Mr. and Mrs. Jacek Kasprzycki
Robert Katrein
Michael Kauffmann
Charles Kaufmann
Ms. Louise Kefelian
Sabina Keif
Ember Keighley
Nancy Keita
Ms. Valerie Kelleher
Nancy Keller
Carl Kelley
Jacolyn Kelly
Dorothy Kemeny
Robert Kempf
Dr. Vaughan Kendall
Christopher Kennedy
Mr. Geoffrey Kennedy
Philip Kenney
Pierce Kenny
Eileen Keremitsis
Mr. William S. Kerr
Ms. Lisa N. B. Kerr
Ms. Candace Key and Christopher Ross
Ms. Penelope Khounta
Marshall Kilduff
Yun Kim
Bonnie Kimball
Elizabeth King
Matt King
Ms. Jennifer King and Ms. Melissa Holmes
Leonard Kinland
Karin Kirchoff
Rachael and Matthew Kirk-Cortez
Martin Klein
Max and Elizabeth Klicker
Michelle Klimesh
Ruth Klingbeil
George Klipfel, II
Ms. Diane L. Knight
Edward Knox
Kei Kodani
Joseph A. Kohanski and Dr. Debra L. Cherry
Charles & Diana Kohler
Jeanne Kolar
Ms. May Koo
Neenu Koomullil
Ms. Jaime C. Kooser
Taber L. Kopan
Ms. Mitzi A. Korb
Dr. C. William Korbonits
Denise Kostbar
Karen Kostishack
Daniel Kozlowski
Dr. Dorine G. Kramer
Susan Kramer
Mia Krantz
Janine Kreck
Yekaterina Krimer
Vikram Krishnamurthy
Marsha Krohn
Petr Krysl
Martha Kryszczuk
Ms. Janice Kucera
Dennis Kujawa
Mr. Nitin Kumar
Michelle Laasi
Daisy Labao
Ming Lacey
Geri LaChance
Jeff LaCoss
Justin Lacy
Terra Laggner
Julie Laird and Lisa M Rudolph
Linda Lake
Mrs. Janet M. Lakin
Lucia Lam
Ms. Jan Lamborn
Jennifer Ward Lamont
Sarah Lampi
Jacob Lang
Mo! Langdon
Charles Langford
Margaret Langhans
William Lanier
Francine Lapides
Ms. Caryla J. Larsen
Sara Larsen
Ms. Elaine Larson
Linda Larson
Joseph Laska
Dyanne Lathan
Mr. Mark Laubach
Mr. David Lauder
Linda Lawley
Lisa Lawrow
Nicholas Lea
Jacob Lebowitz
Dr. Christiane Lechner
Isabelle Lecun
Jeri and Ken Ledenbach
Ms. Diana L. Lee
Shelby Lee
Ms. Hilda J. Leefeldt
Mrs. Renee LeFevre and Mr. Thomas Warnock
Nan Lefforge
Deborah Legawiec
Benjamin Leikin
William Leisen
Patricia Leitner
Ms. Sean Elizabeth Lemert
Victoria Beckner and Russell Lemle
Tess Lengyel
Margot Lenhart
Andrew Lennox
Mr. and Mrs. Douglas J. Leo
Reynaldo Leon
Paula Melisa Leon
Cynthia Leslie-Bole
Ms. Deborah Letourneau
Mr. and Mrs. Dennis O. Leuer
Susan Levick
Dr. and Mrs. David L. Levine
Lauri Levine
Millicent Levy
Mr. Michael R. Lewin
Karl Libsch
Maria Liebel
Herb Liebelt
Robert Ligocki
Sheri Lilienthal
Ms. Lilith
Linda Lim
Julia Lin
Monica Linares
Justin Lindenberg
Terris Linenbach
Peter Linton
Kenneth Linville
Heidi Lipnisky
Layne Lisser
Barbara Liszeo
Mr. David Littlejohn
Mr. Hank I. Liu
Summer Lizer
Kathi Lohmann
David and Lori Loiselle
Han-Yu Loo
Catha Loomis
Donald and Nancy Lorenzen
Robert Loucks
Ms. Linda Loughrin
Mr. and Mrs. Larry Lousen
Diane Loux
Mr. and Mrs. Craig W. Lowe
Carol Lowe
Richard and Ellen Lowenthal
Ms. Katherine Loyd
Patricia Ludemann
Dr. Gary Ludi
Rivka Lund and Philip Dito
Maureen Lundy
Ms. Suzanne Lutz
Ms. Linda Lyerly
Linda Lyerly
Susan and Michael Lyon
Terrence and Nancy Lyttle
Mr. Kelly Maas
Dr. Jason Macario
Carolyn MacDougall
Sandra Macgregor
Margaret and Lawrence Maciborka
Claudia Mackey
Douglas E. MacLaughlin
Ms. Lucy E. MacLeitch
Ryan MacMullan
James E. Maddux
Dianna K Madsen
Kasey Magallanes
Ms. Joan Maguire
Ms. Claire Mailhiot
Anthony and Alice Maistrovich
Jose Majica
Mr. Buster Maloney
Erica Maluski
Candy Mancuso
Barbara Mand
Juanita Mangan-Van Ham and Lee R. Van Ham
Melinda Manley
Dennis K. Mann and Karen E. Revay
Ivonne Manzo Sanchez
Sally Marie, M.D.
Ms. Sharyn B. Marks
Mr. Jeffrey H. Marks
Michael Marks
Jim Marley
Michael and Cynthia Marotteck
Mrs. Sandra M. Marquardt-Kristensen
Mr. Jesus B. Marquez
Greg Marquez
Janis Kay Marsh
Dr. Jon B. Marshack
Ms. Sharon A. Marshall
Joanne Martin
Kai Martin
Dr. William H. Martin
Maritza Martinez
Craig Martz
Carolyn and Edward Maruggi
Ms. Laurie Masover
Mr. Darius DeBoer Massoudi
Christian Masuda
David Matson
Ms. Claire Ellen Max
Ms. Tracy S. Maxwell
Al Mayberry
Lynn Mayeda
Dorothy Mayeda
Linda Mazzone
Patricia McCabe
Susan McCabe
Ms. Eleanor McCalla
Mr. Charles J. McCarthy, Jr.
Cindy McCarthy
Kylie Mcclernon
Kevin McCloskey
Mr. Alan McConigly
Sandra McCormick
Michael McCracken
Brad and Jennifer McCullough
Amanda McDavid
David McDonald
Nancy McDowell
Mr. Timothy L. McGarry
Ms. Margaret A. McGuire
Phyllis McIntosh
Jacqueline McKenna
Mr. Scott McKercher
Lynne McKinnis
Ms. Miriam McLeod
Mrs. Elizabeth McManus
Rich McMillan And Bruce Hill
Grant McMurry
Mr. Kevin McShane
Charlene McSweeny
Susan Rabia Rachel Mead
Devon Meadows
Gail & Robert Meave
Ms. Piri Mee
Mary Megalli
Martin and Lissa Mehalchin
Edward Mehigen
Gretchen Meier-Jurica
Linda Meisinger
Daniel Melin and Katie Dhuey
Andrew Melnick
Ms. Michelle C. Mendoza
Crystal Menham
Alison Mercer
Trish Mercurio
James and Katharine Merrill
Ms. Lindsay Merryman
Russell Mester
Ms. Jean Frances Meyer
Lynn Meyer
Wesley Meyers
Ms. Ann S. Meyers
Theodore Michels
Joseph L. Mickelson
Danielle Mieler
Ms. Kelly Miess
Matthew Miksak
Jasmine Milani
Ms. Kathleen Miles
Henry Milich
Peter Miller
Mr. Robert O. Miller
Mrs. Anadel Miller
Jennifer Miller
JD Miller
Kevin and Rosalyn Miller
Mrs. Christine Miller
Mr. Richard Mills
Jason Mills
Marcheta Allen Mines
Martha Ming
Miriam Minkoff
Traci Minton
Cynthia Mirsky
Pat Mitchell
Jessica Mitchell-Shihabi
Dan Mixer
Valerie Moberg
Charles Modjeski
Caitlin Moneypenny-Johnston
Amato and Olive Mongelluzzo
Katherine Monges
Mr. and Mrs. Philip A. Mongrain
Mia Monroe and Stephan Meyer
Bruce Montgomery
Janet T. Montpas
Macy Moody
Berta Moore
Mr. Donald D. Moore
Dallas Moore
Erin Moore
Ms. Linda Morasch
Bruce and Andrea Morden
Joseph Moreira
John and Susan Moreschi
Ms. Linda M. Morgan
Ms. Kristin Morgan
Shelly Morgan
Danielle Moriarty
Sarah Moritz
Rebecca Morris
Ms. Alexis Morris
Ms. Frances C. Morrison
Adam Morrone
Melissa Moss
Mrs. Alison Mary Ellen Mothersbaugh
Ms. Lynne Anne Mowry
Ms. Cindy Moyer
Jeremy Mumford
Maric Munn
George and Julie Munoz
Ms. Phyllis M. Murphey
Margo Murphy
Carole Murphy
Dr. Michael A. Murphy
Elizabeth Murray
Zachiah Murray
Dr. Narmeen Nabil
Judith Naginey
Ms. Yvonne Nantais
Chris Nappo
Payton Narancic
Kim Naru
Tina Nation
Seth Naugle
Russell Neff
Ms. Victoria L. Neff
Lauren Nelson
Ms. Betty Nelson
Connie Nelson
Gregory Nessier
Carolyn Nettles
Mr. Timothy Newlin
Rae Newman
Dan Nice
Mr. John W. Nichols
Alexandra Nichols
Helen Nickerson
Meredith Nielsen
Ms. Karen E. Nielsen
Ms. Kathryn M. Nikkel
Elsa Nilsson
Mr. John M. Nisley
Ms. Cynthia Noel
Ronald Noelle
David Noily
Mr. Mark A. Nokes
Antoinette Nolan
Brian Norden
Mr. and Mrs. Stephen J Nordquist
Ralph E. Nordstrom
Gretchen North
Ralph Norwood
James Noss
Sharon Notari
Amanda Nuckolls
Connie Nunemaker
Ms. Denise L. Nunley
Pauline Nutt
Lee Nye
Christopher OBrion
Steve Oconnor
Joan Ogden
Jan and Cliff Ojerholm
Ms. Heather Okvat
Sean Oldham
Sharon Olds
Joanne Olecko
Ms. Mary Jeanne Oliva and Mr. Robert Stephen Estes
Stephen Oliva
Terri Oliver
Carol Oller
Lynne Olson
Lauren and Michael O'Malley
Austin O'Malley
Alan O'Neal
Mr. and Ms. Paul L. O'Neil
Mr. and Mrs. James O'Neill
Patrick O'Reilly
Ms. Arunima Sharon Orr
Larry Orr
Rory Osborne
Martha Osofsky-Thorpe
Ms. Maureen Osolnik
Aminy Ostfeld
Mr. and Mrs. Mark Ostrau
Mr. and Mrs. Michael O'Sullivan
Maria Owen
Alyssa Owens
Susan Pace
Emily Packey
Jill Packham
Monica Padilla
Laila Page
Dean A. Painter
Mr. Matthew Painter
Seth Pair
Theodore Palfini
Cynthia Palmer
Donald Palmer
Claire Panetta
Kelly Paquette
Shirley Park and Christopher Yang
Nancy Parker
Martha Parker
Betsy Parker
Heather Parker
David C. Parkes
Janet Parks
Janet and Andrew Parks
Deborah and Rick Parks
Andre Parrish
Mr. and Mrs. Harry R. Parsley
Karin Patterson
Thomas Paukert
Raymond Paulson
John Paysinger
Mr. Christopher Pearson
Ellen Peck
Rodney Peck
Robin Penn
Sherryl Pennell
Erin Perez
Ms. Victoria C. Perizzolo
Jackie Perkins
Debbie Perkins
Elizabeth Perl
David A. Perozzi
Mr. Michael Perrier
Kirk Alan Pessner and Russell H. Miller
Jane Peterson
Judy and Jeff Pfau
Mr. Bruce Phelps
Caren Philips
Michael and Deborah Piattelli
Ms. Elizabeth J. Piburn
Ms. Ellen Pimentel
Ms. Kathleen L. Pinches
Nancy Pineda
James Piper
Dorothy Piranian
Amadeus Pirrotta
Steve Pitre
Jill Pixley
Willow Platts
Dorothy Platz
Paula Pociecha
Regina Pohl
Ms. Barbara M. Poland
Mrs. Jane H. Pollis and Mr. Steven Pollis
Mr. Edward Pool
Horacio Porath
Mr. Terry Porter
Ms. Bonnie Portnoy
David Posner
Susan Posner
Claire Potstada
Corrie Potter
Ms. Angie Price
Nora Privitera
Sam Procter
Waverly Provenzano
Roslynn Pryor
Mary and Frank Puglia
Mr. Donald Putnam
Ernie Pyle
Mr. and Mrs. Timothy Quinn
Teresa Quinn
Steven Raby
Judy Raddue
Alan Radke
Mr. Jermaine Raymond Raffety
Mr. and Mrs. Carlton L. Ragland
Elizabeth Raible
Dr. Fred R. Raleigh
Anthony and Jean Ramirez
Matthew Ramirez
Samuella Ramsey
Mark E Randall
Mr. and Mrs. Kenneth Rankin
Camille Rapaport
Merv Rasmussen
Marjorie A. Rasmussen
D.H. Rasweiler
Karen Rath
Sharon and Art Raya
Mr. Richard G. Rayburn, Jr.
Ms. Amy Lynne Reams
Stacey Redman
Forest D. and Holly Redwood
Mark E. Reed
Becky Reed
Marie Reeder
Ms. Delores C. Reha
Michelle Reichhold
Sondra Reid
Marilyn Reidy
Arnold W. Reinsch
Kurt J. Reisenberg
Linda Remy
Mr. Peter A. Rennert
Mr. John M. Rentchler
Virginia Reter
Ms. Laura A. Reutter
Douglas Reynolds
Mr. Keith Rhinehart
Andrew Rhodes
Stephanie and Jason Richards
Ms. Deva Richards
John and Susan Richmond
Mr. and Ms. Everett Riehl
Karen Riley
Stacey Ringness
Mary Riordan
Marianna Riser
Mrs. Robyn E. Rishe
Charles Ritchie
Jacqueline R. River III
Michael Roberts
Mr. Louis G. Roberts
Ms. Nancy J. Robertson
Ms. Joan L. Robertson
Maggie Robinson
Steffen Rochel
Ms. Shirley Rodda
Mr. Wilfredo Rodriguez
Lynn P. Roe
Linda Roesner
Mary Rogan
James Rogers
Mrs. Evelyn C. Rogers
Bill Rogina
Angie Rol
Ms. Tricia Rolek
M. Rolfe
Ken and Patricia Rolston
Christine Romer
Marilyn Romero
Alina Romo
Lucila Rondissone
Jeffrey and Kersti Rose
Dr. Jeffre B. Rosenfeld
Gael Rosewood
Joseph Ross
Akira Ross
Roland P. Roth, Ph.D.
Deborah Roth
Phillip Roullard
Julie Roy
Lara Ruark
Mr. and Mrs. Stephen Ruggiero
Mr. and Mrs. Richard Runyon
Nick Ruocchio
Annalisa Rush
Carol Russell
Jacqueline Russell
Susan Russell
Emily Russell
Nancy Ruttenburg
Bonnie Ruzich
Judith Ryan
Douglas and Patricia Ryan
Suzanne Ryans
Tony Sachs
John Salerno-White
Cynthia Saltman
William and Gloria Sample
Mr. Gary E. Sanborn
David Sanchez
Melissa Sanderson
Maria Sanin
Alan Sanstad
Ms. Donna J. Sapp
Paul Sarconi
Judy Sartor
Cameron Saul
Mrs. Penny Saunders
Ralph Saunders
Mark Sauter
Diane Sauvageau
Sonja Saylor
Dory Schachner
Ms. Barbara A. Schaefer
Elizabeth and Kenneth Schapira
Mr. Stephen J. Schatz
Lucia Schechter
Mr. Michael Schewel and Ms. Priscilla Burbank
Judith Schierling
Peter Schiller
Eric Schleder
Steven Schlegel
Susan Schlosser
Richard and Margaret Schmelzer
Ms. Diana Schmidt
Daniel Schmidt
John Schmitz
Ms. J. Christine Schneider
David Schnuelle
Mr. Kim S. Schrock
Zach Schubert
Jennifer Schuerman
Kirk Schumacher
Matthew Schutte
Don Schwarz and Bobbie Reed
Mark Schwartz
Erin Schwarz
Cheryl Schwind
Jennifer Scinto
Sara Scott
Lynda Scott
Allison Scott
Tricia Sears
Ashley Seashore
John and Pamela Sebastian
Ms. Marietta Sebestyen
Dorothy Seeger
Anne and Brien Seeley
Christine Segerhammar
Scott Seine
Carolyn Self
Sara Seltzer
Ms. Marilyn Smolik Sequoia
Mr. and Mrs. Gerald M. Serventi
Ms. Julia W. Seward
Sharn Sexton
David Shapiro
Rakesh Sharma
Mr. Philip Sharpsteen
Ms. Sally Sheck
Mr. and Mrs. Robert L. Shedden
Lise Sheedy
Rabbi Charles and Judy Sheer
Ruth Sheets
Ms. Lisa A. Shender
Tara Shepersky
Noralee Sherwood
Valerie Shideler
Tamara Shinn
Michael Shipley
Rebecca Shipman
Mr. and Mrs. Ronald Shoemaker
John Shriner
Mr. Stephen Shubert
Jerry and Licia Shultz
Ms. Kathryn A. Shurtleff
Sarah Shurtleff
Dr. Michael Sibitz
Michael Sidebottom
Ms. Martha Siebe
Florence and Merle Siebert
Mr. Steven Allen Siegfried
Ms. Vicki Sievers
Mr. Sterling W. Sigsworth
Victoria Silver
Mr. and Mrs. Ira S. Silverman
Barbara Silverstein
Valerie Simmons and Randall Nelson
Mr. Daniel A. Simon
Mrs. Mary Simonitch
Malcolm G. Simpson
Stephanie Singer
Garland J. Singleton
Wendy Sinton
Fred Sissine
Ashley Skiles
Michael Sleppy
Donna Slinger
Mr. and Mrs. Lindley S. Sloan
Pete Sloman
Robert Slyker
Mr. and Mrs. Mark Smallen
Joseph Smart
Mr. Ben Smiley
Alvin Smith and Elena Lebedeva
William and Marilyn Smith
Toni Smith
Sonya Smith
Jeanette Smith
Herbert Smith
Mr. and Mrs. Donald L. Smith
Jacquelyn Smith
Roger Smith
Timothy Smith and Kristen Markus
Mr. Jeff Smith and Mrs. Donna Smith
Joy Smith
Jillian Smith
Alexandra Smith
Mr. and Mrs. Charles H. Smith
Patricia Snodgrass
Tara Snowden
Isabel Snyder
Janet and Steven Snyder
Ann Sodhi
Gail P. Soldavini
Steven P. Solem
Mr. Todd W. Soller
Glenn Sollers
Peggy Songster
Arisa Soontraviratana
Jacob Southard
Craig Souza
Jack Sparks
Cynthia Speakman
Mr. John Spencer
Lannie Spencer
Mr. Marvin Sperlin
Karen Spicer
Dr. Sherrill Spires
Mr. and Mrs. Barry Spitz
Roberta Spivey
Dr. Lawrence Andrew Spracklen
Mr. Bruce Spring and Ms. Julie Myers
Ray J. Stach
Patricia R Stark
Mr. and Mrs. Harrison Truitt Starr
Judy Statti
Ms. Erika Steffe
Rob Steiner
Beverly Steinfeld
Larry Steinkraus
Mr. Brad A. Stelzer
Denise Stephens
Cedron Sterling
Ellen Stern
Janet Sternburg and Steven Lavine
Linda Sterrett-Marple
Nancy Stevens
Sandra Stevens Theizen
Kathy Steward
Mr. Douglas W. Stewart
James Stewart
Drew Stiles
Becky Stillwell and Scott Phillips
Mr. Robert E. Stivers
David Stocking
Cydelia Miranda Storey
Carol Strand
William K. Street
Sam Stringfield
Lacey Strom
Debra Strunk
Ellen and Ted Strzalkowski
Barbara Stuart
Debbie Sturt
Arlene Suda
Lynsey And Roger Sugarman
Theodore Sugarman
Scott Sullender
Mr. and Mrs. Tad Sullivan and Riley
Stacey Sullivan
Heather Sully
Todd Sulzinger
Anne-Marie Summerhays
Jonathan Sumner
Ms. Chloe Sundara
Gail Surfus
Jan Raissle and Susanne Mulcahy
Mr. Thomas Sutfin
Scarlet Svendsen
Leigh Swanson
Ms. Margaret A. Swanson
Gloria Swanson
Steve Swartz
Janet Swedberg
Danelle Sweeney
Mr. Stephen K. Swenerton
Ms. Ruth A. Swenson
Duchess A Swift
Diana Swisher
Eleanor K. Sylvester
Mr. Oliver Lewis Symonds
Jim Szewczak
Agnes Szkopek
Alan Tabor
Antoinette Tadolini
Catherine Tai
Krissa Takatsuka
Michelle Tan
Janice Tanaka
Lia Tanti
Daisy Tapia
Nicki Taylor
Ms. Sandra E. Taylor
Janelle Teodosio
Eva Terry
David and Kelly Terry
Dr. Steven Teynor
Samuel Thacker
Ms. Phyllis The
Hugh Thomas
Robert Thomas
Diana Thomas
Beverly Thomassian
David Thomas-Train
Andrea Thompson
Mr. and Mrs. Bob Thompson
M A Briggs and D R Thompson
David C. Thompson
Ms. Katherine A. Thompson
Charlie and Jennifer Thompson-Orsua
Mr. Michael R. Thornton
Craig Tierney
Ben Tiffany
Ms. June E. Tom
Michael Tomola
Daphne Tooke
Dixie Townsend
Sally Towse
Cuong Tran Viet
Tom Treanor
Joseph Trebbien
George Treesdale
Kern Trembath
Huan Q. Trinh
Ms. Kimberly A. Triola
Klaus Tritschler
Sandra Trostel
Kris Trotter
Derek Tsai
Alice Tseng
Mr. Samson W. Tu
Mr. Michael F. Turek
Sandra Turner
Julian Tyler
Phillip Underwood
Gil and Gayle Unzueta
Mr. James M Uomini
Diane Upshaw
Peter Upton
Ms. Sandra Urlik
Mr. James Urone
Susan Uustal
Jason Valen
Stefanie Valovic
Ms. Sandra Van Horn
Hugh D. Van Liew
Suzanne Van Loon
Timothy Van Meter
Ms. Peggy L. Van Patten
Ricki A. Vancott
Ms. Susan Vanderveen
Melissa Varga
Ben Vattterott
Michael Vea
Rene and Selene Vega
Alexia Vega
Vignan Velivela
Cynthia Venn
Mary Ventura
Karen Verpeet
Linda Viehweg
Roberto Villa
Ms. Toni Vlaovich
Laura Vogel
Greg Vogel
Wulf Vogler
Matthijs Vos
Tacha Vosburgh
Barbara Diane Wagner
Ms. Elizabeth Wahbe
Mr. and Mrs. Craig M. Wahl
Ross Waldorf
Janice Walker
Jason Walker
Diane Wallace
Dr. Stephen Waller
Mr. Morris J. Walsh
Janet Walters
Marco Walther
Peter Walzer
Michael Wangler
Dave Ward
Bradley Ward
Marilyn Ward
Maria Ward-Driver
Jay Warren
Ann Warren
Dorothy Warren
Mr. Stephen J. Washburn and Ms. Nancy Fountain
Harriet Wasserman
Shirley Wasson
Mr. Robert Watrous
Angela Watts
Meredith Watts
Ms. Monica Waxman
Patricia Webb
Lori Webb
Diana Wedell
Ms. Mary Ann Wehrle
David Weight
Laurel Weil
Sherry Weiland
Eli Weinberger
Janet Weisberg
Steve Weiss
Cara Weitzsacker
Ms. Tiare Welch
Jacob Wellington
Mr. Eric J. Wells
Ms. Carolyn Wells
Audrey Wells
Darren Welsh
H. Welty
Rosamund Wendt
Tim M. Whalen
Mr. and Mrs. Patrick O. Wheatley
Bryan and Ida Mae Wheeler
Drs. David Whippy and Alan Whippy
Sue Whitaker
Mr. Barclay J. Whitaker
Mr. Alan B. White and Mrs. Teresa Hovre
Deborah T. White
Gayle White
Stephen White
Beth White
Rebecca White
Kristin Whitelaw
Betty Whitlatch
Emily and Dave Whitlock
Catherine Whitney
Richard Whitney
Ms. Linda Ruth Wieckowski
Laurie Wilby
Dr. Michael D. Wiley
Ms. Ann Wiley
Karen Wilfong
Peter Wilhelm
Jeffrey Wilkerson
Ebtisam Wilkins
Afiya Wilkins
Emily Wilkinson
Mary Wilkinson
Mr. Fred T. Willbanks
Lynn Williams
Hank Williams
Evan Williams
Skip Williams
Ms. Lori E. Williams and Robert E. Williams
Cheri A. Williams
Cheri Williams
Jacqueline Williamson and Kelley Sue Williamson
Michael Williamson
Valerie Willis
Mr. David Wilmot
Dr. Kenneth A. Wilson
Mary Ann Wilson
Jonathan Wilson
James and Harriet Wilson
Emma Wilson
Marlene Wilson
Mary Ann B Wilson
John B. Wilson
Norman Winchester
Terry Windhorst
Dr. Barbara Winkleman
Stacy Winnick
Kimberly Wisdom
Jason Wittek
Marcus Wohlsen
Albert R Wolff
Jean Woodrow
Katie Woolard
Ms. Dorothy Diana Woolley and Mr. Jeff McKay
Gloria Work
Ms. Donna Worona
Zachary and Lindsay Worthington
Dylan Wright
Lee Wright
Linda C. Wright and Steven Malkson
Ms. Betty Wrightson
Elizabeth Wu
Kenneth and Sharon Wyberg
Mr. Bryan L. Wyberg
Sara Wynne
Charlie Xu
Mr. and Mrs. Stuart Yaffe
Mark Yamanaka
Sheauching Yeh
Dennis Yniguez
Mr. Bruce Yoell
Mr. James M. Young
Ms. Debra Youngbear
Eric Yurkovich
James Zamiska
Paul Zarn
Dr. Frank Zavosh
Corey Zehfus
James Zehnder
Mr. Joe Zell
Eric Zepp
John Zimmerman
Christopher Zimmerman
Linda Zinn
Mr. and Mrs. Jacob P. Zins
Mr. and Mrs. Kaslon K. Zoller
Rodrigo Zuazua
Ryan Zulawski
Ann Zuppann
Anonymous (21)
*Deceased.
---
Review our annual audited financial statements and IRS 990 forms.
See our past Annual Reports.