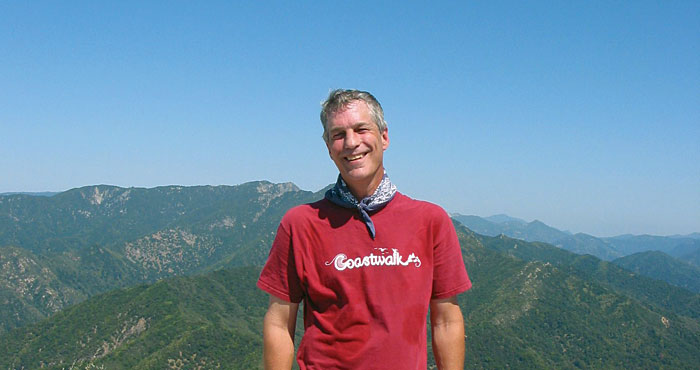 A celebration this month commemorated the late naturalist Jeff Norman (pictured) and his commitment to protecting Big Sur. His property was safeguarded when it was sold to Save the Redwoods League. The celebration featured the unveiling of a new plaque marking the history of 20 acres that we recently purchased and restored in 2010, thanks to our members.
The ridgetop property, bordered by Julia Pfeiffer Burns State Park and Los Padres National Forest, is upslope from old-growth redwood forest.
Norman also sold 40 adjacent acres to the League, which we transferred to California State Parks in 1989.
Celebration attendees included California State Parks staff, trustees of Norman's estate, Norman's relatives and representatives from the Big Sur Historical Society and Henry Miller Memorial Library in Big Sur.
Norman, a Big Sur historian and naturalist, purchased the 20-acre property in 1981 and lived there until his death in 2007. The land is to be transferred to Julia Pfeiffer Burns State Park.
Many might say that Norman was the embodiment of Big Sur. He loved his wild, rugged Central California coast so much that he dedicated his life to protecting the wilderness and documenting its history. He told its people's stories in the books, Big Sur Observed and Images of America: Big Sur.
Before Norman lived on his home's site, homesteaders in the 1930s, Alfhild and Gustave Overstrom, built a cabin, barn and cellar. They named the site Alta Vista. The buildings burned in a 2008 forest fire. Now the plaque lies on the homestead's foundation.
The League used a helicopter to remove 24 loads of refuse remaining from the forest fire. This debris removal was necessary to protect young endangered condors, which may mistakenly eat small plastic and metal objects.