Join us next Tuesday, May 26th at 4 pm
As the COVID-19 crisis unfolded, Californians turned increasingly to parks and open spaces not only for physical activity and fresh air but also for stress relief and their well-being. With some parks reporting a 400 percent increase in visitation when we first began sheltering in place, this enthusiasm for our parks actually forced some to temporarily close to keep the visiting public safe and socially distanced. Through it all, it is clear that the parks, public lands, and open spaces that we've protected are essential to Californians.
Now, as our state begins to heal and move forward into our new normal, questions remain about how to open and recreate in the parks safely, and how we can ensure that our parks meet the demands and needs of a growing, diverse, and stressed population.
Join Save the Redwoods League and a panel of experts for a timely discussion with audience Q&A about California's parks. Submit your questions in advance to webmaster@savetheredwoods.org or enter them into the Q&A chat during the webinar. We'd love to hear from you and have you join us.
This event has passed.
About the Panelists: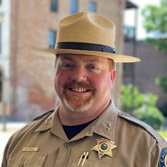 Jason De Wall,
Northern Field Division Chief, California State Parks
Jason started his public service career with the US Forest Service in 1996 at the Carson Hot Shots in New Mexico. After a few years, Jason moved back to his hometown of Chico, California, attending Butte College and CSU Chico, while working as a Park Ranger for the US Army Corps of Engineers. He then moved on to California State Parks as a Park Ranger where he worked at various locations throughout Northern California. He landed his dream location as a Supervising Ranger at McArthur-Burney Falls MSP. In 2008, Jason took on a new role as a Sector Superintendent of Prairie City SVRA where he went back to school finishing a BS in Recreation Parks and Natural Resource Management. A few years later, he took on the Law Enforcement and Emergency Services Division as Chief and continued his education at CSU East Bay, landing an MS in Recreation. During his role as a District Superintendent of the Gold Fields District, Jason also began teaching classes at CSU Sacramento in the Recreation Department before taking on his current role as Northern Field Division Chief. The Northern Division in California State Parks consists of a diverse array of open space and park units from reservoirs to museums plus coastal redwoods and giant sequoia.
---
Robert E. Doyle,
General Manager of the East Bay Regional Park District
Robert E. Doyle is a 43+ year veteran of the parks and natural resources field, currently serving as General Manager of the East Bay Regional Park District, the largest regional park system in the nation with 1,000 employees hosting 25 million visits per year at its 73 parks on over 125,000 acres. A co-chair of the California State Park Partners, he was a key advocate for advancing the successful Proposition 68, the Parks, Environment, and Water Bond to the June 2018 ballot and serves as vice-chair of the Clean Water, Natural Resources and Parks committee. He also leads EBRPD efforts to partner with National Parks on Healthy Parks Healthy People (HPHP) in the SF Bay Area – including Kids Healthy Outdoor Challenge (KHOC), Stay Healthy in Nature Every Day (SHINE), Multicultural Wellness Walks (MCWW), and other efforts to engage the Park District's diverse communities in healthy outdoor activities.
---
Caryl Hart, PhD,
California Coastal Commissioner and former Director of Sonoma County Regional Parks. Caryl is also on the Board of Directors for Save the Redwoods League.
Caryl Hart is a member of the California Coastal Commission, appointed by Speaker of the California Assembly Anthony Rendon in 2019. From 2010 to 2017, Caryl was Director of Sonoma County Regional Parks, a system of more than 50 parks and regional trails. Under her leadership, Regional Parks experienced great success in increasing park attendance, acreage, and revenues. Caryl was a member of the California State Park and Recreation Commission, appointed by three successive governors, and served for thirteen years, seven as Chair, until 2013. She then joined the Parks Forward Commission assembled by Governor Brown to assist California State Parks after the 2012 fiscal crisis impacting the Department. Caryl founded the Parks Alliance for Sonoma County, which supported the innovative management of state parks in Sonoma County during the state parks budget crisis. Caryl was elected to the Board of Directors for Save the Redwoods League in 2017, and she has served on its Council for more than ten years. She currently chairs the League's Government Affairs and Public Policy Committee.
---
Lorelle Ross,
Vice-Chair of the Tribal Council of the Federated Indians of Graton Rancheria. Lorelle is also a Save the Redwoods League Councilor.
Lorelle has served 12 elected terms on the Tribal Council of the Federated Indians of Graton Rancheria (FIGR) and is currently serving her 9th term as Vice-Chair. She has 24 years of experience in Tribal Government. She was an integral part of FIGR's reorganization and the founding leadership that led the push for its restoration as a federally recognized tribe. Lorelle serves as the Tribe's primary representative for the development of a co-management agreement with Sonoma County Regional Parks for the County's Tolay Lake Regional Park in Petaluma. She has a primary role in the Tribe's cultural consultation and cultural interpretation with federal, state, and local agencies with a representation focused on inclusion for tribal ecological knowledge.
---
Sam Hodder,
President and CEO of Save the Redwoods League
Under Sam Hodder's leadership, Save the Redwoods League has permanently protected over 20,000 acres of redwoods and launched ambitious forest restoration and park stewardship projects. Sam guided the League's 100th-anniversary celebrations in 2018 and the development of its Centennial Vision for Redwoods Conservation. The League's new vision is a bold 100-year plan to accelerate land protection and the regeneration of coast redwood and giant sequoia forests across their natural ranges and to reimagine visitor experiences in redwood parks.
---
Moderator
Jessica Carter,
Director of Parks and Public Engagement for Save the Redwoods League
Jessica Carter connects people to the magic of redwoods as the Director of Parks & Public Engagement at Save the Redwoods League. She oversees projects that improve recreational infrastructure and expand visitor capacity in redwood parks as well as outreach and education programs that engage new and diverse audiences to inspire visitation. Prior to joining the team at the League, Jessica was Chief of Business for Golden Gate National Recreation Area, a unit of the National Park Service, where she led a complex portfolio of nonprofit, commercial and interagency partnerships that together served over 5 million visitors each year and resulted in substantial park improvements and revenue generation.