Nearly half of the giant sequoia groves on Earth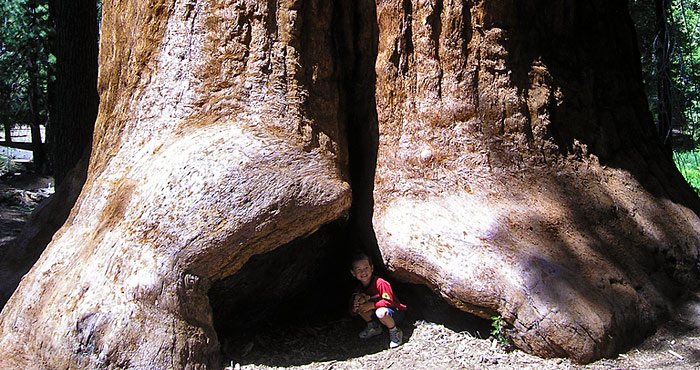 Park Information
HIGHLIGHTS: Sequoia National Forest is protected within Giant Sequoia National Monument, which showcases nearly half of the giant sequoia groves in the entire world. While these trees (also called "Sierra redwoods," Sequoiadendron giganteum) don't get as tall as coast redwoods, some are bigger by volume. Here they grow up to 270 feet high and 30 feet in diameter.
With elevations ranging from 2,000 to 10,000 feet, the 328,000-acre Monument has many other attractions, including granite peaks, rushing rivers and wildflower-filled alpine meadows. Archaeological sites including Native American village sites, rock shelters, tools and carvings, reveal the 8,000-year history of tribal communities in this part of the Sierra Nevada.
The Monument is divided into two, geographically separate areas. One part lies north of Sequoia National Forest, just east of Fresno. The larger part is south of the park, east of Porterville.
ACTIVITIES: Hiking, backpacking, fishing, horseback riding, rock climbing, scenic drives, nature photography, caving, history trails, birding, mountain biking, kayaking, rafting, and cross-country skiing and snowshoeing.
VISITOR CENTER: Giant Sequoia National Monument is managed by the U.S. Forest Service. There's no visitor center, but the any one of the district offices (external link) can provide you with the maps and information you'll need-or you can get an order form for maps (external link) online.
CAMPGROUNDS: More than 50 campgrounds are available in Sequoia National Forest and Giant Sequoia National Monument. Some are open year-round. For reservations, call the National Forest Reservation Center at (877) 444-6777 or visit www.reserveamerica.com (external link). Walk-in camping is also allowed, but a campfire permit (external link) is required, and visitors must pack out their own trash.
TRAILS: Thirteen interpretive stations along the mile-long Trail of a Hundred Giants introduce visitors to a splendid grove of sequoias between 500 and 1,500 years old. The trailhead, in the southern part of the Monument, is on the Western Divide Highway (a continuation of Highway 190), just across the road from Redwood Meadow Campground. As of October 3, 2011, this trail was closed because two giant sequoias fell, blocking the path. Contact the monument for updates at (559) 539-2607, and press 0 for operator.For information on alternate hikes to see giant sequoias, see "HIDDEN GEM" below.
If you're after splendid views, try the 2.5 mile hike to the Needles Fire Lookout in the southern part of the monument. From there, you can gaze at the Freeman Creek Grove (see below), Kern Plateau, Kern River Gorge, and the 12,000-foot peaks of Sequoia National Park. From Quaking Aspen Campground, take the Needles Road, 21S05, to the trailhead.
MUST-SEE, UNIQUE FEATURE OR SEASONAL HIGHLIGHT: With a diameter of 35 feet, the 269-foot-tall Boole Tree is, by volume, the largest tree in the Monument and the 6th largest tree in the world. It was named for the lumberman who cut all the nearby trees-and spared it-about 100 years ago. In the northern part of the monument, the 2.5-mile Boole Tree Trail takes you to this gigantic survivor's base and also shows you what a century of forest regeneration looks like. On Highway 180 (east of Fresno) drive through Grant Grove (in the park) and follow the signs to the Converse Basin Grove (in the Monument). Turn northwest onto a gravel road, 13S55, and follow the signs to Stump Meadow. The Boole tree trailhead is a half mile past the meadow on the same road.
HIDDEN GEM: In the southern part of the Monument, the 1,425-acre Freeman Grove is one of the largest sequoia groves in the world that has never been roaded or logged. There's a stunning trail just north of Quaking Aspen Campground that follows Freeman Creek downstream for about 3 miles, but some respectful meandering might be advised. Locals say the best trees are off trail.
MORE INFORMATION: Visit Sequoia National Forest (external link); Giant Sequoia National Monument (external link) or call (559) 784-1500.
---
Trip Ideas from Our Staff and Friends
EAT: Shawn Marchand, former League Land Project Manager, recommends grabbing an affordable and delicious bite to eat at Pierpoint Cafe (external link).
Sonia Morris, Conservation Programs Assistant, suggests grabbing something to eat and drink at the Kern River Brewing Company (external link) in nearby Kernville.
STOP: As you drive to Pierpoint Springs, Shawn suggests taking a hike on one of the many Forest Service trails along the way or stopping at Lake Success.
FAVORITE HIKE: Trail of 100 Giants (external link) is a staff favorite!
FAVORITE PARK ATTRACTION: The Boole Tree is the last of the huge giant sequoias and is the largest tree on National Forest System land.
Tell us your favorite stops, hikes, places to eat, and more when visiting this park!
---
Nearby Redwoods Events
Browse all Events & Activities.
For more hikes, conservation news and redwood facts, sign up for our free enewsletter.
---
Extend Your Visit

Mountain Descents (Top Attraction)
41667 Sierra Dr, Three Rivers, CA 93271-9406
TripAdvisor Traveler Rating
13 reviews
Buckeye Tree Lodge & Cabins (Top Hotel)
46000 Sierra Dr, Three Rivers, CA 93271-9626
TripAdvisor Traveler Rating
595 reviews
Sierra Subs and Salads (Top Restaurant)
41651 Sierra Dr, Three Rivers, CA 93271
TripAdvisor Traveler Rating
313 reviews