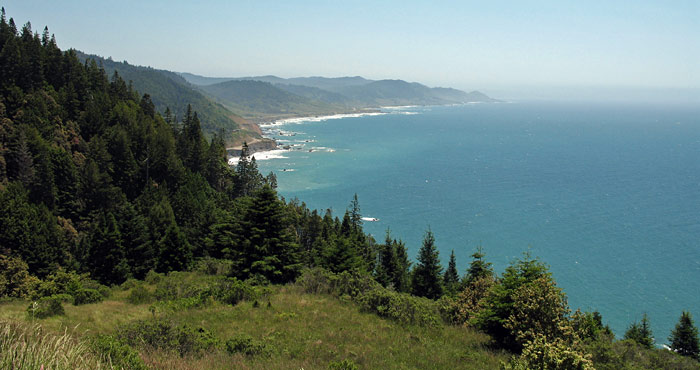 The forest here was formerly managed for logging and ranching. Now, guided by an ecologically-minded forest management plan, the League and our partners are poised to begin healing this land.
One restoration accomplishment at Cape Vizcaino has been the thinning of brush and small trees called "fuel" for their role in enabling catastrophic fires. Cape Vizcaino, like other places, has suffered from a lack of natural wildfire. This led to a buildup of fuel, which our restoration team removed in order to prevent a blaze more destructive than a typical, naturally-occurring wildfire. Without this restoration tactic, if a fire were to start, it could use the fuel on the ground as a ladder to climb into the canopy and kill even the large, old redwoods.
In addition, an assessment is currently underway to determine how best to maintain Cape Vizcaino's meadows and restore its native plants. Another ill effect of reduced wildfires is that shrubs and trees encroach into meadows and prairies unchecked, and native plants suffer the consequences of competing for space and receiving less light under these taller plants. Many native species face extinction due to this phenomenon, but restoration efforts could save them.
The restoration team is studying the presence of wildlife at Cape Vizcaino. Of particular interest are threatened and endangered animal species, like spotted owls and a small, elusive bird called the marbled murrelet. Protecting and enhancing the habitat of imperiled wildlife is always a top priority of the League's redwood forest management plans.
Restoration can also mean deciding what to do with existing infrastructure-this can often mean a defunct mill, sheds, roads or houses. At Cape Vizcaino, the future of such structures is currently being assessed-perhaps they could be revitalized and repurposed for recreational, maintenance or research facilities, or it might be best to dismantle them and let nature reclaim that space.
All of these efforts are orchestrated to help the redwood forest at Cape Vizcaino to reach the old-growth stage once more. With careful management the forest will be healthy and resplendent, with mighty trees on and among which endangered wildlife can live, and where human visitors can find peace and inspiration.
---