It's dawn in the redwood forest.  As the sun rises, pale green light filters down through the foliage. High in the canopy, a varied thrush sings. The presence of these ancient trees is both calming and inspiring, something you feel in your soul. For the next hour, a skilled interpreter guides you through these hallowed groves, telling you about the trees, the wildlife, the way everything in the forest connects with everything else.
And then the lights go up.
Though wholly immersive, this was a virtual experience. It occurred in a classroom, not in a giant sequoia grove. But the impact of the Parks Online Resources for Teachers and Students (PORTS®) distance learning program is profound, inspiring and teaching students about California's stellar state parks through online curricula, interactive videoconferencing and virtual reality technology.
Reaching students around the world
PORTS was launched 15 years ago when California State Parks recognized the power of digital technology and interactive media as a means of lowering the economic, geographic and social barriers to K-12 state park visitation. Save the Redwoods League was a key partner with State Parks in developing this program, and coast redwood ecology was one of the program's first offerings. The Humboldt County Office of Education, long noted for its commitment to environmental education, enthusiastically incorporated the PORTS redwood curriculum in its teaching program. Since then PORTS has expanded dramatically with more than a dozen study units, including Hearst Castle, salmon ecology, the science of habitat protection and restoration, tide pools, weather and climate, elephant seals and the Gold Rush. PORTS serves students and teachers on an international scale, reaching classrooms in the U.S. and 20 other countries, Australia, Brazil, Canada, Malaysia, Pakistan, Taiwan, and Ukraine among them.  Almost 60,000 students participated in the 2017/2018 school year.
Now, Save the Redwoods League and California State Parks have collaborated to develop a new PORTS study unit focusing on the impacts and challenges facing giant sequoia. The largest living trees on Earth, giant sequoia are found only in California's Sierra Nevada in 73 discrete groves, comprising 48,000 acres. Their massive size, singular beauty, and rarity have made them both living icons of the natural world and subjects of global fascination. The new PORTS program, developed in honor of the League's Centennial Year, will allow students around the world to familiarize themselves with the history and ecological dynamics of Calaveras Big Trees State Park, a nearly 6,500 acre preserve in the central Sierra that protects two spectacular groves of mighty old-growth giant sequoia.
"Bringing the beauty and magic of our state parks through the PORTS program will allow students to be transported to a different part of their world, one they may not have even known existed," said Director Lisa Mangat, California State Parks. "Partnering with the League to bring this digital access to children will help expand their knowledge and interest not only in giant sequoia, but also to the diverse natural and cultural treasures found in California's state parks."
An intricate web of life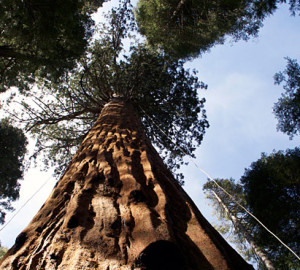 Mature giant sequoia are so large, so magisterial, that the typical response at a first encounter is stunned silence. But these great trees are noteworthy for more than their size. As noted they are rare, scattered in a diadem of groves along the west slopes of the Sierra, a remnant of once expansive forests that covered much of the northern hemisphere. They are also the foundations for unique ecosystems that support a rich variety of associated species, including Pacific fishers, great gray owls, and cavity-nesting birds such as white-headed woodpeckers. To understand giant sequoia means understanding the intricate web of life that they both support and depend on for survival.
Indeed, caring for these groves into the future is a pressing concern for their advocates. Well-intentioned attempts by various forest and land managers to "save" the groves from wildfire have actually proven a detriment to these mighty trees. Giant sequoia are adapted to withstand and rely on regular low-level ground fires. Giant sequoia cones need the heat from these fires to open and release their seeds. Fire also reduces brush and woody debris, allowing young giant sequoia to grow on bare mineral earth and ensuring healthy future generations. Without these regular, low-severity fires, giant sequoia groves become thick with trees, increasing the risk of severe fires and reducing the potential for young giant sequoia to thrive. Further, climate change is reducing snowpack and increasing the frequency of severe drought, while reduced genetic diversity due to the isolation of the individual groves may also threaten the long-term vitality of the species. Direct human impacts such as soil compaction around the root systems of some trees are also a problem; some of our largest and best-known giant sequoia are in literal danger of being loved to death.
Managers are optimistic that giant sequoia can prosper in the coming centuries, but their well-being will require adequate resources and progressive science-based management.
Experiences lasting a lifetime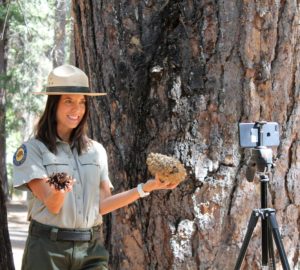 The giant sequoia story is as complex as it is fascinating, which makes PORTS the ideal means for sharing this narrative. Not every student can visit a giant sequoia park, but through PORTS, giant sequoia and the people who protect and study them can come into the classroom. When the PORTS giant sequoia study unit is launched in September, students will be able to discuss the giant sequoia of Calaveras Big Trees State Park interactively in real time with State Parks and Save the Redwoods League interpreters. Through partnerships and platforms provided by Microsoft Education Skype in the Classroom, Smithsonian Digital Learning Lab, and Nearpod, participants will experience the majesty of these great trees, explore the ecological dynamics of giant sequoia groves and the challenges that face them, and discuss forest management strategies with the scientists and rangers who are working to ensure giant sequoia will thrive through the next century and beyond.
Brad Krey, the interpretation and education programs manager for California State Parks observes: "During the past 15 years, we have refined both the technology and our curricula, providing more than half a million students with immersive learning experiences that will stay with them for their entire lives. We're proud to develop this giant sequoia study unit for the PORTS program. It honors the Centennial Year of Save the Redwoods League, one of the nation's most venerable and respected conservation organizations and one of our first partners in PORTS. The League's support has helped us bring the redwood forest to thousands of students who otherwise might never have experienced it directly."

Teachers, sign up your classroom starting in late August for next school year.

Sign Up
Fun Facts
PORTS is one of the oldest interactive distance learning programs in the country.
PORTS has served more than half a million students in 20 countries. The program serves 50-60,000 students on average per year.
Save the Redwoods League helped California State Parks establish one of the first PORTS curricula: coast redwood forest ecology.
PORTS allows students to talk directly and interactively with experts in the various study subjects.
PORTS has proven particularly effective in preparing students prior to field trips to our spectacular state parks, maximizing participant enjoyment and aiding in the retention of essential information.
A multitude of agencies consider PORTS an ideal template for interactive distance learning, with State Parks drawing calls from parks, preserves, zoos, and museums from around the world, all seeking tips for establishing similar programs.
PORTS is not static. New curricula are added regularly, and the platforms evolve with the latest technologies. Current interactive and virtual reality platforms provided by Microsoft Education Skype in the Classroom, Smithsonian Digital Learning Lab, and Nearpod offer the most sophisticated and immersive experience to date.
In honor of the League's Centennial Year, State Parks is offering a new giant sequoia PORTS curriculum for the 2018/2019 school year.
The giant sequoia PORTS program will focus on Calaveras Big Trees State Park, a nearly 6,500 acre property that is one of the state's flagship parks.
The giant sequoia PORTS program will address a variety of issues, including giant sequoia history, ecology, the challenges of visitor impacts and climate change, and prescribed fire.
Conservation depends on building and maintaining dedicated constituencies, especially among the young. PORTS has proven itself as a particularly effective tool in meeting this goal, inspiring student interest in our stunning state parks via sophisticated, interactive media.
Though giant sequoia and coast redwoods are two different species, the protection of both is paramount for Save the Redwoods League. PORTS helps the League build interest and commitment for both our priorities: students who participate in the redwood ecology curriculum will naturally develop interest in giant sequoia, and vice versa. We consider PORTS one of our most important partnerships, and one of the nation's most effective educational initiatives.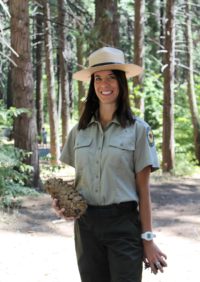 Jenny Comperda, State Parks interpretive specialist
"Just being in the presence of these enormous trees is so completely awe inspiring that I am beyond honored to share their fascinating history with students from around the world. During my first visit to Calaveras Big Trees State Park, I experienced a range of emotions from giddy excitement to devastating heartbreak at the site of the Mother of the Forest, dead and stripped entirely of her bark by human hands. There is a huge opportunity to share the importance of conservation and protection, aligned with the mission of Save the Redwoods League and combined with the programming flexibility of PORTS, which allows for vast outreach that a traditional field trip simply can't provide. Being able to virtually explore the Giant Sequoia grove with students is a gateway to inspire stewardship and I am extremely grateful to have been chosen as the interpreter for this amazing program."
---
Frequently Asked Questions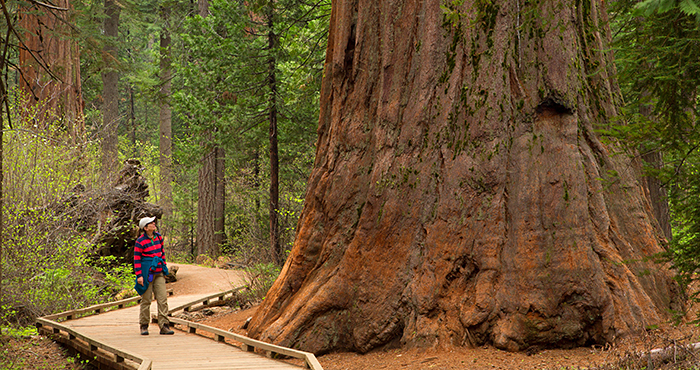 ---