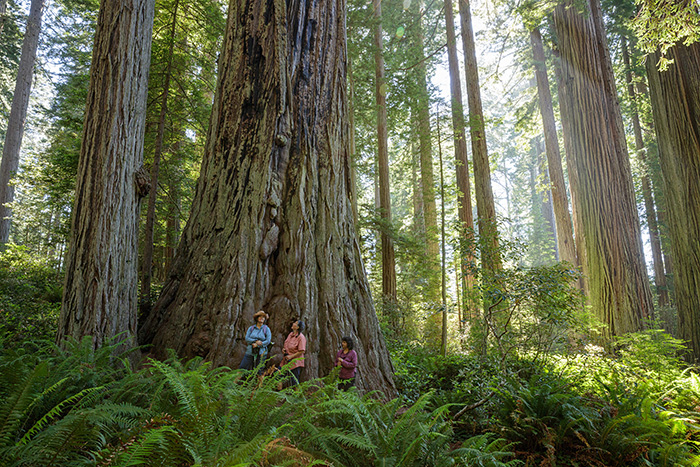 About the Land and Water Conservation Fund
The Land and Water Conservation Fund (LWCF) is our nation's most important conservation and recreation tool. Without using a single taxpayer dollar, LWCF invests in our quality of life, a booming recreation economy, and our history and culture. For Save the Redwoods League, the LWCF plays a critical role in the protection of old-growth redwoods, and helps connect people to our incredible giant sequoia and coast redwood forests.
LWCF is a unique federal program in that it provides a conservation offset for offshore oil and gas production, replenishing our natural resources with receipts from extractive industry. Communities in every single county across the nation benefit from this bipartisan-supported program. Despite the law's promise to direct $900 million in OCS revenue to this successful program, the LWCF is subject to the uncertainties of the annual federal budget process and threatened by drastic cuts proposed by the current presidential administration. A significant amount of the funding intended to protect our natural resources and build accessible parks is diverted each year to other, often unrelated purposes.
Thankfully, Congress has passed legislation called the Great American Outdoors Act, which stands to be one of the most important conservation bills to go before Congress in decades. First, it allocates $9.5 billion to repair and upgrade campgrounds, trails, and other facilities at national parks and other public lands where these amenities have fallen into disrepair, and this could include many redwood parks that haven't been updated in years. Second, it guarantees $900 million a year to the Land and Water Conservation Fund in perpetuity, much of which could fund much-needed conservation work in the coast redwood and giant sequoia ranges.
President Trump has indicated that he will sign the legislation.
A funding solution like this to address the aging infrastructure and natural resource needs in our parks is desperately required. Muir Woods National Monument and Sequoia and Kings Canyon National Parks have been enhanced thanks to this funding source, and current League projects like Mailliard Ranch, Red Hill in the Giant Sequoia National Monument, Freshwater Ridge in Redwood National Park, and the Westfall property adjacent to the Headwaters Forest Reserve are all dependent on LWCF for protection. The League has a number of shovel-ready park improvement projects that could benefit from this funding in the coast redwood and giant sequoia ranges—for instance, the creation of a new redwood destination on the 730-acre Harold Richardson Redwoods Reserve in Sonoma County and vital restoration on the 530-acre Alder Creek giant sequoia property in the Sierra Nevada.
Many challenges face our national parks, natural resources, and public lands today. Given the more than 50-year track record of success the LWCF has, along with the ongoing need to protect land and enhance public access, Congress must prioritize better funding for the maintenance backlog alongside conservation and historic preservation. Our public lands deserve nothing less.
Check out our Giant Thoughts blog for the most current news about the Land and Water Conservation Fund.
---
Tags: 2018, Land and Water Conservation Fund, LWCF, Policy