Save the Redwoods League is constructing a southern gateway to Redwood National and State Parks, a UNESCO World Heritage Site in Humboldt County that attracts more than one million people each year to see the planet's tallest trees and explore the area's rich Indigenous heritage. The project will restore and showcase the ecological integrity of Prairie Creek, both for climate resilient habitat and as part of an inspiring visitor experience.
The League has been dedicated to preserving the redwood forests of Humboldt and Del Norte Counties since its founding. In and around the Prairie Creek Corridor, the League has protected more than 31,000 acres—about the size of San Francisco—through the purchase and transfer of 146 properties to Redwood National and State Parks.
Transforming the site
In 2013 the League purchased the 125-acre Orick Mill Site, located in Yurok ancestral lands, with the intent to restore and develop the site and transfer the improved property to the National Park Service. The site is immediately adjacent to Highway 101, links two of the world's largest remaining old-growth redwood groves, has Prairie Creek, a salmon stronghold, running through it, and connects with a robust trail network in the parks.
The project will include new trail access to Redwood National and State Parks, along with other visitor amenities and a Yurok Village Site managed directly by the Tribe. An extensive restoration of Prairie Creek and adjacent floodplains will also be completed. Work on the project is now underway and will continue through 2025. The Trails Gateway and Restoration project will be completed under League ownership, prior to property transfer to National Park Service in 2026.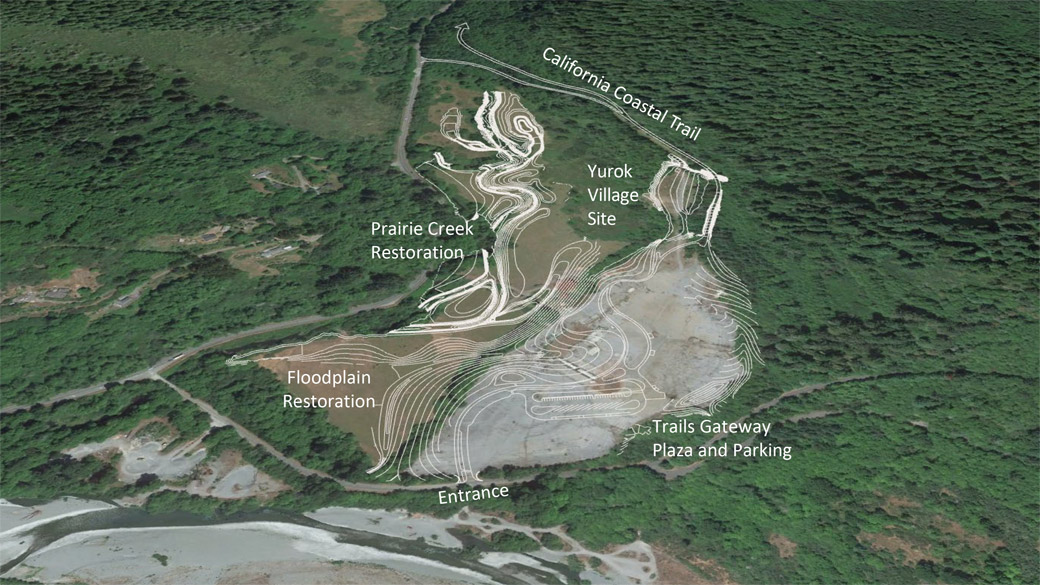 Partnerships making it happen
The Redwood National & State Parks Trails Gateway and Restoration project has partnerships at its core. The League purchased the property to restore and improve it and then transfer it to the National Park Service for long-term management in partnership with California State Parks and the Yurok Tribe. The parks and Tribe have been involved in all aspects of planning and design, and the National Park Service is constructing a connector trail to the property from federal lands that will extend regional access. Additionally, the aquatic restoration expertise of California Trout, the Yurok Tribe, and other local professional firms and partners has been essential to the Prairie Creek and floodplain design.
In fall 2021, the project moved into a first phase of implementation by the Yurok Tribe Construction Corporation and Fisheries Department, further deepening our successful collaboration to date. Much of this work has been made possibly by the League's early funding and planning partners at California State Coastal Conservancy, NOAA Restoration Center, and Wildlife Conservation Board.
Together, our group of public, private and Tribal partners is working on healing the landscape and the human relationship with it.
Photo Gallery
---
Tags: current, Land Project, Orick Mill, Orick Mill Site, Restoration Project