A protected redwood forest would support biodiversity, scenic beauty, and climate resilience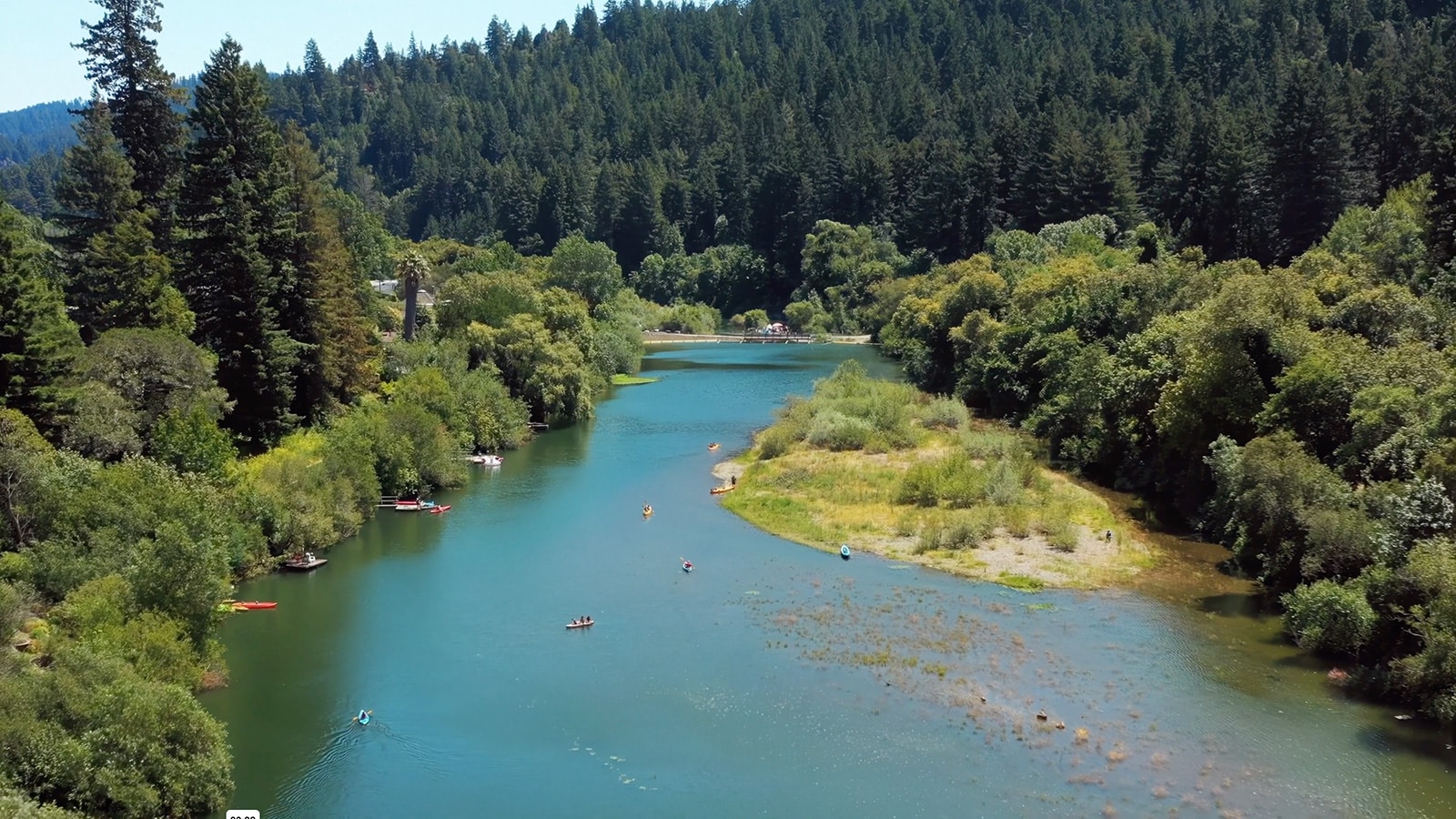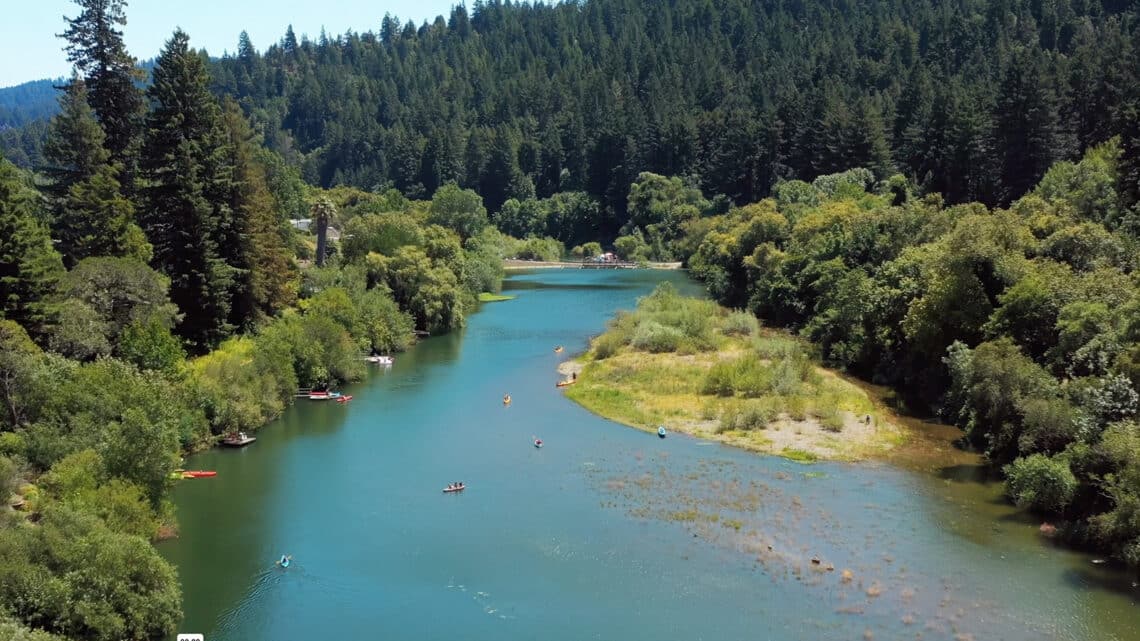 Curving dreamily through Sonoma County, the Russian River is famous for its dramatic landscape of soaring coast redwoods. Visitors come from around the world to view the old-growth groves at Armstrong Redwoods State Natural Reserve, gazing up in amazement at towering trees that date back more than 1,400 years.
Yet few outsiders are aware that another ancient coast redwood lies hidden away on privately owned timberland only a few miles from Armstrong's protected boundaries. Known as the Clar Tree, this impressive giant stands 278 feet tall and was likely alive when Tiberius ruled the Roman Empire. It's a living testament to the fact that the vast Russian River floodplain near Guerneville was once dominated by ancient redwoods that rivaled the giants of the North Coast.
Nearly all these behemoths were cut down more than 100 years ago, back when Guerneville was infamously known as Stumptown. Yet miraculously, the roots of this ancient forest are still very much alive. Young but mighty redwood trees have sprung from these gnarled foundations, extending a lineage that dates back across the millennia. This recovering forest, most of which is currently under commercial management, holds the key to restoring Sonoma County's old-growth magnificence.
One of the first steps is to permanently protect the nearly 400 acres of resurrected forest at the Russian River Redwoods property, which stretches along a mile of scenic riverfront and provides a beautiful, climate-resilient backdrop to outdoor recreation in the Russian River corridor. Safeguarding this land and the beloved Clar Tree has been a long-held dream for the local community.
When the opportunity arose to purchase the entire 394-acre property, Save the Redwoods League stepped forward. The League will acquire Russian River Redwoods on an accelerated timeline to secure the recovering forest. The League then intends to transfer the land to Sonoma County, in partnership with the Sonoma County Agricultural Preservation and Open Space District, for long-term stewardship, forest restoration, and potential access. If this project succeeds, local communities and visitors to this scenic region will forever appreciate a stunning landscape of thriving coast redwoods stretching from river to ridgeline.
Protecting a vital habitat corridor
The acquisition of Russian River Redwoods adds an essential piece to the mosaic of protected wildlife habitat in Sonoma County. On its southern flank, the property buffers the old-growth redwoods of the Bohemian Grove; further south lies the Bohemia Ecological Preserve, a large private reserve of coastal prairie and woodlands stewarded by LandPaths. Together, this contiguous habitat corridor creates more than 4,000 acres of publicly and privately protected lands, encouraging biodiversity and making it easier for threatened species to migrate and adapt to climate change.
In addition to bobcats, gray foxes, and red tree voles, this habitat corridor supports imperiled northern spotted owls. These dark-eyed, exquisitely patterned birds often nest near the Clar Tree, and other owl activity sites lie just beyond the property boundary, making the protection of this landscape crucial to their continued survival.
Russian River Redwoods also features a mile of riverfront along the Russian River, home to coho and Chinook salmon and steelhead trout. A half-mile section of Mays Canyon Creek, a well-known stream for threatened steelhead, flows along the property's eastern edge. Once protected, Russian River Redwoods will help to safeguard this important watershed and ensure the ongoing revival of the Coho salmon population.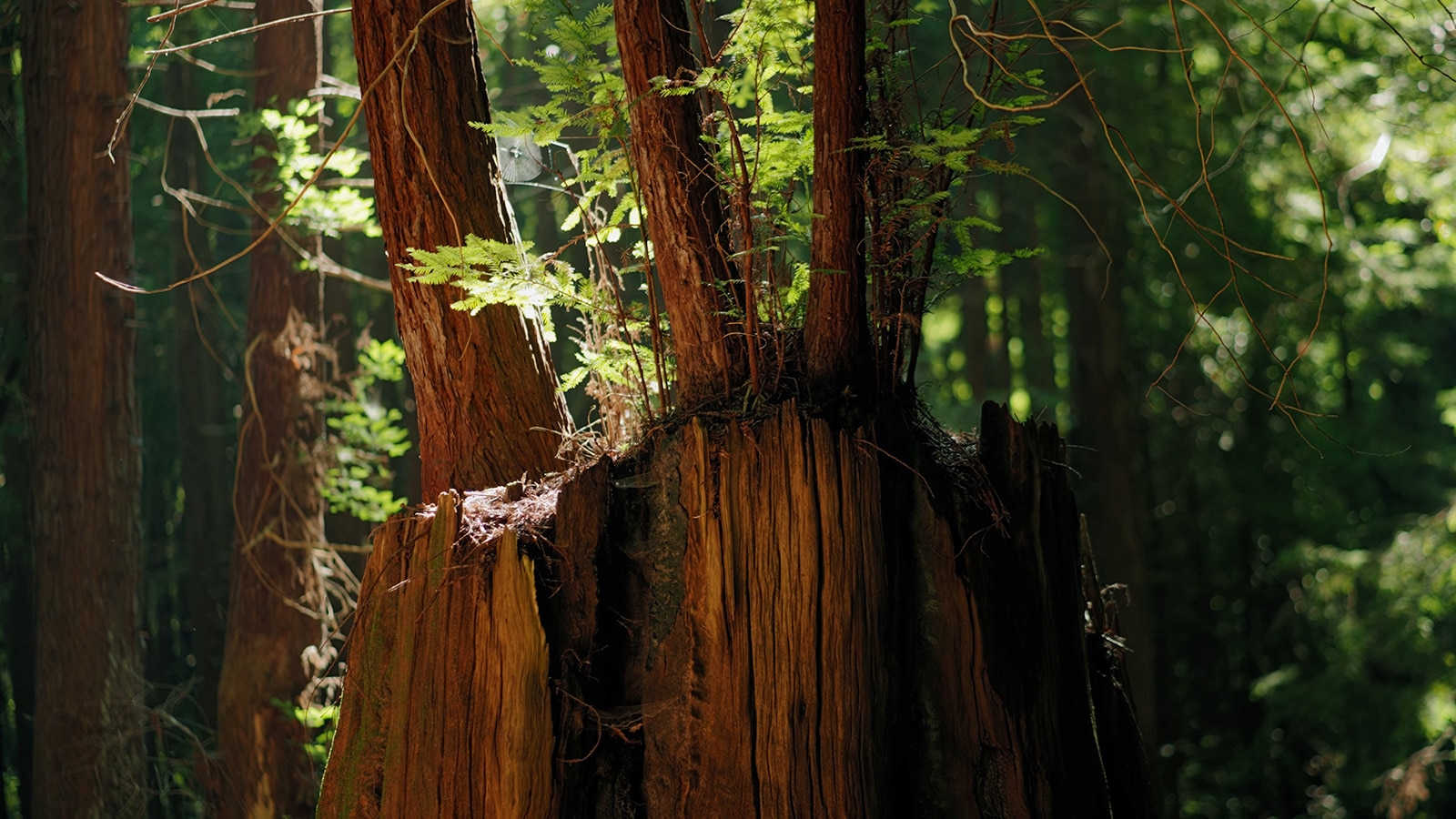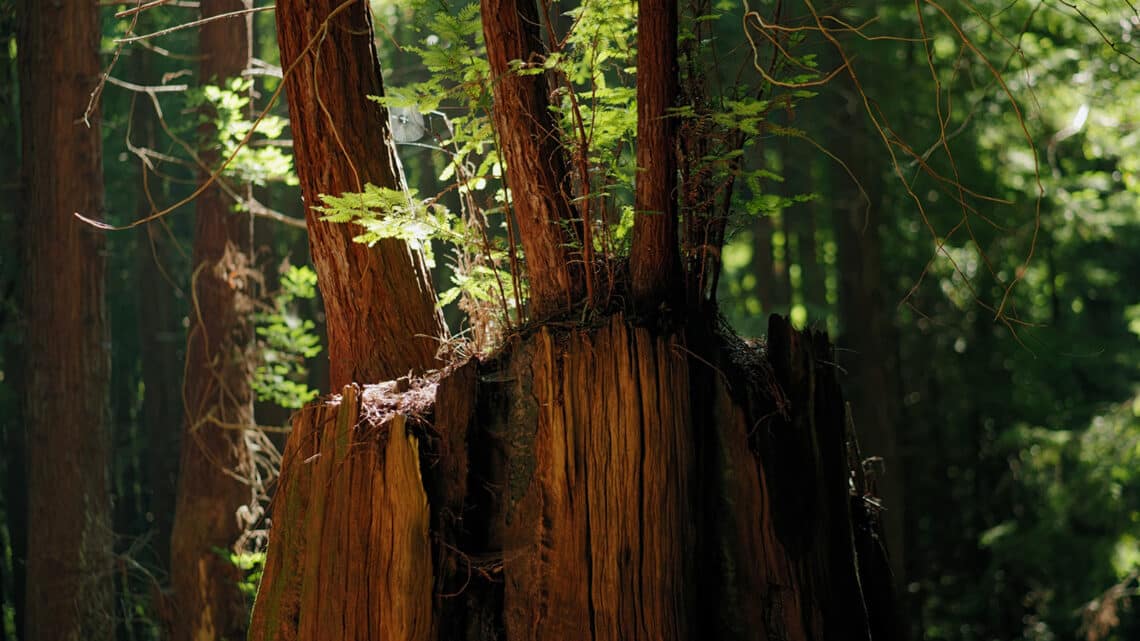 A forever home for a mighty giant
Named for an early settler, the towering Clar Tree is the only old-growth redwood on the Russian River Redwoods property to survive the 19th-century timber rush. Today, this big tree has a big personality to match: Younger offshoots crowd its massive base, creating a dense thicket that resembles an old-timer's bushy beard. It's a fitting look for a coast redwood that's estimated to be 2,000 years old—more than 500 years older than the oldest tree in nearby Armstrong Redwoods State Natural Reserve.
For years, the smooth spire of the Clar Tree rose like a unicorn horn above the surrounding treetops, until roughly 30 feet sheared off in the 2023 winter storms. Even without its top, the Clar still stands 278 feet high, making it one of the tallest coast redwoods in Sonoma County.
The acquisition of Russian River Redwoods is a chance to permanently protect this living treasure in the context of a healing landscape—to let this mighty relic lead in the recovery of the surrounding forest. The acquisition also creates the opportunity to introduce the public to this impressive survivor and the maturing forest around it, potentially via hiking trails and access from the Russian River.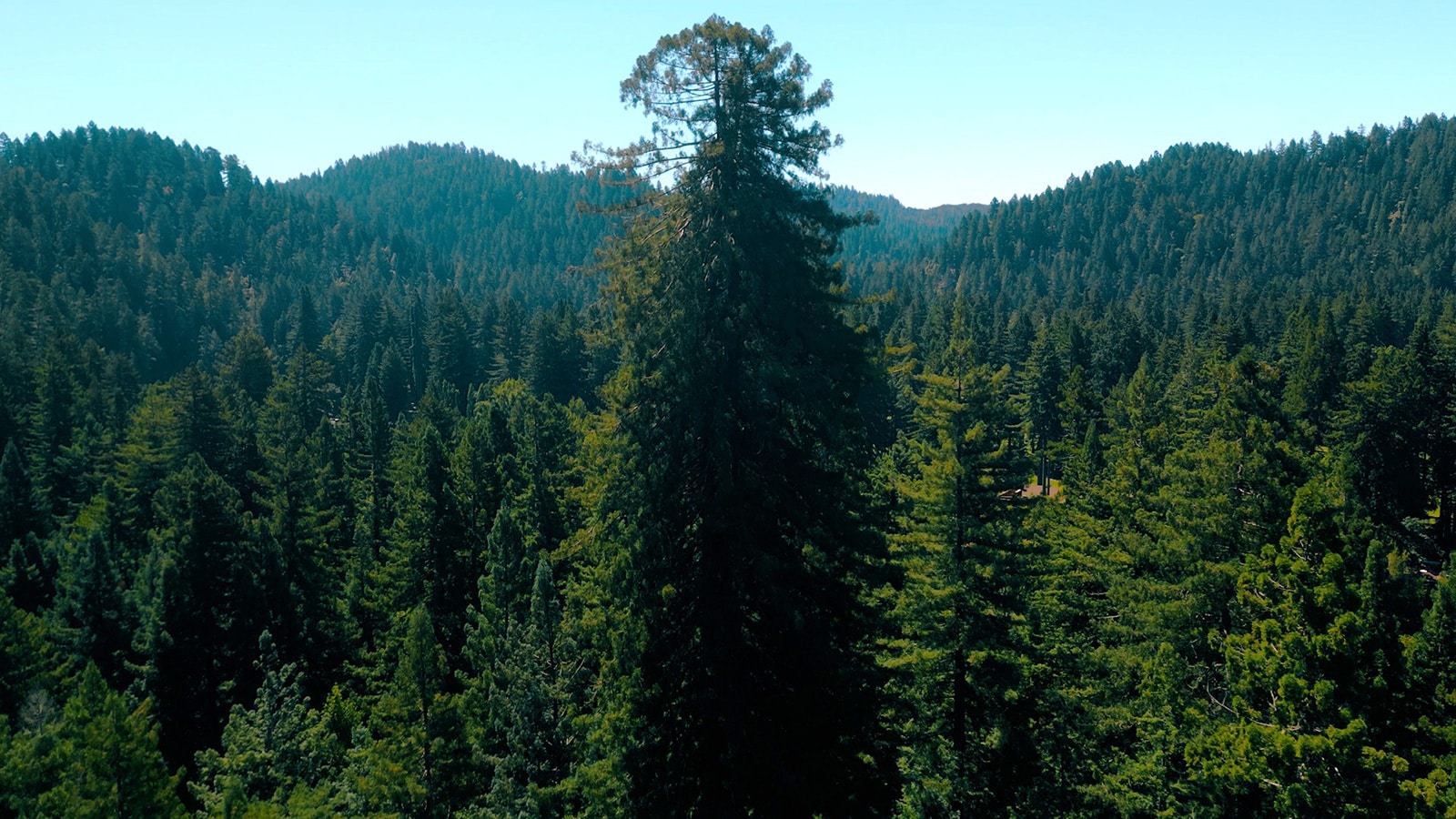 Changing the course of history
Permanent protection of Russian River Redwoods will set nearly 400 acres of recovering forest on a new path. In the property's Silver Grove area, the massive, well-spaced stumps of bygone giants provide a blueprint for what this future forest will look like: spacious groves of rapidly growing coast redwoods that shelter an uncluttered understory of lush sorrel and green ferns.
Under Sonoma County ownership, the forest will be stewarded to restore the habitat and natural fire resilience of the mature redwood forest that grew here for millennia. Restoration work will focus on removing excess undergrowth and ladder fuels to encourage increased biodiversity and fire resilience in a landscape prone to wildfire. In a few generations, the property's recovering coast redwoods will reach critical carbon-storage capacity, packing away aboveground carbon at an astonishing rate.
Safeguarding Russian River Redwoods means safeguarding climate resilience, biodiversity, and scenic beauty along the Russian River—a shift that benefits local communities, visitors to this beloved recreation corridor, and all of California. It will be a living realization of Save the Redwood League's centennial vision to protect young redwoods and set them on a trajectory to become the old growth forests of the future.
---
Tags: 2023, acquiring land, Clar Tree, land acquisition, land protection, Russian River Redwoods, Sonoma County