Project Buffers Glorious Ancient Richardson Grove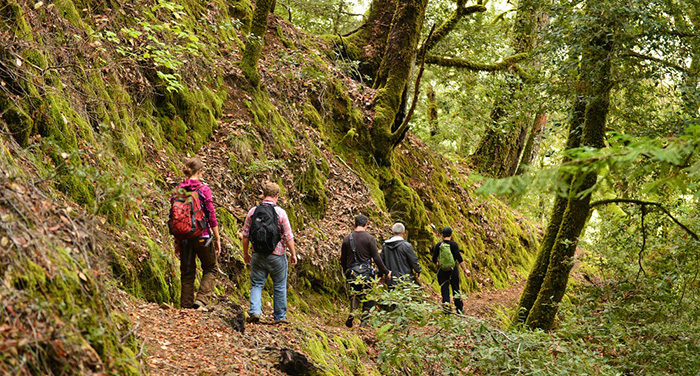 A walk among the hushed stands of 300-foot-tall ancient giants in Richardson Grove State Park is a sensory journey back in time. Many of the trees are more than 1,000 years old, and among the world's tallest. They remain standing after 95 percent of our original coast redwood forest was logged starting in the 1850s.
To protect this jewel of a park from potential threats on a neighboring property called
Twin Trees
, Save the Redwoods League recently purchased a
conservation easement
from land owner Lost Coast Forestlands. The easement agreement allows Lost Coast to continue to own and manage the property while forever prohibiting other land uses such as unsustainable logging, subdivision and development.
Under the agreement, Lost Coast can harvest select trees. Establishing working forests like this is another way of caring for redwood land. As an alternative to selling his land to a developer or timber company and therefore allowing many young and old trees to be cut, a landowner can conserve his forest by allowing timber companies to harvest just some young trees. The practice is actually a boon to the health of a forest because it curbs the risk of high-intensity fires. Selective harvesting also sets the forest on the path to become the old-growth wonderlands of the future by clearing space for young redwoods, which would otherwise be competing for light, space, water and nutrients.
The League's working relationships with timberland owners throughout the redwood range are critical. As forest managers for the vast landscape of young recovering forests that separate the protected old-growth forests, their stewardship and pursuit of sustainable forestry practices is an essential ingredient in the success of the League's vision.
Vision for the Future
Completing agreements like the one for Twin Trees foreshadows our vision for the League's second century of conservation leadership to set thousands of acres of young redwood forest on an accelerated trajectory toward old-growth form and function. In this vision, we reclaim the grandeur that once graced the California coast, providing resilient habitat for imperiled plants and animals and storing vast quantities of carbon.
This project was funded by a public grant from the California Natural Resources Agency's Environmental Enhancement and Mitigation Program.
"We supported the Twin Trees conservation easement because it protects more than 255 acres of redwood forestland and river habitat, which provide many benefits such as reduction of greenhouse gas emissions and risks associated with climate change," said Grant Administrator Melissa Jones.
Twin Trees' redwoods and mixed conifers boost carbon sequestration in the region. In the property's high-quality habitat in the designated Wild and Scenic South Fork Eel River, imperiled species such as steelhead trout, coho and chinook salmon, northern spotted owl, Pacific fisher, western pond turtle, foothill yellow-legged frog, southern torrent salamander, and 33 sensitive plant species will be able to flourish.
"Richardson Grove is an island of old-growth redwoods in a sea of younger, formerly industrial forest," said League President Sam Hodder. "This project ensures that the forest abutting the treasured grove will remain, and that Twin Trees is managed according to the highest ecological standards."