A major league baseball game, new sweepstakes, fascinating exhibits and special donor events are among the ways you're invited to celebrate redwoods and the League's Centennial. Join us!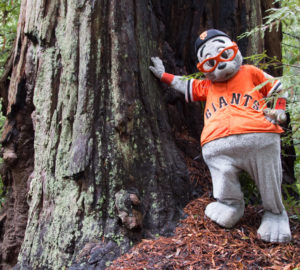 San Francisco Giants vs. Texas Rangers
Saturday, August 25 | 12:30 p.m. Pregame Celebration | AT&T Park, San Francisco
Two organizations that celebrate the giants of the West Coast are marking milestones together — Save the Redwoods League and the San Francisco Giants! You're invited to celebrate the League's 100th anniversary and the SF Giants' 60th anniversary in California. Plus, sign up by August 27 for the Giants for Giants Sweepstakes and be automatically entered to win prizes, including autographed items from the Giants.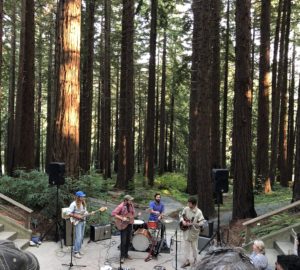 Redwood Grove Summer Concert
Tuesday, August 21 | 5:30 – 7:30 p.m. | University of California Botanical Garden at Berkeley
University of California Botanical Garden at Berkeley is proudly partnering with Save the Redwoods League for this year's popular Redwood Grove Summer Concerts. Get your tickets before they sell out! The Young Musician Choral Orchestra's Jazz Band is one of the Bay Area's leading and most exciting youth jazz groups. Enjoy a magical music experience under towering redwoods in the Berkeley Hills. Ticket includes admission to the Garden before closing at 5 pm. Picnics are welcome.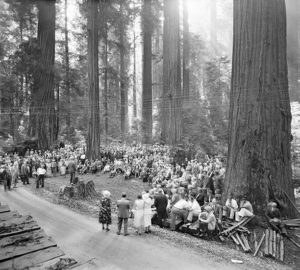 Sustaining Grandeur Exhibition at The Bancroft Library
Extended through September 14, 2018 | 10 a.m. to 4 p.m. | University of California, Berkeley
Sustaining Grandeur is a free exhibition of fascinating historical artifacts that illustrate important moments in the 100-year history of Save the Redwoods League and California redwoods conservation. You'll see a hand-drawn map by celebrated naturalist John Muir, correspondence to the League from President Barack Obama, including a photo of his family. Even a signed letter from President John F. Kennedy endorsing a grove, dated shortly before his death. These treasures and more tell the story of Save the Redwoods League, providing a glimpse into Bancroft's vast record of the environmental movement. The show features a kaleidoscope of photographs, field notes, letters, and other historical artifacts.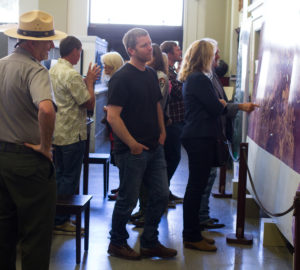 Redwoods Provide(d): Stories from Redwood National and State Parks Exhibit
Running through January 5, 2019 | Tuesday-Saturday, 10 a.m.-6 p.m., Sunday
11 a.m.-4 p.m. | Clarke Historical Museum, Eureka, California
Explore a new, special exhibit on how loggers and environmentalists clashed over the establishment of Redwood National Park. Along with a wealth of Humboldt County history, the Clarke Historical Museum in Eureka is showcasing Redwoods Provide(d): Stories from Redwood National and State Parks.
One cabinet displays historical photos from the early days of Save the Redwoods League, long before Redwood National Park was established in 1968. In the 1920s and 1930s, the League championed the creation of other public parks in the area, which led to the establishment of Del Norte Coast, Jedediah Smith, and Prairie Creek Redwoods State Parks. Today, the four parks form the Redwood National and State Parks complex. Since the 1920s, the League has completed over 140 transactions, adding more than 55,000 acres to the four parks.
Other items on display include a massive, 7.5-foot-long chainsaw used to cut old-growth trees; a stereoscope, a device that combines two photos to create highly detailed 3-D images; and an original copy of a 1964 National Geographic article that bolstered public support for the park.
Centennial Celebration Week
October 7 – October 14, 2018
Save the dates for special events all week long to recognize the 100th anniversary of Save the Redwoods League and celebrate the legacy of the community that came together to protect California's incredible coast redwood and giant sequoia forests in the last century. Scheduled events include free Stand for the Redwoods Festivals in San Francisco and Humboldt County, a premier showing of the documentary film Old Survivor, Free Second Saturdays at Redwood State Parks, a stargazing event in Calaveras Big Trees State Park, the Humboldt Redwoods Marathon, a Giant Sequoia Parks Online Resources for Teachers and Students (PORTS) program and the Centennial Gala Celebration in San Francisco. Additional events may be announced.
Learn more about the Centennial Celebration Week events today!
---
Are you a Save the Redwoods League donor?
In appreciation of your generous support, Save the Redwoods League is inviting our donors to join us for some very special Centennial Commemoration Events. Mark your calendars.
Centennial Celebration Member Event
Wednesday, October 10, 2018, 6:30-8 p.m.
Natural History Museum of Los Angeles County, Los Angeles
Celebrate our first 100 years of protecting, restoring, and connecting people to magnificent redwoods, and hear League President Sam Hodder talk about our next century of safeguarding the forests. Meet other passionate redwoods supporters, see the renowned African Mammal Hall, and experience a range of natural habitats.
Invitation to follow to current League members in the Los Angeles area.
Donor Trips to Humboldt Redwoods State Park
November 1-3 and November 15-18
Redwood Leadership Circle | Redwood Legacy Circle | Canopy Club
The League invites our most generous donors to join us on a journey back to the forest that inspired the League's founding in 1918: Humboldt Redwoods State Park. We will travel by motor coach from San Francisco to the historic Benbow Inn to enjoy guided hikes or time on your own. The weekend includes two or three nights' lodging, all meals, and transportation for $875 or $1,250 per person, depending on the weekend of your choosing.
To RSVP or for more information, please contact Jackie Perkins at (415) 820-5847 or email JPerkins@SaveTheRedwoods.org.
Learn more about our Centennial donor events